Dental Implants in Thailand
Why Consider Teeth Implants in Thailand?
If you have missing teeth that prevent you from eating a favorite food or smiling, consider dental implants in Thailand. This so-called "Land of Smiles" has premium clinics offering effective and affordable teeth replacement procedures with modern and lifetime solution.
Instead of being satisfied with uncomfortable dentures, dental implants are a more prominent alternative. Teeth implants in Thailand are permanently placed in your jawbone and feel like your natural tooth.
Read our guide to learn about dental tourism in Thailand and dental implant costs. Here is a page summary:
Clinic: BFC Dental and Bangkok International Dental Hospital (BIDH)
Procedure: Dental Implants
Cost in Thailand: $700
Cost in Other Countries: From $2,500
Top Tourist Attractions: Wat Arun Temple, Bangkok, Phi Phi and Phuket Island, etc.
---
Cost-Effective Packages for Thailand Dental Implants
Would you like an organized dental trip to Thailand at your chosen clinic? Then consider all-inclusive package deals available for international patients in Thai dental clinics. The cost of the packages includes several services like a translator, transportation from the airport to the clinic, and all medical fees.
Some packages may include accommodation in the clinic or the hotel, which depends on where you prefer to stay. You can book your favorite type of dental implant package in Thailand by contacting the clinic directly or our Customer Care team.
---
Dental Implants Cost in Thailand
Tooth implant in Thailand is around $700 while in the US over $3,500. If you're in Australia, a single tooth implant will cost you over $3,350. A Canadian patient would have to pay an implant for around $3,000 at a local dentist and a Britain over $2,500.
Instead of spending a fortune on one tooth implant back home, you can take a cheap flight to Thailand, pay half the American price and save over 60% of your money. As an international patient, you'll benefit from cost savings and a well-deserved holiday in breathtaking Thailand.
Let's compare the prices in the following table:
Dental Implants Cost Comparison in Thailand

| Country | Procedure | Price |
| --- | --- | --- |
| Australia | Dental Implants, Dentistry | $3356 |
| Canada | Dental Implants, Dentistry | $3000 |
| Dominican Republic | Dental Implants, Dentistry | $700 |
| United States | Dental Implants, Dentistry | $3500 |
| United Kingdom | Dental Implants, Dentistry | $2500 |
---
Renewed Clinics for Dental Implants in Thailand
Dental clinics in Thailand have modern facilities, state-of-the-art equipment, and experienced implant specialists. Thanks to advanced technology, in Thai clinics you'll have quick recovery time and painless treatment.
They have an in-house lab and 3D CT scanner which provides accurate information on your oral health. The best dental centers in Thailand have professional English-speaking medical team.
Below are the top 4 clinics in Thailand that are situated in Bangkok and Chiang Mai. See their profiles to meet them.
---
Video about Thai Dentists
Our video explains more about the profiles of the best dentists in Thailand.
---
Dental Care in Thailand Reviews
---
FAQ for Dental Implants Clinics in Thailand
If you are looking for a particular city where you'd have a dental implant procedure in Thailand, read the following answers to find out.
Which are the most trustworthy Dental Implants clinics in Chiang Mai, Thailand?
Show More
There are quite a few world-class reliable Dental Implants clinics in Chiang Mai, Thailand that offer premier dental care for affordable prices.?These top-notch centers offer their medical tourists all-inclusive Dental Implants packages that most often include transportation to and from the airport/hotel, as well as excellent accommodation options. Basically, the only thing patients have to do is getting to Chiang Mai, Thailand to undergo the procedure.Dental Implants is one of the most popular dental tourism procedures. Prices for dentistry in the international patients home countries are pretty expensive - significantly higher than they would pay for the exact same procedure at one of the top clinics in Thailand. Even when you add on the cost of flights and accommodation, these prices can still represent a considerable saving compared to undergoing Dental Implants at home, plus you get to enjoy a nice vacation into the bargain.Besides the unbeatable prices, the best dental clinics in Chiang Mai, Thailand also offer cutting-edge technology, safety, and the highest standards of work performed by board certified, experienced, and renowned dental specialists.To make sure that your final decision is the one that's best for you, here are some questions you should ask each Dental Implants clinic.What national or international accreditations does the dental clinic hold for Dental Implants?Are the dentists board certified?How many Dental Implants does the clinic carry out each year?What information can you provide regarding the center's and dentist's success rates?Can I speak to any past patients from my country to find out about their Dental Implants experience with the clinic?What safety and quality measures are practiced at the clinic?What is the level of fluency in English (or my language) of the dentists and dental assistants and support staff at your clinic?Do you have a dental laboratory on site? If not, which dental laboratories do you use and why?Know more about the most trustworthy Dental Implants clinics in Chiang Mai, Thailand! Contact us and choose the dental tourism option that's best for you!
Which is the best choice for Dental Implants clinics in Kamala Beach, Thailand?
Show More
Finding the best Dental Implants clinics in Kamala Beach, Thailand is not a challenge anymore. Now you have easily access to the best dental clinics and top dentists.Dental Implants will help you restore your oral health, teeth function and smile. Now you have no reason to postpone your dental treatment. With the affordable prices you can find at dental clinics in Kamala Beach, Thailand and the expertise of the dentists, you will have your teeth fixed in no time, without spending a fortune.Thailand is renowned for its dental tourism. Many medical tourists actually go for major dental work because of the cost advantages offer by the top dental clinics in Kamala Beach, Thailand, so it's common to see patients having multiple crowns, implants and other dental cosmetic procedures. Thanks to modern technology some procedures which were done in several days before, can now be performed in just one day. You will go home with a brand new smile and restored confidence.To make sure that you choose the best dental clinic in Kamala Beach, Thailand, you will have to know exactly what to look for. Here are several questions that will help you make the best choice:Can you provide a detailed profile of the dentist's background and experience?What are the advantages and disadvantages of Dental Implants? What about the risks and complications?When was the clinic opened? What national or international accreditations does it have?Can I get in touch with any of the former patients from my countryFind out more about the top Dental Implants clinics in Kamala Beach, Thailand! Contact us and choose the dental tourism option that's best for you!
Which are the most sought-after Dental Implants clinics in Tha Muang, Thailand?
Show More
There are quite a few Dental Implants clinics in Tha Muang, Thailand if you are looking for top dental care.In Tha Muang, Thailand each patient is treated with care and attention, with a dental treatment plan developed according to his/her needs and budget. In Tha Muang you will find cutting edge technology, excellent dental treatments and highly professional teams of experts.Many of these clinics offer Dental Implants packages in Tha Muang, Thailand, with many benefits besides the treatment, such as airport pickup, hotel transfer, consultation and case manager assistance among others.When you choose a dental clinic in Tha Muang, Thailand make sure that the facility can address your specific needs. Some procedures require besides a steady hand of the dentist, years of expertise and training and specialized equipment. There are several questions that you can ask the clinic, such as:What are the clinics accreditations? Are the dentists certified?What if something goes wrong during Dental Implants procedure?How many visits do I have to make to the clinic during my stay?What are the risks and complications associated with my dental treatment?Thailand is a well-known touristic and medical destination in the world. International travelers take advantage of the touristic attractions that they can explore, as well as the medical expertise in the area. Dental care in Thailand is one of the best and safest, especially in cities such as Tha Muang.Find out more about the top Dental Implants clinics in Tha Muang, Thailand! Contact us and choose the dental tourism option that's best for you!
---
Best Implantologists in Thailand
The best implantologists in Thailand are highly skilled and use the latest technology and equipment in dental implant procedure. Many Thai dentists are also members of professional organizations in Western countries which gives them credentials to perform successful dental treatment.
Getting a dental implant in Thailand will provide similar results as you'd get in the West. This is because dentists in Thailand are internationally trained and use the same implant system and materials dentists from more developed countries.
Get in touch with our PlacidWay to help you find the right dentist for your dental needs.
---
Experience Dental Tourism in Thailand - The Land of Smiles
Thailand is one of the world's leading medical tourism destinations. High-end services dental clinics in Thailand offer their patients attract thousands of dental tourists annually. In addition, patients love spending extra time by visiting Thailand's popular tourist places, trying Thai food, and experiencing vibes of Thai culture.
Thailand's warm climate will help you recover faster, and its miles-long white-sand beaches will entice you to swim in the Pacific Ocean. Here are the top places you can explore in Thailand:
Railay Beach in Krabi province
The Phi Phi Islands
The Grand Palace, Bangkok
Chiang Mai's Sunday Night Walking Street, try cheap and delicious food
Pai, in Mae Hong Son province
Khao Yai National Park and watch wild Elephants
Buddha in the ruins of the temple Wat Chana Songkram, Sukhothai Old City
The Historic City of Ayutthaya, the glory of ancient Thailand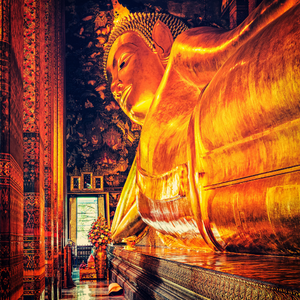 Buddha in Wat Senassanaram Ayutthaya Historical Park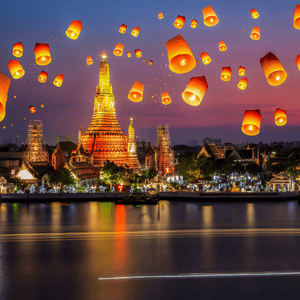 Sky lanterns in the evening sky Bangkok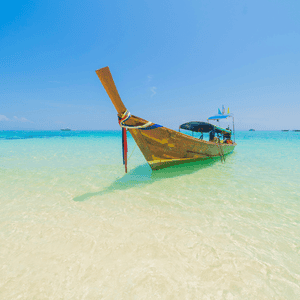 Phi Phi Maya Beach in Phuket Island
---
Get Your Dental Implants in Thailand Today!
By going for dental implants in Thailand you'll enjoy low-cost dental care and a memorable holiday!
You'll spend less on your implant price in Thailand when compared to USA and Australia. PlacidWay team will help you find a reputable clinic and Thai dentist, so contact us to know more!
---