Dentures in Thailand
Why Should I Get Dentures (False teeth) in Thailand?
If you have lost teeth and need an affordable replacement, Dentures in Thailand may be the perfect solution. They cost up to 75% less than at home and many experienced Thai dentists provide the same or even better quality at world-class clinics.
Thousands of dental patients arive in Thailand for quality care and cost savings. Apart from this, there are numerous activities you can explore in Thailand for a memorable holiday while waiting for your new dentures to be done.
In our guide, you'll discover the Land of Smiles and the benefits the country offers to dental tourists worldwide.
Clinic: BFC Dental and Bangkok International Dental Hospital (BIDH)
Procedure: Dentures
Cost in Thailand: $535
Cost in Other Countries: From $1,150
Savings: Over 50%
Top Tourist Attractions: Wat Arun Temple, Bangkok, Phi Phi and Phuket Island, etc
---
How much are dentures in Thailand?
The cost of dentures in Thailand starts at $535 and will depend on the type of dentures, the clinic's reputation, and your overall health. However, in Australia dentures cost starts at $1,150 which is over 50% more expensive than in Thailand.
Another comparison is for dentures in the USA where they cost $1,500 or more, and in UK $1,900. Compared to the UK, Thailand dentures are up to 75% cheaper.
In other words, you can save more than $1,000 by getting dentures in Thailand.
Let's see the table below to compare the costs.
Dentures Cost Comparison in Thailand

| Country | Procedure | Price |
| --- | --- | --- |
| Australia | Dentures, Dentistry | $1151 |
| Thailand | Dentures, Dentistry | $535 |
| United Kingdom | Dentures, Dentistry | $1900 |
| Canada | Dentures, Dentistry | $1300 |
| United States | Dentures, Dentistry | $1500 |
---
Top 4 Clinics for Dentures in Thailand
Our partner dental clinics in Thailand are located in Chiang Mai and Bangkok. The centers specialize in Dentistry and Smile Reconstruction. Patients from the United States, Canada, the UK, Australia, and other countries choose Thai clinics for top-notch dental care.
The clinics provide medical services to both Thai locals and international patients for years. Most medical staff speaks English and many obtained their training in the West.
Thai clinics strive to provide quality care surpassing Australian and American standards for just a fraction of the prices.
Here are dental clinics in Thailand highlights:
Board-certified dentists
High standards of sterilization and hygiene
Low-cost and quality dental solutions
Advanced technology and equipment
In-house labs enable quicker treatments
Accredited by the Joint Commission International
Modern facilities for a comfortable stay
---
Watch Video about Thailand Dentists
Thailand is home to a number of highly qualified and certified dentists. In the following video, you'll see the best Thai dentists who work at our recommended clinics.
---
Reviews on Dental Work in Thailand
---
Interesting FAQs About Dentures in Thailand
If you want to learn about the cost of dentures in Phuket island or top clinics in Chiang Mai, read our answers below.
What is the price for Dentures in Phuket, Thailand?
Show More
The average price for Dentures in Phuket, Thailand starts at $838. Some clinics also offer international travelers packages that include a comprehensive range of healthcare services for international patients such as diagnostic needs, physician consultations, insurance and billing assistance, travel and accommodations, language interpretation and cultural mediation services. The price varies depending on the complexity of the dental treatment or procedure, the materials and equipment use, the doctor and clinic that you choose and many other factors. After the first consultation the dentist will be able to tell you the final cost. Taking care of your teeth is crucial, as they are the one that help you eat and speak. Left untreated, teeth problems can lead to serious health issues such as respiratory conditions and even cardiovascular diseases. If you do not know how to choose the best dentist for Dentures in Phuket, Thailand, here are some questions that will help you: What are the advantages and disadvantages of Dentures? What about the risks and complications? Are you certified? Are you a member of any Dentistry association or society? How many years of experience do you have performing Dentures? How often have you performed Dentures? What if something goes wrong during Dentures procedure? What if I am not happy with Dentures results? Thailand has become one of the top choices when it comes to dental care. More and more dental tourists choose Thailand for its affordable prices, highly trained dentists and modern dental clinics fitted with high class equipment and laboratories. Below you can find some of dentist in Phuket, Thailand that offer most affordable price for Dentures.Find out more about the best dentists in Phuket, Thailand! Contact us and choose the best dental specialist!
Which are the top Dentures clinics in Chiang Mai, Thailand?
Show More
You will find many Dentures clinics in Chiang Mai, Thailand, all offering their patients high quality, affordable and safe dental treatments.Each of these centers offers a comprehensive array of dental treatments, including dental implants, dental crowns, dental veneers, dentures, cosmetic dentistry, teeth whitening, dental braces, tooth extractions, sinus lift and many more.Choosing the best dental clinics in Chiang Mai, Thailand can be quite challenging, taking into consideration the numerous options that you have. Here is a list of questions that you should ask the clinic before making your final decision:What certification, both national and international, does the dentist who will perform Dentures services have?Does the dentist or assistant speaks English (or my language)?Which dental laboratory you use? What are their compliance with international standards?Can I speak to any former patients from my country to find out about their experience at your clinic?Where dental school the dentist went and can I see their certification?What experience does the clinic have performing Dentures?Over the past years Thailand has become one of the top dental tourism destination when it comes to dental treatments. Many medical tourists from all over the world come here to take advantage of the high quality and affordable dental care. Chiang Mai has numerous top dental clinics in Chiang Mai, Thailand and more medical providers have started to offer attractive packages to their customers.Find out more about the best Dentures in Chiang Mai, Thailand! Contact us and choose the best Dentistry clinic!
---
The Best Denture Doctors in Thailand
Since you are considering getting false teeth in Thailand, you might wonder which dentist to choose and how to find the right dentures doctor for your needs.
This is where we can help you in your research. You can contact us anytime to meet your Thai dentist and make a stress-free decision regarding your oral health.
Here is what you should look for in a Thailand dentist:
An active member of reputable international organizations
Provides a video consultation and a follow-up
Communicates in English well
Has years of experience and education
Positive former patient reviews and testimonials
A specialist in Prosthodontics
---
Dental Tourism in Thailand - Best Things to Do
Thanks to its numerous attractions and state-of-the-art dental clinics, Thailand is one of the most visited destinations. It is famous for its beautiful paradise beaches, rich culture and history, astonishing temples, and mouthwatering cuisine.
The cheap travel, accommodation, and other expenses attract millions of dental tourists who combine dental work with an attractive holiday.
Here are the best things you can do in Thailand during your visit for a dentures procedure:
Railay Beach in Krabi province
The Phi Phi Islands
The Grand Palace, Bangkok
Chiang Mai's Sunday Night Walking Street, try cheap and delicious food
Pai, in Mae Hong Son province
Khao Yai National Park and watch wild Elephants
Buddha in the ruins of the temple Wat Chana Songkram, Sukhothai Old City
The Historic City of Ayutthaya, the glory of ancient Thailand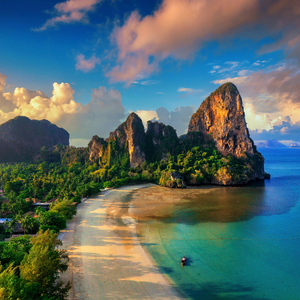 Railay beach in Krabi Province
---
Choose Low-Cost Dentures in Thailand Today!
To recap, choosing dentures in Thailand provides a unique combination of cost savings and a well-deserved vacation.
Contact us today and receive a personalized quote for your Thailand dentures!
---