All on 4 Dental Implants in Thailand
Consider All on Four Dental Implants in Thailand - Affordable Tooth Replacement Destination
Do you have a problem with teeth loss? As people age, this is a common issue and can be very expensive to fix missing teeth. Fortunately, All on 4 dental implants in Thailand can be a cost-effective solution for patients from North America, Australia, and developed European countries.
Here are the benefits you gain by choosing all on four Thailand:
Cost-savings up to 70% less compared to more developed countries.
Quality care at well-equipped dental clinics.
Immediate treatment with no waiting time. 
Cheap flights to Bangkok from major cities worldwide. 
A rejuvenating holiday in fascinating Thailand.
---
Cost of All on 4 Dental Implants in Thailand
All on 4 cost Thailand significantly lower than other developed countries. For example, you will pay All on 4 procedure between $7,350 and $12,000 in Thailand while in the UK $15,500 and more.
Also, this treatment cost over $18,000 in Australia and over $22,500 in North America. Taking the all-on-4 price in Thailand into account, you'll save up to 60% here and receive high-quality care.
Take a look at the cost comparison table below for more details.
All on 4 Dental Implants Centers Cost Comparison in Thailand
| Provider | Procedure | Price |
| --- | --- | --- |
| BFC Dental | All on 4 Dental Implants, Dentistry | $7350 |
| Bangkok International Dental Hospital (BIDH) | All on 4 Dental Implants, Dentistry | $11928 |
All on 4 Dental Implants Cost Comparison in Thailand

| Country | Procedure | Price |
| --- | --- | --- |
| United Kingdom | All on 4 Dental Implants, Dentistry | $15500 |
| United States | All on 4 Dental Implants, Dentistry | $25000 |
| Canada | All on 4 Dental Implants, Dentistry | $22500 |
| Australia | All on 4 Dental Implants, Dentistry | $18000 |
---
Top Clinics for All-on-4 Dental Implants in Thailand
Thailand has become one of the best countries for dental tourism in recent years. The clinics in Thailand follow international sterilization protocols to keep their patients safe and dentists attend regular training abroad. Also, they utilize the most modern equipment for full-mouth diagnostics.
Thai clinics approach each patient individually intending to provide the desired patient's goal.
You will leave the clinic in Thailand smiling satisfied with natural-looking results.
---
Video Related to Dentist for All on Four Implants in Thailand
Watch the following video to meet the best Thai dentists.
---
Dental Work in Thailand Reviews from Patients
Check our dental work reviews from patients treated in the dental clinics in Thailand
---
Top Dentists in Thailand for All on Four Implants
Wondering if Thailand has good dentists whom you can trust? Worry not, because your full-arch restoration will perform some of the world's best implantology specialists employed at top dental clinics in Thailand. They underwent extensive training and graduated from prestigious schools in Thailand and abroad.
With a long history of experience and positive results from previous work, you can be sure that you'll have the best quality of care from Thai dentists.
PlacidWay will help you find the right dentist in Thailand, so contact us to know more.
---
Explore Thailand as a Dental Tourist
Thailand has stunning places that draw millions of tourists annually. The country boasts spectacular white sandy beaches, scenic nature, and numerous UNESCO World Heritage Sites. Its tropical climate is great for fast recovery after dental treatment.
Dental tourism is flourishing in Thailand thanks to state-of-the-art facilities and skilled dentists. While you're here for your all-on-4 treatment, set aside time to explore as many of Thailand's wonders as possible.
Here are some of the most popular places in Thailand:
Railay Beach in Krabi province
The Phi Phi Islands
The Grand Palace, Bangkok
Chiang Mai's Sunday Night Walking Street, try cheap and delicious food
Pai, in Mae Hong Son province
Khao Yai National Park and watch wild Elephants
Buddha in the ruins of the temple Wat Chana Songkram, Sukhothai Old City
The Historic City of Ayutthaya, the glory of ancient Thailand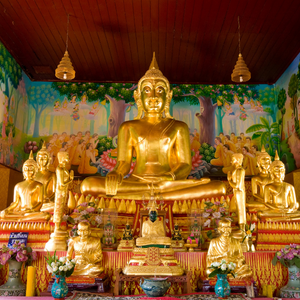 Buddha at Ayutthaya Historical Park
Phi Phi Island in Krabi province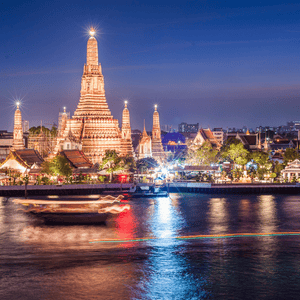 Wat Arun Temple in Bangkok
---
Book Now All on 4 Dental Implants in Thailand at Low-Cost!
Replace your missing teeth with All on 4 implants in Thailand and save more than $10,000 when booking with PlacidWay.
Contact us today and receive a free price estimate!
---