Breast Reduction in Thailand
Why Consider Breast Reduction Surgery in Thailand?
Feeling discomfort due to large breasts size? Large breasts can lead to various health problems like back pain, breathing difficulty, and balance issues. Consider Breast Reduction in Thailand if you have some of these conditions. 
Wondering why Thailand? As one of the most attractive tourist destinations, it is also among the ten most visited countries for plastic surgery. Modern hospitals, experienced surgeons, and affordable prices for cosmetic procedures invite thousands of foreign patients a year.
In addition to saving thousands of dollars on quality surgery, western patients combine this with a tropical getaway to rest from their busy life. If this offer sounds tempting to you too, keep reading to find out more.
Clinic: Bangkok Plastic Surgery Clinic
Procedure: Breast Reduction
Cost in Thailand: From $3,567
Cost in Other Countries: From $12,360
Savings: Up to 80%
Top Tourist Attractions: Ayutthaya Historical Park, Bangkok, Phi Phi and Phuket Island, etc.
---
Thailand Breast Reduction Surgery Packages
Thai clinics offer breast reduction surgery packages that allow you to stay within your budget even with a luxury vacation. The boob reduction package usually includes breast surgery, all medical fees, and bilingual assistance.
Different clinics provide different services to foreign patients, but all work by international standards. Therefore, your safety and comfort are their priority so you should not worry about the quality of the procedure.
Contact our PlacidWay team to choose your desired package deal for breast reduction in Thailand.
Affordable Breast Lift & Reduction Package by Yanhee Hospital, since 2700USD. Breast lift surgery
---
Cost of Breast Reduction in Thailand Compared to Australia and New Zeland
Breast reduction Thailand cost starts from $3,567 and can go up to $6,600 in our recommended clinics. This procedure is costly in Australia and New Zealand where patients have to pay over $12,360 out-of-pocket.
This is up to 80% more expensive than having your boob reduction in Thailand. And don't forget the fantastic vacation you'll have before the surgery in amazing Thailand!
Let's see the cost comparison table for more details on prices.
Breast Reduction Centers Cost Comparison in Thailand
| Provider | Procedure | Price |
| --- | --- | --- |
| Yanhee Hospital | Breast Reduction, Cosmetic/Plastic Surgery | $3567 |
| Nirunda International Aesthetic Clinic | Breast Reduction, Cosmetic/Plastic Surgery | $6600 |
| Dr Siripong Plastic Surgery | Breast Reduction, Cosmetic/Plastic Surgery | $5200 |
Breast Reduction Cost Comparison in Thailand

| Country | Procedure | Price |
| --- | --- | --- |
| Australia | Breast Reduction, Cosmetic/Plastic Surgery | $12900 |
| New Zealand | Breast Reduction, Cosmetic/Plastic Surgery | $12364 |
---
Top 6 Breast Reduction Clinics in Thailand
Thailand has renowned plastic surgery clinics, that are accredited by the prestigious Joint Commission International organization. Thai clinics provide first-class services for international patients who enjoy luxury and safety at economical costs.
Besides, most of the medical staff is bilingual, so there will be no barriers in communication between you and your doctor. We have compiled the list of top 6 cosmetic surgery clinics in Thailand where you can have high-quality breast reduction surgery.
Find former patient reviews, clinic photos and highlights in the clinic's profiles below.
---
Cosmetic Surgery in Thailand Reviews - Read True Experiences
---
Best Breast Reduction Surgeons in Thailand
In breast reduction surgery, a surgeon removes unwanted skin, fat, and tissue to reduce breast size. Thanks to highly skilled plastic surgeons in Thailand, you will be able to feel back pain relief, improved confidence, and an ability to participate in physical activity.
With years of clinical practice, training, and medical school diplomas, Thai surgeons are among the world's best. We have listed some of the best breast reduction surgeons in Thailand below. You can look at their profiles to meet them and read their former patient reviews to understand their credentials.
When you are ready to book an appointment with a chosen doctor, feel free to contact us.
---
Medical Tourism in Thailand - Best Tourist Sites to Explore Before Breast Reduction
Medical Tourism in Thailand is booming thanks to the world-class services clinics provide to their patients at affordable prices. In addition, patients can extend their stay in Thailand for plastic surgery to visit top tourist attractions, try Thai food, and experience their culture.
Thailand is easily reachable from other major cities worldwide by plane, and you'll find budget flight tickets available no matter what time of year you visit Thailand.
Therefore, a great holiday and quality cosmetic surgery are guaranteed in Thailand. Before your surgery, try to visit at least one of the following places that are very popular among tourists in Thailand:
Krabi province
The Phi Phi Islands and Phuket
The Grand Palace, Bangkok
Chiang Mai's Sunday Night Walking Street, try cheap and delicious food
Pai, in Mae Hong Son province
Khao Yai National Park and watch wild Elephants
Buddha in the ruins of the temple Wat Chana Songkram, Sukhothai Old City
The Historic City of Ayutthaya, the glory of ancient Thailand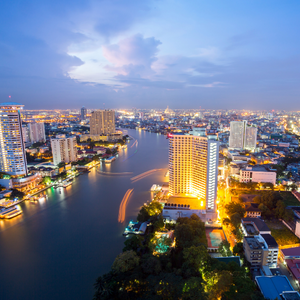 Bangkok at night
---
Choose Breast Reduction in Thailand Today and Save over 50%!
Save up to 80% on breast reduction in Thailand by booking with PlacidWay and experience exotic vibes from this alluring holiday option.
We are here to help you find a reputable clinic and plastic surgeon in Thailand, so contact us today for more information.
---