Affordable Breast Lift & Reduction Package by Yanhee Hospital
Package price starting from:
$2700
Treatment:
Cosmetic/Plastic Surgery, Breast Lift, Breast Reduction
Focus Area:
Breast Lift Implant | Cosmetic Surgery | Compare Breast Reduction Doctor, Packages, Center, Clinic, Surgeons, Hospitals | Breast Surgery Abroad | Bangkok, Thailand
---
Best Cosmetic Surgery Packages, Cheap Breast Lift Packages, Compare Breast Reduction Packages, Breast Reduction Center, Cheap Breast Reduction Clinic, Affordable Plastic Surgery Center, Low Cost Breast Lift Packages, Best Breast Reduction Doctors, Best Breast Reduction Surgeons, Bangkok, Thailand
Affordable Breast Lift & Reduction Package by Yanhee Hospital

What is Breast Lift Surgery?
Breast lift surgery, also called mastopexy is a cosmetic surgery procedure that raise and reshape breast by trimming off excess skin and compacting surrounding tissues.
If you are tired by the feeling that your breasts droop, sag, have lost shape and volume, you have stretched skin or you have enlarged areolas, this surgery is the right for you!
 

What is Breast Reduction?
Breast reduction or mammoplasty is a reconstructive or cosmetic surgical procedure which creates smaller, lighter breasts by removing excess glandular tissue, fat, and skin from overly large heavy, sagging, pendulous breasts; it brings breast size into proportion with the rest of the body.
If you suffer from neck, back, and shoulder pain caused by the weight of large breasts, your breasts feel un-proportioned to the rest of your body, you have one breast significantly larger than the other or you have difficulty finding clothing that fits properly, this surgery is the right for you!

Why Undergo These Procedures?
These surgeries improved the appearance of sagging breast by removing extra skin and repositioning the nipples and breast tissue.
Breast will feel and look more proporcionated to the body shape, body image and confidence in you will increase.

How are the procedures done?
Incision outlines are made from which breast skin will be removed.
The new location for the nipple is defined.
Excess skin is removed & the nipple & areola are moved to a higher position.
The skin surrounding the areola is then brought down & together to reshape the breast.
Stitches are usually located around the areola and in a vertical line extending downwards from the nipple area and along the inframammary fold.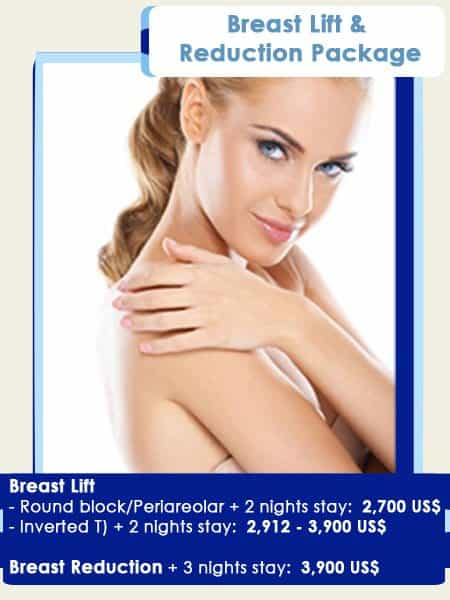 Note: Prices are subject to change without prior notice. Further details of procedures may be requested through e-mail.
Pre-Op Instructions:
Consultation with surgeon (doctor may or may not require mammogram)
Evaluation for other medical conditions
No intake of food or water 8 hrs prior to surgery
Prepare support bra
Stop smoking & alcohol intake at least 2 weeks before surgery
Anticoagulants, vitamins, hormones (including birth control pills), anti-depressants & some other medications also to be stopped at least 2 weeks before surgery.
Post-Op Instructions:
Get enough rest, eat fruits & vegetables, & avoid alcohol & smoking for at least 1 month
Start ambulating as soon as possible
May rest at home & resume work after 10 days
Avoid stenuous activities for 3-4 weeks
Refrain from physical contact with breast for 3-4 weeks
May shower 48 hours after removal of drain tubes
Only Support bras without wire should be used after sutures are removed
Follow-up check with the surgeon will be 7 days after for the removal of bandages & sutures
After bandages are removed, support bra should be worn continuously for 21 days
May shower after removal of stitches
Numbness may be felt but sensation starts to returns after 6 wks
May wear bra with wire 6-12 months after surgery

Why to Choose Us?
10 Reasons Why You Can Confidently Choose Yanhee
High satisfaction rate among patients.
Highly experienced cosmetic surgeons.
A center that specializes in BEAUTY.
"One-stop shop" for beauty.
Affordable, transparent pricing.
Package pricing scheme is most ideal and convenient for medical travelers.
Hospital personnel with a personal touch.
Interpreter/translator services without extra charges.
English-speaking personnel at every counter and department.
Continuous pursuit for QUALITY according to the highest standards.


Related Experiences:
Breast Lift in Bangkok Thailand
Breast Reduction in Thailand
Breast Lift in Antalya Turkey
Breast Reduction in Antalya Turkey
Breast lift in Istanbul Turkey
Breast Reduction in Dominican Republic
---