Liposuction in Bangkok, Thailand by Bonnie Health - $2,700
Package price starting from:
$2700
Treatment:
Cosmetic/Plastic Surgery, Liposuction
Location:
84 Soi Chotiwat , Bangsue, Bangsue, Bangkok. Thailand. Bangkok Bangkok, Thailand
Focus Area:
Liposuction | Lipoplasty | Plastic Surgery | Cosmetic Surgery | Bonnie Health | Bangkok | Thailand
---
Liposuction in Bangkok, Thailand by Best Cosmetic Surgeons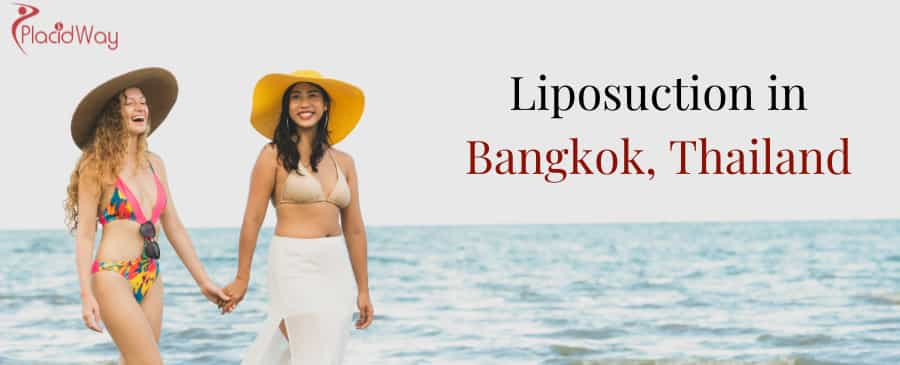 Do you want to look fit, but diets and fitness programs do not work for your body? Trying to eliminate pockets of excess fat that accumulate on the abdomen, flanks, thighs, and other areas of the body can be a frustrating process. Looking into liposuction?
Liposuction, also known as lipoplasty, removes fat from your body using suction. In recent years, improved techniques have made liposuction safer, easier, and less painful. Liposuction procedures vary depending on: the location of fat to be removed, the type of fat, the goals of the patient and the plastic surgeon's recommendation. Overall, the best way to be sure you've gotten all the necessary information and selected the right lipo treatment is to meet with a trusted plastic surgeon. 
Bonnie Health promises you to assist with the best suitable liposuction. The expert plastic surgeons are practicing at their clinic in Bangkok, Thailand and working towards giving an excellent body shape to countless patients.
Benefits of Lipoplasty in Bangkok, Thailand
Liposuction cannot eliminate stretch marks and cellulite from the skin, it can only remove small, localized concentrations of fat.

Some medical conditions may benefit from liposuction, including lipomas (benign fatty tumors), gynecomastia, lipodystrophy syndrome

It permanently removes fat cells from the body.

One procedure can target many areas of the body

Tightens loose muscles

Stubborn areas are finally improved

It increases your confidence in your appearance.

Modern liposuction is minimally invasive, and it is often performed as an outpatient procedure.

You get minimal scarring from incisions.
What is the Cost of Liposuction in Bangkok, Thailand?
As one of the best clinics in Thailand, Bonnie Health is fitted with modern medical equipment and highly-trained medical team, dedicated to the patients' well being. The estimated cost of liposuction procedure at the clinic starts from 85,000 THB, which is $2,700 approximately.
| | | |
| --- | --- | --- |
| Country | Procedure | Price |
| Bangkok, Thailand | Liposuction | $2,700 |
| Australia | Liposuction | $5,500 |
| Canada | Liposuction | $5,500 |
| United States | Liposuction | $6,500 |
| United Kingdom | Liposuction | $6,550 |

All prices given are in Thai Baht. Payment in full is required before any surgery.

The estimated price and surgical recommendation is only a pre-evaluation based on the photos provided. The final surgical plan and quotation will be confirmed after the face to face consultation with the doctor.
The Estimate Package Price above Includes:
Operating room

Anesthetist and surgeon's fees

A single private room

Standard meals

Standard medications (except scar cream/gel)

Standard pre-surgery screening

Complimentary car transfers.
Extra Payment:
Standard pre-surgery tests are included in the package price. Some clients who are having multiple procedure or extensive surgery, or who have a pre-existing medical condition, may be required to complete additional pre-surgery tests such as laboratory tests and consult with a specialist.
Clients who require additional pre-surgery tests will be required to pay for any additional tests and consultations prior to being accepted for surgery. Please notify us of your underlying medical condition prior to your travel to Bangkok.
Exclusions- Things Not Included in the Estimated Cost:
Garments

Personal expenses
Why is Liposuction Done?
The main goal is to reshape one or more areas of your body, not to reduce body weight.

Typically used on "problem" areas that have not responded well to diet and exercise.

Sometimes used in combination with other cosmetic surgery procedures, such as a "tummy tuck" (abdominoplasty), breast reduction, or face-lift.

It may also be used to treat certain medical conditions, including:
Benign fatty tumors (lipomas).

Abnormal enlargement of the male breasts (gynecomastia or pseudogynecomastia).

Problems with metabolism of fat in the body (lipodystrophy).

Excessive sweating in the armpit area (axillary hyperhidrosis).
Good Candidates for Liposuction
Those who have unwanted fat deposits in particular areas which are not going by diet or exercise.

Men and women above 18, with good skin elasticity, in good health, emotionally stable.l

Those who understand that liposuction is not a technique to lose weight, but to contour or sculpt the body.

Those who are not obese or overweight.
Why Choose Bonnie Health for Liposuction in Bangkok, Thailand?
Safe and successful cosmetic and plastic procedures

Affordable prices

Qualified medical staff

Modern equipment and procedures

Minimal recovery time thanks to the latest methods used
To learn more about affordable Liposuction procedure at Bonnie Health in Bangkok, Thailand,  click the button below:

Related Experiences:
Liposuction in Thailand
Liposuction in Croatia
Liposuction in Mexico City
Liposuction in Izmir, Turkey
Liposuction in South Korea
Liposuction in Mexicali, Mexico
---