Bonnie Health
Bonnie Clinic in Bangkok, Thailand for ENT and Cosmetic Surgery
84 Soi Chotiwat , Bangsue, Bangsue, Bangkok. Thailand. Bangkok Bangkok, Bangkok, Thailand

Specialty:

Anti Aging, Cosmetic/Plastic Surgery, ENT, Fertility Treatment, Gynecology Treatment, Hair Transplantation, Skin Care, Spine Care/Surgery

Focus Area:

Bonnie Health Company | Cosmetic and Plastic Surgery | ENT surgery | Gynecologic Surgery | Reproductive Medicine | Bangkok | Thailand
Bonnie Health Profile Overview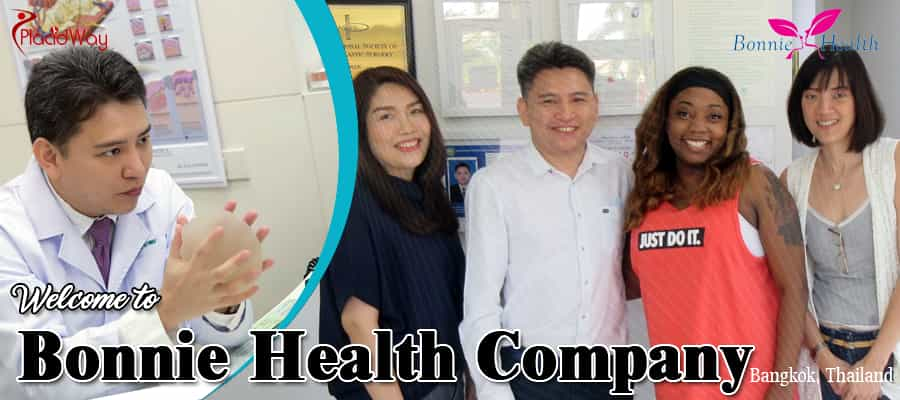 Perfect Treatment Solutions at Bonnie Health Company, Bangkok, Thailand
Bonnie Health is a group of professional physicians in Bangkok, Thailand with highly experienced doctors providing high quality, safety and standard medical treatments that include plastic and cosmetic surgery, ENT surgery, gynecologic surgery, reproductive medicine, etc. The multi-lingual staffs of the clinical expertise in taking care of international patients for successful medical tourism.
It is one of the most promising solution providers for cosmetic and plastic surgery. Headed by Dr. Boonchai, Thailand's leading and most requested plastic surgeons, this cosmetology unit offers best reformation to breast and body cosmetic surgery. It is known to create elegant transformations—sculpting, refining, and restoring the body to its most ideal shape. Medical experts at Bonnie Health Company offer best patient-care and make them feel comfortable throughout their treatment process. Apart from his strong professional and academic development, Dr. Boonchai combines a state-of–the-art care with attention and understanding each patient's concerns and objectives. His patients feel all their questions answered before surgery.
The expert physicians at the clinic provide safe and assured treatment to meet the rational expectations of domestic and international patients. The look designing involves various stages of accuracy and planning. Experts at the clinic use modern and highly effective technology for treatment procedures.
Treatments and Procedures
ENT surgery

Gynecologic surgery

Reproductive medicine

Breast, body and face cosmetic surgery
Breast
Breast augmentation

Breast lift

Breast lift with implants

Revision breast implants

Breast reduction

Male breast reduction
Body
Tummy tuck

Vaser liposuction

Female genital rejuvenation

Arm lift

Gender change

Extended tummy tuck
Face
Neck lift

Nose surgery

Eyelid surgery

Face lift

Brow lift (forehead lift)

Hair line reduction
If you want to know more about Bonnie Health Company, Bangkok, Thailand or want to request for any information, just click the contact tab below!

---
Bonnie Health, Bangkok, Thailand Profile Details

Why Should You Choose Bonnie Health Company Clinic?
Bonnie Health Company, located in Bangkok, Thailand is known for its unique characteristics designed by experienced doctors. The staffs are friendly, courteous and respectful, be it with each other or with the patients. They are committed and focused to provide improved quality of treatment packages. They use the latest medical equipment and the highest quality materials without increasing the costs incurred by the patients. The doctors have been continuously supplying quality management and comply with every regulatory requirement to enhance the satisfaction of their patients to improve their business. Apart from quality treatment solutions packages at affordable rates, the clinic gives you the opportunity to visit a beautiful country.
If you want to know more about Bonnie Health Company, Bangkok, Thailand or want to request any information, just click the contact tab below!

---
Bonnie Health Certificates, Accreditations, Qualifications

Medical Team
The medical team of Bonnie Health Company is headed by Dr. Boonchai. He leads the multidisciplinary team that uses the latest medical and surgical equipment to execute successful treatment solutions to domestic and international patients.
Dr. Boonchai is one of Thailand's most requested plastic surgeons with experience in completing plastic surgery procedures on thousands of overseas patients. He is committed to provide patient safety and ensure his clients regarding achieving the best possible outcomes.
Dr. Boonchai is an experienced plastic surgeon who has completed his initial medical studies in 1999 with 2nd Class Honors. After that he has also completed general surgery training, then plastic surgery in 2006.
From 2006 Dr. Boonchai was a plastic surgery lecturer and instructor and in 2010, joined Phuket International Aesthetic Center (PIAC) where he generated his international reputation and following with overseas clients. In 2016 Dr. Boonchai now concentrates his time and professional expertise in his private practice.
Dr. Boonchai is certified with the Board of Plastic and Reconstructive Surgery as well as the Board of General Surgery in Thailand and is a member of various Medical and Surgical Councils including the International Society of Aesthetic and Plastic Surgeons (ISAPS).
If you want to know more about Bonnie Health Company, Bangkok, Thailand or want to request any information, just click the contact tab below!

---
Bonnie Health Testimonials
---
Bangkok, Thailand Destination Overview

Why Should You Choose Bangkok, Thailand For Your Medical Treatments?
The right selection of medical tourism destinations is much important in regard to the recovery and healing of the person. Bangkok, Thailand is one of the best and safest medical tourism destinations that greet you with its scenic beauty and charming climatic conditions.
The invigorating street life of Bangkok and the tranquil temples, palaces, and gardens win every heart visiting the country. One can visit Chao Phraya River, Damnoen Saduak Floating Market, Maeklong Railway Market, Wat Pho, Siam Niramit, Bangkok and Suvarnabhumi Airport.
Bangkok, Thailand's capital is known for its ornate shrines and vibrant street life. The Chao Phraya River surrounding the city feeds its network of canals, flowing past the Rattanakosin royal district. Bangkok is home to the opulent Grand Palace and its sacred Wat Phra Kaew Temple. One can see Wat Pho Temple with an enormous reclining Buddha and Khmer-style spire.
The cost of living in Thailand is relatively lower than in many European countries. One can save a lot on healthcare costs and get quality treatment abroad at affordable packages.
For more information about the treatments and procedures offered by Bonnie Health Company, please contact us!

---
---