Rhinoplasty Package by DGB Plastic Surgery in Bangkok, Thailand
Package price starting from:
$4900
Treatment:
Cosmetic/Plastic Surgery, Nose Surgery Rhinoplasty
Location:
The one Bangna3 438/125-126 Kanchanaphisek, Dokmai, Prawet, Thailand
Focus Area:
DGB Plastic Surgery | Bangkok | Thailand | Rhinoplasty | Nose Surgery
---
Elevate Your Profile with Nose Surgery in Bangkok, Thailand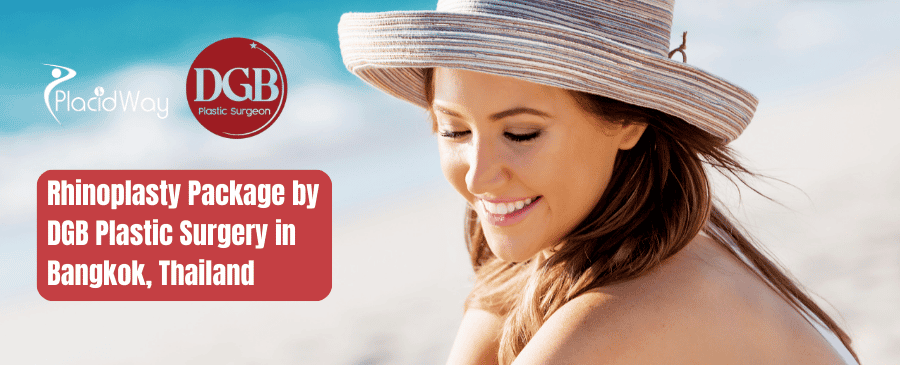 Rhinoplasty, often referred to as a nose job, is a transformative cosmetic surgery that can reshape and enhance the appearance of the nose. When it comes to this delicate procedure, you want to ensure that you are in the hands of experienced professionals who understand the intricacies of facial aesthetics. DGB Plastic Surgery in the vibrant city of Bangkok, Thailand, offers a comprehensive Rhinoplasty Package that has been meticulously designed to meet your cosmetic goals.
With a team of skilled surgeons and state-of-the-art facilities, DGB Plastic Surgery is dedicated to providing you with exceptional results and a rewarding experience. At DGB Plastic Surgery, we believe in transparency and offering our patients the best possible care. Let's explore the five advantages of choosing Bangkok, Thailand, for your Rhinoplasty treatment.
You can get rhinoplasty package by DGB Plastic Surgery in Bangkok, Thailand with the price starts at $4,900. Please refer to our price list table below:
| | |
| --- | --- |
| Location | Cost in USD |
| Bangkok, Thailand | $4,900 |
| United States | $10,000 |
Note: price may change and vary depends on complexity of procedures and patient conditions. Click free quote button below to learn more.

Cost-Effective Care: One of the primary advantages of seeking Rhinoplasty treatment in Bangkok is the significant cost savings compared to many Western countries. DGB Plastic Surgery's Rhinoplasty Package is not only competitively priced but also offers exceptional value for your investment.

Experienced Surgeons: Thailand has gained recognition for its world-class medical professionals, and the team at DGB Plastic Surgery is no exception. Our surgeons have years of experience and are well-versed in the latest techniques, ensuring you receive top-notch care.

Modern Facilities: Bangkok boasts state-of-the-art medical facilities that adhere to international standards. DGB Plastic Surgery's clinic is equipped with cutting-edge technology, ensuring your safety and comfort throughout your Rhinoplasty journey.

Cultural Experience: Beyond the medical aspect, Thailand offers a rich cultural experience for visitors. You can explore the beauty of Bangkok and its surroundings while undergoing your Rhinoplasty treatment.

Quick Recovery and Discreet Environment: Bangkok's warm climate and serene atmosphere can contribute to a faster and more comfortable recovery. Additionally, the city's discretion and respect for privacy make it an ideal destination for cosmetic surgery.
DGB Plastic Surgery's Rhinoplasty Package includes a range of procedures designed to cater to your specific needs. These procedures may encompass nasal reshaping, bridge augmentation, tip refinement, and more. During your initial consultation, our experienced surgeons will assess your goals and customize a treatment plan tailored to your unique facial features and desires.
Before and After Images for Rhinoplasty in Bangkok, Thailand at DGB Clinic
Explore the remarkable transformations that Rhinoplasty can achieve at DGB Clinic in Bangkok, Thailand through our captivating before and after images. These visual testimonials showcase the skill and precision of our experienced surgeons, offering a glimpse into the potential outcomes of our procedures. Witness the enhancement of facial harmony, improved profiles, and the confidence that comes with a nose that beautifully complements your unique features. At DGB Clinic, we believe in the power of visual evidence to inspire and inform our patients, guiding them towards informed decisions and the pursuit of their aesthetic goals.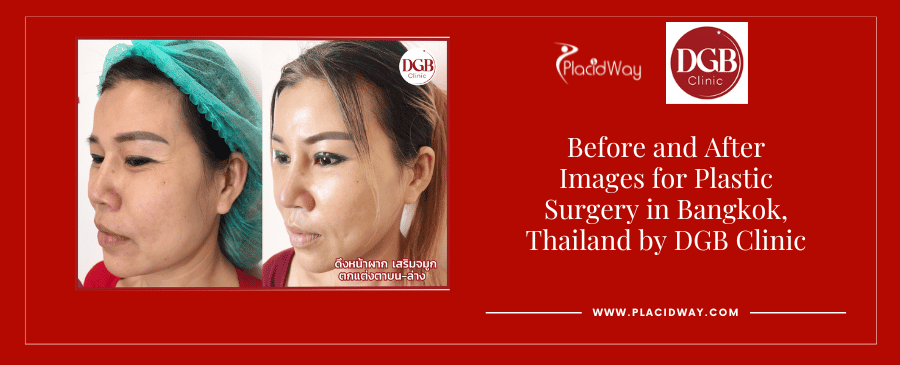 Initial Consultation: Our package starts with a comprehensive consultation, where you can discuss your expectations and concerns with our skilled surgeons.

Surgery and Anesthesia: The package covers the surgical procedure itself, performed by our experienced team under the safest anesthesia protocols.

Postoperative Care: We provide thorough postoperative care to ensure a smooth recovery and optimal results, including follow-up appointments.

Medications and Supplies: All necessary medications and supplies required for your recovery are included in the package.

Accommodation Assistance: We can assist you in finding comfortable and convenient accommodations during your stay in Bangkok.
Travel Expenses: Your travel to and from Bangkok is not included in the package.

Additional Procedures: If you opt for any supplementary treatments or procedures, these will be billed separately.

Personal Expenses: Costs for meals, local transportation, and personal items are not part of the package.

Travel Insurance: We recommend that you arrange appropriate travel insurance for added peace of mind.

Extended Stay: In case you choose to extend your stay beyond the package duration, accommodation and associated costs will be your responsibility.
Rhinoplasty Pre-Op Tests:
Medical Evaluation: Prior to surgery, a comprehensive medical evaluation, including blood tests and a physical examination, will be conducted to ensure you are fit for the procedure.

Allergy Testing: Allergies to anesthesia or other substances will be assessed to minimize risks during surgery.

Imaging and Measurements: Detailed imaging and measurements of your nasal structure will be taken to guide the surgical plan.

Health History Review: A review of your medical history will help us identify any potential complications or considerations.

Patient Education: You will receive detailed information about the procedure and what to expect during the recovery period.
Our team at DGB Plastic Surgery includes highly skilled and experienced plastic surgeons who specialize in Rhinoplasty. They are dedicated to achieving natural-looking results that enhance your facial harmony while respecting your unique features.
Rhinoplasty Surgeon in Bangkok, Thailand

Six years of Medical school in Thailand

Four years of Chulalongkorn University, General Surgery

Fellowship in Plastic and Reconstructive Surgery, three years of specialist plastic surgical training in 2012

The Society of Plastic and Reconstructive Surgery Surgeons of Thailand

The Society of Aesthetic Plastic Surgeons of Thailand

The American Society of Plastic Surgeons (ASPS)
Is Rhinoplasty Right for You?
Desired Aesthetic Change: If you have specific aesthetic goals for your nose, Rhinoplasty can help achieve the desired changes.

Good General Health: It's essential to be in good overall health to ensure a safe surgical experience.

Realistic Expectations: Understanding the limitations and potential outcomes of the procedure is crucial.

Commitment to Recovery: Rhinoplasty requires a period of recovery and follow-up appointments, so commitment to postoperative care is vital.

Consultation: A thorough consultation with our surgeons will determine if Rhinoplasty is the right choice for you.
What to Expect During the Rhinoplasty?
Anesthesia: You will be under anesthesia during the procedure, ensuring you are comfortable and pain-free.

Incisions: Depending on the type of Rhinoplasty, incisions may be made externally or internally.

Reshaping: The surgeon will reshape the nasal structures to achieve the desired outcome.

Sutures and Dressings: Sutures and dressings will be applied to facilitate healing.

Recovery: After surgery, you will be closely monitored and provided with postoperative instructions.
1. Is Rhinoplasty in Bangkok, Thailand, safe?
Yes, Rhinoplasty in Bangkok is safe when performed by experienced surgeons in accredited facilities. The city has a reputation for high medical standards.
2. What is the cost of Rhinoplasty in Bangkok compared to other countries?
Rhinoplasty in Bangkok is often more affordable than in many Western countries, with no compromise on quality or safety.
3. How long is the recovery period for Rhinoplasty in Bangkok?
Recovery time varies, but most patients can return to regular activities within 1-2 weeks, with complete healing taking a few months.
4. Can I combine Rhinoplasty with other cosmetic procedures in Bangkok?
Yes, many patients choose to combine Rhinoplasty with other procedures like facelifts or eyelid surgery for a comprehensive transformation.
5. Are there language barriers for international patients seeking Rhinoplasty in Bangkok?
Most medical facilities in Bangkok have English-speaking staff and interpreters, ensuring effective communication for international patients.
To embark on your Rhinoplasty journey in Bangkok, Thailand, and experience the expertise of DGB Plastic Surgery, book your consultation at PlacidWay Medical Tourism today. Achieve the nose you've always dreamed of with confidence and comfort. Click contact us button below to get started!

Related Experiences:
Rhinoplasty in Bangkok, Thailand
Best Rhinoplasty in Thailand
Rhinoplasty in Antalya Turkey
Rhinoplasty in Croatia
Rhinoplasty in Guadalajara, Mexico
Rhinoplasty in India
---