Dental Veneers in Cabo San Lucas
Cost-Effective Smile Restoration with Teeth Veneers in Cabo San Lucas
Want to improve the appearance of your teeth? Dental Veneers in Cabo San Lucas can be the solution to providing a brighter smile for up to 70% more affordable prices.
With cheap, short flights, fantastic scenery and beaches, and world-class clinics, no doubt that Cabo is among the favorite dental tourism destinations for Americans and Canadians.
In our guide, you'll find more information about the following topics;
Best Clinic: PURE Smile Makeover Center
Best Dentist: Jose Valdes Morton
Procedure: Dental Veneers
Average Cost in Cabo: $550
Cost in North America: From $1,000
Savings: Up to 70%
Top Tourist Attractions: Medano beach, Playa del Amor, El Arco de Cabo San Lucas, and more.
---
How much are veneers in Cabo Mexico?
A single porcelain veneer in Cabo San Lucas cost around $550 while in the United States over $1,750. The cost will depend upon the clinic, the doctor's experience, the type of veneer, and your overall health.
However, Cabo veneers remain up to 70% cheaper option than the US and Canada even with additional costs such as transport and accommodation.
Have a look at the cost comparison table below for more detail.
Dental Veneers Cost Comparison in Mexico

| Country | Procedure | Price |
| --- | --- | --- |
| Canada | Dental Veneers, Dentistry | $1700 |
| Mexico | Dental Veneers, Dentistry | $550 |
| United States | Dental Veneers, Dentistry | $1750 |
---
Top 2 Veneers Clinics in Cabo San Lucas
Cabo San Lucas is not only an exotic destination but also a popular dental tourism place thanks to the advanced clinics and experienced dentists. The professional medical team will ensure you receive the best quality care and achieve the desired cosmetic aims.
With accessible communication in English, you will understand your Cabo dentist while he guides you through the dental veneer procedure. Using the latest technology and materials in smile reconstruction, your new teeth will be Hollywood star-like.
Usually, two-appointment visits are needed to get your new teeth in Cabo clinics. It will take up to a week or if the dentist use CAM/CAD in-house ceramic technology, he can make your teeth veneers in a day.
These are the two top-rated clinics in Cabo San Lucas and their profiles:
Top Center
Advanced Cabo Dentistry is one of the top international clinics that offer Restorative Dentistry and Cosmetic dentistry solutions in San Jose Del Cabo, Mexico. Key procedures include Dental Implants, Bridges, Crowns, Endodontics, Fillings, Braces, Teeth Whitening and more.
Top Center
PURE Smile Makeover Center is a dental care clinic that provides a wide range of services for local and international patients located in San Jose Del Cabo, Mexico. The clinic provides high-end dental procedures such as general and advanced dental care, cosmetic dentistry, maxillofacial surgery, implant dentistry, orthodontics, and more.
---
Dental Veneers Reviews Cabo San Lucas
---
Frequently Asked Question about Teeth Veneers cost in Cabo
If you're interested to learn more about dental veneer cost in Cabo, you should read our answer below.
How much would I pay for Dental Veneers in Cabo San Lucas, Mexico?
Show More
If you need Dental Veneers than Cabo San Lucas, Mexico is an option that you might want to consider. Prices for Dental Veneers start at $332, but the final cost depends on the complexity of the procedure, the clinic and doctor that you choose, the materials and equipment needed and the duration of the treatment. There are many dental clinics in Cabo San Lucas, Mexico that offer Dental Veneers packages for international patients, which include transportation from the airport to the hotel and clinic, translators (if needed), consultation, second opinion diagnostic and case manager assistance. Dental Veneers will help you restore your oral health, teeth function and smile. Now you have no reason to postpone your dental treatment. With the affordable Dentistry prices in Cabo San Lucas, Mexico and the expertise of the dentists, you will have your teeth fixed in no time, without spending a fortune. Mexico is renowned for its dental tourism. Many medical tourists actually go for major dental work because of the cost advantages, so it's common to see patients having multiple crowns, implants and other dental cosmetic procedures. Thanks to modern technology some procedures which were done in several days before, can now be performed in just one day. You will go home with a brand new smile and restored confidence. To make sure that you choose the best dentist in Cabo San Lucas, Mexico, you will have to know exactly what to look for. Here are several questions that will help you make the best choice Are you certified in performing Dental Veneers? Are you a member of any Dentistry association or society? How many years of experience do you have performing Dental Veneers? How often have you performed this procedure? How many years of experience do you have performing Dentistry? What are the advantages and disadvantages of Dental Veneers? What about the risks and complications? What if something goes wrong during Dental Veneers procedure? What if I am not happy with Dental Veneers results? What happens if I arrive in my home country and I realize that something is not right with the Dentistry? Below you can find some of dentist in Cabo San Lucas, Mexico that offer most affordable price for Dental Veneers.Find out more about the best dentists in Cabo San Lucas, Mexico! Contact us and choose the best dental specialist!
---
Best Dental Veneers Dentists in Cabo San Lucas
Dentists in Cabo San Lucas provide high-quality dental veneers made from various materials, like composite veneers and porcelain veneers. Cabo dentists are Smile restoration specialists working with local and foreign patients for years to help them reach the desired smile esthetics.
With extensive work experience and international training, dentists in Cabo San Lucas are among the best in the world. Most of them are board-certified and fluent in English. Other qualifications and contact information are available in their profiles below.
Contact our team when you are ready to meet your Cabo dentist.
---
Dental Tourism in Cabo San Lucas - Top Things to do in Los Cabos
Cabo San Lucas is situated in the southern part of Baja California in Mexico. This resort city offers an exotic getaway for dental tourists and those seeking an adventurous holiday. With pristine beaches and warm weather surrounded by breathtaking scenery, it is no wonder Cabo is so appealing as a tourist destination.
For only about two hours flight from the USA, you'll get your perfect smile and enjoy a well-deserved vacation in beautiful Cabo. If you're wondering what there is to do in Cabo San Lucas, here are our suggestions:
Visit Land's End to explore the southern point of Baja California
Visit San Jose del Cabo
Take a boat trip to Espiritu Santo Island - UNESCO Biosphere Reserve
Explore top beaches such as Medano, Amor, and Chileno beach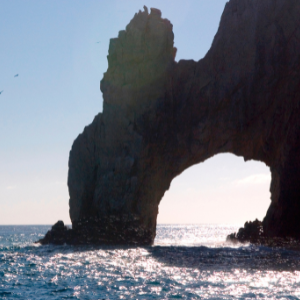 Cabo San Lucas - Keyhole Rock
---
Get Your Dental Veneers in Cabo San Lucas Today!
High-quality dental veneers in Cabo San Lucas can be yours today at only $550!
Book a consultation with a reputable dentist in Cabo by reaching out to our Customer Care team and save around 70% on Cabo dental veneers!
---