Dental Veneers in Dubai UAE
Transform Your Smile with Teeth Veneers in Dubai!
Dreaming of a Holywood Smile? You can achieve your dream with Dental Veneers in Dubai, UAE! This cosmetic dental procedure is becoming more popular recently since many people want the confident, bright smile like their favorite Hollywood star has.
Dental veneers can benefit misshapen, discolored, cracked, or chipped teeth. Veneers are attached to the front of the teeth and are color-matched to fit your other teeth. You are a good candidate for teeth veneers if
You have good dental health; no signs of gum disease or tooth decay

Maintain a regular oral hygiene routine

Don't suffer from bruxism ( a jaw clenching or teeth grinding)
Read on to learn more about choosing Dubai dental veneers for your new, glorious smile and an exotic vacation!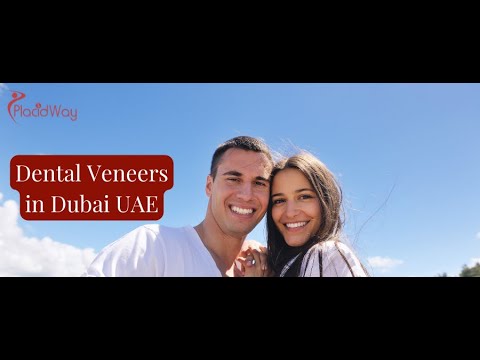 ---
All-Inclusive Dental Veneers Packages in Dubai UAE
Some Dubai dental clinics offer exclusive services combined with a dental veneer procedure at affordable cost. International patients can choose an all-inclusive package and enjoy their trip without stress.
Of course, you would have to spend for additional costs such as travel, accommodation, and tourist tours, but overall, it will not affect your budget.
Contact us for more details on teeth veneer packages in Dubai clinics.
---
How much does it cost for veneers in Dubai?
Cost of veneers in Dubai starts at $250 at reputable clinics. In Germany, however, a patient would have to pay over $4,200, while in the USA $1,750 per tooth veneer.
Therefore, Dental veneers Dubai price is over 70% more affordable option. Here you can rebuild your whole smile with the price of one veneer in the West.
The following table presents teeth veneers prices in Dubai compared to your home country:
Dental Veneers Cost Comparison in UAE

| Country | Procedure | Price |
| --- | --- | --- |
| Australia | Dental Veneers, Dentistry | $2000 |
| Canada | Dental Veneers, Dentistry | $1700 |
| Germany | Dental Veneers, Dentistry | $4213 |
| United States | Dental Veneers, Dentistry | $1750 |
| UAE | Dental Veneers, Dentistry | $250 |
---
Best 5 Clinics in Dubai for Teeth Veneers
If you're considering going to Dubai for a dental veneer procedure, we can help you find the right clinic for your needs. Our list of the top 5 dental veneer clinics in Dubai contains former patient reviews, clinic images, doctors' names, and costs. They use CAD/CAM technology to provide quick and safe results in just one visit.
Dubai's dental clinics have high standards and excellent quality care for international patients. Dentists provide dental treatments that are on par with the rest of the world.
Find more information about each clinic for teeth veneers in Dubai below:
---
Dental Care in Dubai UAE Reviews
---
Most Common Question on Dubai Dental Veneers
If you want to know more about Dental Veneers cost in Dubai, read our answer below.
What is the cost of Dental Veneers in Dubai, UAE?
Show More
The price of Dental Veneers in Dubai, UAE ranges between $500 to $4,200. The final cost for Dental Veneers depends on the final diagnosis, treatment requirements, clinic certifications, equipment and materials used, and duration of the treatment. If you are a medical tourist, keep in mind that this price usually doesn't include airfare and hotel stay. Veneers Types Costs in Dubai Composite Veneers (per unit) $500 Metal Free Emax Veneers $600 Porcelain Veneers (per unit) $750 Lumineers $800 Full Set of Veneers $2,500 to $4,200 Note: Price can change depending on the complexity of procedures and patient conditions. Contact our customer representative for more information about the cost of dental veneers in Dubai. You can also find a lot of packages that dentists in Dubai, UAE are offering for Dental Veneers, which include lot of benefits for similar price, not only the treatment itself. Dental Veneers helps you to boost your confidence and improve your oral health. Also, paying attention at oral health helps you prevent bad breath, keep teeth whiter, prevents tongue problems and help your natural teeth last longer. How to Choose the Best Dentist for Dental Veneers in Dubai, UAE? To help you choose the best dentist for Dental Veneers in Dubai, UAE, here is a list of some questions that you should ask your dentist before you make an appointment: Are you certified? Are you a member of any Dentistry association or society? How many years of experience do you have performing Dentistry? How often have you performed Dental Veneers? What are the advantages and disadvantages of Dental Veneers? What about the risks and complications? What if something goes wrong during Dental Veneers procedure? What if I am not happy with the Dental Veneers results? In the past few years, UAE started becoming an attractive destination for many medical tourists. With many historical and attractive places that tourists can visit, UAE has begun to increase the number of medical tourists each year. Also, as medical tourism in Dubai, UAE started expanding, the medical providers started presenting more attractive offers to their customers to remain competitive. Dubai has many dentists who offer different packages for Dental Veneers using the latest technology in Dentistry. Get Your Teeth Veneers in Dubai Today! Find out more about the best dentists in Dubai, UAE! Contact us and choose the best dental specialist!
---
Experienced Dentist in Dubai for Veneers
When you opt for teeth veneers in Dubai, you will need to go through several dental checkups that include
Consultation with a chosen dentist via a video call;
Examination and Treatment Planning, to ensure you are a suitable candidate for veneers and provide a treatment plan;
Preparing your teeth for a veneer;
Placing a veneer to fit perfectly in your mouth.
We will help you find the right Dubai dentist for your dental goals, so contact us today for more details.
---
Why is Dubai the best option for Dental Veneer?
Dubai can be an excellent choice where you'll gain a new, shining smile with cost-effective, top-quality dental veneers. Millions of tourists go to Dubai to explore its world-class attractions and take advantage of the trip to visit Dubai's highly skilled dentists. The prices are competitive and you can get dental veneers up to 70% cheaper than back home.
Also, Dubai is among the most beautiful cities in the world, so it's worth visiting its popular sites such as
The Underwater Zoo at The Dubai Aquarium in Dubai Mall

Mall of the Emirates with the spectacular Ski Dubai facility inside

Jumeirah Mosque

The Burj Al-Arab, the world's tallest hotel, 321 meters high

La Mer Beach in Jumeirah

Global Village's Culture & Entertainment

Colorful Dubai Miracle Garden
---
Opt for Dental Veneers in Dubai UAE at PlacidWay!
You can simply book your dentist consultation online for dental veneers in Dubai by contacting our PlacidWay team. We will help you find the best clinic and cosmetic dentist in Dubai for your preferences!
---