Abdominal Etching in Turkey
Consider Six Pack Surgery in Turkey for Your High-Def Abs
Do you want your abdomen to look more athletic? You deserve to feel confident with your body shape. A 'six-pack' or abdominal etching in Turkey is ideal solution.
Going to the gym may not always result in your desired flat, defined abs. The abs etching procedure is an excellent way to improve the appearance of abdominal muscles.
If you have up to 20% body fat and pre-existing muscle tissue in your stomach while maintaining a healthy lifestyle and exercising, abs etching is for you. However, before undergoing treatment, you should consult a professional Turkish plastic surgeon to ensure that this surgery is right for you.
These highly skilled doctors will assist you in getting rid of excess stomach fat and adding definition to your tummy area. Abdominal etching is a liposculpture procedure that can help you achieve six-pack abs. The procedure strategically removes excess fat to enhance and define the abdominal muscles.
If you're interested in having abdominal etching in Turkey, keep reading this guide to find out more.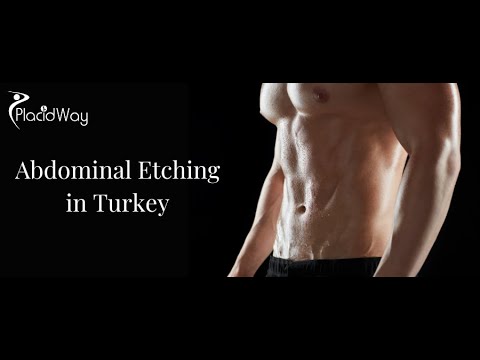 ---
All Inclusive Abdominal Etching Surgery Packages in Turkey
Turkish clinics offer great package deals to help you save more money and ejoy your hassle-free trip to Turkey for six-pack operation. They create all-inclusive packages at prices between $2,800 and $4,500 with special services that may include the following:
All hospital fees with night stay

Preoperative examinations and tests

Nurse fee

Anesthesia

Consultation

Specialists and medical personnel fee

Surgeon's fee

Transfers from the airport

Hotel accommodation (for our patient + 1 companion)

Room service (for our patient + 1 companion)

Translator
Remember that prices may vary depending on your specific case and the clinic's policies. It's important to research and compare the different clinics and packages before making a final decision.
That's why we have compiled the list of top 3 packages for abs etching in Turkish best clinics. See more info below.
---
Cost of Abdominal Etching Surgery in Turkey
Abdominal etching Turkey cost depends on a number of factors, such as the type of procedure, the surgeon's experience, and the clinic reputation. The minimum price at our providers clinics in Turkey is $2,273, while the maximum $4,500.
Compared to Western countries, Abdominal Etching is cheaper in Turkey for about 50%. For example, in the United States six-pack abs cost $8,100 while in the UK over $7,200.
You can save approximately $3,000 on abdominal etching operation in Turkey which is by no means negligible.
Abdominal Etching Cost Comparison in Turkey

| Country | Procedure | Price |
| --- | --- | --- |
| Turkey | Abdominal Etching, Cosmetic/Plastic Surgery | $2273 |
| United Kingdom | Abdominal Etching, Cosmetic/Plastic Surgery | $7270 |
| United States | Abdominal Etching, Cosmetic/Plastic Surgery | $8100 |
---
Best Centers in Turkey for Liposculpture Surgery
Body-shaping surgery with six pack abs guarantees you an attractive, athletic and muscular look. If you are thinking about getting abs etching surgery, you need too look into clinics in Turkey. Turkish clinics are the best option for you because they provide high sucess rate of the treatment and low prices, friendly and well-trained medical personnel, and highly experienced surgeons.
These clinics offer the latest techniques and technology to help patients achieve their desired results. Hihgly skilled surgeons are dedicated to providing personalized care and attention to every patient.
PlacidWay partners with reliable and reputable doctors and clinics so you can have best result and experience. Meet top 6 plastic surgery centers in Turkey below:
---
Amazing Videos to See before Ab Etching Surgery in Turkey
The videos below show some real cosmetic surgery before and after results from the best hospital in Turkey. Learn about our top liposculpture package in Turkey, as well as what to expect after the procedure.
---
Cosmetic Surgery in Turkey Reviews
---
Top Questions & Answers on Abs Etching in Turkey
---
Best Doctors in Turkey for Abdominal Etching Operation
Turkish doctors are some of the most skilled and well-trained plastic and reconstructive surgeons in the world. Not suprisingly because they have graduated from prestigious Turkish univirsites and then undergone international training at world-recognized centers. Most doctors in Turkey are also fluent in English which helps a lot in communication with overseas patients.
Well-respected cosmetic surgeons in Turkey are known for their expertise in using the latest techniques and technology to help patients achieve their desired aesthetic results.
Our list of best plastic surgeons in Turkey includes specialists in abdominal etching or liposculpture surgery. They have a reputation for achieving excellent results and providing high-quality care to their patients.
View some of the most popular Turkish plastic surgeons below and book your video consultation through PlacidWay!
---
Why Choose Ab Implants Turkey?
There are a plethora of reasons why you should choose to have abdominal etching done in Turkey. One of the most significant is cost. Cosmetic procedures like abdominal etching are often less expensive in Turkey than they are in other parts of Europe or North America. This can make it an attractive option for money saving purpose combined with affordable vacation and high-quality care.
Another reason why Turkey might be a good choice for abdominal etching is the expertise of the surgeons. Turkey has a large and well-developed healthcare system, and many of the surgeons who perform abdominal etching are highly trained and experienced.
In addition, Turkey is one of the leading countries in medical tourism, which means that hospitals and clinics are well-equipped to handle international patients and provide them with the care they need.
Here are the best places in Turkey you can explore before your surgery:
Adana is situated in southern Turkey, on the Seyhan River, where the Roman-built, 21-arched Stone Bridge lies. Here you'll try delicious street food like famous. kebab and enjoy stunning historic architecture, such as astonishing mosques and ancient buildings.

Izmir is another famous medical tourism city. The exquisite combination of an old and new culture is attractive to tourists.

Istanbul is the largest city in Turkey and is visited by millions of tourists every year. Aya Sofia and Blue Mosque, Bosphorus strait, and Topkapi Palace are just a few of many other places you can visit while here for bariatric surgery.

Antalya - A famous tourist resort thanks to its warm weather, beautiful beaches, and luxury resorts. Here you can enjoy visiting the old parts of the city in Kaleici, the Ruins of Termessos, and the Yivli Minaret. Or relax at white-sand Konyaalti Beach.
---
Receive a FREE Quote for Abdominal etching in Turkey Today!
Six-pack liposculpture in Turkey can help you attain a flat, sculpted stomach. In general, if you are the ideal fit and take appropriate care of yourself, the results of the operation can be excellent.
We offer a wide range of options for abdominal etching in Turkey. Our network of top-rated clinics and experienced surgeons provide the latest techniques and technology for this cosmetic procedure.
When you book with PlacidWay, we take care of all the trip details, including 24/7 support during your entire medical journey.
Contact our Customer Care Team today for a FREE quote!
---