Dental Implants in Puerto Vallarta, Mexico - Low-Cost and Quality
Choose Now Dental Implants in Puerto Vallarta, Mexico!
Dental implants are a remarkable solution for individuals who have lost teeth due to injury, decay, or other oral health issues. These implants provide a long-lasting, natural-looking alternative to traditional dentures or bridges. By anchoring a titanium post into the jawbone, dental implants offer stability, durability, and functionality similar to natural teeth.
In Puerto Vallarta, you can find highly skilled and experienced dental professionals who specialize in implant dentistry. These professionals are trained in the latest techniques and technologies, ensuring that you receive top-notch care and achieve outstanding results. Many dentists in Puerto Vallarta have studied and trained internationally, providing you with the assurance that you'll receive world-class dental treatment.
Aside from the expertise of the dental professionals, Puerto Vallarta offers a warm and welcoming environment that adds to the overall dental experience. The city's stunning beaches, picturesque landscapes, and vibrant culture create a relaxing and enjoyable atmosphere for dental implant patients. You can combine your dental procedure with a memorable vacation, taking advantage of Puerto Vallarta's many attractions, including water sports, delicious cuisine, and historical landmarks.
Another significant advantage of choosing dental implants in Puerto Vallarta is the cost savings. Compared to other countries, dental procedures in Mexico, including dental implants, are often more affordable without compromising on quality. This affordability makes dental implants accessible to a wider range of people, allowing them to receive the care they need while enjoying the benefits of a beautiful vacation destination.
This guide will answer your questions regarding how to choose the best clinic, dentist, and package for dental treatment in Puerto Vallarta.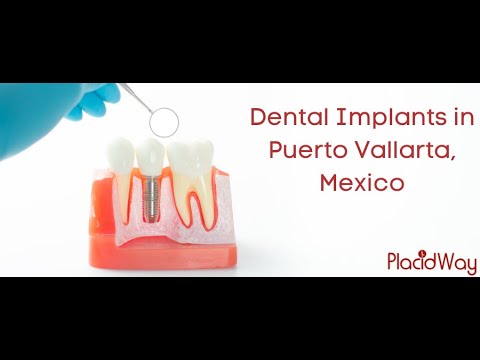 ---
Affordable Package for Dental Implants in Puerto Vallarta, Mexico
Dental clinics in Puerto Vallarta offer affordable dental implants packages starting at $1,250. For self-pay American or Canadian patients this is a fraction of the cost in their country.
Coming to Puerto Vallarta you'll save up to 70% of the money and get the quality vacation you deserve! And in the next section, you will see the cost comparison table between different countries.
Here are the package inclusions that dental clinics in Puerto Vallarta may offer for their dental implants packages:
Dental Implant Procedure: The package includes the complete dental implant procedure, which involves the placement of the implant post into the jawbone.
Consultation and Evaluation: The package typically includes an initial consultation and evaluation with the dentist to assess your oral health, discuss your treatment plan, and answer any questions or concerns you may have.
Implant Surgery: The package covers the surgical procedure to place the dental implant(s) in your jawbone. This includes local anesthesia or sedation to ensure your comfort during the procedure.
Implant Abutment: The package often includes the abutment, which is the connector that attaches the dental crown, bridge, or denture to the implant post.
Dental Restoration: Depending on your specific case, the package may include the dental restoration that will be placed on top of the implant. This could be a crown for a single tooth replacement or a bridge or denture for multiple teeth replacement.
Pre- and Post-Operative Care: The package may include pre-operative tests, X-rays, and consultations, as well as post-operative care instructions and follow-up appointments to ensure proper healing and the long-term success of the implant.
Warranty: Some dental clinics offer a warranty or guarantee on their dental implants, covering any complications or failures that may occur within a certain timeframe.
Get comprehensive package price information for Dental Implants packages in Puerto Vallarta, Mexico?
---
Cost of Dental Implants in Puerto Vallarta - up to 70% less!
Compared to North America and the UK, Puerto Vallarta is far more affordable. For instance, in America, you'd have to pay $3,500 per arch, and in the UK $2,500. But that is only a starting price.
The cost depends on the complexity of the case, patient health, and the clinic. However, taking all this into account, dental implants in Puerto Vallarta remain up to 70% lower.
Dental Implants Centers Cost Comparison in Puerto Vallarta, Mexico
| Provider | Procedure | Price |
| --- | --- | --- |
| PV Smile | Dental Implants, Dentistry | $1250 |
Dental Implants Cost Comparison in Mexico

| Country | Procedure | Price |
| --- | --- | --- |
| Canada | Dental Implants, Dentistry | $3000 |
| United States | Dental Implants, Dentistry | $3500 |
| United Kingdom | Dental Implants, Dentistry | $2500 |
---
Top Dental Clinics in Puerto Vallarta, Mexico for Dental Implants
Dental Clinics in Puerto Vallarta offer a revolutionary approach to patients. The medical team who works in these clinics is dedicated to providing the personalized care you deserve. They can help you achieve the smile of your dreams with a range of cosmetic dentistry treatments.
The following are just a few of the many advantages these clinics provide:
Offer affordable package prices for dental implants
Using the latest technology and materials
Equipped with a modern, clean and comfortable clinic
Employed staff who will ensure your happiness and safety
Provide you with reassurances that will exceed your expectations
And most importantly, you'll feel stress-free in a stunning environment such as Puerto Vallarta!
Top Center
Smile Vallarta is a modern dental office located in the beautiful Mexican resort of Puerto Vallarta. The clinic is in business for 15 years and offers a full range of affordable general and specialist dental care.
---
Videos About Teeth Implants in Puerto Vallarta, Mexico
We all love watching videos related to the subject of our interest. In this case, learning more about dental implants and Puerto Vallarta as a dental tourism place via videos.
We have gathered some of our top videos choice you can watch and share afterward.
---
Dental Implants in Puerto Vallarta, Mexico Reviews
Your satisfaction after dental work is the top priority for each dentist. We would like you to check the past patient reviews below and get to know their experience.
---
FAQs about Dental Implants in Puerto Vallarta Mexico
What else would you like to know about dental work in Mexico? Is it safe to go there, what is the cost of dental implants, and who are the best dentists across US-Mexico border?
We know you have these questions in mind, so we'll explain each of them below. Keep reading!
Q: What are dental implants?
A: Dental implants are metal posts or frames that are surgically positioned into the jawbone beneath the gums. They provide a stable foundation for replacement teeth, such as crowns, bridges, or dentures.
Q: Why should I consider getting dental implants in Puerto Vallarta, Mexico?
A: Puerto Vallarta is a popular destination for dental tourism due to its high-quality dental care at affordable prices. The city has modern dental clinics with experienced dentists who specialize in implantology. Additionally, you can enjoy a beautiful vacation in a picturesque location while receiving dental treatment.
Q: How much do dental implants cost in Puerto Vallarta?
A: The cost of dental implants in Puerto Vallarta is generally lower compared to countries like the United States, Canada, or Europe. The exact cost depends on various factors, including the number of implants needed, the type of restoration (crown, bridge, or denture), any additional procedures required, and the specific dental clinic you choose.
Q: Are the dental implants placed in Puerto Vallarta of good quality?
A: Yes, dental implants placed in Puerto Vallarta are typically of high quality. Many dental clinics in the city use implants from reputable international manufacturers, ensuring they meet international standards for safety and durability. It's essential to choose a reputable dental clinic with experienced implantologists to ensure the quality of the materials and treatment.
Q: How long does the dental implant procedure take?
A: The dental implant procedure usually involves multiple stages and can vary depending on individual cases. After the initial consultation and planning, the implant placement surgery itself typically takes around 1 to 2 hours per implant. Afterward, a healing period of a few months is required for the implant to integrate with the jawbone. The final step involves attaching the prosthetic tooth or teeth, which may require additional appointments.
Q: Is the dental implant procedure painful?
A: The dental implant procedure is typically performed under local anesthesia, ensuring you do not feel pain during the surgery. Some discomfort or soreness may be experienced after the procedure, but it can be managed with over-the-counter pain medications prescribed by your dentist.
Q: How long do dental implants last?
A: Dental implants have a high success rate and can last a lifetime with proper care and maintenance. Regular oral hygiene practices, such as brushing, flossing, and routine dental check-ups, are essential for the long-term success of dental implants.
Q: What are the potential risks and complications of dental implant surgery?
A: Like any surgical procedure, there are potential risks and complications associated with dental implant surgery. These may include infection, damage to surrounding structures, nerve injury, implant failure, or complications during the healing process. However, choosing a skilled and experienced dentist and following their post-operative instructions can help minimize these risks.
Q: How can I find a reputable dental clinic for dental implants in Puerto Vallarta?
A: You can find reputable dental clinics in Puerto Vallarta by conducting online research, reading patient reviews and testimonials, and checking the qualifications and experience of the dentists. It is recommended to choose a clinic that has specialized dentists in implantology, modern facilities, and a history of providing quality dental care.
Q: Do I need to speak Spanish to get dental implants in Puerto Vallarta?
A: While knowing Spanish can be helpful when communicating with the dental team and local residents, many dental clinics in Puerto Vallarta have English-speaking staff to cater to international patients. You can inquire about English-speaking services or use translation apps to ensure effective communication throughout your treatment.
---
How to Find Experienced Dentists in Puerto Vallarta for Implants?
To find experienced dentists in Puerto Vallarta for dental implants, you can follow these steps:
Research online: Start by conducting an online search for dental clinics in Puerto Vallarta. Look for clinics that specialize in implantology or have dentists with expertise in dental implant procedures.
Read reviews and testimonials: Check out reviews and testimonials from patients who have undergone dental implant procedures at various clinics in Puerto Vallarta. Look for positive feedback regarding the expertise and skills of the dentists.
Check dentist qualifications and experience: Visit the websites of dental clinics you're interested in and review the profiles of the dentists. Look for their qualifications, certifications, and experience in performing dental implant procedures. Pay attention to the number of years they have been practicing and whether they have received specialized training in implantology.
Look for before-and-after photos: Reputable dental clinics often showcase before-and-after photos of their patients' dental implant procedures. This can give you an idea of the quality of their work and the results you can expect.
Seek recommendations: Ask for recommendations from friends, family, or acquaintances who have had dental implant procedures in Puerto Vallarta. Their personal experiences can provide valuable insights and help you find a trusted dentist.
Contact the clinics: Once you have shortlisted a few clinics and dentists, reach out to them directly. Inquire about their experience with dental implants, ask any questions you may have, and assess their communication and responsiveness. Pay attention to how well they address your concerns and provide information.
Consultation and evaluation: Schedule a consultation with the dentist to discuss your specific case and evaluate their recommendations. During the consultation, ask about their success rate with dental implants and any additional procedures that may be required in your case.
By following these steps, you can gather information, assess the expertise and qualifications of dentists, and make an informed decision about choosing an experienced dentist for dental implants in Puerto Vallarta.
---
Dental Tourism in Puerto Vallarta, Mexico
Dental Tourism in Puerto Vallarta is booming thanks to North American patients. They love the city and the proximity to the sea, besides getting dental work done in that stunning holiday resort!
In Puerto Vallarta, you can enjoy the sun and the beach, walk by the beach or explore the nature that surrounds the city. Whatever you decide to do, it will be a new experience.
---
Book Dental Implants in Puerto Vallarta, Mexico in Cheap Price
Leave behind your dental problems and smile again with confidence! Now you have the important information about clinics, dentists, and the cost of dental implants. You can unwind and start preparing for the trip to Puerto Vallarta.
But before you do that, contact our PlacidWay team and we will help you with planning!
---