Smile Vallarta
Full Mouth Reconstruction, Teeth Whitening, Dental Crowns, Orthodontics, Cosmetic Dentistry, Root Canal Therapy, Porcelain Dental Veneers, Dental Tourism, Dental Care Mexico, Puerto Vallarta, Mexico

Boulevard Francisco Medina Ascencio 2898, Next to Intercam bank, Isla Iguana, 48335 Puerto Vallarta, Jal., Mexico, Puerto Vallarta, Mexico

Focus Area:

Smile Vallarta | Puerto Vallarta | Mexico | Dentistry
Smile Vallarta Profile Overview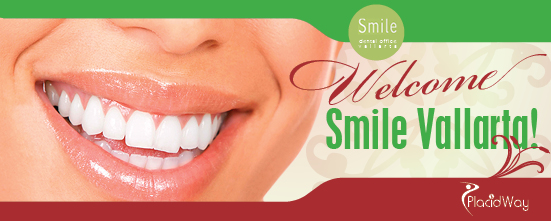 Welcome to Smile Vallarta
Dental Office in Puerto Vallarta, Mexico
Smile Vallarta is a modern dental office located in the beautiful Mexican resort of Puerto Vallarta. The clinic is in business for 15 years and offers a full range of affordable general and specialist dental care.
Located in Plaza Palmas, the clinic's design is modern and airy providing a relaxing ambience for the patient's dental treatment. Dr Alejandro Sánchez, the founder and CEO of the clinic, and his team are friendly, welcoming and professional, attending to the patient's dental needs and ensuring they receive a world-class service and a pleasant experience.
Smile Vallarta will provide the dedicated and personalized care the patients deserve and can help them achieve the smile of their dreams with the range of revolutionary cosmetic dentistry treatments, including crowns, veneers and teeth whitening.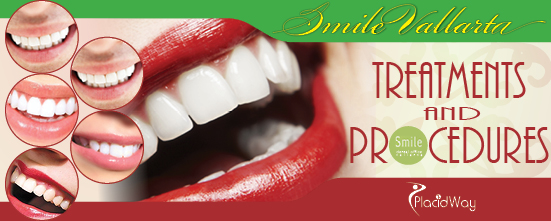 Treatments and procedures
Smile Vallarta offers the full scope of general and cosmetic dentistry services, including porcelain crowns, porcelain dental veneers, braces to straighten your smile, teeth whitening and replacement of broken or missing teeth. The clinic also provides after-hour emergency dental services for those who need immediate attention.
Dental Veneers

Dental veneers are used to correct any teeth imperfections, from gaps and chips to stains or misshapen teeth. With veneers, you will have a more confident, beautiful smile. They are the perfect alternative for patients wanting to make minor adjustments to the look and feel of their smile. Dental veneers are thin, custom-made shells made from tooth-colored materials (such as porcelain) designed to cover the front side of your teeth.

Dental bridge

A dental bridge is used when missing teeth have created a gap which needs to be covered, therefore maintaining the shape of the face, and alleviating stress on the bite. The dental bridge can be made from gold, alloys, porcelain, or a combination of these materials and is bonded onto surrounding teeth for support.

Dental Crowns

Dental crowns can be made of pure E-max porcelain or can be fused to high noble metal. The E-max will resemble more the color, texture and translucency of natural teeth, but they are recommended only for the front teeth. The porcelain fused to metal crowns will take between 3 to 5 days to be applied. Most of the time the treatment is done after 72 hours, this involves daily appointments of one to two hours each. The time required for E-max crowns is 4 days for the full procedure.

Root canal

The root canal is a necessary procedure in the case of a diseased tooth nerve. When a tooth is cracked or has a deep cavity, bacteria can enter the pulp tissue and germs can cause an infection inside the tooth. If the infected tissue is not removed, pain and swelling can result. This can not only injure the jawbones, but it is detrimental to the patient's overall health. Without the proper treatment, the tooth may have to be removed.
Dental fillings
Traditional dental fillings are made of gold, porcelain, and composite, but newer dental fillings include ceramic and plastic compounds that mimic the appearance of natural teeth. The strength and durability of traditional dental materials make them useful for situations where restored teeth must withstand extreme forces that result from chewing, often in the back of the mouth.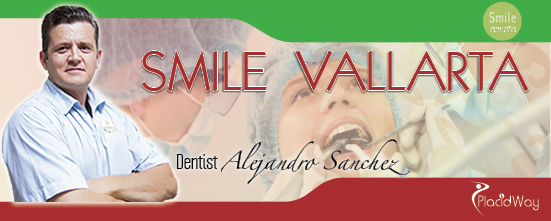 Medical Team
Dr. Alejandro Sanchez
Dr Alejandro Sanchez is one of the renowned dentists in Puerto Vallarta, with an experience of more than 17 years. Dr Sanchez is committed to provide patients high quality dental care in a comfortable and relaxing environment. He graduated from Guadalajara Autonoma University School Of Dental and Oral Surgery in 1998 and since then Dr. Sanchez have continued to take courses to improve the quality of care for the patients, expanding his knowledge of dentistry to provide better care, and to make work fun.
Treatment/Procedure Prices
| | |
| --- | --- |
| Dental Treatment | $ |
| Exam and Evaluation | 15 |
| Regular Cleaning - prophylaxis | 45 |
| Laser Whitening & cleaning | 250 |
| White Composite fillings (one surface) | 60 |
| Composite Fillings (two surface) | 70 |
| White composite fillings (three surface) | 80 |
| Remove old fillings and replace with resin composite | 100 |
| Root Canal for anterior (front) teeth | 265 |
| Root canal for posterior (back) teeth | 290 |
| Root Canal Retreatment | 315 |
| Cast Post in addition to crown | 100 |
| Pre-fabricated Post | 10 |
| Core Build up | 60 |
| Regular Extraction | 75 |
| Surgical Extraction | 125 |
| Surgical Root extractions | 120 |
| Wisdom Tooth Extraction - Simple | 125 |
| Wisdom extraction, semi-impacted | 165 |
| Wisdom extraction, full boney impacted | 230 |
| PFM Porcelain Crowns -Standard finish | 347 |
| PFM crowns -Esthetic finish (porcelain edge) | 355 |
| All porcelain E.Max Crown | 431 |
| E.Max Veneer | 395 |
| Zirconium Ceramic Crowns | 475 |
| E.max Porcelain Inlay or Onlay | 350 |
| Composite Inlay or Onlay | 245 |
| Silver Metal Inlay or Onlay | 245 |
| Crown Lengthening (gum surgery) | 150 |
| Crown lengthening (including removal of bone) | 210 |
| Perio-Maintenance Cleaning (whole mouth) | 145 |
| Perio-Scaling & Root Planing/Quadrant | 125 |
| Immediate Acrylic Full or Partial | 350 |
| Temporary Partial | 265 |
| Temporary Flipper | 140 |
| Metal Frame Partial | 535 |
| Flexible Full or Partial Denture | 535 |
| Highest Quality Full Denture/Arch | 680 |
| Denture Reline (soft - done in clinic) | 855 |
| Denture Reline (done in dental lab) | 125 |
| Individual Bone Graft | 395 |
| Sinus Lift | 1000 |
Why Choose Our Clinic?
Modern dental equipment
Medical team with extensive experience and training
Quick and safe dental procedures
Affordable prices
Personalized care for each patient
About Puerto Vallarta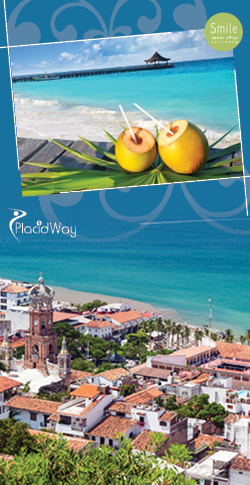 Puerto Vallarta is one of Mexico's liveliest and friendliest resort destinations. Stretching along the sparkling blue Bay of Flags and backed by lush palm-covered mountains, one could not ask for a better place to spend the vacation. Each year Puerto Vallarta is visited by millions of tourists who come to laze on the dazzling sandy beaches, try the local cuisine, spend some time in the quirky shops or wander through the picturesque small streets.
More and more people are realizing the importance of accessing quality medical attention at reasonable costs, while the beautiful surroundings and attention during recovery make it easy to concentrate on getting well. Puerto Vallarta offers several first class hospitals and clinics that feature the most modern equipment and a great variety of qualified doctors and nurses in all medical fields, especially in the dental field.
Patient Testimonials
I had a remarkable experience through this clinic and specifically, Dr Sanchez and am very pleased with my results. I was referred by another patient who is a good friend of mine in Canada where I am from. Dr. Sanchez was what I would consider an artist at his trade and has an instinctive genius for what a patient needs to correct their smile. I am very grateful for the upgrade I was given by Dr Sanchez and have had excellent feedback from family and friends. He is also a very friendly, engaging person who is charming and accommodating to say the least. I had six crowns, two veneers, a bridge and a partial as well as replacement fillings for a fraction of the price I would have paid in Canada. Would highly recommend Dr. Sanchez and will be bringing my sister to Mexico as soon as she can afford to come and get her dental work done. Thank you Dr. Sanchez and staff....until next time.
Edmonton Alberta , Canada
For more information about Smile Vallarta and the dental treatments and proceduresyou can avail here, click the button below. You can request a quote for FREE!

---
---
Reviews
Terry

Dr. Sanchez is an outstanding dentist. After having several extremely frustrating evaluation experiences in the US, when I arrived in PV, I made an appointment with Dr. Sanchez. Without question, it was a good choice. He is professional, highly skilled, very experienced and fluent in English. My problem having a missing tooth replaced with an emax 3 unit bridge because the gap left by the missing tooth was too small for an implant was solved in two consecutive visits. I spoke with my cousin in the US who runs his own dentist business in Milwaukee and he was also impressed with the work Dr. Sanchez did he reviewed the pictures I sent him . I would highly recommend Dr. Sanchez to anyone who was considering dental work. As an added bonus, the price was approximately 75-80% less than it would have cost in the US.


Google

Apr 22 2021

Pamela

I am extremely happy with my resin/composite veneers! I had my top teeth done, and they look amazing. My teeth were discolored and had stains, so I was always embarrassed about them.
I was in Puerto Vallarta on vacation and had done my research ahead of time to schedule an appointment during my trip.
There wasn't much setup before getting started, but I believe that was because I had previously been in contact explaining what I was hoping for as far as matching two crowns I already had.
Unlike porcelain veneers, resin veneers don't require any numbing of the mouth or grinding the teeth down. I do have a couple of extremely sensitive teeth, so looking back I probably should have opted for an added cost of numbing.
Dr. Alejandro Sanchez was very warm and welcoming. He even gave me a hug when I finally saw my teeth and cried out of happiness! I am not a cryer but I was shocked my teeth could look so good

If you are self-conscious about your teeth/smile, I highly recommend making an appointment with Dr. Alejandro Sanchez.

Google

Jul 15 2021

Kyle

I recently was in Mexico for a vacation and fell while getting out of a pool and broke one of my front teeth in half. As someone who prides themselves on having always had great teeth with little to no issues it was a very traumatizing experience. I contacted Smile Vallarta immediately and met with Dr. Alejandro Sanchez who was AMAZING! Not only was the cost great but my experience with Alejandro was so comfortable - he felt like someone I had known for a long time. He was very gentle, open and honest about the work that was about to take place. He was also very funny and REAL. I would recommend him to anyone and everyone!

Google

Aug 19 2021
---
Dentistry Related Packages
Dentistry Related Experiences