Low-Cost Package for Liposuction in Bangkok Thailand by BPS
Package price starting from:
$1900
Treatment:
Cosmetic/Plastic Surgery, Liposuction
Location:
422-426/1 Indramara Soi, 20 Soothisarn Road Dindaeng District, Bangkok, Thailand, 10400, Thailand
Focus Area:
Liposuction in Bangkok Thailand | Bangkok Plastic Surgery
---
Get Abdominoplasty in Bangkok Thailand by BPS at $1,900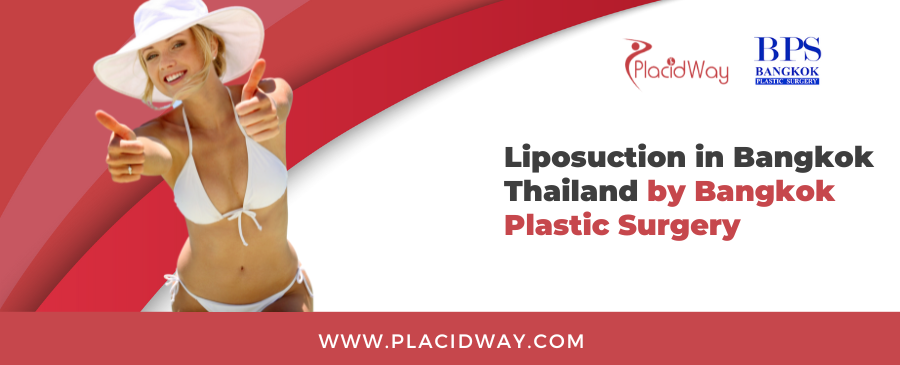 All Inclusive Package for Liposuction in Bangkok Thailand by Bangkok Plastic Surgery
Get affordable package for Liposuction in Bangkok Thailand by Bangkok Plastic Surgery. Book your consultation for Plastic Surgery in Thailand at PlacidWay! Are you considering liposuction? Bangkok, Thailand is a great place to have the procedure done. At BPS, we offer many benefits that make us the perfect choice for your needs. For example, our liposuction is some of the most advanced in the world.
This means that you can expect excellent results from your procedure. Additionally, our experienced surgeons are highly trained and skilled in performing liposuction. They will work diligently to ensure that you are satisfied with your results. We also offer competitive pricing that makes our services accessible to everyone.
What is Liposuction
Liposuction is a surgical procedure that removes fat from the body. It can be used to improve the shape of the body and to create a more sculpted look. Liposuction is most commonly performed on the abdomen, thighs, and buttocks. It can also be used on the chin, neck, Arms, and back.
You can get Liposuction in Bangkok Thailand by Bangkok Plastic Surgery with a price starting from $1,900 for the first area. The next area its additional 700 USD.
Note: Price can change and vary depends on complexity of procedure and patient condition.

The procedure of liposuction is fairly simple. A small incision is made in the skin and a thin tube, called a cannula, is inserted. The cannula is then used to suction out the fat. Liposuction can be done under local or general anesthesia, depending on how much fat is removed. Liposuction is a cosmetic procedure that removes excess fat from the body. It's usually performed on the abdomen, thighs, and buttocks.
Operating room

Recovery room or standard inpatient room

Nursing service

Package food

Medicine

Medical equipment

Medical supply which requires for the specific operation

Home medication

Consultation fee

Surgeon team and anesthesiologist team

Garment 

Follow check-up with or without local transportation from the hotel or your place to a clinic
Adding:
1) Free pick up at the airport round trip (You pay your flight ticket fee)
2) Free local transportation from and there to surgery place, hotel and interesting place in Bangkok at every time I will check up on you.
3) The cost of surgery will not cover hotel fee but you can pay my contact rate fee with a nice hotel near to the surgery place during your recovery time.
Please beware to prepare your full payment before surgery.
Serious warning:
1. Do not take aspirin or anti-inflammatory around 7 days before surgery.
2. If you smoke, stop or reduce it at least 1-2 weeks pre-op (and anticipate no smoking for the recovery; smoking greatly increases your risk
Note: Your doctor will ask you at least 7-10 days before the final procedure. The doctor will prescribe the tests after conducting complete physical checkup.
Payment Options:  Cash, Credit and Debit Cards.
When it comes to Cosmetic Surgery, Bangkok Thailand is quickly becoming a go-to destination. Here are just a few of the reasons why:
Expert Surgeons: In Bangkok, you'll find some of the world's most experienced and talented surgeons. They have a wealth of knowledge andskill when it comes to performing all kinds of cosmetic procedures.
Convenient Location: Bangkok is conveniently located, making it easy to get to for those looking to get cosmetic surgery.
Affordable Prices: Bangkok offers some of the most competitive prices in the world for cosmetic surgery procedures.
Check below for Frequently Asked Questions about Liposuction in Bangkok Thailand:
At Bangkok Plastic Surgery, the average cost of liposuction in Bangkok, Thailand is $1,900. This price can vary depending on the surgeon's experience, the type of procedure performed, and other factors.
Most people who have liposuction in Bangkok, Thailand can return to their normal activities within a few days. However, it is important to follow your surgeon's instructions for post-operative care to ensure the best possible results.
As with any surgery, there are some risks associated with liposuction in Bangkok, Thailand. These include infection, bleeding, and bruising. However, these complications are rare and most people who have liposuction experience no problems.
Most people who have liposuction in Bangkok, Thailand are happy with their results. You can expect to see a noticeable improvement in your appearance within a few weeks of your surgery. However, it may take several months for the full effects of liposuction to be visible.
If you are looking to get rid of unwanted fat and achieve the body of your dreams, PlacidWay can help. We offer liposuction in Bangkok, Thailand at some of the best plastic surgery centers in the world. So what are you waiting for? Book your appointment today!

Related Experiences:
Liposuction in Thailand
Liposuction in Antalya
Liposuction in Croatia
Liposuction in Mexico City
Liposuction in Merida Mexico
Liposuction in Izmir, Turkey
---
Cosmetic/Plastic-Surgery Related Packages
Cosmetic/Plastic-Surgery Related Experiences