Abdominoplasty Package in San Jose, Costa Rica
Package price starting from:
$6500
Treatment:
Cosmetic/Plastic Surgery, Tummy Tuck Surgery, Liposuction, Abdominoplasty
Location:
Centro Médico Nacer, frente Hospital Nuevo de Heredia Heredia Heredia, Costa Rica
Focus Area:
Tummy Tuck in San Jose, Costa Rica | Dr. Leonardo Canossa
---
Affordable Package for Tummy Tuck in San Jose - CR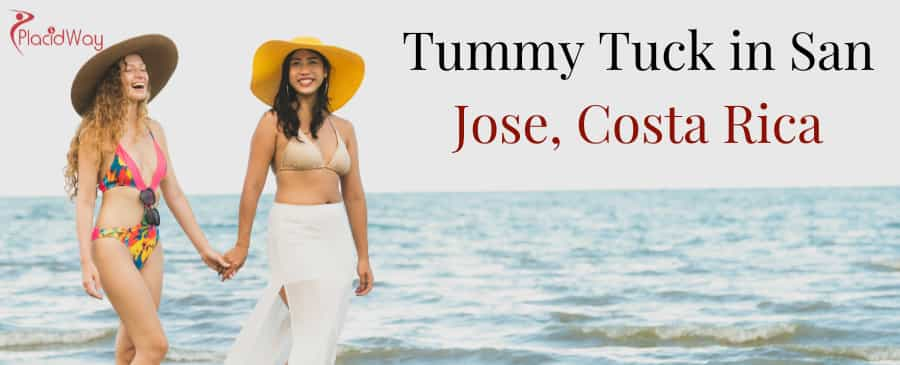 All-Inclusive Abdominoplasty Package in San Jose, Costa Rica
Get rid of excess stomach fat, improve your body look, boost confidence and strengthen your abdominal muscles with a low-cost package for Tummy Tuck in San Jose, Costa Rica. Save over 50% of your money by choosing Dr. Leonardo Canossa abdominoplasty package for only $6,500!
Package Price: $6,500
Clinic: Dr. Leonardo Canossa
Location: San Jose, Costa Rica 
Dr. Leonardo Canossa clinic highlights:
More than +1000 satisfied patients

Internationally trained doctors

Best cosmetic surgery procedure in San Jose

Faster recovery in the warm climate of Costa Rica

Excellent medical team

Affordable costs of plastic surgery
Tummy Tuck or abdominoplasty is an effective cosmetic surgery procedure that helps patients to get rid of excess fat and skin on their abdomen. A plastic surgeon usually performs this procedure by removing extra fat and skin to flatten your stomach.
Abdominoplasty Cost 

in San Jose, Costa Rica
Tummy Tuck cost in San Jose CR $6,500 on average and includes liposuction as well. You'll see below the prices in the USA and Canada for tummy tuck only, which is over 50% more expensive.
Country

Abdominoplasty (Tummy Tuck) Cost

San Jose, C.R.

$6,500

(liposuction & tummy tuck)

United States

$10,000

(only tummy tuck)

Canada

$11,000

(only tummy tuck)
Note: Price can change depending on the patient's current condition and the surgery's complexity. Please follow Price Policy of this clinic and contact Customer Support.

Benefits of Abdominoplasty Surgery in San Jose
Safe cosmetic surgery 

Removes excess fat permanently 

Improves your overall health 

Improves your aesthetic appearance

Boosts your self-esteem
Tummy Tuck Surgery

Liposuction Surgery

All medical fees

Bilingual Assistance
Flight tickets

Hotel stay
Payment Options: Cash and Credit Cards.
Best Plastic 

Surgeon 

in

 San Jose, CR, for Tummy Tuck Surgery
Dr. Canossa is one of the best tummy tuck surgeons in San Jose, providing affordable and effective plastic surgery to local and international patients. He works with his well-trained team to give the best results to his patients.
Experiences and Specializations:
General Surgery.Plastic,

Aesthetic and reconstructive surgery 
Languages: Spanish, English
Why Choose

 Abdominoplasty in San Jose?
Having your tummy tuck surgery in San Jose will help you benefit in terms of an improved physical appearance and flatter stomach, as well as a fantastic vacation, cost savings, and quicker recovery time. Americans and Canadians can take a short flight to San Jose, indulge in effective cosmetic procedures, and explore numerous exciting places. 
Here are some of the most attractive places you can visit in San Jose during your stay for abdominoplasty:
Arenal Volcano,

Manuel Antonio National park,

Numerous pristine beaches on the Caribbean Sea and the Pacific Ocean.
FAQs about Abdominoplasty Surgery in San Jose
What should I expect after the Tummy Tuck procedure?
Your surgeon will let you know what to expect after abdominoplasty. Mostly, he will prescribe you take antibiotics and avoid nicotine and alcohol.
The positive outcome from this procedure takes some time, depending on your aftercare.
Am I a good candidate for Tummy Tuck?
Both men and women with extra stomach fat are candidates for tummy tuck surgery. Also, patients who are obese and have lost significant weight can get abdominoplasty.
Other factors to consider before getting a tummy tuck
You are in good general health

You have a stable weight

You don't smoke
Is it safe to have an abdominoplasty in San Jose?
Yes, having your tummy tuck surgery in San Jose is considered very safe because experienced and qualified surgeons perform the surgery. In San Jose, you'll receive quality medical care followed by rigorous international standards. In addition, Costa Rica is generally a safe country for tourism and plastic surgery treatment.
Book Your Tummy Tuck Package in San Jose Today!
Tummy Tuck in San Jose, Costa Rica. will help you improve your physical appearance attractively. You can select this package today at a low cost on PlacidWay. Contact us for more information!

Related Experiences:
Tummy Tuck in Costa Rica
Your Guide to Getting Liposuction in Costa Rica
Tummy Tuck in Mexico City
Tummy Tuck in Ankara, Turkey
Tummy Tuck in South Korea
Tummy Tuck in Croatia
---