Laparoscopic Solutions Gallbladder Surgery Package in Piedras Negras, Mexico
Package price starting from:
$3900
Treatment:
Laparoscopic Surgery, Laparoscopic Gallbladder Removal
Location:
Rodrigo Andalon St # 112 Suite C
Colonia Burocratas, Piedras Negras, Mexico
Focus Area:
Laparoscopic Solutions | Piedras Negras | Mexico | Gallbladder Surgery | Cholecystectomy
---
Cholecystectomy Surgery in Piedras Negras, Mexico - 3,900 USD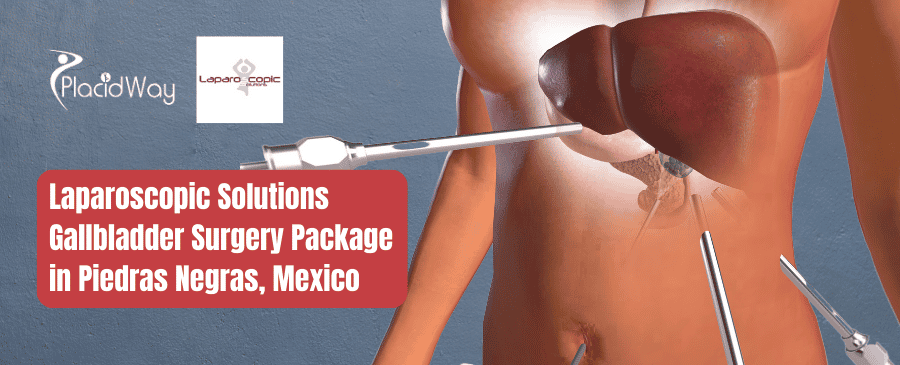 Discover a new horizon in medical care with the Laparoscopic Solutions Gallbladder Surgery Package in Piedras Negras, Mexico. This innovative approach combines the expertise of skilled surgeons, state-of-the-art facilities, and the charm of Piedras Negras to provide a comprehensive solution for gallbladder-related issues. With minimally invasive techniques, advanced medical technology, and a serene recovery environment, this package offers a seamless journey towards improved health and well-being. Experience the benefits of a modern medical approach against the backdrop of Mexico's rich cultural tapestry, making your medical journey not just a treatment, but an unforgettable experience.
You can get gallbladder surgery package in Piedras Negras, Mexico by Laparoscopic Solutions with the price starts at $3,900. Please refer to our price list table below:
| | |
| --- | --- |
| Location | Cost in USD |
| Piedras Negras, Mexico | $3,900 |
| United States | $12,150 |
Note: price may change and vary depends on complexity of procedures and patient conditions. Click free quote button below to learn more.

Advanced Medical Facilities: Piedras Negras boasts state-of-the-art medical facilities equipped with the latest laparoscopic technology, ensuring precise and safe surgeries.
Experienced Surgeons: Highly skilled surgeons with a wealth of experience perform gallbladder surgeries, assuring patients of expert care and exceptional outcomes.
Affordable Packages: The cost of medical treatment in Piedras Negras is significantly lower than in many other countries, without compromising on quality and safety.
Scenic Recovery Environment: After surgery, patients can recover amidst the tranquil landscapes of Piedras Negras, promoting relaxation and healing.
Cultural Exploration: Patients can combine their medical journey with an opportunity to explore the rich culture, history, and cuisine of Mexico.
Gallbladder surgery in Piedras Negras primarily involves laparoscopic techniques, also known as minimally invasive surgery. This approach employs small incisions, reducing scarring and postoperative pain. The surgeon uses a laparoscope and specialized tools to remove the gallbladder, ensuring minimal disruption to surrounding tissues.
All ground transportation (one of our vans will take you from San Antonio-Eagle Pass- Hospital (Piedras Negras)- and then back to San Antonio)

Preoperative tests (e.g.: blood work, chest X-ray, EKG, etc), the amount of tests depend on the planned procedure, all are non invasive

All fees for the involved medical team

Surgery and all material needed (e.g. colangiography, etc)

Discharge medications
Travel Expenses: Costs associated with travel, including airfare, accommodation, and transportation.
Personal Expenses: Any expenses unrelated to the medical procedure, such as sightseeing, shopping, and entertainment.
Complications: Additional medical treatments required due to unforeseen complications.
Extended Hospital Stay: Charges for an extended stay beyond what's included in the package.
Non-Specified Medications: Medications not directly related to the surgery or recovery.
Gallbladder Surgery Pre-Op Tests
Blood Tests: To assess blood count, clotting factors, and general health indicators.
Imaging Studies: X-rays, ultrasounds, and CT scans to evaluate the gallbladder's condition.
Electrocardiogram (ECG): Assessing heart health and ensuring safe anesthesia administration.
Physical Examination: Overall health assessment to identify potential risks and tailor the procedure accordingly.
Medical History Review: Understanding past medical events and conditions that might impact the surgery.
Introducing Dr. Gabriel Rosales, a distinguished name in gallbladder surgery with an exceptional track record of expertise. His journey is marked by a series of achievements and accolades, including advanced laparoscopy training at Christus Muguerza High Specialty Hospital in Monterrey, Mexico. Dr. Rosales is an alumnus of the esteemed School of Medicine Universidad De Monterrey (UDEM) in Monterrey, Mexico, an institution accredited by the University Commission: SACS (Southern Association of Colleges and Schools) in the U.S.
His medical prowess extends to a medical internship at the Mexican Institute of Social Security (IMSS), specifically at the General and Family Medicine Hospital 2. Completing his comprehensive training, he pursued a General Surgery Residency at the prestigious Christus Muguerza High Specialty Hospital in Monterrey, Mexico. Dr. Gabriel Rosales stands as a testament to the pinnacle of medical excellence, offering patients in Piedras Negras a paragon of skill and commitment in gallbladder surgery.
Top Gallbladder Surgery Doctors in Piedras Negras, Mexico

Advanced Laparoscopy training at Christus Muguerza High Specialty Hospital in Monterrey, Mexico.

School of Medicine Universidad De Monterrey (UDEM) in Monterrey, Mexico

Accredited by the University Commission: SACS (Southern Association of Colleges and Schools) in the U.S.

General Surgery Residency at Christus Muguerza High Specialty Hospital in Monterrey, Mexico.
Is Gallbladder Surgery Right for You?
Suitable Candidates: Patients with gallstones, gallbladder inflammation, or other related issues are ideal candidates.
Medical Assessment: A thorough medical evaluation helps determine the suitability of the treatment for each individual.
Risk Consideration: Potential risks and benefits are discussed during consultations, allowing patients to make informed decisions.
What to Expect During the Gallbladder Surgery?
Preparation: Following pre-op tests and consultations, patients are guided through pre-surgery instructions.
Surgery Day: Patients receive anesthesia, and the surgery is performed using laparoscopic techniques.
Recovery: After surgery, patients are monitored in the hospital, with pain management and post-operative care.
Healing Process: Patients are advised on post-discharge care and follow-up appointments for a smooth recovery.
Q: How is laparoscopic gallbladder surgery different from open surgery?
A: Laparoscopic surgery involves smaller incisions, less pain, quicker recovery, and reduced scarring. Open surgery requires a larger incision and longer recovery.
Q: Are the medical facilities in Piedras Negras up to international standards?
A: Yes, Piedras Negras medical facilities adhere to international standards, equipped with modern technology and staffed by skilled medical professionals for safe and effective treatments.
Q: How long is the hospital stay after surgery?
A: The package includes a specified post-surgery hospital stay for monitoring, typically ranging from 1 to 2 days, depending on the individual's recovery progress.
Q: Can complications arise from the surgery?
A: While complications are rare, like any surgery, there are risks. Surgeons discuss potential risks and address concerns during pre-operative consultations.
Q: What's the recovery time after laparoscopic gallbladder surgery?
A: Recovery time varies but is generally quicker compared to traditional surgery. Most patients can resume normal activities within a few weeks, with minor restrictions initially.
Embark on a journey to improved health and well-being with our Gallbladder Surgery Package in Piedras Negras. Contact PlacidWay Medical Tourism today to book your consultation and explore the benefits of this advanced laparoscopic solution in a serene and picturesque setting. Your path to a healthier future starts here. Click contact us button below to get started!

Related Experiences:
Gallbladder Removal Surgery in Mexico
Inguinal Hernia Repair Surgery in Mexico
Hernia Repair in Mexico – Faster Return to Work and Activity
---