Penile Implant Packages in Istanbul, Turkey by BHT Clinic
Package price starting from:
$15000
Treatment:
Cosmetic/Plastic Surgery,Urology, Urethra or Penile Surgery, Penile Implant, Penile Augmentation
Location:
Atakent, 4. Cd. No: 36, 34307 Kucukcekmece, Turkey
Focus Area:
BHT Clinic | Istanbul | Turkey | Penile Implant
---
Best Penile Augmentation in Istanbul, Turkey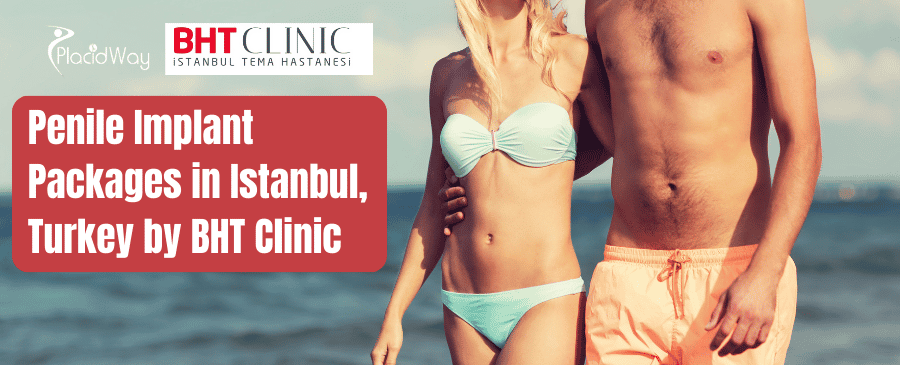 In recent years, Istanbul, Turkey has emerged as a leading destination for medical tourism, particularly for penile implant procedures. One of the prominent clinics offering state-of-the-art treatments is BHT Clinic, known for its expertise and excellent patient care. With its world-class facilities and highly skilled medical professionals, BHT Clinic has become a preferred choice for individuals seeking penile implant packages in Istanbul.
Table of Content
• Cost • Advantages • Inclusions
• Exclusions • Doctors • How to Book
At BHT Clinic, patients can expect a comprehensive range of services, from initial consultation to post-operative care. With a commitment to patient satisfaction and successful outcomes, the clinic aims to provide a discreet and supportive environment for individuals seeking penile implant procedures. Let's explore some of the advantages of choosing treatment in Istanbul, Turkey.
You can get penile implant packages in Istanbul, Turkey by BHT Clinic with the cost starts at $15,000. Check our price list table below to learn more:
City, Country
Cost in USD
Istanbul, Turkey
$15,000
United States
$35,000
Canada
$25,000
Note: price may change and vary depends on complexity of procedure and patient condition. Click FREE QUOTE button below for more information:

Affordable and Competitive Pricing: Istanbul offers competitive pricing for penile implant packages compared to many other countries. Patients can benefit from high-quality treatment at a fraction of the cost they would incur in other parts of the world.
Experienced and Highly Qualified Surgeons: BHT Clinic boasts a team of experienced and highly qualified surgeons who specialize in penile implant procedures. These professionals have undergone rigorous training and possess the necessary expertise to ensure successful outcomes for patients.
State-of-the-Art Facilities: Istanbul is home to modern and well-equipped medical facilities, including BHT Clinic. These facilities are equipped with advanced technology and adhere to international standards, providing patients with the highest level of care and comfort during their treatment.
Privacy and Confidentiality: BHT Clinic prioritizes patient privacy and confidentiality, offering a discreet environment where patients can feel comfortable discussing their concerns and undergoing the procedure without any unwanted attention.
Opportunity to Explore a Beautiful City: Choosing Istanbul for penile implant treatment allows patients to combine their medical journey with a unique cultural experience. Istanbul is a vibrant city with a rich history, offering visitors the chance to explore magnificent landmarks, taste exquisite cuisine, and immerse themselves in a diverse and fascinating culture.
Penile Implant Surgery with BHT Hospital includes:
Airport pick-up,

Consultation with your doctor,

Pre-operation blood tests,

General anesthesia,

Meals during the hospital stay,

All medical-related costs,

1 night in the hospital,

Transfers,

Translator services,

Required medicines, and

10 nights of free hotel accommodation.
Travel and Accommodation: Penile implant packages at BHT Clinic typically do not include travel expenses or accommodation arrangements. Patients are responsible for making their own arrangements for travel and accommodation.
Additional Medications: While the cost of essential medications is generally covered in the package, any additional medications required during the recovery period may not be included and will incur additional charges.
Pre-Existing Medical Conditions: If a patient has pre-existing medical conditions that require special attention or additional tests before the procedure, these may not be included in the package and will be charged separately.
Personal Expenses: Personal expenses such as meals, transportation, and sightseeing are not included in the package and are the responsibility of the patient.
Post-Operative Care: While BHT Clinic provides comprehensive post-operative care, there may be additional charges for specific services or medications that fall outside the package.
Blood Tests: A complete blood count (CBC) and blood chemistry panel are typically performed to assess the patient's overall health and identify any potential risks before the penile implant procedure.
Urine Analysis: A urine analysis helps detect any urinary tract infections or abnormalities that could affect the success of the surgery or recovery.
EKG (Electrocardiogram): An EKG measures the electrical activity of the heart and is conducted to evaluate the patient's cardiac health before undergoing the procedure.
Ultrasound: An ultrasound examination may be performed to assess the blood flow and structure of the penis, providing valuable information for the surgical team.
Psychological Evaluation: Before the penile implant procedure, patients undergo a psychological evaluation to ensure they are mentally prepared for the surgery and have realistic expectations.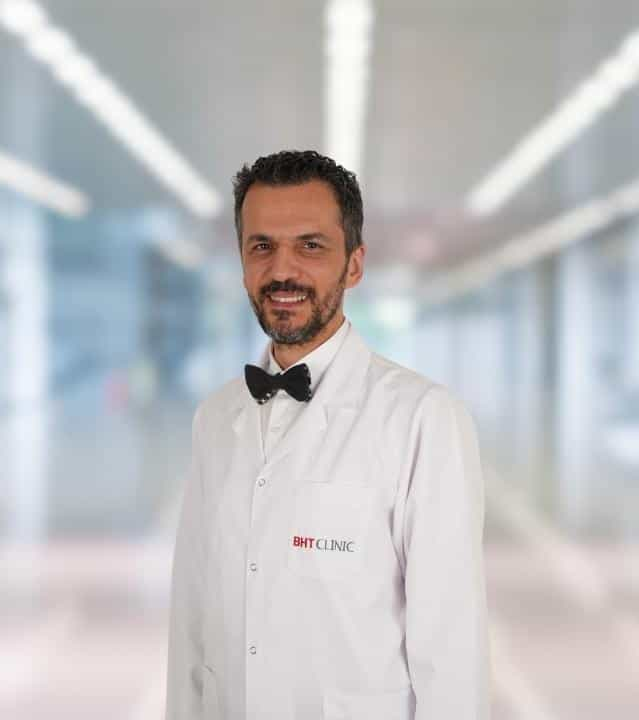 Babaeski State Hospital, Kirklareli / Urology Specialist

KSS Training & Research Hospital, Istanbul / Urology Specialist

Bagcilar Training & Research Hospital, Istanbul / Urology Specialist

Health Sciences University Bagcilar Hospital, Istanbul / Associate Professor of Urology

Bagcılar Training & Research Hospital, Istanbul / Clinical Administrative Officer
Experiences and Specializations:
Istanbul University Cerrahpasa Faculty of Medicine Department of Medicine in English

Istanbul Haseki Training and Research Hospital Urology

Babaeski State Hospital, Kirklareli / Urology Specialist

KSS Training & Research Hospital, Istanbul / Urology Specialist

Bagcilar Training & Research Hospital, Istanbul / Urology Specialist

Health Sciences University Bagcilar Hospital, Istanbul / Associate Professor of Urology

Bagcılar Training & Research Hospital, Istanbul / Clinical Administrative Officer
Why it's done
For most men, erectile dysfunction can be successfully treated with medications or use of a penis pump (vacuum constriction device). You might consider penile implants if you aren't a candidate for other treatments or you can't get an erection sufficient for sexual activity by using other methods.
Penile implants can also be used to treat severe cases of a condition that causes scarring inside the penis, leading to curved, painful erections (Peyronie's disease). Penile implants aren't for everyone. Your health care provider might caution against penile implants if you have:
An infection, such as a pulmonary infection or urinary tract infection

Diabetes that isn't well controlled or significant heart disease
While penile implants allow men to get an erection, they don't increase sexual desire or sensation. Penile implants also won't make your penis any larger than it is at the time of surgery. In fact, with an implant, your erect penis might seem slightly shorter than it used to be.
Risks
Risks of penile implant surgery include:
Infection. As with any surgery, infection is possible. You might be at an increased risk of infection if you have a spinal cord injury or diabetes.
Implant problems. New penile implant designs are reliable, but in rare cases the implants malfunction. Surgery is necessary to repair or replace a broken implant, but a broken device can be left in place if you don't want another surgery.
Internal erosion or adhesion. In some cases, an implant might stick to the skin inside the penis or wear away the skin from inside the penis. Rarely, an implant breaks through the skin. These problems are sometimes linked to an infection.
Treating an infection
Infections after penile implant surgery typically occur within the first three months of surgery. Surgery to remove the implant often is necessary to treat an infection.
How You Prepare
Initially, you'll talk to your health care provider or a urologist about penile implants. During your visit, your health care provider will likely:
Review your medical history. Be prepared to answer questions about current and past medical conditions, especially your experience with ED. Talk about medications you take or have taken recently, as well as any surgeries you've had.
Do a physical exam. To make sure penile implants are the best options for you, your health care provider will do a physical exam, including a complete urologic exam. Your health care provider will confirm the presence and nature of ED, and make sure that your ED can't be treated in another way.

Your provider may also try to determine whether there's a reason that penile implant surgery is likely to cause complications. Your health care provider will also examine your ability to use your hands, since some penile implants require greater manual dexterity than others.

Discuss your expectations. Make sure you understand what the procedure involves and the type of penile implant that suits you best. Remember that the procedure is considered permanent and irreversible.

Your health care provider will also explain the benefits and risks, including potential complications. Ideally, you'll include your partner in the discussion with your health care provider.
Types of Penile Implants
There are two main types of penile implants:
1. Inflatable Implants.
Inflatable devices, the most common type of penile implant, can be inflated to create an erection and deflated at other times. Three-piece inflatable implants use a fluid-filled reservoir implanted under the abdominal wall, a pump and a release valve placed inside the scrotum, and two inflatable cylinders inside the penis.
To achieve an erection, you pump the fluid, which is salt water, from the reservoir into the cylinders. Afterward, you release the valve inside the scrotum to drain the fluid back into the reservoir.
The two-piece model works in a similar way, but the fluid reservoir is part of the pump implanted in the scrotum. In both devices, the reservoir is filled with salt water the day of surgery and remains in the device.
2. Semirigid Rods.
Semirigid devices are always firm. The penis can be bent away from the body for sexual activity and toward the body for concealment.
A positionable penile implant is a semirigid device with a central series of segments held together with a spring on each end. It can maintain upward and downward positions better than other semirigid rods can.
Other special designs can fit a shortened penis or one that's larger than average. Inflatable penile implants are also available with antibiotic coatings, which might help reduce the risk of infection, and coatings to reduce friction, possibly lengthening the life of the implant.
Comparing Implant Types
When choosing a type of penile implant, consider your personal preference and your medical history. Your health care provider might suggest one type of design over another based on your age, risk of infection, and health conditions, injuries or medical treatments you've had.
Type of Penile Implant
Pros
Cons
Three-piece inflatable
Creates the most natural, rigid erection

Provides flaccidity when deflated
Has more parts that could malfunction than does any other implant

Requires a reservoir inside the abdomen or underneath the abdominal muscles
Two-piece inflatable
Provides partial flaccidity when deflated
Is mechanically more complicated than is a semirigid implant

Provides less-firm erections than does a three-piece implant
Semirigid rod
Has a low chance of malfunction due to the small number of parts

Is easy to use for those with limited mental or manual dexterity
Results in a penis that is always slightly rigid

Puts constant pressure on the inside of the penis, which can cause injury

Can be difficult to conceal under clothing
Before penile implant surgery you might also need to:
Avoid certain medications. Your health care provider might recommend that you temporarily stop taking aspirin and anti-inflammatory drugs, which can increase your risk of bleeding.
Arrange for a ride home. Ask your health care provider when you'll be able to go home after surgery. Penile implant surgery might involve an overnight stay.
Limit food and liquids. Don't eat or drink anything after midnight before your surgery. Follow instructions from your health care provider.
What you can expect
Before the procedure
Penile implant surgery is usually done at a surgery center or hospital. Your health care provider might give you medication to make you unconscious during the surgery (general anesthesia) or medication that blocks pain in the lower part of your body (spinal anesthesia).
Your health care provider will give you IV antibiotics to help prevent infection. The surgery site will also be washed with an alcohol-based antibiotic solution and shaved before surgery to reduce the risk of infection.
During surgery
A tube (catheter) might be inserted into your bladder via your penis to collect urine at some point during surgery. Your surgeon will make an incision below the head of the penis, at the base of the penis or in the lower abdomen.
Next, your surgeon will stretch the spongy tissue in the penis that would normally fill with blood during an erection. This tissue is inside each of two hollow chambers called the corpora cavernosa. Your surgeon will choose the correct size implant and place the implant cylinders inside your penis. All sizes are customized to your body measurements.
If your surgeon is implanting a two-piece inflatable device, a pump and valve are placed inside the scrotum. For a three-piece device, he or she will also implant a fluid reservoir above or under the abdominal wall using the initial incision. Sometimes a second incision in the abdomen in used. Once the device is in place, your surgeon will sew the incisions closed. Penile implant surgery usually takes 45 minutes to an hour.
After surgery
After penile implant surgery, you'll likely need to take medications to ease pain. Often a long-acting injection is given into the scrotum to help reduce pain for 48 to 72 hours. Mild pain might persist for several weeks. You might be given an antibiotic to be taken by mouth for a week.
Ask your health care provider when you can resume your regular activities. Most men can resume strenuous physical activity and sexual activity about 4 to 6 weeks after surgery. After you learn how to use the device, usually 3 to 6 weeks after surgery, your health care provider might recommend inflating and deflating inflatable penile implants to give you practice using them and stretch the area surrounding the cylinders.
Results
Although penile implants are the most invasive treatment for erectile dysfunction, most men who have them and their partners report satisfaction with the devices. In fact, penile implants have the highest rate of satisfaction of all erectile dysfunction treatments.
About BHT Clinic in Istanbul, Turkey
To embark on your penile implant journey in Istanbul, Turkey, book your consultation at PlacidWay Medical Tourism. Their team of experienced professionals will assist you in arranging your travel, accommodation, and appointments, ensuring a smooth and hassle-free experience. Take the first step toward a life-changing procedure by contacting PlacidWay Medical Tourism today.

Related Experiences:
Penile Augmentation in Bangkok Thailand
Penile Augmentation in Tijuana Mexico
Penile Implant Surgery in Mexico
Eyelid Surgery in Istanbul, Turkey
Mommy Makeover in Istanbul, Turkey
Plastic Surgery in Istanbul, Turkey
---