Best Package for Dental Veneers in San Jose, Costa Rica
Treatment:
Dentistry, Teeth Whitening, Dental Veneers
Location:
CC Plaza Mayor, Suite 11 3rd Floor - Rohrmoser Blvd., San José, 10109, Costa Rica, Costa Rica
Focus Area:
Dental Veneers | Composite Veneers | Dentistry | Porcelain Veneers | San Jose | Costa Rica
---
Affordable Package for Dental Veneers in San Jose Costa Rica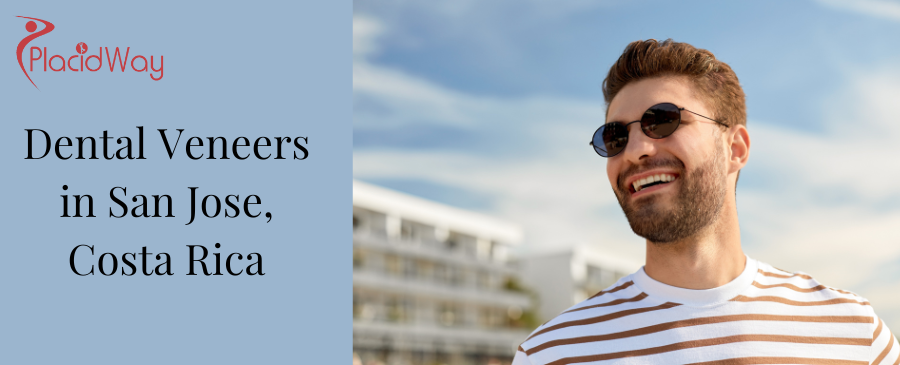 Dental Veneers are ideal for creating beautiful smiles in cases of small, oddly shaped, spaced, or discolored teeth. Dental veneers are custom-made shells of tooth-colored materials designed to cover the front surface of teeth to improve their appearance. With this procedure, you will be involved directly in your own design process in shaping, whitening, and brightening your smile, thus ensuring total satisfaction.
Advantages of Teeth Veneers in San Jose, Costa Rica
Provide a natural tooth appearance.

Gum tissue tolerates porcelain well.

Porcelain veneers are stain-resistant.

The color of a porcelain veneer can be selected such that it makes dark teeth appear whiter.

Veneers offer a conservative approach to changing a tooth's color and shape-veneers generally don't require the extensive shaping prior to the procedure that crowns do, yet offer a stronger, more esthetic alternative to bonding.
Dental Veneers Cost in San Jose, Costa Rica
| | |
| --- | --- |
| Country | Cost |
| San Jose, Costa Rica | $550 |
| United States | $1,750 |
| Canada | $1,700 |
Dental Veneers Types
There are two main types of material used to fabricate a veneer: composite and dental porcelain.
A composite veneer may be directly placed (built-up in the mouth), or indirectly fabricated by a dental technician in a dental laboratory, and later bonded to the tooth, typically using a dental resin cement. In contrast, a porcelain veneer may only be indirectly fabricated.
Procedure of Dental Veneers
The procedure of dental veneer usually requires three trips to the dentist one for a consultation and two to make and apply the veneers. One tooth or many teeth can undergo the veneering process at the same time.
How Long It Takes?
It takes around 5 days to complete the process. During which we use cad-cam and 3-D scan to get the exact measurements of your teeth. Then we will first create temporary teeth and start with the processing of creating veneers. It takes about 48 hours to create the veneers in our fully-equipped lab. Post that, we start with fitting the veneers and ensuring that the patients are fully comfortable with the set of veneers.
Factors that Affect Price of Teeth Veneers
You may find that the same provider is offering different package prices for Dental Veneers in Costa Rica. This happens due to relative factors such as:
Number of teeth requiring veneer

The material chosen for veneers (the radiance and quality of the veneers depends on the materials used)

Age of the patient and his/her jaw flexibility

Experience and qualification of the dentist
The doctor at the clinic would ask to go for laboratory tests. To ascertain the plan for your treatment course of action. The laboratory test reports help to analyze the condition of your body's preparation before the surgery. Based on that, the doctor may consult over the phone and explain the treatment plan for you.
Dental Veneers Package Inclusions
Pre and post-operative consultations

All medical fees
Dental Veneers Package Exclusions
Hotel or recovery house

Preoperative lab work

Airfare
List of Pre-Op Tests for Teeth Veneers
X-ray of teeth

Complete blood count

Dental modeling
Payment Options: Cash, credit card, or wire transfer
Am I good Candidate for Dental Veneers?
An ideal candidate for dental veneers is someone who would like to improve the color or contour of their teeth. Specifically speaking, the ideal candidate for veneers is someone who has minor cosmetic imperfections or severely stained teeth.
Why Choose Davinci's Dental Clinic in San Jose, Costa Rica?
We guarantee services of high technology, experience, and recognition.

Our patients receive the best attention. To Davinci's Dental Designers Group your wellness is our priority.

Costa Rica has rightfully earned a reputation as one of the best tourist destinations in the world for excellent care and facilities in the fields of dental implants and dentistry.

Medical travelers to Costa Rica may enjoy as much as 75% savings on surgical procedures over prices generally charged in the United States.

DaVinci's Dental Specialties Clinic is located in Jaco Beach, Costa Rica, home of natural beauty and a source of tourist delights.

Playa Jaco, offers all the services to meet all your needs, such as banks, hotels, restaurants, tourism, and many clinics that provide a full range of services.

Our dental clinic offers safe dentistry; check out our services, facility, guarantee, and staff to put your mind at ease and save thousands of US dollars!
If you want know more about dental veneers in San Jose, Costa Rica please click the button below:

Related Experiences:
Dental Veneers in San Jose Costa Rica
The Ultimate Guide to Dental Veneers in Costa Rica
Dental Veneers in Cabo San Lucas
Dental Veneers in India
Dental Veneers in Hungary
Dental Veneers in Zagreb Croatia
---
Dentistry Related Packages
Dentistry Related Experiences