Choose Safe and Cheap Dental Veneers in Tijuana
Why Choose Dental Veneers in Tijuana?
If you are looking for cheap but quality cosmetic dentistry abroad, you are at the right place! Today we'll explore Dental Veneers in Tijuana as a cost-effective option to improve your smile.
In this guide, you will find the best clinics, dentists, and compare the costs of veneers between countries. So, keep reading to learn more!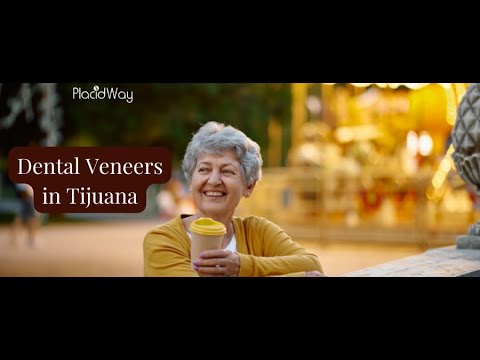 ---
Affordable Packages for Veneers in Tijuana, Mexico
Dental clinics in Tijuana offer low-cost packages for dental veneers at the price ranging between $450 and $580. As a foreign patient, you will find these packages convenient due to their inclusions such as:
Translation services
Transportation
Doctor and hospital fees.
You can read below more about the package.
---
Dental Veneers Cost in Tijuana, Mexico
Compared to the USA and Canada, Tijuana is far less expensive. This is the main reason why patients from North America come here for cheap dental work. For a single dental veneer in Tijuana, you will pay around $350, while in America $1,750.
The cost will depend on the clinic, the type of materials used, and your overall dental health. However, you will save up to 70% of the money by coming to Tijuana to get your teeth veneers done.
Dental Veneers Centers Cost Comparison in Tijuana, Mexico
| Provider | Procedure | Price |
| --- | --- | --- |
| Liberty Dental Clinic | Dental Veneers, Dentistry | $325 |
| Dental Solutions Tijuana | Dental Veneers, Dentistry | $380 |
Dental Veneers Cost Comparison in Mexico

| Country | Procedure | Price |
| --- | --- | --- |
| Canada | Dental Veneers, Dentistry | $1700 |
| United States | Dental Veneers, Dentistry | $1750 |
---
Top 6 Dental Clinics in Tijuana for Veneers
The first thing you must look for when going abroad for dental work is the right clinic. Fortunately, Tijuana dental clinics boast world-class benefits for their patients including
Affordable prices
Convenient location
Highly skilled dentists
The latest equipment and technology
English-speaking medical staff.
To understand these benefits and find your clinic in Tijuana, check out our recommended clinic profiles below.
---
Videos About Dental Care in Tijuana, Mexico
This section contains videos that explain dentist work in Tijuana you may find useful. Watch them below and find out what can you expect from your trip to Tijuana, Mexico.
---
Dental Veneers in Tijuana Reviews
Would you like to know other patient stories after getting dental care in Tijuana clinics? Great, because we already have prepared reviews of former patients you can read below.
---
FAQs about Lumineers in Tijuana Mexico
What questions come to your mind concerning dental work in Tijuana? You may be wondering if Mexico is a safe country, or why dental work is cheaper in Mexico?
You can relax now because Mexico is safe for dental work and in our answers below you will see why.
---
Best Dentists in Tijuana for Veneers
Tijuana dentists are among the best in Mexico due to high patient satisfaction and dentists credentials. When you visit the clinic in Tijuana for dental care, you will meet English-speaking and hospitable medical staff. Dentists who work in these clinics provide safe and successful dental work to their patients for over 5 years.
Also, dentists in Tijuana are trained in prestigious institutions which makes them reliable for the work they do. Here are the profiles of top dentists in Tijuana and their credentials:
---
Relax in Tijuana During Dental Work for Veneers
Borderline and innovative town of Tijuana offers some interesting places to visit during your stay for dental work. You can relax and enjoy while exploring the city and its culture.
Here are a couple of popular tourists places where you can go in Tijuana:
Tijuana Cultural Center (CECUT)
Avenida Revolucion
El Popo Market
Try Tacos - traditional Mexican food.
---
Show Your New Smile After Dental Veneers in Tijuana!
Now that you know which is the right clinic to get your dental veneers in Tijuana, start preparing for the trip.
With the help of our PlacidWay team, you will have a unique experience in Tijuana, Mexico. Contact us today to get your free quote!
---