Dental Veneers Package in Tijuana, Mexico by Dental Solutions
Package price starting from:
$380
Treatment:
Dentistry, Dental Veneers
Location:
Calle Onceava 8691-A, zona centro Tijuana Baja California, Mexico
Focus Area:
Dental Veneers | Teeth Veneer | Cosmetic Dentistry | Porcelain Veneers | Tijuana Mexico | Dental Solutions Tijuana
---
Affordable Cheap Teeth Veneers in Tijuana, Mexico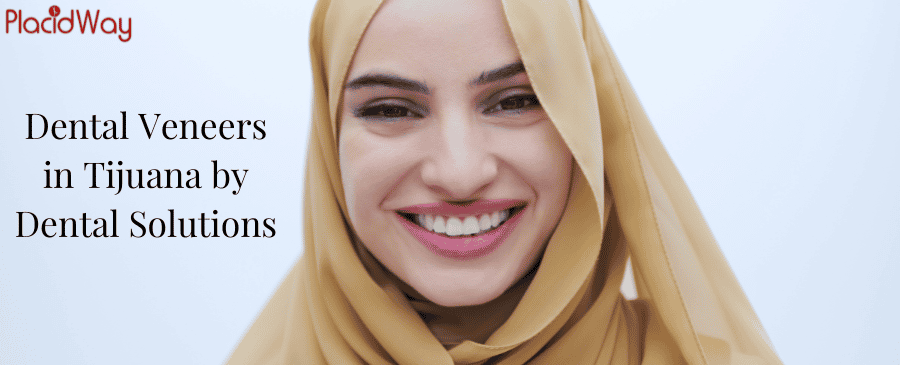 Dental veneers in Tijuana can be a good choice if you are looking for an aesthetic dental solution that can improve your smile completely. They look just like natural teeth and are made from the best quality materials like Nobel BioCare. Veneers are used for correcting many aesthetic imperfections like the shape or shade of a tooth.
Dental Solutions is a premier dental service provider in Tijuana, Mexico. They offer various dental services with state-of-the-art facilities for the whole family. The clinic provides transparent pricing, personalized plans, and treatment guidance. The medical team at Dental Solutions Tijuana uses the most advanced technology so that the patients can enjoy a comfortable dental care experience.
Affordable $380 Dental Veneers Package in Tijuana. Achieve a perfect smile with top-quality care at unbeatable prices in Mexico's dental tourism hotspot. Check our price list table below to learn more:
| | |
| --- | --- |
| Location | Cost in USD |
| Tijuana, Mexico | $380 |
| United States | $2,500 |
| Canada | $2,000 |
Note: The final prices are determined after physical evaluation and laboratory reports analysis. Click free quote button below to learn more:

Teeth veneers are cosmetic dentistry that can fix gaps, stains, and chips in your teeth. A dental veneer is a thin shell attached to the front teeth. Your dentist will take impressions of your teeth so he can make a model of your teeth to fabricate your veneers. The dentist will use a shade guide to determine the veneers' color so that they will match your other teeth and give them a natural appearance. At the end, a dentist cements the completed veneers.
Enhances Your Appearance

Improves Your Oral Health

Boosts Self-Confidence

Long-Lasting Effects

Short Recovery Time

Improves Your Bite

Provides brighter smile

Treats Stained & Chipped Teeth

Replaces Missing Teeth​
Pre and post-operative consultations

All clinic fees

All medical fees and doctor fees
Hotel or recovery house

Preoperative lab work

Airfare

Payment Options: Cash, credit card, wire transfer
Note: The center may require a money deposit once a patient decides to book the surgery.
Best dentists in Tijuana are certified to perform effective cosmetic dentistry and other dental work. They speak English fluently and have over 5 years of experience. Tijuana dentists have international training and diplomas from prestigious schools. This makes them among the best dentists in Mexico. Their compassionate, warm, and friendly personality will help you feel anxiety-free and safe during the treatment.
Board Certified Dentists in Tijuana, Mexico

 

Dr. Xochipilli Bojorquez

 

Dr. Nohelia Gamboa
Why Choose Dental Work in Tijuana, Mexico?
Tijuana, Mexico, has rapidly emerged as a preferred destination for dental work, especially for North American patients. But what sets this vibrant border city apart from others? Let's delve into the reasons.
Proximity and Accessibility: For many North American patients, Tijuana is just a short drive or flight away. Its geographical closeness makes it a highly accessible and convenient option for dental care, saving on travel costs and time.
Cultural Familiarity: Tijuana's position as a border town has cultivated a unique blend of Mexican and American cultures. Its urban environment, retail establishments, and general vibe echo many American cities, making patients from the US feel more at home.
High-Quality Dental Care: Tijuana boasts dental clinics that provide treatments comparable to those in the US and Canada. With state-of-the-art equipment, trained professionals, and adherence to international dental standards, patients can be assured of receiving top-notch care.
Affordability: Dental treatments in Tijuana typically come at a fraction of the cost compared to those in the US or Canada, without compromising on the quality. This affordability makes it an appealing choice for many, including those without dental insurance.
Touristic Attractions: Besides its dental clinics, Tijuana offers a plethora of attractions for tourists. Whether it's exploring the local art and exhibits at the Tijuana Cultural Center, shopping and dining at the historic Avenida Revolucion, discovering local flavors at Mercado El Popo, relaxing by the beach at Playas de Tijuana, or delving into the lifelike sculptures at the Museo de Cera de Tijuana, the city promises a memorable experience.
In essence, Tijuana offers a unique combination of top-tier dental care and captivating attractions, making it not just a dental destination but a holistic travel experience. So, if you're contemplating dental work abroad, Tijuana might just be the perfect place for you.
How long do veneers last?
With proper care and upkeep, porcelain veneers can last for 10 to 15 years.
How do I take care of my veneers?
There are no specific precautions for taking care of veneers. As usual, maintain regular oral hygiene by brushing your teeth and flossing once daily. You will have to visit your dentist twice yearly for regular check-ups and oral exams. However, you should avoid chewing hard foods with your molars to prevent a veneer from chipping.
Would I be able to take veneers off?
The short answer is no. Porcelain veneers are not reversible. While preparing your teeth for dental veneers, the finish is taken out from your teeth so that the caps can appropriately fit over them. This material can't be restored whenever it is removed from your teeth.
Does it hurt to get veneers?
No! It doesn't hurt to get a veneer. Moreover, most patients report no pain at all during treatment. The procedure is minimally-invasive since it only requires removing a thin layer of enamel from your teeth. This can be done under local anesthesia, about which you will consult your dentist.
Why are dental veneers in Tijuana more affordable than in other countries?
Tijuana has a lower cost of living, efficient dental labs, and less administrative overhead, which translates to savings for patients without compromising on quality.
Is the quality of the dental veneers in Tijuana comparable to those in the US or Canada?
Yes, many dental professionals in Tijuana are trained in the US or Europe and use the same materials and techniques.
What material are the veneers made of?
Veneers can be made from porcelain or from resin composite materials, with porcelain veneers resisting stains better.
Are there any risks associated with getting veneers in Tijuana?
As with any medical procedure, there are risks, but choosing a reputable clinic and dentist will minimize these risks.
What if a veneer comes off or is damaged?
If a veneer comes off or is damaged, it's essential to contact your dentist immediately. In many cases, it can be re-bonded or replaced.
Book an affordable package for dental veneers in Tijuana Mexico at the top clinic! Experienced dentists at Dental Solutions clinic will help you achieve the natural-looking smile and dental health goal. Contact us for more details!

Related Experiences:
Dental Veneers in Tijuana, Mexico
Dental Veneers in Juarez, Mexico
Dental Veneers in Puerto Vallarta Mexico
Dental Veneers in Mexicali
Dental Veneers in Cabo San Lucas
Dental Veneers in Los Algodones, Mexico
---