Dental Veneers in Tijuana by Dental Solutions
Treatment:
Dentistry, Dental Veneers (per tooth), Dental Veneers
Location:
Calle Onceava 8691-A, zona centro Tijuana Baja California, Mexico
Focus Area:
Dental Veneers | Teeth Veneer | Cosmetic Dentistry | Porcelain Veneers | Tijuana Mexico | Dental Solutions Tijuana
---
Affordable Teeth Veneers in Tijuana, MX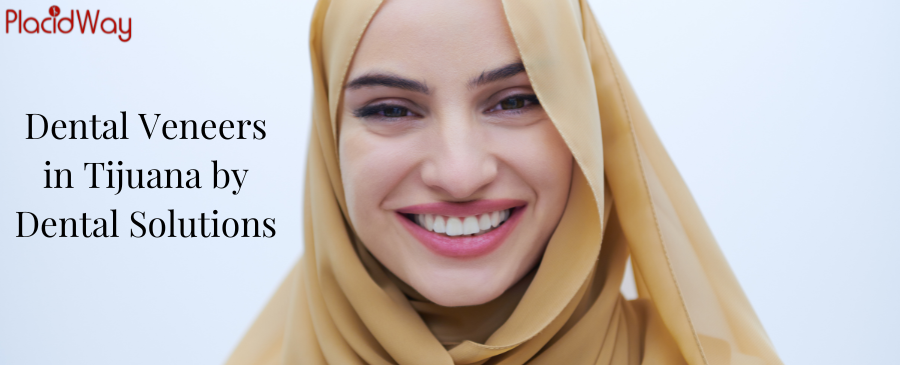 All-Inclusive Package for Dental Veneers in Tijuana, Mexico
Dental veneers in Tijuana can be a good choice if you are looking for an aesthetic dental solution that can improve your smile completely. They look just like natural teeth and are made from the best quality materials like Nobel BioCare. Veneers are used for correcting many aesthetic imperfections like the shape or shade of a tooth.
Package Price: $400
Package Inclusions: Porcelain Veneer per tooth
Dental Solutions is a premier dental service provider in Tijuana, Mexico. They offer various dental services with state-of-the-art facilities for the whole family. The clinic provides transparent pricing, personalized plans, and treatment guidance.
The medical team at Dental Solutions Tijuana uses the most advanced technology so that the patients can enjoy a comfortable dental care experience.
What are Dental Veneers Procedure?
Teeth veneers are cosmetic dentistry that can fix gaps, stains, and chips in your teeth. A veneer is a thin shell attached to the front teeth.
Your dentist will take impressions of your teeth so he can make a model of your teeth to fabricate your veneers. The dentist will use a shade guide to determine the veneers' color so that they will match your other teeth and give them a natural appearance. At the end, a dentist cements the completed veneers.
Dental Veneers cost in Tijuana $400 per tooth. However, the final prices are determined after physical evaluation and laboratory reports analysis.
| | | |
| --- | --- | --- |
| Country | Procedure | Cost in USD (Per Tooth) |
| Canada | Dental Veneer | $1,700 |
| United States | Dental Veneer | $1,750 |
| Tijuana, Mexico | Dental Veneer | $400 |
Note: Contact the clinic directly for more information about the final price. The price may vary depending on your condition and the complexity of the surgery.

Benefits of Cosmetic Dentistry in Tijuana, Mexico by Dental Solutions 
Enhances Your Appearance

Improves Your Oral Health

Boosts Self-Confidence

Long-Lasting Effects

Short Recovery Time

Improves Your Bite

Provides brighter smile

Treats Stained & Chipped Teeth

Replaces Missing Teeth​
Pre and post-operative consultations

All clinic fees

All medical fees and doctor fees
Hotel or recovery house

Preoperative lab work

Airfare
Payment Options: Cash, credit card, wire transfer
Note: The center may require a money deposit once a patient decides to book the surgery.
Best D

entists

 in Tijuana at Dental Solutions
Best dentists in Tijuana are certified to perform effective cosmetic dentistry and other dental work. They speak English fluently and have over 5 years of experience.
Tijuana dentists have international training and diplomas from prestigious schools. This makes them among the best dentists in Mexico. Their compassionate, warm, and friendly personality will help you feel anxiety-free and safe during the treatment.
Patients from North America can easily reach Tijuana. This innovative border town resembles American cities in terms of culture and amenities. Besides quality dental clinics, Tijuana offers other advantages.
Here are the top attractions in Tijuana worth your visit:
Tijuana Cultural Center
Avenida Revolucion
Mercado El Popo
Playas de Tijuana
Museo de Cera de Tijuana
How long do veneers last?
With proper care and upkeep, porcelain veneers can last for 10 to 15 years.
How do I take care of my veneers?
There are no specific precautions for taking care of veneers. As usual, maintain regular oral hygiene by brushing your teeth and flossing once daily. You will have to visit your dentist twice yearly for regular check-ups and oral exams.
However, you should avoid chewing hard foods with your molars to prevent a veneer from chipping.
Would I be able to take veneers off?
The short answer is no. Porcelain veneers are not reversible. While preparing your teeth for dental veneers, the finish is taken out from your teeth so that the caps can appropriately fit over them. This material can't be restored whenever it is removed from your teeth.
Does it hurt to get veneers?
No! It doesn't hurt to get a veneer. Moreover, most patients report no pain at all during treatment. The procedure is minimally-invasive since it only requires removing a thin layer of enamel from your teeth.
This can be done under local anesthesia, about which you will consult your dentist.
Book Affordable Package for 

Dental Veneers

 in Tijuana, Mexico Today!
Book an affordable package for Dental Veneers in Tijuana Mexico at the top clinic! Experienced dentists at Dental Solutions clinic will help you achieve the natural-looking smile and dental health goal. Contact us for more details!
Related Experiences:
Choose Safe and Cheap Dental Veneers in Tijuana
Dental Veneers in Juarez, Mexico
Dental Veneers in Cabo San Lucas
Dental Veneers in Puerto Vallarta Mexico
Dental Veneers in Mexicali
Get Affordable Dental Veneers in Los Algodones
---
---
---
---