Life Changing Laparoscopic Gastric Bypass Package in Poland
Treatment:
Obesity/Bariatric Surgery, Gastric Bypass, Bariatric Surgery
Focus Area:
Laparoscopic Gastric Bypass Poland | Gastric Bypass Abroad | Gastric Bypass Cost Abroad | Bariatric Surgeon Abroad | Obesity Surgery | Weight Loss Surgery | Gastric Bypass Surgery | Jelenia Gora, Poland
---
Laparoscopic Gastric Bypass, Gastric Bypass Surgeon, Mini Gastric Bypass, Weight Loss Surgery, Obesity Surgery, Jelenia Gora, Poland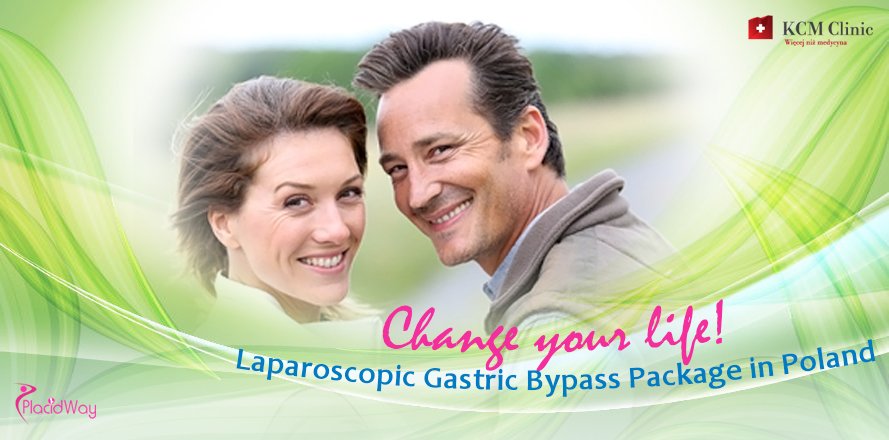 Life Changing Laparoscopic Gastric Bypass Package in Poland
Laparoscopic Gastric Bypass is a surgical procedure wherein the stomach is divided into 2 pouches - the smaller upper pouch and the larger lower pouch wherein the small intestine is connected to both. Small incisions are also made to accommodate a camera in a tube (laparoscope) to guide the bariatric surgeon during surgery.
Gastric bypass delivers impressive results on appetite regulating gut hormones that helps in weight reduction.
 

Why Choose KCM Clinic, Jelenia Gora, Poland?
Affordable health services

Best treatment packages prices

Expert Obesity Surgeon

Modern Equipment

Short waiting list

Lowest post-bariatric surgery infection rate at 0.01%
Am I eligible?
Your Body Mass Index (BMI) is 40kg/m2 or above

You suffer from Hypertension & Type 2 diabetes

Gastric band (restriction thru a silicone device) is not for you
What does it cost?                     
Laparoscopic Gastric Bypass at KCM Clinic only costs $7200
All-Inclusive package includes:
Surgical treatment

Ground transfer to/from Wroclaw Airport (WRO) and local transportation to/from the Hotel to KCM Hospital

3 nights at the 3* Accor Mercure Hotel or the 4* Palace on the Water Hotel with Breakfast

Pre-surgery Consultations (Meeting with our specialists in Plastic Surgery, Internal Medicine Cardiology

and

Anaesthesiology)   
Preoperative Diagnostic (Being in your best state of health for your procedure is of the

utmost

importance to KCM Hospital, therefore we check everything from Internal Medicine (Lab, Ultrasound, X-Ray) to Cardiology Diagnostic (Echocardiography, EKG) and Complete blood lab tests)

General Anaesthesia

Hospitalization for 1 night with 24/7 nurse care

Meals and Medications while in hospital

Personal host at KCM Clinic dedicated to your travel itinerary and medical travel program

1 Companion stay costs in the hospital and Hotel

Personalized 7 weeks diet plan

Aftercare through a worldwide network of bariatric surgeons, nurses

and

dieticians

All required postoperative medication
To give our patients the most exceptional experience, we also provide all guests with a complimentary full dental check-up in our award winning KCM Dental Clinic.  
KCM Clinic has many weight loss packages to choose from! If you're interested in a different Weight Loss Procedure than contact a patient coordinator for more information.  
Lose the EXCESS weight at KCM Clinic, Jelenia Gora, Poland!
Just click the button below to get a FREE quote!

Related Experiences:
Gastric Bypass in Izmir Turkey
Gastric Bypass in Merida Mexico
Gastric Bypass in Turkey - Cost, Clinics, Reviews, Doctors
Lose Weight with Gastric Bypass in India
Affordable Gastric Bypass Surgery Istanbul – Get Free Quote Now!
Get Rid of Obesity with Gastric Bypass Cancun Mexico – Save Up to 80%
---
Obesity/Bariatric-Surgery Related Packages
Obesity/Bariatric-Surgery Related Experiences