Rhinoplasty Economic Package by Private Koru Hospital in Ankara, Turkey
Package price starting from:
$3500
Treatment:
Cosmetic/Plastic Surgery, Nose Surgery Rhinoplasty
Location:
Kizilirmak Mah. 1450. Sokak No:13 Cukurambar Ankara-Turkey, Turkey
Focus Area:
Private Koru Ankara Hospital | Ankara | Turkey | Rhinoplasty
---
Discover Exceptional Nose Surgery Solutions in Ankara, Turkey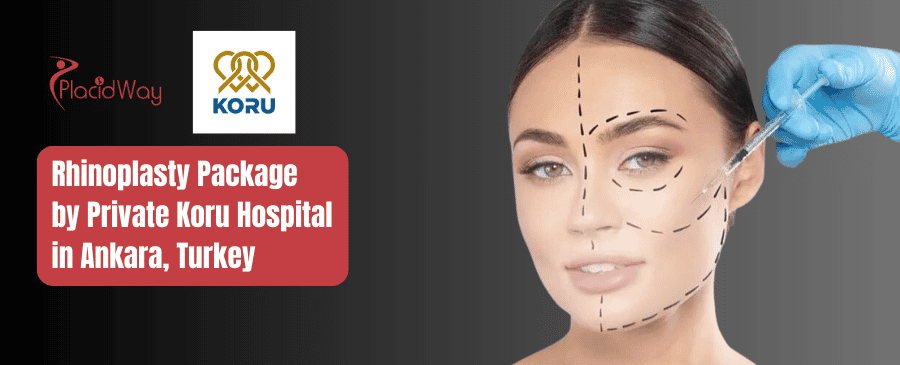 Rhinoplasty, commonly known as a nose job, is a surgical procedure that aims to reshape or reconstruct the nose for aesthetic or functional purposes. It is a sought-after cosmetic surgery that can significantly enhance one's facial harmony and boost self-confidence. If you are considering rhinoplasty, Private Koru Hospital in Ankara, Turkey offers an exceptional rhinoplasty package designed to provide remarkable results and a seamless patient experience.
Private Koru Hospital is a renowned medical facility in Ankara, Turkey, known for its excellence in various surgical specialities, including rhinoplasty. With a team of highly skilled and experienced surgeons, advanced technology, and a patient-centric approach, Private Koru Hospital has gained a reputation for delivering outstanding results in nose surgery. See our package details below for more information.
You can get Rhinoplasty Package from Private Koru Hospital in Ankara, Turkey with the price starting at $3,500. Check our price list table below to learn more:
| | |
| --- | --- |
| Location | Cost in USD |
| Ankara, Turkey | $3,500 |
| United States | $10,000 |
| United Kingdom | $7,635 |
Note: price may change and vary depending on the complexity of procedures and patient conditions. Click the free quote button below to learn more:

Rhinoplasty, commonly known as a "nose job," is a surgical procedure designed to enhance or reshape the appearance of the nose while addressing functional concerns. This intricate cosmetic surgery involves carefully sculpting the nasal structure to achieve desired aesthetic outcomes, such as altering the nose's size, shape, angle, or proportions in relation to other facial features.
Beyond its cosmetic applications, rhinoplasty can also rectify structural issues that impede proper breathing and airflow. The procedure can be tailored to individual preferences, with techniques ranging from open rhinoplasty, which involves a small external incision, to closed rhinoplasty, performed within the nostrils. As with any surgical procedure, a comprehensive consultation with a qualified plastic surgeon is essential to determine the most suitable approach and to understand potential risks, benefits, and recovery expectations.
When it comes to rhinoplasty, Ankara, Turkey offers several distinct advantages as a prime medical tourism destination. Here are five compelling reasons why choosing treatment in this city is a smart decision:
Expert Surgeons: Ankara is home to a talented pool of plastic surgeons who specialize in rhinoplasty. These surgeons have undergone extensive training and possess vast experience in performing successful nose surgeries.
Advanced Facilities: Private Koru Hospital in Ankara boasts state-of-the-art facilities equipped with the latest medical technologies. From modern operating rooms to advanced imaging systems, the hospital ensures the highest standards of safety and patient care.
Affordable Costs: Compared to many other countries, rhinoplasty packages in Ankara, Turkey are competitively priced. Patients can enjoy significant cost savings without compromising on the quality of treatment.
Tourist-Friendly Destination: Ankara offers a blend of rich history, vibrant culture, and captivating landscapes, making it an ideal destination for medical tourists. Patients can combine their rhinoplasty journey with a memorable travel experience.
Medical Tourism Infrastructure: Ankara has a well-developed medical tourism infrastructure, with a wide range of accommodation options, transportation services, and dedicated support for international patients. The city ensures a smooth and comfortable experience for patients seeking rhinoplasty.
Hospital Stay (Meal service during the hospital stay)

Hotel Stay at a hotel in Ankara

Transfer service (Airport-hospital transfer)

Medical Second Opinion

Visa assistance

Language support
Rhinoplasty Pre-Op Tests:
Before undergoing rhinoplasty, several preoperative tests may be necessary to ensure your safety and suitability for the procedure. These tests may include:
Physical Examination: A comprehensive physical examination to evaluate your overall health and identify any potential risks.
Blood Tests: Blood tests to assess your blood count, coagulation profile, and general health status.
Imaging Studies: Imaging studies, such as X-rays or CT scans, to obtain a detailed view of the nasal structures and aid in surgical planning.
Allergy Testing: Allergy testing to determine any existing allergies that may impact your recovery or surgical outcomes.
Medical History Review: A thorough review of your medical history, including any previous surgeries or medical conditions, to ensure personalized care and minimize potential complications.
Meet Osman Tugrul Guzeldir, an experienced surgeon in Ankara, Turkey, specializing in rhinoplasty. Op.Dr. Osman Tuğrul GÜZELDİR was born on May 1, 1983. After completing his pre-graduate studies, he successfully graduated from Atatürk University Faculty of Medicine and obtained the title of medical doctor. He specialized in Otorhinolaryngology at Gazi University Faculty of Medicine and became an Ear, Nose, and Throat Specialist.
After completing his specialization training, Op.Dr. Osman Tuğrul GÜZELDİR worked at Afyonkarahisar Bolvadin Dr. Halil İbrahim Özsoy State Hospital from 2013 to 2015. He later served in various private hospitals in Ankara. In 2020, he joined the academic staff at Istanbul Health and Technology University and currently serves as an Assistant Professor at Koru Ankara Hospital.
Op. Dr Osman Tuğrul Güzeldir has particularly excelled in the field of rhinoplasty, having performed numerous successful surgeries in this area. In addition to his expertise in rhinoplasty, Dr Osman Tuğrul Güzeldir has specialized in the following areas:
Best Rhinoplasty Surgeon in Ankara, Turkey

 

Osman Tugrul Guzeldir

Specializations:

Head and neck tumours

The eardrum and middle ear diseases

Dizziness, hearing loss, and balance disorders

Thyroid and parathyroid gland diseases

Childhood neck masses

Salivary gland diseases and tumours

Childhood ear-nose-throat diseases

Nasal congestion and sinus diseases

Hoarseness and laryngeal diseases
Op.Dr. Osman Tuğrul GÜZELDİR is a member of the Turkish Society of Otorhinolaryngology and Head and Neck Surgery, Turkish Skull Base Society, Turkish Medical Association, Turkish Rhinology Society, and Ankara Medical Chamber. He also has a good command of English.
Why Choose Nose Surgery in Ankara, Turkey
Private Koru Hospital, with its expertise in nose surgery and commitment to patient satisfaction, offers an excellent opportunity to achieve the nose of your dreams while enjoying a fulfilling medical tourism experience. One thing is for sure, Ankara, Turkey, is an ideal destination for rhinoplasty due to its exceptional medical facilities, skilled surgeons, affordability, and welcoming environment for international patients.
Q: What is rhinoplasty?
A: Rhinoplasty, commonly known as a nose job, is a surgical procedure that aims to reshape or reconstruct the nose for aesthetic or functional purposes.
Q: How long does the recovery period typically last?
A: The initial recovery period after rhinoplasty usually lasts about 1-2 weeks. However, complete healing and final results can take several months.
Q: What should I expect during the consultation process?
A: During the consultation, the surgeon will assess your nasal structure, discuss your expectations and desired outcomes, and explain the procedure, potential risks, and benefits.
Q: Is rhinoplasty a painful procedure?
A: The procedure itself is performed under anaesthesia, ensuring that you are comfortable and pain-free during the surgery. After the procedure, some discomfort and mild pain can be managed with prescribed pain medication.
Embark on your rhinoplasty journey and take the first step towards a transformed appearance and enhanced self-confidence. Book your consultation at PlacidWay Medical Tourism today and explore the remarkable rhinoplasty package offered by Private Koru Hospital in Ankara, Turkey. Experience world-class care, skilled surgeons, and outstanding results in nose surgery while enjoying the warmth and beauty of Ankara! Click contact us button below to get started for your rhinoplasty journey:

Related Experiences:
Rhinoplasty in Ankara, Turkey
Rhinoplasty in Antalya Turkey
Rhinoplasty in Izmir, Turkey
Rhinoplasty in Turkey
Rhinoplasty in Istanbul, Turkey
Rhinoplasty in Croatia
---