Top Veneers Packages in Puerto Vallarta, Mexico
Package price starting from:
$300
Treatment:
Dentistry, Dental Veneers
Focus Area:
Veneers in Puerto Vallarta, Mexico | Porcelain | Zirconia Veneers | Dentists | Dental Clinics
---
Affordable Dental Veneers in Puerto Vallarta, Mexico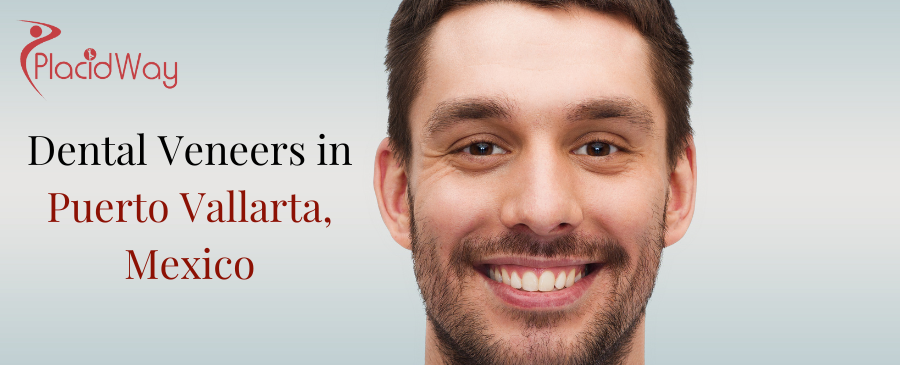 Dental veneers in Puerto Vallarta are one of the most appreciated and aesthetic dental solutions as they are able to completely transform and improve the patient's smile.
Dental veneers are delicate, thin layers of porcelain used for tooth restoration. They are used to correct various aesthetic imperfections such as dental gaps, dental crowding, stained teeth, aesthetically shaped or proportioned teeth, dental traumas, cavities, or unevenly textured or asymmetrical teeth.
Common Types of Dental Veneers
The most common types of dental veneers used today are porcelain or composite resin veneers.  These are strong, long-lasting and help protect the teeth against further damage, as well as offering a brighter, more beautiful smile, clearer speech, and chewing function for some. Both types of veneers can be created and designed in a dental laboratory, though composite veneers may also be created in your mouth at the same time as your dental visit. Dental veneers are bonded directly to the teeth with a type of resin cement. Porcelain veneers are more expensive but last longer than other types of veneers.
Average Dental Veneers Cost in Puerto Vallarta, Mexico
The average cost of dental veneers in Puerto Vallarta, Mexico is $300. In comparison, in the US & Canada the average cost is $1,700 to $1,750.
| | |
| --- | --- |
| Country | Cost |
| Puerto Vallarta, Mexico | $300 |
| United States | $1,750 |
| Canada | $1,700 |

Veneers Packages in Puerto Vallarta
| | |
| --- | --- |
| Veneers Types | Packages Costs |
| Composite Veneers (per unit) | $100 |
| Metal Free Emax Veneers | $300 |
| Porcelain Veneers (per unit) | $350 |
| Lumineers | $400 |
| Full Set of Veneers  | $2,000 to 3,200 |
Benefits of Dental Veneers in Puerto Vallarta
Fast results

Non-invasive procedure

Easy to maintain results

Stain-resistant

Unnoticeable

The patient can choose whatever shade of white he/she wishes

Offer teeth aesthetics and functionality
Factors that Affect Dental Veneers Package Price
You may find that the same provider is offering different package prices for Dental Veneers in Cancun, Mexico. This happens due to relative factors such as:
Number of teeth requiring veneer

The material chosen for veneers (the radiance and quality of the veneers depends on the materials used)

Age of the patient and his/her jaw flexibility

Experience and qualification of the dentist
The doctor at the clinic would ask to go for laboratory tests to ascertain the plan for your treatment course of action. The laboratory test reports help to analyze the condition of your body?s preparation before the surgery. Based on that, the doctor may consult over the phone and explain the treatment plan for you.
Dental Veneers Package Inclusions
Pre and post-operative consultations

All clinic fees

All medical fees (doctor fees, orthodontist,  anesthesiologist, and nursing staff) 
Dental Veneers Package Exclusions
Hotel or recovery house

Preoperative lab work

Airfare
List of Required Pre-Op Tests for Teeth Veneers
X-ray of teeth

Complete blood count

Common urine analysis

Blood tests for HIV, hepatitis, and AIDS

Blood tests for hormone levels

Rh factor blood test

Eliminate the presence of osteoporosis or any other metabolic diseases.
FAQs about Dental Veneers in Puerto Vallarta, Mexico
How Long Does the Procedure Take?
It takes around 5 days to complete the process. During which we use cad-cam and 3-D scan to get the exact measurements of your teeth. Then we will first create temporary teeth and start with the processing of creating veneers. It takes about 48 hours to create the veneers in our fully-equipped lab. Post that, we start with fitting the veneers and ensuring that the patients are fully comfortable with the set of veneers.
How Long Do Dental veneers last?
Dental Veneers can last from 10 to 30 years under some precautions.it is important to exercise reasonable precautions because dental veneers are not indestructible. Porcelain is glass and can shatter with excessive pressure.
Who are veneers suitable for?
An ideal candidate for dental veneers is someone who would like to improve the color or contour of their teeth. Specifically speaking, the ideal candidate for veneers is someone who has minor cosmetic imperfections or severely stained teeth.
Is Dental veneers Procedure Painful?
The applying process of dental veneers is 100% pain-free. There are some people with very sensitive teeth who experience some discomfort but there is no serious pain involved with veneers.
Why Choose Puerto Vallarta for Teeth Veneers?
Customized dental treatment and personalized service

Latest technology equipment

The carefully selected medical team, dedicated to their profession

Highest industry standards of sterilization and cleanliness maintained

24-hour emergency call service
For more details on Dental Veneers in Puerto Vallarta, Mexico, click the button below!

Related Experiences:
Dental Veneers in Puerto Vallarta Mexico
Dental Veneers in Cabo San Lucas
Dental Veneers in Juarez, Mexico
Dental Veneers in Mexicali
Choose Safe and Cheap Dental Veneers in Tijuana
Get Affordable Dental Veneers in Los Algodones
---
Dentistry Related Packages
Dentistry Related Experiences