Gastric Sleeve Package in Istanbul, Turkey by Estpoint
Package price starting from:
$4000
Treatment:
Obesity/Bariatric Surgery, Sleeve Gastrectomy
Location:
Gokturk Merkez, Mono Binas? Acelya Sk. 2/A, 34077 Eyup/Istanbul, Turkey
Focus Area:
Gastric Sleeve Package | Istanbul | Turkey | Estpoint | Gastric Sleeve Cost | Gastric Sleeve Doctor
---
Gastric Sleeve Package, Istanbul, Turkey, Estpoint, Gastric Sleeve Cost, Gastric Sleeve Doctor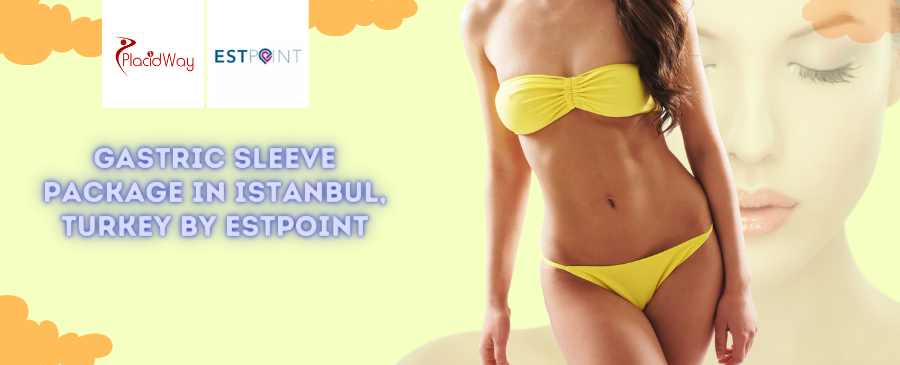 Affordable Gastric Sleeve Package in Istanbul, Turkey
Estpoint provides a cheap package for Gastric Sleeve in Istanbul, Turkey. Get top treatment free quotes for top centers. Estpoint knows that when it comes to health care, there is no such thing as too much attention. That's why they provide gastric sleeve surgery at their clinics with an all-star team of experts who take your needs into consideration from every angle possible! You can rest assured knowing you will receive quality analysis and treatment administered in the most comfortable setting, which might be what some people call friendly service.
Definition of Gastric Sleeve Treatment in Istanbul, Turkey
The Gastric Sleeve Surgery or Vertical Sleeve Gastrectomy is a bariatric procedure that removes 75-80% of the stomach. It's now one of Turkey's most popular surgeries and worldwide too! The gastric sleeve procedure permanently reduces your stomach to about the size of a banana. The amount of food that can be comfortably consumed at one time is often determined by how much your stomach capacity has been reduced.
You can get Gastric Sleeve Package in Istanbul, Turkey by Estpoint with the price starts from $4,000 (Operation – Transfers – Hotel).
Note: Price may change depends on complexity of the procedure. Please follow Price Policy in Estpoint or contact Customer Representative.

You are given general anesthesia before your surgery begins. The surgeon creates a narrow sleeve by stapling the stomach vertically and removing the larger, curved part of the stomach (surgery usually takes one to two hours). After surgery, you awaken in a recovery room, where medical staff monitors you for any complications.
You may experience changes as your body reacts to the rapid weight loss in the first three to six months after sleeve gastrectomy, including: Body aches , Feeling tired, as if you have the flu, Feeling cold, Dry skin, Hair thinning and hair loss, Mood changes. Sleeve Gastrectomy can provide long-term weight loss. The amount of weight you lose depends on your change in lifestyle habits. It is possible to lose approximately 60%, or even more, of your excess weight within two years.
In addition to weight loss, sleeve gastrectomy may improve or resolve conditions related to being overweight, including: Heart disease, High blood pressure, High cholesterol, Obstructive sleep apnea, Type 2 diabetes, Stroke, Infertility. Sleeve gastrectomy surgery can also improve your ability to perform routine daily activities, and can help improve your quality of life.
Below are some advantages of selecting Gastric Sleeve Package in Istanbul, Turkey by Estpoint:
Here you can find inclusions for Gastric Sleeve Package in Istanbul, Turkey by Estpoint:
Check below information of exclusions for Gastric Sleeve Package in Istanbul, Turkey by Estpoint:
Below are some pre op tests in Gastric Sleeve Package in Istanbul, Turkey by Estpoint below:
Note: The pre-op tests will be suggested after an essential physical check up. The tests are required to be done before 7-10 days of the treatment.
Payment Options: Cash, Credit Card, Wire Transfer
Note: The clinic may ask you for money deposit once you decide to receive the surgery.
In below, you can find the list of Gastric Sleeve Surgeon in Istanbul, Turkey by Estpoint:
Prof. Dr. Bahhattin Ozçelik - Plastic Surgeon
Professor Assistant. Dr. Mustafa Kıyar - Plastic Surgeon
Sp. Doctor Funda Demir - Medical and Aesthetic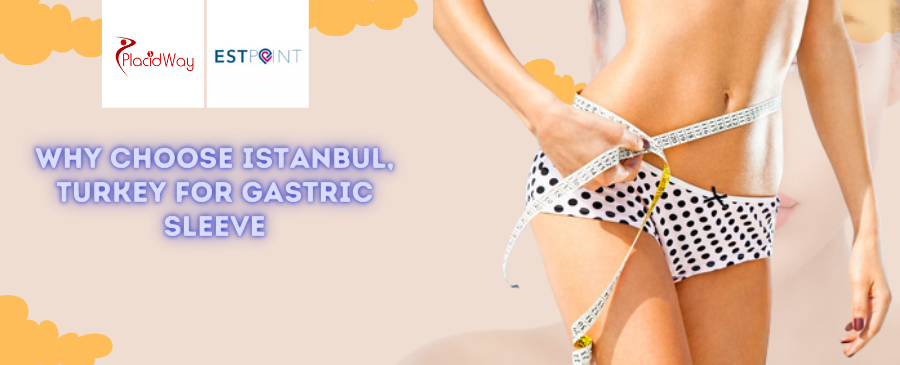 The most important reason why people from around the world travel to Turkey for plastic surgery is its affordability. With an average cost and low rates in comparison with other countries that perform this procedure on patients every day. Medical tourism in Turkey has been on the rise over recent years. With a high level of qualification and competent organizations, it's no wonder that foreign patients are flocking to this country for medical care!
The number who came last year was 8% higher than 2018 - which can be attributed not only to how good our doctors are but also what makes them stand out from others around world: their education system starts early with both undergraduate degrees as well specialty training programs beginning at 18 years old (and lasts up until 30).
Here you will find information about FAQ (Frequently Asked Questions) for Gastric Sleeve in Istanbul, Turkey by Estpoint:
Turkey is a popular destination for affordable healthcare. The cost of Gastric Sleeve procedures in Turkey are much lower because they have access to cheaper supplies, fewer expenses due their proximity and clinical idea which makes everything price-competitive with other countries!
With the beautiful and excellent medical care that Turkey has to offer, it is no wonder their patient satisfaction rates are through the roof. Gastric sleeve surgeries will be focused on your needs with daily follow up visits ensuring you're being taken good care of as well access transportation in town if needed!
Yes, it is. Istanbul, Turkey is a country with excellent healthcare. When you come to Turkey, all your worries about getting surgery will be put at ease because they have skilled professionals and surgeons who can perform Gastric Sleeve procedures for an affordable price!
The Gastric Sleeve treatment in Istanbul, Turkey has been a major player when it comes to medical tourism for people living within the European Union. Of all places across these continents that offer such services; no other location offers such an affordable price!
With Gastric Sleeve Package by Estpoint, you can get great results that will make any person happy! To learn more or book an appointment with them today clicks here. The best surgeon in town is offering top-quality service for a fair price:

Related Experiences:
Gastric Sleeve Surgery in Istanbul
Gastric Sleeve in Izmir Turkey
Gastric Sleeve in Turkey - Affordability, Safety, Quality
Gastric Sleeve in Cancun, Mexico
Gastric Sleeve Surgery in Reynosa - Lose Weight in Mexico
Gastric Sleeve Surgery in Tijuana Mexico - Improve Your Quality of Life
---
Obesity/Bariatric-Surgery Related Packages
Obesity/Bariatric-Surgery Related Experiences