Knee Injury Treatment with Stem Cell in Germany
Treatment:
Stem Cell Therapy, Stem Cell Therapy for Knee Arthritis
Focus Area:
Stem Cell for Knee Injury | Stem Cell Therapy Cost | Best Stem Cell Clinic | Cartilage | Knee Pain | Knee Meniscus | ACL or MCL | Germany
---
Affordable Knee Injury Treatment With Stem Cells in Germany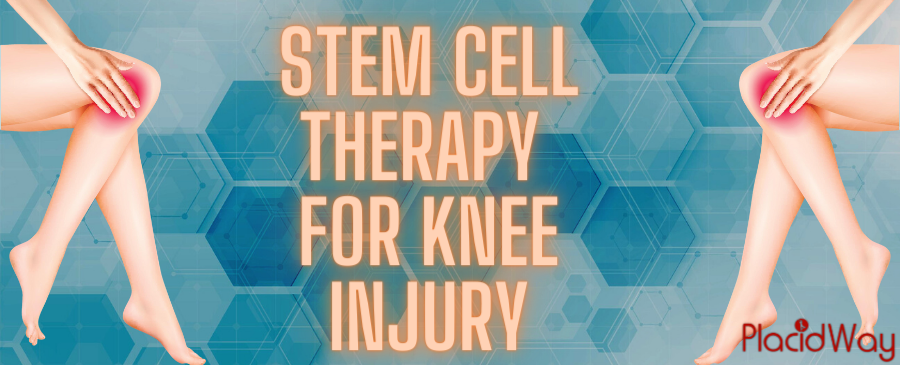 Numerous new studies and projects researches have come forth in the global market for stem cell therapy. Because of the beneficial nature of stem cell therapies, Europe displays significant growth potential for this market. 
Implementation of stem cell therapies against some of the everyday injuries and with a promise of fast recoveries is proved by using stem cells for knee conditions. Encountering an injury to the knee meniscus, cartilage, ACL or MCL ligaments or even chronic knee pain can now be healed using this more effective and less painful way.
Stem cells are withdrawn from bone narrow and precisely injected into the injured tissue and the procedure is done with the help of ultrasound or x-ray. Also, the concentrated platelets enable additional healing and are used for boosting the stem cell that will be injected into the body. In order to keep the stem cells active, these platelets are injected every 3 - 5 days. 
This therapy is mostly used for osteoarthritis but can be used for other degenerative knee diseases.
Benefits of Getting Stem Cell Therapy for Knee Injury
Procedures happen within a single day.

A viable alternative for those facing surgery or joint replacement.

Avoiding lengthy and painful rehabilitation.

Patients are less vulnerable to infections and blood clots that can be caused by surgeries.

Stem cells contain growth factors that stimulate tissue growth.

There is no threat of patient rejection.
Cost of Stem Cell Therapy for Knee Injury
| | |
| --- | --- |
| Location | Price |
| Germany | $9,000 |
| United Kingdom | $25,000 |
The Procedure of Stem Cell Therapy for Knee Injury Treatment
The stem cell treatment for knee joint inflammation is a two-venture measure: extricating your own stem cells from the bone marrow (or fat tissue), and afterward re-infusing them into the knee. When the stem cells enter your body, they start speaking with your safety system and fixing the harm, both by transforming into the cells that maintenance the ligament and by carrying more oxygen to the spot (everything recuperates with oxygen). 
The extraction of stem cells is done by means of bone marrow desire, which incorporates desensitizing your hip and embedding a little needle into the hip bone to take a little bone marrow test. This system doesn't hurt by any means, and was, truth be told, depicted by patients as a comfortable interaction. 
The stem cells are then filled in vitro and infused into the knee throughout seven days, through a few infusions. The aggravation slowly dies down throughout the span of the following not many weeks, while usefulness recuperates. Patients report being sans torment following a couple of weeks. Notwithstanding, since the knee ligament continues to tear, it is exceptionally conceivable that the treatment must be re-done following a half year to a year.
FAQs About Stem Cell Treatment For Knee Injury

What can you not do after stem cell injections? 
Stay away from any forceful turn or manual control. Recollect that great recuperating during the initial two months after the technique will allow you the best opportunity for progress. The cells are delicate, and you should be wary that you don't over-burden them or cause an excess of stress or shearing on them.
What is the achievement pace of stem cell treatment for knees? 
There has been some proof that Stem cell injections diminish knee torment in patients by as much as 75%, which was upheld by a subsequent study.
What amount of time does it require for knee stem cells to work? 
Most patients feel no improvement for no less than 3 weeks and conceivable 6 two months. When you feel improvement, you will see proceeded with progress extending more than a half year. How is the recuperation after a stem cell method? There might be some gentle touchiness in the joint for as long as seven days after the infusion.
Are stem cells difficult to get? 
Notwithstanding, human stem cells can be hard to get and control; investigates human early-stage stem cells regularly require oversight by morals sheets and face financing limitations, so new methods will, in general, be grown first in mouse cells and afterward adjusted to human ones.
What amount of time does it require to acquire stem cells? 
It can take one to three days to gather sufficient stem cells for relocation. On the off chance that the assortment takes over a day, you can get back every night after the assortment.
Do stem cell pills work?
Stem cells have generated a lot of buzzes, only some of them legitimate. Stem cell supplements and their makers claim that these pills or drinks will improve your health via impacting your stem cells.
Are stem cell injections Hurts? 
Stem cell treatments for back, knee, shoulder, or joint torment fill in as an ideal option in contrast to obtrusive medical procedures that would require recovery a while later. Our moderately easy system requires just an hour and a half and has far fewer dangers and incidental effects than those related to a muddled medical procedure.
Is stem cell better than knee Replacement? 
Since a knee Replacement is a particularly huge medical procedure, the recuperation time can require months. One of the major benefits of stem cell treatment is that patients by and large see a lot more modest decrease in their portability because of the method.
Does Insurance cover stem cell injections? 
While Insurance organizations for the most part don't pay for stem cell treatments, they might pay for your conference with the specialist and other related costs that are brought about during the strategy.
 For more information on stem cell treatment for knee systems and affordable prices worldwide, click on the button below and contact us!

Related Experiences:
Stem Cell Therapy for Knee in Mexico - Choose Knee Treatment Mexico
---
Stem-Cell-Therapy Related Packages
Stem-Cell-Therapy Related Experiences