ClosureFast and Phlebectomy for Varicose Veins in Seoul South Korea
Package price starting from:
$1800
Treatment:
Cosmetic/Plastic Surgery, Varicose Vein Removal
Location:
815, Nonhyun-Ro, Gangnam-Gu, South Korea
Focus Area:
ClosureFast and Phlebectomy for Varicose Veins | Seoul, South Korea
---
Varicose Veins Removal, ClosureFast, Phlebectomy, Radiofrequency Energy, Venous Insufficiency, Seoul, South Korea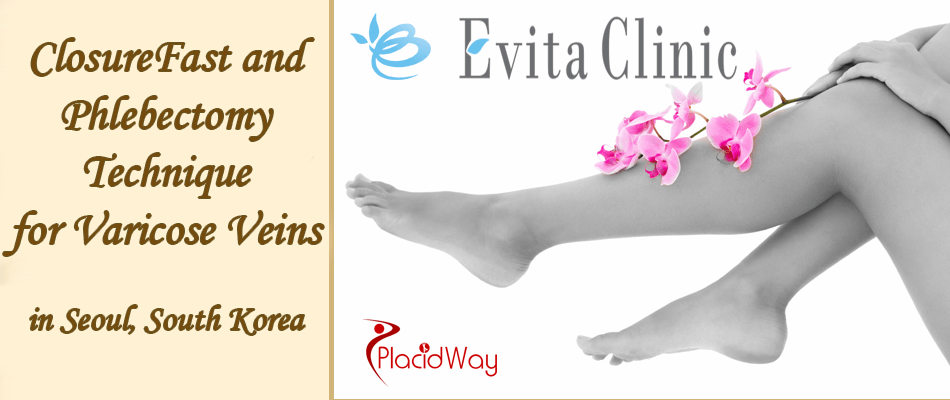 ClosureFast and Phlebectomy for Varicose Veins in Seoul, South Korea
Varicose veins are gnarled, swollen veins that usually occur in feet, legs and ankles and they are caused by venous insufficiency. This means that the blood circulating through the lower limbs does not properly return to the heart but instead pools up in the distended veins.
The innovative ClosureFast technique uses radiofrequency energy to effectively and precisely treat patients suffering from varicose veins. With this procedure there is no need for surgery or general anesthesia. It is performed with local anesthesia in an outpatient surgical facility and it does not take longer than 60 minutes.
The ClosureFast technique heats a 7-cm vein segment or even 3 cm for shorter veins in one 20-second interval. The heat shrinks and collapses the target vein, creating a fibrotic seal and occluding the vessel.
Benefits of the ClosureFast technique
Lower rates of pain and bruising
Faster recovery
Minimum risk of complications
Quick return to normal activities
Minimal to no scaring
Cost and inclusions
At Evita Clinic the price for the ClosureFast & Phlebectomy for Varicose Veins is $1,800 for one leg and $2,700 for both legs.
Inclusions
Incision Site Check-up and Dressing
Radio Frequency Massage
Compression Garment
Post-surgical medications
Why choose Evita Clinic?
The clinic provides high-quality medical services.
The medical center features an experienced and committed medical team.
The clinic uses leading medical technology
Guaranteed customer satisfaction.
The clinic offers a variety of surgical and non-surgical plastic and cosmetic procedures.

For more information about the ClosureFast & Phlebectomy for Varicose Veins package offered by Evita Clinic or if you need a FREE quote, please contact us!

Related Experiences:
Plastic Surgery in Seoul, South Korea
Brazilian Butt Lift in South Korea
Tummy Tuck in South Korea
Facelift in South Korea
Breast Augmentation in South Korea
Liposuction in South Korea
---
Cosmetic/Plastic-Surgery Related Packages
Cosmetic/Plastic-Surgery Related Experiences