Package Details
Best Mini Gastric Bypass Tijuana, Mexico
Mini gastric bypass is also known as sleeve gastric bypass surgery or a mini gastric surgical procedure. Gastric bypass surgery literally bypasses the bulk of the stomach and encourages massive weight loss in obese individuals. Mini gastric bypass surgery is performed using a laparoscopic approach, meaning minimally invasive techniques and procedures.
Also called a loop gastric bypass, this technique engages loop reconstruction and updates the traditional Roux-en-Y gastric bypass procedure, reducing the size of the stomach and creating a new connection between the small bowel or intestine to the stomach, limiting the intake of food, slower digestion, and reduced absorption of fats and calories.
Mini gastric bypass is effective and safe for patients with high-risk and high BMI (body mass index) ranges. Mexico is home to many high-end healthcare clinics. So, you will have plenty of choices to find the best centers for mini gastric bypass surgery in Tijuana.
Mexico is emerging as a leading player in the medical tourism industry. Thus, you can find many world-class clinics and qualified doctors providing the best mini-gastric bypass treatment.

Mini Gastric Bypass Mexico Cost
| | | |
| --- | --- | --- |
| Country | Procedure | Cost |
| United States | Mini Gastric Bypass | $23,000 |
| Tijuana, Mexico | Mini Gastric Bypass | $5,600 |
Cost: The cost of Mini Gastric Bypass Surgery in Tijuana, Mexico is $5,600 whereas, the similar procedure cost is $23,000 in the United States. Final prices are determined after physical evaluation and laboratory reports analysis
Length of Stay: 2 days
Inclusions
Ground Transportation

Airport-Hospital-Hotel-Airport

Hospital Stay 2 days (Oasis of Hope)

Hotel 1 day (Real Inn or City Express Hotel)

Medical Fees

Labs

EKG

X-ray

Leak Test (Gastrography)

Post Op Meds (Discharge)

Direct contact 24/7 365
Exclusions:
Hotel or recovery house

Airfare

Preoperative lab work.
List of Required Pre-op tests:
Pathology  test

Blood glucose

Lipid Profile Test

Electrocardiogram (EKG)

Thyroid hormone test

ECG

Body composition analyzer, etc
Complexity Level: Medium
Note: The laboratory tests are done at least 7-10 days prior to the procedure. The particular tests are prescribed after a complete physical evaluation of the patient.
Payment Options: Cash, credit card, wire transfer
Note: The center may require a money deposit once a patient decides to receive the treatment.
Factors that Affect Package Price
You may find that the same provider is offering different mini gastric bypass surgery packages. This happens due to relative factors such as:
The age of the patient adds to the complexity

Weight

Medication

Health plan

Assistive and augmentative equipment

Complexities related to the procedure, etc
The doctor at the clinic would ask you to go for laboratory tests to ascertain issues and plan your treatment course of action. Based on that, the doctor may consult over the phone and explain the treatment plan for you.
Benefits of Mini Gastric Bypass Tijuana, Mexico
Safe and effective for patients with high BMI

Less tissue damage

Quick healing time

Improves stomach function

long-term benefits

affordable

high success rate

enjoy the great hospitality of Mexico 
How to Get There?
Tijuana is a border city in Mexico, near to the USA's South Carolina. You can reach the city via Tijuana International Airport, which also connected to a number of global cities. Flights from Canada, Central America, the US, Mexico City, South America, Central America, Europe, Russia, and Cuba land here.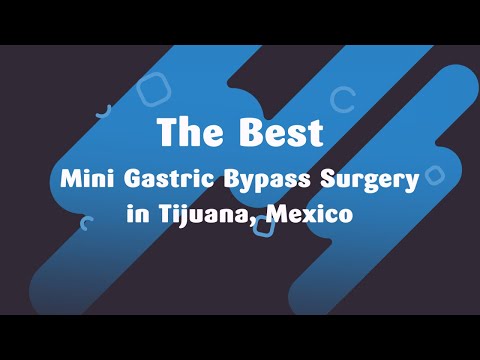 For more information on Mini Gastric Bypass Surgery in Tijuana, Mexico, click the button below!