Affordable Stem Cell Treatment Package for ALS in Beijing, China
Package price starting from:
$30780
Treatment:
Stem Cell Therapy, Stem Cell Treatment for ALS
Focus Area:
Affordable Stem Cell Treatment for ALS in Beijing, China | Amyotrophic lateral sclerosis Cost |
---
AlS Treatment Stem Cell China

Amyotrophic Lateral Sclerosis or ALS is a type of motor neuron ailment that attacks the nerve cells that controls the voluntary muscles. The disease is also known as Lou Gehrig's disease, Charkot's sclerosis and Charkot's disease. Recent discoveries have shown the capabilities of stem cell repair mechanism and it acquires the regenerative capabilities to develop different types of cells such as brain cells, red blood cells and muscle cells etc. Cell transplantation treatment can restore essential cells including the motor neuron stocks to restock the microenvironment between the brain and spinal cord and to safeguard the motor neurons. Stem cell therapy combines different types of cells that rebuild and prevent damage of the motor neurons and regenerates new blood vessels to enhance the blood flow at the same time. 
Every patient requires a personalized cell transplantation treatment depending on their medical condition. The therapy is suggested by the doctors after through check-up. It is previously mentioned that there is no cure for this disease and cell transplantation therapy can only improve the condition.
Different Types of Cell Transplantation Therapy
There are different types of stem cells and the most common types are,
Adult stem cell therapy and research

Embryonic stem cell therapy

Umbilical cord stem cell therapy
Factors Affecting the Price of the Package of ALS
You might be surprised to see the same clinic is charging different amounts for similar packages; however it depends on the relative issues like;
Medication

Personalized treatment

Medical plan

Age

Geographical location
Depending on the condition, the doctor will prescribe for laboratory tests. Based on the report, the doctor may call you and instruct on the treatment.
Advantages of Stem Cell Treatment for ALS
Though stem cell treatment is not a cure for Amyotrophic Lateral Sclerosis or ALS, it can improve the quality of life. The advantages of cell transplantation therapy are,
Enhanced energy

Better balance and coordination

Enhanced mood

Better speech and swallowing

Regenerates damaged cells

Slowing the progression of the disease

Lesser risk associated

Enhanced motor function

Fixes nerve injuries
Level of Difficulty: High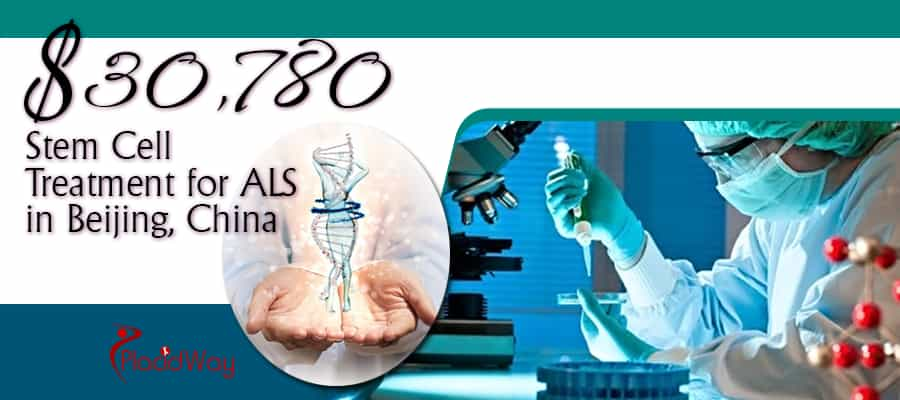 Cost: Stem Cell Treatment for ALS costs around $30,780 in Beijing, China
Note: The fees will depend on the test reports and physical check-up.
Length Of Stay: 7-10 days
Note: The duration may vary depending upon the chosen procedure and complexity associated with it.
Inclusions:
Consultations (pre and postoperative)

All medical charges including doctor fees and nursing staff

Post-operation garment

All hospital charges along with night stay
Exclusions:
Airfare

Preoperative lab work

Hotel or recovery house
List of Mandated Pre-Operative Tests:
Blood test

Pregnancy test

Complete Metabolic Panel

Hemoglobin solubility

ABO blood type

Bleeding times

CBC, diff, platelets

CT Scan

Pet Scan

Heart test
Note: The pre-op tests will be prescribed depending on their health conditions. All tests are required to be done before 7-10 days of the procedure.
Available Payment Methods: Wire transfer, cash, credit card
Note: The clinic may ask you to deposit some amount once you decide to receive the treatment from that clinic.
How to Reach us for your AlS treatment?
Beijing is the capital city of China and it is counted among the most developed cities in the world. Beijing is connected to a number of major cities in the world by airlines, railroads and highways.
For more details, click below:


Related Experiences:
Stem Cell Therapy for Autism in China
Stem Cell Therapy in China
Regenerative Medicine for Knee Injury in United States
Regenerative Medicine for Cerebral Palsy in United States
Advancing COPD Treatment through Stem Cells in Mexico
Stem Cell Therapy for Autism in Thailand
---