Package Details

The Best IVF/ICSI Package in Cancun, Mexico
Are you worried about your low-sperm count or any other infertility issues? Visit Cancun, Mexico for Intracytoplasmic Sperm Injection (ICSI) or IVF treatment and get instant result. The ICSI treatment is popular for male whose sperm count is too low or inadequate to ensure fertilization of eggs. The treatment is ideal for couples dealing with infertility issues.
The city of Cancun is the home of a number of premier healthcare centres, where medical tourists can avail world-class medical facilities. Many clinics here at Cancun are providing male infertility treatment and this can be a perfect destination for couples seeking infertility solutions abroad. Thus, visit Cancun in Mexico as medical tourists to receive best IVF/ICSI treatment at affordable price.
Factors that Affect Package Price
You may find that same provider is offering different package prices for IVF/ICSI treatment. This happens due to relative factors such as:
Patient's age

Type of infertility

Additional treatments like laser-driven hatching

Quality materials used in the process
Specialists at the clinic would ask to go for some tests like Hydrosalpingoscopy, blood tests including estradiol level and FSH, semen analysis and hysteroscopy. Based on the results of these tests, doctors may prefer to hold a telephonic conversation with the patient and explain the procedure.  
Benefits of IVF/ ICSI Treatment in Cancun, Mexico
High quality

 infertility treatment

Best infertility solutions

Best-in-the-industry price

Promotes happy married life

Performed by qualified and experienced doctors
Complexity Level: Medium

Cost:  IVF/ICSI cost starts from $5900 approximately. However, the treatment cost may vary according to the condition of the patient. The average cost for stimulation medications is an estimated $2,500 – $2,800, depending on the needs and requirements of each individual patient.
For stimulation, the medications we work with are as follows: Gonal F, Fostimon, Merional, Pergoveris, Clomid and Cetrotide. Between the egg retrieval and the embryo transfer, you will take progesterone. For luteal support, your medications will be estradiol and progesterone, which may be altered according to your specific needs. The approx. cost for the first 20 days after the transfer is $400.
Additional medications will be needed if the pregnancy test is positive, we usually recommend the lutheal support until week 12 of pregnancy. If your doctor won't prescribe them for you, the cost to get them from pharmacy that will be about an additional $600.
Note: Final prices are determined after physical evaluation and laboratory report analysis.
Length of Stay: 20 days (5 less days in Cancun if you can begin medications at home, 4 additional days if you do PGS/PGD testing)
Note: The length of stay varies in the same manner as the medication, as your cycle time frame depends on your body's response to treatment. During this time the physician will formulate a protocol that suits you best. This protocol involves your stimulation (use of injectable medications), egg retrieval and embryo transfer (Day3 or Day5).
Gender Selection by Ericsson (70% accurate on gender selection) Cost: $600 
MicroSort: sperm separation method based on the difference in the amount of genetic material in sperm (85% accurate) Cost: $2,500 
PGS: Preimplantation genetic screening, biopsy & diagnose for all embryos (23 pairs of chromosomes; includes gender selection 100% accurate) Cost: $4,500 
Inclusions:
Monitoring

Medical Fees

IVF/ICSI

Oocyte Retrieval

Embryo Transfer

Blastocyst Culture (if possible)

Assisted Hatching (if needed)

Vitrification of remaining embryos with one year maintenance

Warranty *** (see note below)
Note: The warranty consists of remaining frozen embryos being used in the next IVF cycle, if the pregnancy from the first cycle was negative. Additional charges will be for all the medications, gender selection, et al. Each subsequent FET is $1800 usd until all remaining embryos are transferred. Cryopreservation fee is included for one year from the date of the embryo transfer. After this time, the storage and maintenance fee is $700usd yearly. WARRANTY APPLIES TO WOMEN 39YRS AND UNDER AT TIME OF TREATMENT.
***Any additional medication, tests, and/or other medical condition the doctor may diagnose during the procedure will be at an additional cost***
Exclusions:
Medications (See note below)

Hotel or recovery house.

Preoperative lab work.

Airfare
Note: Medication coverage varies per patient, and it is quite common for medications to be altered throughout a cycle, in order to maximize results. Medications are purchased on an as-needed basis. We do not want you to purchase an excess of medication. 
List of Required Pre-Op Tests:
Semen evaluation

Tubal patency test

Ultrasound scan

Lupus anticoagulant

Anticardiolipin antibody screening
Note: The laboratory tests are done at least 7-10 days prior to the procedure. The particular tests are prescribed after a complete physical evaluation of the patient.
Payments: A non-refundable deposit of 25% is required to send a protocol and add you on the schedule, paid via bank transfer. We will provide the information to you when you decide on the treatment.
The remainder balance will be made at the Clinic. This can be made in US Dollars or Credit Card.
*Please note we do not accept American Express card payments
Note: The center may require a money deposit once a patient decides to book the surgery.
How to Visit Cancun, Mexico
Cancun, Mexico, officially the Republic of Cancun, Mexico, has multiple flights to enter the country from various destinations. The country is divided into seven provinces, which are subdivided into 81 cantons and 463 districts. You can avail flight connectivity in all major medical tourism destinations of the country.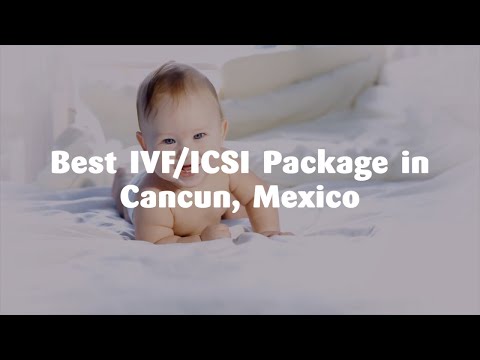 For more details on IVF/ICSI in Cancun, Mexico, click the button below:
Related Experiences:
Tubal Ligation Reversal in Mexico - Effective Child Birth Method
IVF Fertility Treatment in Mexico - Affordable and Safe
IVF Fertility Treatment in Georgia: Affordable Fertility Care
IVF Fertility Treatment in Colombia - Successful IVF Treatment
IVF Fertility Treatment in India - Hope for Family
Get Pregnant with IVF Fertility Treatment in Costa Rica