Package Details

Reduce Extra Body Fat with Mommy Makeover in Tijuana Mexico
Motherhood makes the stomach skin and muscles a little flabby. No amount of exercising seems to help bring back that flat, taut tummy. Liposuction and tummy tuck help you get the pre-pregnancy shape back. The bane of many mommies is that their breasts sag and are flabby and too big. Mommy Makeover package includes breast reduction and reshaping.
While some mothers have the too big breasts problem, some mothers find their breasts shrinking. For them, the Mommy Makeover package has the best Breast implant available and also a Breast lift. Pregnancy has different ways of changing a woman's body and skin. Sometimes, mothers have pregnancy-induced pigmentation that may not go away after the baby is born. For such situations, the Mommy Makeover package offers specially formulated skin lightening treatment.
What is Mommy Makeover?
Mommy Makeover is a set of cosmetic procedures which usually consists of breast lift with implants, tummy tuck, Brazilian butt lift, and liposuction on multiple areas to address excess fat and sagging skin. It is very important to have the option to discuss it with your cosmetic surgeon to guide you through the process and help you understand the approach that will be used and the results you will achieve.
If you are searching for the best destination abroad to get a mommy makeover, then you should visit Tijuana, Mexico. The city has numerous top-class cosmetic surgery clinics and the best doctors who perform mommy makeovers. Consider this surgery in Tijuana Mexico and check the details of the best available package.
A mommy makeover in Tijuana, Mexico can cost around from $7,000 depending on the procedures you elect to have performed. The most common procedures performed during a mommy makeover are breast augmentation and tummy tuck surgery.
However, you may also choose to have additional procedures such as liposuction, thigh lift surgery, or a Brazilian butt lift. In addition to the cost of your surgical procedures, you will also need to factor in the cost of your hotel stay, travel expenses, and post-operative care.
While the initial investment for a mommy makeover in Tijuana may be higher than having the same procedures performed in the United States, the overall cost is typically lower when all expenses are considered.
Cost Comparison for the Surgery - Tijuana Vs The USA and Canada
| | |
| --- | --- |
| Country | Mommy Makeover Cost |
| United States | $9,000 - $20,000 |
| Canada | $15,000 - $28,000 |
| Tijuana, Mexico | $7,000 |
Note:
Final prices are determined after physical evaluation and laboratory reports analysis.
Length to Stay:
This is usually a "same-day procedure", but in rare cases, the patient can be admitted for overnight observation.
Note:
The duration may vary depending upon the condition of the patient and the chosen procedure of treatment
| | | |
| --- | --- | --- |
| Inclusions | Exclusions | Pre-Op Test  |
| Stay in clinic, hotel, or recovery house | Preoperative lab work | PTT and PT |
| Transportation from San Diego Airport to Clinic and vice versa | Airfare | Complete blood count |
| Medicines for 7 days after the procedure | - | Urea and creatinine |
| Post-operative garments​ | - | Glucose and Fibrinogen |
Complexity Level: Medium
Note: The laboratory tests are done at least 7-10 days prior to the procedure. The particular tests are prescribed after a complete physical evaluation of the patient.
Payment Options: Cash, credit card, wire transfer
Note: The center may require a money deposit once a patient decides to book the surgery.
Factors that Affect Mommy Makeover Package Price in Tijuana
You may find that the same provider is offering different package prices for Mommy Makeover Surgery in Tijuana, Mexico. This happens due to relative factors such as:
Age

Medical conditions, like diabetes and lupus

Hormonal changes

The response of the body to the pre-op tests

Weight of the body

Experience of the Surgeon

Post-Operative Care
The doctor at the clinic would ask to go for laboratory tests to ascertain the problem and plan your treatment course of action. Based on that, the doctor may consult over the phone and explain the plan for Mommy Makeover Surgery.
Flatten out your flabby midsection

Multiple surgeries at the same time

A more dramatic effect

Restore youthful bounce to your breasts

Better skin tone

Clothes that actually fit

Recover from all the procedures at the same time

Custom designed for you and your body,

Removal of stretch marks

Turn back the clock

Psychological benefits move you forward

Lower risks of complications
Average Price of Other Cosmetic Surgery Procedures in Tijuana, Mexico
| | |
| --- | --- |
| Procedure | Approximate Cost |
| | $5,250 |
| | $4,925 |
| | $3,000 |
| | $3,770 |
How much weight can you lose from a mommy makeover?
The answer varies depending on the individual. Some mothers may see a significant change in their appearance, while others may only notice a subtle difference. Ultimately, the best way to determine how much weight you will lose from a mommy makeover is to consult with a board-certified plastic surgeon. They will be able to evaluate your individual case and provide you with realistic expectations for your results.
What are the risks of a mommy makeover?
The most common complication associated with mommy makeovers is surgical site infection. This can occur at any incision site and is usually treated with antibiotics. Bleeding and hematoma formation are also possible complications, as with any surgery. Additionally, there is a risk of nerve damage, which can lead to numbness or paralysis in the affected area.
As with any cosmetic procedure, there is also a small risk of scarring. However, the majority of women who have mommy makeovers are very happy with their results and feel that the benefits far outweigh the risks.
How long does a mommy makeover take to recover?
Most Mommy Makeovers can be completed in a single day, and patients can typically return home the same day. Recovery times will vary depending on the procedures that were performed, but most patients take approximately two weeks before they feel back to their normal selves. While there is some discomfort associated with the recovery process, most patients report that it is manageable and well worth the results.
It is quite easy to get to Tijuana, Mexico, as the city is located at the junction of all major highways and railways connecting the country with the rest of the world.  Tijuana International Airport is connected with all major cities across the world.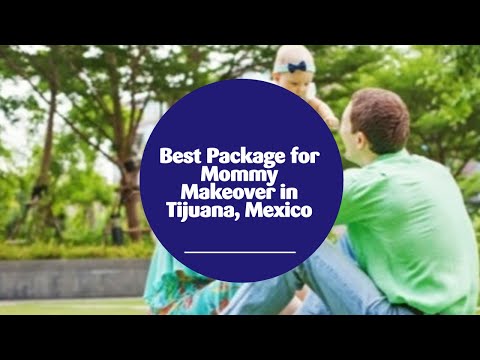 For more information on Mommy Makeover in Tijuana, Mexico, click the button below!
Related Experiences:
Useful Guide to Mommy Makeover in Tijuana Mexico
Mommy Makeover in Mexico
Mommy Makeover in Colombia
Mommy Makeover in Costa Rica - Reshape Your Body Figure!
Mommy Makeover Turkey - Restore Your Pre-Pregnancy Body
Transform Your Look with Mommy Makeover in India