Package Details

Best Package for Gum Contouring in San Jose, Costa Rica
Gum contouring, or gum lifting, is an effective form of cosmetic dentistry that is used to improve, correct and reshape uneven gums. It is also used in correcting excessive gums. This is a relatively painless procedure that has a very quick healing time. Of course, it has its share of discomfort and swelling, but can be effectively controlled by over-the-counter pain relievers prescribed by the dental caregivers. Gum contouring can be a huge improvement, resulting in a beautiful, even smile!
Costa Rica is one of the most preferred destinations for dental tourism. You will find some excellent clinics in San Jose providing top class gum contouring solution. Here you will find details of the most useful package for gum contouring in San Jose, Costa Rica. 
Factors that Affect Package Price
You may find that the same provider is offering different package prices for Gum contouring in San Jose, Costa Rica. This happens due to relative factors such as:
Gum condition

Age of the patient

The condition of the gums

The flexibility of the gums

Materials used for Gum contouring

Experience of the dentist
The doctor at the clinic would ask to go for laboratory tests to ascertain the problem and plan your treatment course of action. Based on that, the doctor may consult over the phone and explain the plan for the Gum contouring procedure.
Benefits of Gum contouring in San Jose, Costa Rica
Remove excess gum tissue

Create a more even gum line

Clean and healthy gums

Extremely safe procedure

Helps fight tooth decay

Minimizes bacterial infection

No need to use anesthesia

Decreases the risk of bleeding and swelling

Promotes faster healing and recovery time

Makes you feel safer and more comfortable with your smile

Efficient and experienced dentists at San Jose, Costa Rica

Better dental facilities

Fascinating climate for quick healing
Complexity Level: Low

Cost: The cost of Gum contouring Package in San Jose, Costa Rica starts from $200 approximately.
Note: Final prices are determined after physical evaluation and laboratory reports analysis.
Length of Stay: Same day procedure
Inclusions
Clinic fees

Pre and post-operative consultations

All medical fees and doctor fees,
Exclusions
Hotel or recovery house

Preoperative lab work

Airfare
List of Required Pre-Op Tests
X-rays and imaging

Tomography (CT) scan

Total Blood Count
Note: The laboratory tests are done at least 7-10 days prior to the procedure. The particular tests are prescribed after a complete physical evaluation of the patient.
Payment Options: Cash, credit card, wire transfer
Note: The center may require a money deposit once a patient decides to book the surgery.
How to Get There
It is easy for visitors to reach San Jose, as the city is connected with all the major highways. Juan Santamaría International Airport is the nearest airbase of San Jose, which is connected to most of the major cities across the world.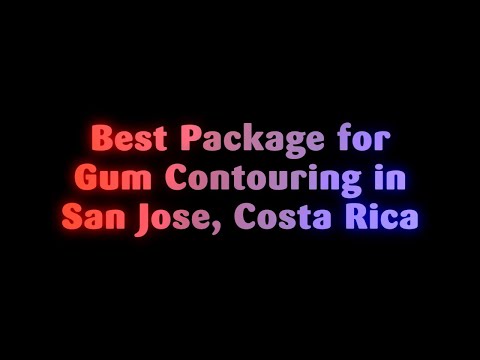 For more information on Gum contouring in San Jose, Costa Rica, click the bottom below!