Best Rejuvenation Package in Mysore, India
Package price starting from:
$1028
Treatment:
Ayurveda, Yoga, Meditation, Herbal Treatments, Exercise, Ayurvedic Massage, Ayurvedic Cleansing and Detoxification
Focus Area:
Best Ayurvedic Rejuvenation Package | Skin Treatment | Mysore, India
---
Ayurvedic Rejuvenation Therapy available India

Best Rejuvenation Package in Mysore, India

Why is it Important an Ayurvedic Rejuvenation Therapy?
Nurturing naturally to our bodies help us to become much more radiant, physically and mentally.
Ayurveda also helps patients to recover the feeling of beauty with the appropriate daily care and a strong emphasis in self-knowledge, positive routines and healthier habits.
At IVAC we have cautiously chosen and embraced different treatments & therapies combining them into simple packages to improve our guests health & life quality. All our therapies are quite popular among our worldwide guests.

7 Night / 8 Days  Rejuvenation Package
Seven nights Accommo-dation 
Four session of Abhyanga & Sweda
Four session of Laghu Dhara
Two session of SSPS / PPS
One session of Udvarthana
Any Two  Session of Basti
Any Two Beauty Therapies
One  Session of Laghu Abyhanga  
Seven sessions of Yoga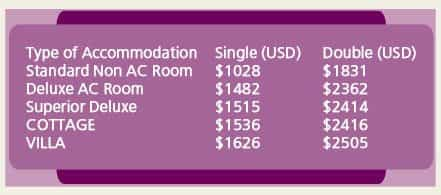 14 Night/ 15 Days Rejuvenation Package
Accommo-dation for  Fourteen nights
One session of SSPS
One session of PPS
One session of Kashayaseka
One session of Sarvanga- dhara
Eight sessions of Abhyanga & Sweda
Four Sessions of  Beauty Therapies
Two session of Udwarthana
Four sessions of Basti
Two  Session of Netratarpana
Fourteen sessions of Yoga

All Our Packages Also Include:
Mysore pick up & drop     
Check in – 12.00 noon: Check out – 11.am.    
IVAC campus tour    
Consultation with the doctor
All Meals (Breakfast,Lunch & Dinner)
Package Starts with Lunch & ends with Breakfast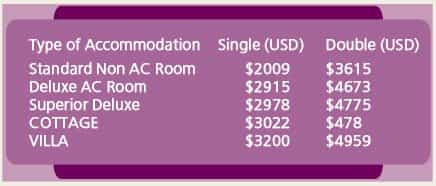 NOTE:      
Companion Supplement without Ayurveda treatment (INR.1000 /USD30/EURO24, per head per night for food and 50% of room tariff per night as per the room category.  

These treatments are indicative and are subject to change on Doctor's Consultation. Treatments are prescribed based on the body constitution of the individual.

Any Treatment/s not included in the package will be charged extra as per tariff.

Scientific Ayurveda Treatments requires a minimum of  7 nights or more. Scientific weightloss package requires a minimum of 14 nights or more. 21 to 30 nights of treatments give enhanced results.

Why to Choose Us?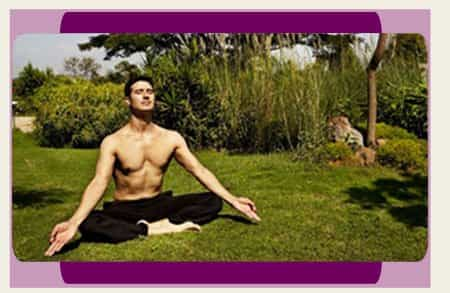 At IVAC we offer all our guests an Integrated Approach to Healing based on natural, nourishing and relaxingintegrative medical programs. We help our guests to understand and feel their bodies, and what they need. We also make our guests adopt a healthy lifestyle through awareness.
For all our Ayurvedic Programs we use the latest medical developments and the most scientifically proven aspects of Ayurveda. The main goal of each therapy at IVAC is to promote and restore good health and mind-body balance. We are the first ISO (9001-2000) Certified Ayurvedic and Rejuvenation Health Care Centre in the world.

Add the glow of good health and peace of mind...


Related Experiences:
Ayurvedic Wellness Resorts in India
Ayurveda in Italy
---