Indus Valley Ayurveda Center
Best Ayurvedic Clinic, Affordable Ayurvedic Treatment Hospital, Top Ayurveda Spa Resort Center, Cheap Ayurvedic Center, Best Ayurvedic Clinic, Affordable Holistic Alternative Medicine Doctors, Best Detox Cleansing Surgeons, Top Obesity Program Hospitals, Anemia Chronic Disease Treatment, Skin Disease Treatment Cost, Top Qualified Ayurveda Doctor, Benefits of Alternative Medicine Therapy, Mysore, India

Lalithadripura, Mysore Post Box No-3, Ittigegud, Mysore 570 010, India

Specialty:

Alternative Medicine, Anti Aging, Ayurveda, Cancer Treatment, Chronic Diseases, Detox, ENT, Gynecology Treatment, Medical Spa Treatment, Organ Transplant, Urology, Weight Loss Program, Yoga/Meditation

Focus Area:

Indus Valley Ayurveda Center | Spa Resort | Ayurvedic Massage | Alternative Complementary Medicine | Body Detox Therapy | Ayurvedic Obesity Treatment | Anti Aging | Chronic Inflammatory Disease | Herbal Skin Disease Treatment | Mysore, India
Indus Valley Ayurveda Center Profile Overview

Welcome to Indus Valley Ayurveda Center
Come and discover authentic Ayurveda in the spiritual heart of India. Nestled at the foot of Chamundi Hill with views of Lalitha Mahal palace, come rest and renew in our Ayurvedic estate. Surrounded by lush vegetation and filled with birdsong. Let our panel of Vaidyas custom make a program to suit your needs. Come and find your inner bliss.
Indus Valley Ayurvedic Centre is a unique award winning Ayurvedic clinic and spa resort in Mysore, India, offering traditional therapeutic rejuvenation and beauty treatments, designed by a highly experienced panel of Vaidyas (doctors) who have practiced Ayurveda in Germany, UK, USA, Japan as well as in India.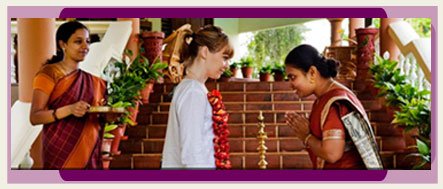 The Centre is the first ISO (9001-2000) Certified Ayurvedic and Rejuvenation Health Care Centre in the world. IVAC is also the first member of Medical Tourism Association as an Ayurvedic Spa and Clinic.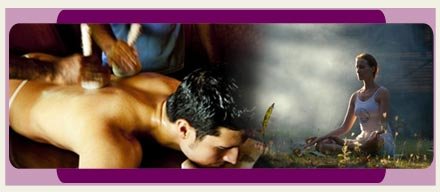 The finest facilities provided and hygiene maintained at IVAC impresses even the most hard to please guest, rating it on par with a standard of service sought the world over. Our well-trained, hospitable and courteous staff ensures the best of personalized service round-the-clock.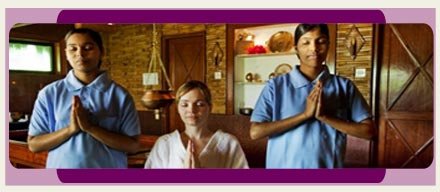 Our Mission
Healing Body, Mind and Soul

Through the dedicated efforts of our highly motivated team, we at IVAC are engaged in the task of spreading awareness of the benefits of the Ayurvedic way of life. We work at reviving the memory of our true divine nature and rekindling our intrinsic ability to heal ourselves.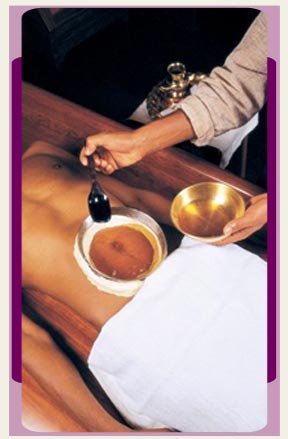 Our Objectives
To help people achieve an ideal balance in life through the integration of body, mind and spirit;

Promote peace, prosperity and good health among all cultures;

Use Information Technology to educate the international community about the benefits of Ayurveda;

Create an innovative centre of excellence in Holistic Medicine;

Develop new treatments based on Ayurvedic principles;

Expand the boundaries of traditional healthcare through research;

Develop a global outlook for the Ayurvedic way of life;

Design and develop an extensive herbal garden;

Build a full fledged Ayurvedic reference library and database;

Adopt the highest ethical standards in all our activities.
Our Services
We specialize in Authentic Ayurvedic Treatments - Panchakarma – the ultimate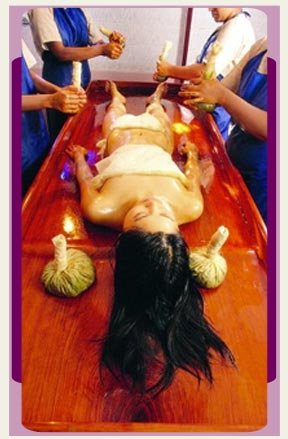 ayurvedic detox and Rejuvenative therapies are our specialties, we also specialize in the following:
Rejuvenation Programs,

Beauty Therapies,

Detox Treatments

Cure for Chronic Problems (like obesity, arthritis, cardiovascular disease, diabetes, skin disease and more).
Indus Valley Ayurvedic Centre also offers authentic courses in Ayurveda related subjects like:
Astrology

Aromatherapy

Colour Therapy

Music Therapy

Herbal Therapy

Gem Therapy

Vaastu

Yagna

Homa

Meditation

Ayurvedic Cuisines.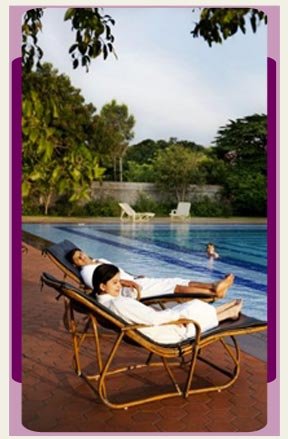 We offer specialized treatment for:
Obesity
Post Chemo And Radiation Therapy Side Effects
Anorexia Nervousa, Bulimia
Cardio Vascular Disease
Rheumatic Complaints
Diabetes And Its Complications
Osteo- Arthritis
Lumbar, Cervical Spondylosis
Pain Management
Irritable Bowel Syndrome, Crohns Disease
Metabolic Problems
Geriatric Ailments
Psoriasis
Computer Vision Syndrome
Gynecological Disorders - Endometriosis
Obesity
Allergic Respiratory Disorders
Insomnia & Stress
We provide packages under the following categories:
Medical Tourism Package – Combined treatment with Western Medicine and Ayurveda along with Local sightseeing.

Stress Management Rejuvenation Program – Relax and Revive

Health Oriented Programs - Disease specific treatments
Indus Valley Ayurvedic Centre is the first organization working on to obtain the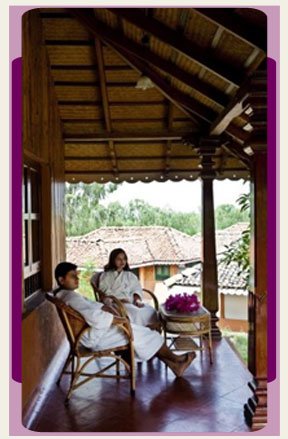 international accreditations of JCI (Joint Commission International) Accreditation and NABH (National Accreditation Board of Hospitals and Healthcare Providers).
We provide you an Integrated Approach to Healing: based on integrative medicinal practices.
The latest medical developments and the most scientifically proven aspects of Ayurveda

General practitioners, hospitals, clinics and social care workers.

Our programs are

natural, nourishing and relaxing

.
Each treatment is designed to promote and restore good health.
At IVAC we educate our guests to become more aware of their body's needs and to make informed choices as to how to adopt a healthy lifestyle. All our therapies and treatments are carefully designed to restore the mind body balance.
A Stepping Stone to Self Discovery and Fulfillment
Man's quest for peace, prosperity, health and happiness has been constant but elusive. More so today where stress, strain, anxiety and disease are an integral part of our daily lives. The problems of disease and how to alleviate them has for centuries exercised the best minds.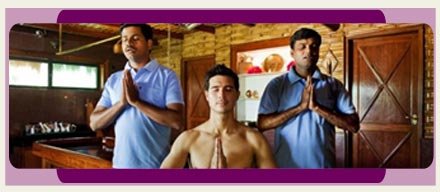 Upon your arrival, indepth consultation with our inhouse doctors and specialist are provided to start on the treatment. The treatment provided would be followed as prescribed by the doctors to ensure complete well being achieved during the stay at IVAC.

---
Indus Valley Ayurveda Center, Mysore, India Profile Details

Our Center
Our Goal - Universal Promotion of Better Health
Through the dedicated efforts of our highly motivated team, we at IVAC are engaged in the task of spreading awareness of the benefits of the Ayurvedic way of life. Our aim is to revive the memory of our true divine nature; to rekindle our intrinsic ability to heal ourselves.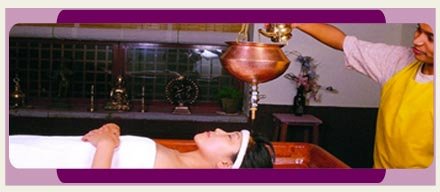 Research - A Global Perspective
Ayurvedic research at IVAC is an ongoing effort with the purpose of making useful contributions to mainstream medicine. IVAC hopes to successfully superimpose current know-how on ancient Ayurvedic traditions without sacrificing the integrity of those traditions.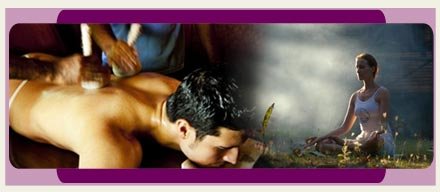 IVAC has committed substantial resources into Ayurveda research. For the first time IVAC is a part of a collaborative research program with Vikram hospital and Heart Care, Mysore and the University of Maryland, USA on the study and prevention of childhood obesity. A number of similar research programs have been planned for the future. This would indeed increase awareness and acceptance by the international community of Ayurveda as a valid "science of life". In addition to this IVAC will give Ayurveda a truly global perspective and relevance.
All research papers and findings produced at IVAC will be published in accordance with the Protocols recommended by the World Health Organization on presentations of scientific papers.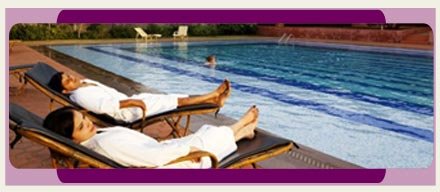 The New age Ayurvedic resort – is set perfectly in Mysore's peaceful environment. The center has a clear focus on rejuvenation and cure, which is in perfect accord with the surroundings where the air is fresh, pure and invigorating - the perfect choice for a health and leisure break. At IVAC, all features are designed to gently soothe, relax and put you at total ease.
The project plan of IVAC is entirely based on Vaastu, the ancient Indian antecedent to Feng Shui, which gives the healing process a whole new dimension. Vaastu finds its source in the five elements, which originate from a single source, each having a defined characteristic. Balance of these characteristics encourage a flow of harmonious energy through all structures and guests. This sense of wellness, peace and equilibrium can be experienced at IVAC at all times.

Facilities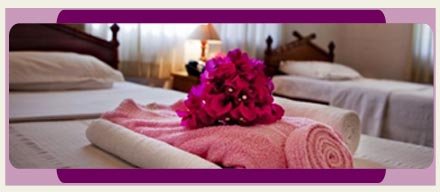 The ambience in the treatment room is temple-like and very conducive to healing, along with having all modern conveniences. The massage tables are specially designed and crafted out of single pieces of wood. Cleanliness is of paramount importance and IVAC scores over all Ayurveda centres on this issue as the entire place is completely spotless, inspite of the constant use of oil and other natural handmade decoctions.

Treatment Room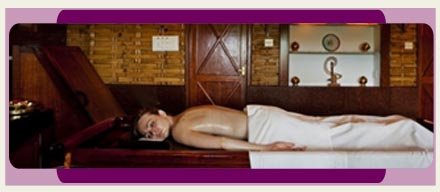 The treatment rooms have been incorporated into the dwelling units to ensure privacy and easy access. Rooms at IVAC are exquisitely appointed with handcrafted furniture and all possible modern amenities, recreating the ambience of the ancient meeting the modern, making them very comfortable yet truly at peace with its surroundings. Each room is unique and has a character all its own.
There is a choice of Air conditioned Villa, Cottages and Deluxe Rooms along with non air conditioned Standard rooms for guests to choose.

Recreation Facilities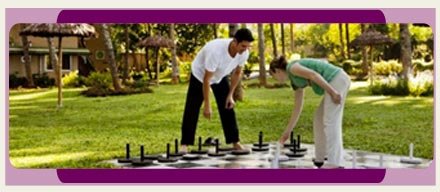 IVAC facilities like the beautifully laid out swimming pool, a plush tennis court, an idyllic Yoga hall is offset discreetly with practical facilities like internet and tour and travel centers.
Your time between treatments can be spent learning a bit more about herbs, Ayurveda, Vaastu or even Ayurvedic cooking. Alternatively, you could simply relax in the gardens or by the luxurious pool, play tennis, explore our herbal garden or browse through our gift shop. The gift shop is well stocked with specialized items rarely found in commercial outlets.
At IVAC, you can exercise your mind too - we offer workshops and consultations on a diverse range of health related subjects such as yoga, meditation, gems, astrology, vaastu and beauty treatments. Comprehensive fitness programs, specialty treatments, dietary advice and personal counseling make it an ideal choice if you want to diet, exercise or be pampered in a stress free environment.
Sightseeing in and around Mysore can be arranged for you, these include golfing, boating, bird watching, horse riding and trekking.
Some other interesting features on Campus include our extensive Ayurvedic library, the jyotirvana - astrological herb garden and even have a consultancy with a vedic astrologer.

Ayurvedic Cuisine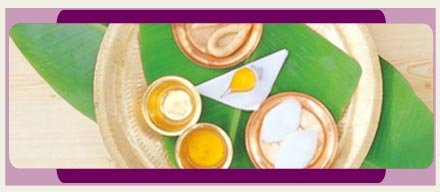 In line with Ayurvedic tradition we serve wholesome vegetarian cuisine prepared using fresh fruits, vegetables and grains. One meal in our Annapoorna, the in-house restaurant is enough to convince you that healthy food tastes great too. Sumptuous Ayurvedic meals, cooked and served in completely hygienic conditions – you don't miss non-vegetarian fair at all.
Our trained, loving, caring and hospitable staff will ensure that you will have the best of personalized service round-the-clock.
Along with being 100% vegetarian IVAC follows a strict no-smoking and no-alcohol policy to help the healing and rejuvenation process.


---
Indus Valley Ayurveda Center Treatments Offered

Our Services

An Integrated Approach to Healing
Our approach to healing is based on integrative medicinal practices. We will also concentrate on extending and updating traditional Ayurvedic treatment techniques without deviating from the integrity of its heritage.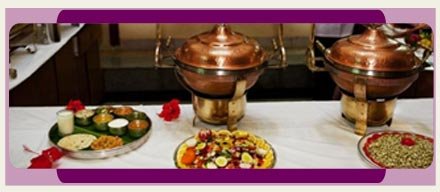 All aspects of our programs are natural, nourishing and relaxing. Each treatment is designed to promote and restore good health.
At IVAC we educate our guests to become more aware of their body's needs and to make informed choices as to how to adopt a healthy lifestyle. All our therapies and treatments are carefully designed to restore the mind body balance.

Therapeutic Yoga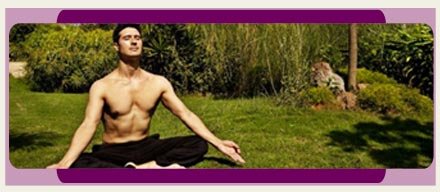 Yoga and Ayurveda are two sides of the same coin. IVAC's therapeutic yoga instructor will teach guests the appropriate Asanas and Pranayama (breathing techniques) to enhance the healing potential of Ayurvedic Treatments and modify their lifestyles. According to Ayurveda the practice of yoga is a very important natural and preventive measure to good health.

Abhyanga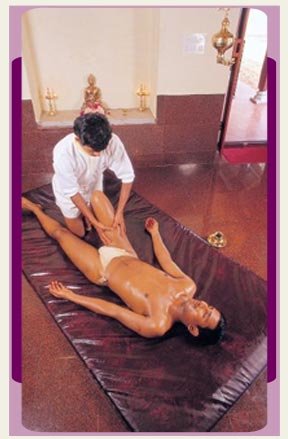 A whole body massage with specific herbal oils to nourish and revitalize the body tissues (Dhatus) and to allow the toxins to be removed from the cells. Abhyanga has much deeper and more far reaching effects than an ordinary massage using mineral oils and lotions. Abhyanga achieves deepest healing effects by naturally harmonizing Body - Mind & Spirit. This massage is performed symmetrically by two therapists for one hour and is usually followed by a medicated steam bath (Sweda). It is one of the most rejuvenating treatments of Ayurveda.
Benefits
Increases tissue strength, Improves blood circulation, Rejuvenates the whole body, Removes the Cellulite, Beautifies the skin, Delays aging, Induces sound sleep, Promotes vitality, Pacifies Vata imbalance, Reduces stress and Removes toxins.
Duration: 45 minutes

Shirodhara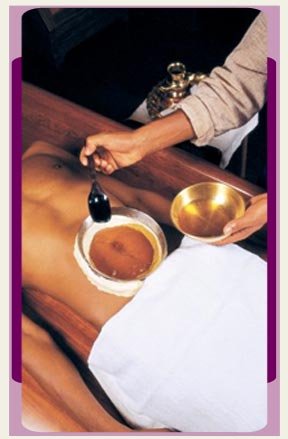 A continuous stream of medicated warm oil/herbal decoctions/medicated milk/buttermilk is poured onto the forehead for 20 to 40 minutes. This procedure often induces a mental state similar to a trance, which creates profound relaxation of the mind and body. It is deeply relaxing and revitalizes the central nervous system. Shirodhara gives the best results when taken after an Abhyanga.
Benefits
Anxiety, Depression, Epilepsy, Hypertension, Diabetic Neuropathy, Central Nervous System, Hemiplegia Paraplegia, Strengthens the sensory organs, Insomnia, Pre-mature graying of the hair & hair losso Mental retardation, Paralysis, Stress.
Duration: 40 minutes

Netra Tarpana
A special treatment in which the eyes are bathed in pure medicated cow's ghee. This procedure takes 15 minutes.
Duration: 30 minutes - 2 therapists
Benefits
Relieves the strain due to constant glaring to the Computer & TV screen, Refractive errors of the eyes, Chronic Conjunctivitis Corneal Ulcer, Dry Eye Syndrome, Eye diseases due to aggravation of Vata and Pitta toxins, Glaucoma Helps in preventing early formation of Cataract, Improper co-ordination and loss of movement of the eye balls, Pain and burning sensation in the eyes.

Netradhara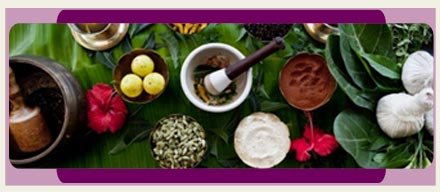 It is a special cleansing technique of pouring herbal decoctions in a continuous stream over the eyes for 20 minutes.
Benefits
A soothing technique to relax strained eyes, Cooling and refreshing, Delays cataract formation Helps in treating chronic Conjunctivitis, Improves eye sight, Makes the eyes sparkle.
Duration: 30 minutes

Sweda
By using special herbs specific to the doshas and ailments of a person, an herbal steam bath is administered which opens the pores and flushes and cleanses the system through the skin. Its effect is enhanced when taken after Abhyanga.
Benefits
Reduces pain in the body, Eliminates toxins, Promotes lightness, Reduces stiffness, Beautifies the skin, Removes the Cellulite.

Navarakizhi (Shastika Sali Pinda Sweda)
A highly effective rejuvenation technique using a special type of rice that is cooked, tied into boluses and dipped into an herbal decoction and warm milk, then skillfully massaged simultaneously by four therapists all over the body for one hour after the Abhyanga.
Benefits
Paralytic strokes, Anti-aging & rejuvenating, Strengthens tissues, Body ache, Emaciation, Debility Monoplegia, Osteo Arthritis, Rheumatoid Arthritis.
Duration: 90 minutes - 5 therapists

Talapodichil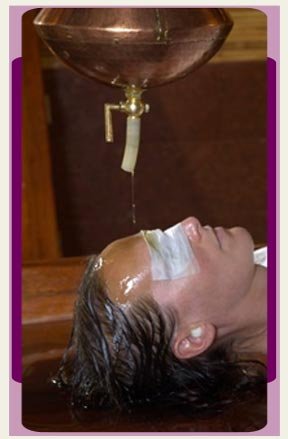 An herbal paste is applied to the entire head for 45 minutes.
Benefits
Headache, Depression, Hyper active conditions, Burning sensation in the eyes, Insomnia, Skin disorders.
Duration: 40 minutes

Shiropichu
Medicated oil is applied to the head for 45 minutes in a special manner.
Benefits
Facial palsy, Headache, Insomnia, Improves memory, Dermatitis of the scalp, Dandruff, Other neurological disorders Paralysis, Skin disorders such as Eczema.
Duration: 40 minutes

Chakra Basti
This Basti is applied to the umbilical region. It acts on the solar plexus and balances the digestive fire.
Duration: 30 minutes - 2 therapists
Benefits
Inigestion, Constipation.

Patra Pinda Sweda (P.P.S)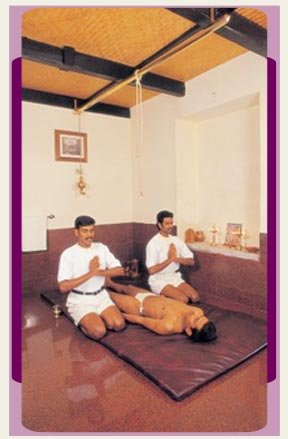 A highly rejuvenating treatment in which fresh plants are fried with several other herbal ingredients and tied into boluses, dipped into warm medicated oil and simultaneously massaged by four therapists all over the body for one hour, it is applied after Abhyanga.
Benefits
Chronic back pain, Loss of function of a part or whole limb, Joint stiffness and swellings, Muscular pain, Anti-aging & rejuvenating Sciatica, Spondylosis, Sprains and cramps.
Duration: 90 minutes - 5 therapists

Sarvangadhara (Pizhichil)Kayaseka
Medicated oil/medicated milk is poured onto the body in continuous streams while being gently massaged by four therapists for one hour. It is extremely soothing and relaxing. It acts as a free radical scavenger, toning, strengthening and deeply rejuvenating the whole body. It is given after Abhyanga.
Benefits
Chronic Fatigue Syndrome (CFS) after exposure to a viral or bacterial infection, Increases Ojus & Body Immunity, Anti-aging & rejuvenating Alleviates the burning sensation in the body, Ensures better circulation, Helps to recover from paralysis, Promotes healing of fractures.
Duration: 90 minutes

Udvartana
This is a specialized herbal treatment for weight reduction. An herbal paste or powder is applied all over the body and deeply massaged with specific movements by two therapists for one hour.
Benefits
Toning the skin & muscle after child birth or weight loss, Removes Cellulite, Obesity, Weight reduction, Imparts good complexion to the skin Revitalizes the sense of touch, Removes Kapha toxins from the body.
Duration: 45 minutes

Kashaya Seka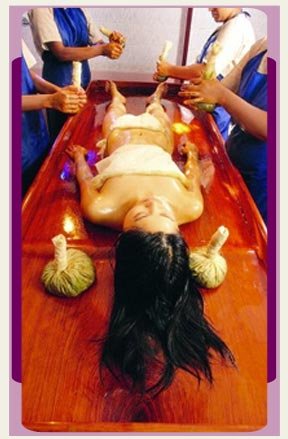 This revitalizing treatment is given immediately after Abhyanga. A continuous pouring of a warm herbal decoction all over the body and simultaneous massaging by 4 therapists is performed for 45 minutes, at the same time Shirodhara is also given. This therapy removes Kapha and Vata toxins.
Benefits
Rheumatoid Arthritis, Osteo Arthritis, Varicose Veins, Improves circulation, Improves skin complexion Relieves body pain.
Duration: 90 minutes - 6 therapists

Padaghata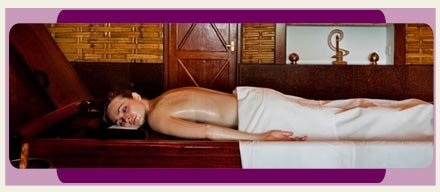 This is a very unique whole body massage using feet instead of hands. It is performed by two therapists for one hour.
Benefits
Removes deep seated pain in the joints and bones, Deeply relaxing, Helps in removing toxins from deeper tissues, Removes excess of fat.
Duration: 60 minutes

Shiroabhyanga
A soothing massage of the head, neck & shoulder for 15 minutes using warm herbal oils.

Benefits
Insomnia, Brings sound sleep, Cooling to the eyes, Headache, Removes dandruff, Pre-mature graying & hair loss, Profoundly soothing and relaxing.
Duration: 30 minutes

Padaabhyanga
A very stimulating massage of the lower legs and the feet for 30 minutes to activate the acupressure points.
Benefits
Improves the eyes, Soothing and cooling to the eyes, Alleviates burning of the eyes, Induces deep sleep, Improves luster of the skin, Smoothens cracked skin of the feet, Hyper tension, Relieves tiredness of the feet.
Duration: 30 minutes

Shiro Basti
A special technique of bathing the head for 45 minutes in medicated oils using a special apparatus.
Duration: 60 minutes - 2 therapists
Benefits
Anxiety, Facial paralysis, Insomnia, Neurological disorders, Psychological disorders, Skin disorders such as Eczema & Psoriasis, Stress.

Talam
An herbal paste with oil is applied to the head for 45 minutes.
Duration: 30 minutes - 2 therapists
Benefits
Insomnia, Gives cooling effect to the head, Burning sensation of the scalp, Improves eye sight, Skin disorders, Relieves headache.

Hrid Basti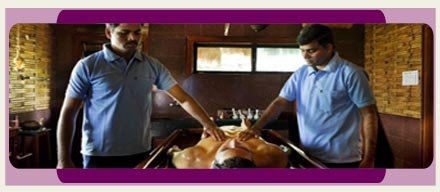 This procedure is applied over the heart for 20 minutes using warm medicated oils or herbal decoctions.
Duration: 30 minutes - 2 therapists
Benefits
Strengthening of the heart, Relieves deep seated anger and sadness, Cardio Myopathy.

Janu Basti
In this treatment the knee is bathed in warm medicated oils or herbal decoctions, taking 20 to 30 minutes. It promotes the strength of the knee joint by improving the circulation.
Benefits
Pain of knee joint, Osteo Arthritis of the knee joint.
Duration: 30 minutes - 3 therapists

Greeva Basti
Bathing the back of the neck using warm medicated oil or herbal decoction for 20 to 30 minutes.
Duration: 30 minutes - 2 therapists
Benefits
Cervical Spondylosis, Chronic pain in the neck region, Compression fractures

Kati Basti
A special technique aimed at providing relief to the lower back using warm medicated oils or herbal decoctions when bathing the lower back for 20 to 30 minutes.
Duration: 30 minutes - 2 therapists
Benefits
Chronic and acute backaches, Prolapsed disc, Lumbar Spondylosis, Osteoporosis, Sciatica.
We offer specialized treatment for:
Obesity
Post Chemo And Radiation Therapy Side Effects
Anorexia Nervousa, Bulimia
Cardio Vascular Disease
Rheumatic Complaints
Diabetes And Its Complications
Osteo- Arthritis
Lumbar, Cervical Spondylosis
Pain Management
Irritable Bowel Syndrome, Crohns Disease
Metabolic Problems
Geriatric Ailments
Psoriasis
Computer Vision Syndrome
Gynecological Disorders - Endometriosis
Obesity
Allergic Respiratory Disorders
Insomnia & Stress
We Provide Packages Under the Following Categories
Medical Tourism Package – Combined treatment with Western Medicine and Ayurveda along with Local sightseeing.
Stress Management Rejuvenation Program – Relax and Revive.
Health Oriented Programs- Disease specific treatments.
Names of Packages

Single Occupancy

Double Occupancy

Villa

Cottage

Deluxe

Villa

Cottage

Deluxe

USD/week

USD/week

USD/week

USD/week

USD/week

USD/week

Panchakarma

1928

1743

1682

2970

2740

2679

Rejuvenation

1928

1743

1682

2970

2740

2679

The cost of Medical Tourism package would be determined based on the health problem and the cost of the treatment required.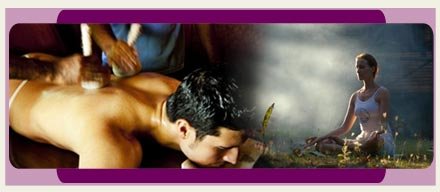 ---
Indus Valley Ayurveda Center Certificates, Accreditations, Qualifications

Our Doctors

Dr. Talavane Krishna, MBBS, F.F.A.R.C.S., the Founder President of IVAC, is a pediatric anesthesiologist by profession. He has practiced in U.S.A, Canada for 30 years but Dr. Talavane Krishna, President and Founder of Indus Valley Ayurveda Centre ("IVAC"). Dr. Krishna was born in India and upon completing medical school, he practiced anesthesiology for over two decades in the U.K, Canada and the U.S. His exposure to Ayurveda as a family tradition and passion about Ayurveda brought him back to India in the late 90's to set up a world class Ayurveda center, Indus Valley Ayurvedic Centre and endeavor to create a global model for Ayurvedic institutions.
He is currently expanding new Ayurveda clinics and centers across India with a broader vision of making Ayurvedic knowledge and treatment globally accessible. Dr. Krishna believes it is the next necessary step in medicine to combine allopathy and ayurveda for a fully comprehensive treatment of body, mind and spirit.

Dr. U.K Krishna M.D (Ayurveda) Ph.D. is IVAC's Senior Ayurvedic Physician.He is also assistant director for "Institute for Traditional Oriental Medicine" Tokyo, Japan.He has been living in Japan for over 13 years and has authored six Ayurvedic books. He spends 6 months at IVAC, teaching and training therapists and doctors.

Dr. R. Prasanna Venkatesan, B.A.M.S., D.N.Y.S., P.G.D.C.A., M.B.A., Chief Consultant Physician - HOD Therapy and Marketing Manager, conducted a research on Integrated Management in Childhood Obesity in collaboration with Maryland University, USA and served as Spa Manager and Ayurvedic Consultant for LeNiol Health Resort - Mahe Island – Seychelles, Africa. In addition to having served as Consultant Ayurvedic Physician at various Health Care Centers, he also set up an Ayurvedic Centre of his own with focused consultation for both out-patients and in-patients. With specializations in PanchaKarma, Nadi Vignan, Vaastu, Pranic and Reiki Healing, Transcendental Meditation, Marma Therapy, Ashtanga Yoga and Naturopathy, he has been successful in treating many physical and mental ailments.

Dr. V.S.Deepthi Niranjan, B.A.M.S., Senior Consultant Physician, was qualified in Bachelor in Ayurveda Medicine & Surgery from one of the India's elite institutions, the Rajiv Gandhi University in Mysore. She was the Resident Ayurvedic Physician at the prestigious Indus Valley Ayurvedic Centre where she gained valuable experience in treating a largely international clientele visiting the centre for both therapeutic and rejuvenation purposes. In 2006 she went to England to work as Ayurvedic Consultant at the Ayurveda Retreat in Reading, Berkshire. She conducted many seminars ,training shows. She had her interview in BBC Radio Berkshire and many of her articles where published in Reading Chronicle. She has significant experience in successfully treating people with various chronic ailments through both purifying( Panchakrma) and pacifying methods She has gained excellent experience in training staff in Ayurvedic techniques as well as had a number of speaking assignments for a variety of audiences. She has a very clear and captivating speaking style.

Dr. Srikanth H.S, B.N.Y.S., Resident Medical Officer, is a graduate in Naturopathy and Yogic Sciences from SDM College Naturopathy and Yoga, Ujire, Karnataka. Well experienced in Advanced Pathanjali, Yoga, Acupressure, Reflexology, Reiki & Pranic Healing, he has participated in many ayurvedic camps and in the future aspires to take this holistic science forward to a higher level through his contribution in the field.


---
Indus Valley Ayurveda Center Testimonials

Testimonials

We were honored to host a group lead by the New York Times bestselling author Janet Attwood, we share with you her video report of her visit and her testimonial.

Feedback for Dr. Krishna:
At the outset I would like to express my deep appreciation for all the support and encouragement you have given me in my hour of crisis.

The treatments you so thoughtfully arranged for me at IVAC have appreciably lessened the side effects from my chemotherapy. For the first time since the beginning of my treatment, I have felt relaxed and more like my usual self. This is a great relief to my wife as well.

I have put down details of the positive changes I have experienced as a result of these Ayurvedic treatments I have undergone at IVAC subsequent to my third chemotherapy cycle.

I am a 61-year-old former Air Force pilot currently undergoing adjuvant chemotherapy for colorectal cancer. As with every other challenge that has come my way – whether from my career as an operational pilot or from a chronic asthmatic condition since my youth – I have relied mainly on a clear understanding of the situation and an exercise of will to see me through. It was no different when I had to undergo surgery to remove the tumour from my sigmoid colon.

Chemotherapy and its side effects took me by surprise and disabused me of the notion of my indestructibility. I had been informed that individuals react differently and at different levels to chemotherapy. These were the side effects I experienced following my first and second cycles:
Acute nausea
Acute headache
Body ache
Constipation
Redness of eyes
Cold sensation in hands
Fatigue
Insomnia
These side effects grew in intensity beginning on the first day of the three-day chemo cycle and peaking on the fifth or sixth day. Thereafter they gradually eased with each successive day.

After my third cycle, under the supervision of Dr Talavane Krishna, Founder-President of IVAC, I underwent the following therapies at IVAC:

Abhyanga on the 4th day, Shirodhara on the 5th day and Abhyanga and Shirodhara on the 6th day of my cycle.
Subsequently, Abhyanga and Basti were administered on the 9th, 10th and 11th day of the cycle.

The side effects of chemotherapy that were greatly reduced with these treatments were headache and body ache. The nights were restful and the cold sensation in my hands was almost unnoticeable.

While the nausea persisted, it began to ease off on the 10th day as against the 12th day of my previous two cycles.

Overall the Ayurvedic treatments at IVAC have without doubt given me a great deal of relief and enhanced my feeling of well-being.
MADAN GAUR
MYSORE.

Author of many books on yoga and natural health says in his book Tales from the Medicine Trail
"India offers a broad range of choices, from the wholly unacceptable to the sublime; some places of Ayurvedic treatments are so unfortunately seamy and unsanitary as to be truly scary. At the other end of the spectrum, deep in the realm of the sublime, the IVAC offers all traditional therapies of Ayurveda, with unsurpassed amenities and attention to detail. In fact at first glance, you could mistake IVAC for a small, world class spa or an intimate, recondite lodging for the elite."
Chris Kilham

"Our experience at IVAC has been great. Our main motive in coming here was to lose weight. My husband Ganesh did very well and lost about 6 kgs in a month and that is great. I lost only 2 kgs in a month but the treatments cured my insomnia which I have suffered for several years and could not be treated by doctors in the US. Now I am able to sleep very well. We plan to return soon for 2 more weeks.".
Bina Gupta, Brooklyn, New York, USA

"My stay at Indus Valley Ayurvedic Centre was very pleasurable and relaxing and rejuvenating experience which was remarkably healing for the mind, body and soul. The staff are exceptional and dedicated to making one's stay as pleasant and healing as possible. ".
Dr. Susan Hoyt Clinical Psychologist, USA

Harvard Medical Graduate and international authority on integrated medicine...
"The experience was positive and interesting for all of us. The staff is of the highest possible calibre".
Dr. Andrew Weil

'I found there was a real Ayurvedic center, IVAC, in Mysore. It is not commercialised but genuine. It was a wonderful experience, which gave me power and youth. The facilities are of international standards and one feels very safe in a family environment. There is a presence of softness, purity and care in the people, the treatments and the facilities."
Ms.Cheiko Matsui
President, Cox and Kings Japan

"A thoroughly enriching experience, with a supremely polished and professional staff that knock the spots off my Kerala encounters. An unequivocally wholehearted five-star recommendation!"
David Linde
Thomson's Resort Holiday Service Manager for USA, Mexico, the Bahamas and India

"I am really glad I did the panchakarma at Indus Valley Ayurvedic Centre and have felt really good since. It was amazing what it did to my yoga - I was so light and bendy afterwards that postures that have been eluding me for ages seemed to just come easily. The masseurs were thorough with their strokes and the treatment rooms were spotless. I also have to mention the Ayurvedic food, which was quite consistently delicious on all days of my stay."
Dr. Joanna Herman - Germany

"This is my second visit to IVAC in six months for the treatment of my daughter. I will never forget the things I have experienced here in my lifetime. I would always recommend this Ayurveda Centre to all my friends and relatives. It is Paradise.
I highly appreciate the personalized service given by the doctors and in particular the staff working here. By seeing that smile and politeness on all the faces, you feel half the battle is over.
Last but not the least the food at this center is excellent."
Neeta Shah- Australia

My overall experience was simply awesome. I truly appreciate the therapists for going that extra mile to bring me contentment.
Roma Perneroski, Canada

IVAC's location, its ambiance, staff, facilities and of course the therapy department were all fantastic.
K. V. Raju, Bangalore

The personable attitude of each and every member at the Centre made me naturally feel at home.
Leela Prasad Pamidimukkala, Chennai

Perfectly Ayurvedic! Congratulations, IVAC is a great concept
Marie Cassagne, France

I am impressed with the treatments and hospitality. You have an excellent medical team
Daniella Batham, Britain

Medical consultancy, therapy and food all were the best
Ravi Ananthaour Bacche, Bangalore

Everything is well planned and efficiently executed. A futuristic touch is evident with such an ever-smiling team.
V. B. Anand, India

All the staff and services seem to operate consistently on the same principles of kindness, dedication and quality. This experience for me was a wonderful one and I hope to visit again.
Ian Mullan, Australia

IVAC offers you enough reasons to come back.
De Lestrac Solange, Mauritius

I have never had such a wonderful ayurvedic experience before! Thank you all for your attention and kindness.
Suzanne Palmer, Australia

USAIVAC not just restored my physical health but took care of my psychological wellness too, and that made a real difference.
Christine Guiao, USA
Thank you for giving life to Ayurveda in such a profound and serious way. IVAC is truly awesome.
Ulla Jensen, Denmark

The ambience at IVAC, therapy experiences what we had, the kindness bestowed and the instant response to any need of us, all are really commendable.
Anil & Chand Nehru, India.

Feeling happy about the whole environment of IVAC. It is a peaceful place where one can learn the best things in life: happiness is health. Thank you for creating a place hidden in the jungles of India.
Lucia De Garcia, Unites States of America.

Polite hospitality and all the smiling faces of the staffs at IVAC have left a lasting impression on my soul. Hope to come back soon.
Leela Suri, United States

I felt happy about the experience of stay in IVAC and also I feel very happy about the staffs service and especially the chanting of OM boxes.
Andree Naber, Jordan

I felt happy about how humble and nice to us by all people working in IVAC. I was very honest to meet Dr. Krishna. You are fantastic to create IVAC. Thank you.
Leila Ghafari, Jordan

I felt happy about the great atmosphere and everybody's pleasant welcome along with extensive treatment.
Motoko Goto, Japan

Feeling about friendliness of staffs working in IVAC especially the therapists and also happy about beautiful ambience and surroundings.
Ms. Leila Masoud, Canada

I felt happy about everything here. I like the peaceful and familiar atmosphere and also I am very much satisfied with high quality treatment. I could experience and learn Ayurvedic life totally. Staffs attitude is always honest and warm. I learned a lot from them. I appreciate kind hospitality with full of love.
Ms. Junko Kinoshita, Japan

I felt happy about the wonderful staffs in all departments and they are really superb.
Salim Younes, Beirut, Lebanon.

I felt happy about the treatments have returned specifically to enjoy the cleansing & rejuvenating therapies.
Wei Sinclair, Singapore.

I felt happy about the general friendliness of all the staffs especially in the dining area, therapists as well as the front office. Amrutha, Guest Relation Executive, did a good job in liaison on a daily basis. We enjoyed support with sunil and Doji and the team as every one. Dr. Prasanna and Dr. Geetha, as well as Dr. Srikanth also took a special interest in our daily welfare.
Sheila Murugasu, Singapore.


---
Indus Valley Ayurveda Center Awards & Recognitions

Awards & Media

Indus Valley Ayurvedic Centre is the first ISO (9001-2000) Certified Ayurvedic and Rejuvenation Health Care Centre in the world.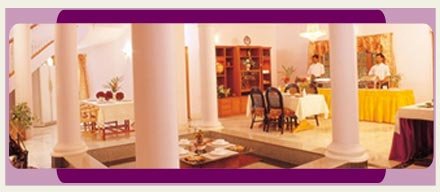 IVAC is also the first member of Medical Tourism Association as an Ayurvedic Spa and Clinic. Indus Valley Ayurvedic Centre is the first organization working on to obtain the international accreditations like JCI (Joint Commission International) Accreditation and NABH (National Accreditation Board of Hospitals and Healthcare Providers).
Press Articles
Hallie Campbell in Harpers Abroad, January 2002 issue
Article on 100 Finest Spas in the World
Located in a beautiful setting among the golden Chamundi Hills, outside the historic city of Mysore, this is fast becoming known as one of India's most innovative Ayurveda centres. The vision of IVAC's charismatic founder, Dr. Talavane Krishna, is to create an oasis where everything – architecture, gardens, accommodation, amenities, food, treatments and staff – is in harmony with Ayurvedic principles.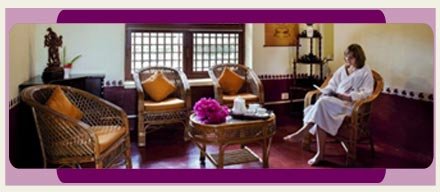 Guests can stay in the main house, with its high-ceilinged, spacious rooms or, better yet, in the traditional Karnatakan thatched cottages dotted about the grounds. They are lovingly decorated with local textiles and art, and many have a beautifully appointed treatment room attached. When you arrive, you are given a very detailed questionnaire to complete, as well as a consultation to help the highly qualified team of doctors determine your dosha and state of health. Pink-uniformed therapists then whisk you off for a heavenly round of treatments.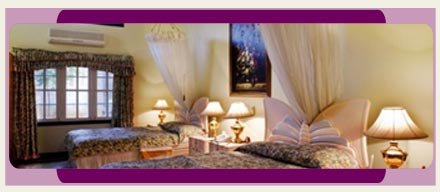 Every detail has been thought out; even the massage tables are specially designed for maximum comfort. The hand-picked staff are intelligent, upbeat and caring, with a genuine desire to please. At IVAC, the fountains, gardens and tree-lined walkways create an idyllic setting. Dr. Krishna presides over it all like a benevolent Prospero on his magical island, where burnt-out Calibans soon become blessed-out Ariels.
SIGNATURE TREATMENT Panchakarma, the Ayurvedic detox programme.

DINING

Fresh, organic, vegetarian, mildly spiced Indian Ayurvedic cuisine. Other options on request.
WHO TO BRING Ideal for the special someone.
WHAT TO BRING Hair conditioner, mosquito repellent, and extra cash, because the Ayurvedic products used are excellent and you'll want to take some home.

X-FACTOR

State-of-the-art Ayurveda.

DOWNSIDE

The beauty-salon stylists need to practice their blow-dry skills.

DESIRABLE DISTRACTIONS

Sightseeing can be arranged. There are also astrology, Ayurvedic-cookery and yoga classes.

FACTS

From $60 per room per night. Treatment package, from about $1100 per week (based on two people sharing), including meals, treatments and consultations.

Hugh and Colleen Gantzer
Pit-Stops to a Powered Life
Article in "In Touch with Fashion" magazine
You are a Ferrari. You are born a high – speed, high – precision creation designed to complete in the grueling race of life. Sadly, however, you also have a built in obsolescence: ageing. And it starts at the moment of birth. If you want to be tickling over on all cylinders as your age increases, you've got to do what a Ferrari does in a Formula One race. You've got to make pit-stops for essential servicing. These human pit-stops are Spas. They restore something which no Formula One car has, but which we all have: a built – in self-repairing system. If, however, it is obstructed by a tense lifestyle, the system becomes stressed. It can no longer get rid of poisons, toxins and of fatigue. You feel tired, lifeless and it begins to show on your face and body. You can either relax for as long as it takes; or you can check into a Spa. These therapeutic centers work to remove stress – toxins much faster than unaided body can. And when the poisons are removed, you'll be back on the fast track, rearing to go...
"I feel so detoxified today!" said Joan at breakfast. Joan had flown in from the UK to IVAC, The Indus Valley Ayurvedic Centre, in Mysore. A couple had come to lose weight and planned to send their married children here from the States. A hostess from United Airlines was ready to leave, feeling trimmer, and fitter. Jackie was into the cleansing therapy of Panchakarma, which uses a variety of techniques to draw toxins out of the system... IVAC is the brainchild of NRI anesthesiologist, Dr. Talavane Krishna, who felt that he had to do his bit to re-establish the traditional wellness practices of Ayurveda on sound, hygienic and scientific lines.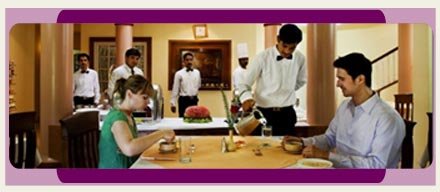 There is a certain clinical atmosphere about IVAC and even our luxurious room was, technically referred to as a 'ward'. Everyone who comes to IVAC for treatment has to be examined by the Ayurvedic physician attached to the Centre. Once the treatment has been prescribed, the male and female therapists take over. One of us was prescribed Abhyanga, which is a whole body massage, with medicated oils, reputed to revitalize the tissues, ensure sound sleep and improve the luster of the skin and circulation. Because Ayurveda is a holistic treatment, all therapies start with a prayer chanted in Sanskrit: it is very soothing, calming to the mind. Then the physical treatment begins, administered by two therapists, working in perfect co-ordination. The neck first, then the shoulders, where the tension knots hide.
After a few minutes, it's to the massage table, lying face down, with the arms stretched out, parallel to the body. This is when the main massage begins, smoothed by a thick warmed, oil poured on the back. Slowly, a wonderful, pampered feeling grows, almost as if the two therapists were one person with four hands, soothing, relaxing, releasing the muscles, all the way down the back to the legs, drawing out the tension as if they were rigid currents in the body being slowly drained away... the shower is a gentle wake up call with a scrub down to remove the soft, spicy flavour of the oil. A therapist always accompanies one from the treatment room: patients often feel as lax as if they had just woken from a deep and refreshing sleep!
An improved appearance is very much a part of distressing. IVAC even offers an Ayurvedic facial in their well-appointed beauty parlour. Soundaryavardhini starts with a cleansing with milk and rose water and then a scrub with dahi and rava. Eyes and lips are massaged with fragrant almond oil and a special herbal cream is applied on the face. Steam opens the pores, slices of cucumber are placed on the eyes and face pack of a herb called manjester and sandalwood paste is applied. After a while this is removed with a rose water spray and the skin cleansed again with a different cream. The final polishing is done with a mixture of rice and mint, which is then laved with rise water. The skin feels fresh, soft and rejuvenated.
The bottom line is that when we wished our new-found friends good-bye, while the wind-chimes at IVAC tinkled farewell, all the kinks and aches had vanished. And that was after just two days in the Centre. Had we spent a fortnight, we'd probably have left walking on Could Nine!

Indus Valley Ayurvedic Centre - A Jewel of Ayurvedic Therapy
By Chris Kilham:
Travel writer who has authored many books on Yoga and natural health, including Kava: medicine hunting in Paradise.
Perhaps you are intrigued about Ayurvedic therapies, maybe even enough to consider making a pilgrimage to India to experience some of these legendary treatments first hand. Where are you going to go?
India offers a broad range of choices, from the wholly unacceptable to the sublime. Some places of Ayurvedic treatment are so unfortunately seamy and unsanitary as to be truly scary. At the other end of the spectrum, deep into the realm of the sublime, the Indus Valley Ayurvedic Centre (IVAC) offers all of the traditional therapies of Ayurveda, with unsurpassed amenities and attention to detail. In fact, at first glance you could mistake IVAC for a small, world-class spa, or an intimate, recondite lodging for the elite.
Vaastu: The Ayurvedic Art of Household Harmony
Shahannah and I arrived at IVAC after enduring several days of blazing heat and enough dust to last a lifetime. Our immediate impression, after just a few brief moments, was one of serenity. In shape contrast to the loud, crowded, dusty streets we'd been driving, IVAC offered peace, quite, cool shade and a pervasive sense of ease. "The effect that people experience here," described IVAC's founder Dr. Talavane Krishna, "is a result of the vaastu of this place. Vaastu is like the ancient Chinese system of Feng Shui, but even older, and more accurate. In vaastu, the careful placement and order of things encourages a harmonious flow of energy, and this supports harmony and good fortune. Here at Indus Valley Ayurvedic Center we have taken extraordinary pains to make sure that everything conforms to the life-giving principles of vaastu. We want this place to be the very finest Ayurvedic center in the world".
Dr. Krishna and his wife Anita have not only delved deeply into the vaastu system, but provide consultation to others who literally need to get their houses in order. The careful positioning of rooms fountains, shade trees, and all aspects of the IVAC facilities contributes, they say, to a powerful harmony. We certainly felt that harmony, whatever the cause.
A Healing Temple
The Krishnas are joined in their efforts by Ayurvedic guru Dr. Krishna U.K. (another Krishna), and seasoned administrator Timoko Aoyagi, who share in crafting the careful program that puts IVAC in an elite Ayurvedic class. We entered the temple - like main building, with its cool, gently circulating air and clean marble floor, and I felt that anyone I know, however fussy, could immediately appreciate the place.
Treatment rooms for IVAC's special therapies include all modern conveniences. Plumbing, which can be a nightmare in India, is modern, impeccable, and in working order. Rooms are exquisitely appointed with handcrafted furniture designed by Dr. Krishna. Tables, chairs, beds, massage tables, bathrooms, lighting and decorations are all one of a kind, and all beautiful. Standing in one room evidently proud of his handiwork, Dr. Krishna announced "We want a place that even the fussiest clients like Madonna would come to." I suggested that Madonna might want twenty-four hour room service." We would simply have to explain that we do not offer that," Krishna replied.
From Rejuvenation to Cellulite Removal
Dr. Krishna, and anesthesiologist who practiced medicine for over twenty years in the West, understands how to run a health facility. A team of dedicated Ayurvedic physicians meets the health needs of all IVAC guests, each of whom fills out a detailed health questionnaire and undergoes a basic medical exam. On the basis of this examination, various courses of therapy are recommended.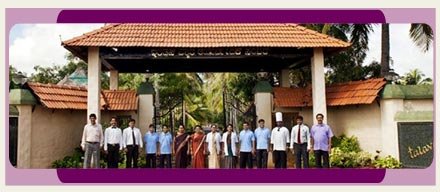 Some people go to IVAC purely for rejuvenation purposes, for a good cleansing, invigorating massages, and yoga and meditation, all designed to leave them feeling refreshed and renewed. Others go for more serious health problem, including digestive disorders, obesity, circulatory problems and neurological problems. For all of these needs there are specific Ayurvedic therapies. "Did you know," Anita Krishna pointed out "that some of the Ayurvedic massage methods actually get rid of cellulite?" Dr. Krishna concurred, describing how the intense circulation enhancing effect of certain Ayurvedic body work literally breaks up the fatty deposits of cellulite, restoring tone and luster to formerly lumpy, fatty skin. Shahannah and I suggested that an effective cellulite treatment alone could keep IVAC booked forever. Dr. Krishna nodded. "Cellulite absolutely goes away with these massages. It is not difficult. Ayurveda has an answer for every problem.
Fabulous Food:
A constant issue in India, especially for those who are not seasoned Asian travelers is obtaining safe, wholesome food. In this regard, IVAC is a paragon of virtue. Food is expertly prepared by talented cooks who produce delicately seasoned foods using fastidiously clean methods and appliances. When we sat down to lunch at IVAC we were genuinely surprised by the exquisite quality of the food. "Everything about a place must be good." Anita explained. "You cannot leave any part to chance. Food is very important and even more so when a person is undergoing cleansing or some kind of treatment. Often food is one of their few comforts, so of course it must be the finest quality and with the best taste.
Massage of a lifetime:
As we described in our journal entry, we ere both treated to exotic massages at IVAC. I'm pretty seasoned in this area. I used to work as a masseur, and I have probably had a thousand massages of different kinds. With that said, I can state unequivocally that I have never in my years experienced anything like the massage at IVAC: First two pairs of hands, and then four, kneaded, stretched, loosened, rubbed and energized me until my entire body felt as though it was singing with new cellular life. "Many people undergo this treatment every day for one or two weeks," Dr. Krishna told me. "In some cases, they may even take a month's course." I cant imagine that kind of extraordinary treatment three days in a row. It must truly be life changing.
Sometimes a great notion
Periodically, we encounter people who are engaged in a work of such breathtaking excellence that their story must be told. This is the case with IVAC. The sheer fanatical attention to detail with which the Krishnas are undertaking their work is truly high art. Frankly, that kind of dedication and vision is what is required to create a world class centre that combines extraordinary therapies from antiquity with unsurpasses modern facilities. If you are considering making a pilgrimage to the land of Ayurveda, IVAC is a worthy destination.


---
Mysore, India Destination Overview

About India

IVAC is located in Mysore, a convenient 3 hours drive from Bangalore International Airport. Mysore is well connected by rail and road. The Centre overlooks the magnificent Lalitha Mahal Palace and offers a panoramic view of the city and Chamundi Hill.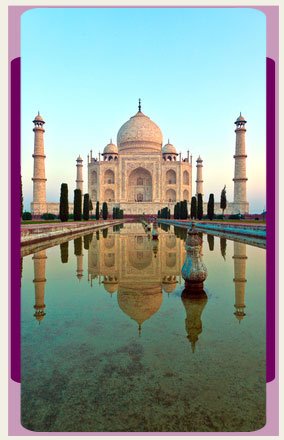 Mysore is the ideal springboard for you to plan health and leisure activities. It is also called air conditioned city of India where the temperature all round the year is very optimal for Ayurvedic Treatments.
State of Karnataka
Karnataka is a state with a rich history and culture. It was ruled by 23 kings over several centuries. It is rich in natural resources and forests. Thousands of species of medicinal plants are grown in Karnataka and it is a house for several Ayurvedic drug-manufacturing companies.

Some of the important townships you pass through on your way to Mysore from Bangalore are:
Ramanagar – famous for its raw silk cocoon market and breath-taking rock formations
Channapattana – famous for wooden toys
Maddur – famous for food preparation called "Vada"
Mandya – famous for sugar mills
Srirangapattana – famous for Ranganatha temple and Cauvery river which is the largest river and irrigates several hundred thousand hectares of land in this area.Mysore City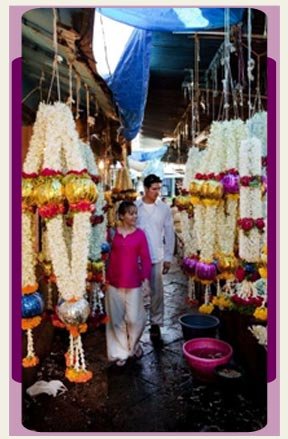 Mysore, located 770m (2527 ft) above sea level and 140 kms (21/2 hrs drive) from Bangalore. Once the capital of the Wodeyar dynasty and the throne of Tipu sultan, Mysore, the City of Palaces, even today retains its quaint charm that never fails to mesmerize tourists. The city has an old-world allure, enhanced by its broad shady avenues, well laid out gardens, rich heritage, magnificent palaces, sacred temples and grand structures. Mysore traces its history into the mythological books where there is a reference to Mahisasura, the buffalo-headed demon king who is believed to have lived here. Goddess Chamundeshwari killed this demon and hence Dusshera the festival of victory of good over evil, is celebrated with unprecedented grandeur.
Key Attraction in Mysore:
Mysore Palace
The Mysore Palace also known as the Amba Vilas Palace is still the residence of the Wodeyars. It is one of the largest palace in India. It was designed by Henry Irwin and built in 1897. This Indo-Saracenic building has, among other things, a carved silver door, a solid gold throne, a gallery of exquisite paintings, carved mahogany ceilings and a carved, columned Durbar Hall.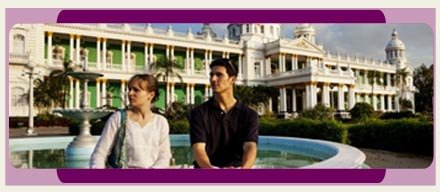 On Sunday nights and on some holidays, 97000 light bulbs spectacularly illuminate the Palace between 7 and 8 pm.
Sri Jayachamarajendra Art Gallery
This art gallery was established in 1875 and has a rare collection of some beautiful paintings from the same era. The gallery is located in Jaganmohan Palace and exhibits paintings by Raja Ravi Varma, Svetoslav Roerich and traditional paintings from Mysore. The gallery also houses exquisitely carved statues in sandalwood, ivory and stone.

Chamundi Hill
The Chamundi hill is to the southwest of the town. Half way up the hill is the giant Nandi bull 94.8-meter monolith carved in 1659. On top of the hill is the 2000-year-old Chamundeshwari Temple, dedicated to the patron goddess of the royal palace. Close to the temple stands the gigantic statue of the demon Mahisasura. The temple is famous for its seven-storied, 40 meter high gopuram. The temple can be accessed on foot by its one thousand steps.
St. Philomena's Church
It is one of the oldest churches in Mysore. It is built in the Gothic style and is counted among the largest in India. Stained glass windows and lofty towers give this cathedral an imposing look.

The Mysore Zoo
This zoo was set up under royal patronage and houses some rare and exotic birds and animals. Situated amidst lush green surroundings the zoo has acquired fame for breeding rare animals in captivity.

Brindavan Gardens
The world-renowned Brindavan Gardens are on the terrace of the Krishna Raja Sagar Dam, built across the river Cauvery. It is a meticulously planned garden and the musical fountain presents a spectacular harmony of water, colors and music.
Other Places of Interest
Srirangapatna - the island fortress of Tipu Sultan (14 kms)
Bandipur National Park (80 kms)
Ranganathittu Bird Sanctuary (18 kms)
Somanathapur (35 kms)
Melkote (50 kms)
Cauvery Fishing Camp (82 kms)
Nagarhole National Park & Kabini River Lodge
Shivasamudram Waterfalls (85 kms)
B.R.Hills (120 kms)
Mahadeshwara Hills (142 kms)
IVAC can organize day trips to any of these places on request.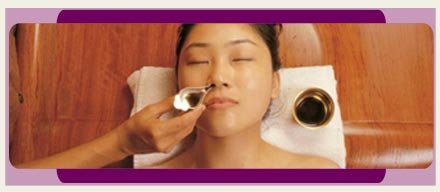 ---
---
Reviews
Vinod

Good environment and care

Google

May 06 2018

Nisha

Its a best authentic ayurveda centers in mysore, with panchakarma treatment. Ayurvedic treatment provided to many conditions, also provided with accommodation. People can experience a great ambience through out their visit.

Google

Jun 17 2020

eriko

I have visited three times so far.
It takes 3-4 hours by car from Bangalore Airport. It is difficult to visit because the distance is far, but it is worth visiting, and you can understand that it is not in the city center, considering the air pollution around the airport you saw on your way home.

First of all, the doctors diagnosis is carried out daily and the advice is very clear. Also, in Japan, treatments tend to be considered as beauty field , but because they are thinking like medicine and food sources, it is also recommended for those who want to improve their physical condition and constitution.

All staff members are kind and gentle.

When cleaning the room, you will be able to point out your flowers and take care not to get bored with long-term residents.

The food is limited to vegans, but its very delicious, even if its not vegan.

A great word about technology for treatments. The daily treatment was fun.

I also want to visit next year.

Google

May 17 2019
---
Alternative-Medicine Related Packages