Buttock Augmentation in Istanbul, Turkey by Group Florence
Treatment:
Cosmetic/Plastic Surgery, Buttock Enlargement
Focus Area:
Buttock Augmentation | Buttock Enlargement | Butt Implants | Plastic Surgery | Istanbul | Turkey | Group Florence
---
Affordable Package for Buttock Enlargement in Istanbul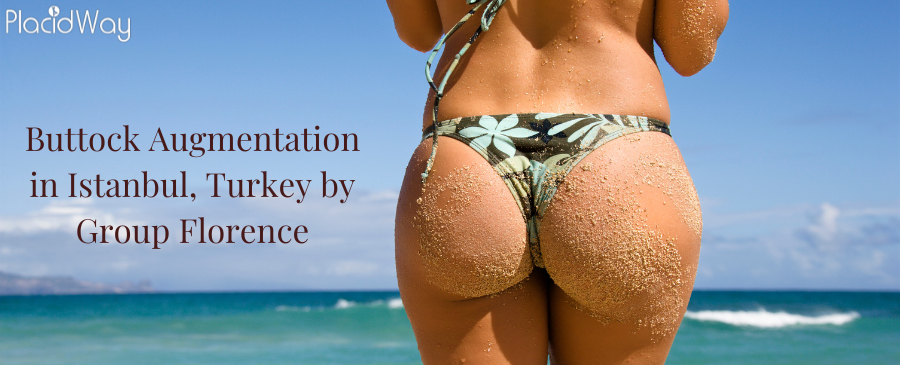 Buttock Augmentation Package in Istanbul, Turkey
Improve your body shape, and enhance your buttocks with an effective butt augmentation package in Istanbul, Turkey. Feel confident within your body after getting butt enlargement in a top-rated plastic surgery clinic in Istanbul. Explore the capital of Turkey and save up to 60% compared to US and UK prices.
Florencell Aesthetic & Beauty Center is a world-class cosmetic surgery clinic in Istanbul, providing effective plastic surgery to international patients. It has modern facilities and comfortable rooms for your pleasant stay.
What is Buttock Augmentation Procedure?
Buttock enlargement is a popular cosmetic treatment for women who feel their behind is too flat or does not have enough of a lift. Since the buttock has become a more prominent attribute among women, and as a result, more individuals are looking to feel better in their clothing. A buttock enlargement enhances the look of the buttock area and offers it a better shape.
Cost of 

Buttock Enlargement

 in Istanbul, Turkey at Florencell Aesthetic & Beauty Center
Butt implants in Istanbul cost only $4,500. The exact procedure quality costs over $7,500 in the USA and the UK.
| | | |
| --- | --- | --- |
| Country | Procedure | Cost |
| Istanbul, Turkey | Buttock Enlargement | $4.500 |
| United States | Buttock Enlargement | $9,000 |
| United Kingdom | Buttock Enlargement | $7,500 |
Note: For more information about the final price, contact the clinic directly. The price may vary depending on your condition and the complexity of the surgery. 

Advantages of Buttock Enlargement
Enhances the lower body curves

Boost confidence

More youthful and aesthetically pleasing shaped buttocks

Enhance the overall proportions of the body

Enhanced physical appearance
Buttock Augmentation Package Inclusions
Transportation airport – hotel – hospital (If transport by an ambulance is necessary, costs will be carried by the patient)

Arrangement of all appointments and procedures

Translation and Interpretation services

Arrangement of hotel/residence if requested (The accommodation cost will be carried by the patient)

Hospital stay, meals (breakfast, lunch, and dinner), TV with international channels, free WI-FI, air condition, and en suite bathroom

One accompanying person can stay with the patient, which is included in the cost.

Room service and laundry upon request. Extra costs may be incurred.
Buttock Augmentation Package Exclusions
Payment Options: Cash, credit card, wire transfer
Note: The center may require a money deposit once a patient decides to receive the treatment from the clinic.
Best Plastic 

Surgeons

 in Istanbul, Turkey at 

Florencell Aesthetic & Beauty Center
Group Florence has some of the best plastic surgeons in Turkey. They have diplomas from prestigious schools and speak English fluently. 
The best plastic surgeon at Florencell Aesthetic Center is Sevgi Kurt Yazar. She speaks Turkish and English and has an M.D degree as a specialist in Plastic and Aesthetic Surgery.
Istanbul is truly a fantastic destination worth visiting. It is known for its architectural wonders, vibrant streets, diverse culture, and many restaurants with traditional Turkish food. The city spreads on two continents, making it both a modern and historic center of Turkey.
We recommend visiting the following tourist places while in Istanbul:
Aya Sofia Mosque
Grand Bazaar 
Topkapi Palace 
Bosphorus Cruise
What to expect after a butt implant procedure?
Your plastic surgeon will give you detailed instructions for care and recovery. You may need to avoid putting direct pressure on your butt; take an antibiotic and a stool softener. Also you will have to wear compression garments and use surgical drains.
Yes, Istanbul is a very safe city for cosmetic procedures such as butt implants. The clinic in Istanbul uses modern technology to provide quality plastic surgery. Every year. thousands of American and British patients visit the largest city in Turkey for affordable cosmetic procedures with positive outcomes. 
Professional plastic surgeons in Istanbul at Florencell Aesthetic & Beauty Center are committed to their patient's well-being. They offer an affordable butt implants package to help you improve your aesthetics. Contact us for more information:

Related Experiences:
Buttock Augmentation in Turkey
Buttock Enlargement in Dominican Republic
Plastic Surgery in Istanbul, Turkey
Mommy Makeover in Istanbul, Turkey
Labiaplasty in Istanbul, Turkey
Facelift in Istanbul Turkey
---
---
---
---