Knee Replacement in Istanbul, Turkey
Enhancing Mobility with Advanced Knee Replacement in Istanbul, Turkey
Get ready to the gateway of exceptional knee replacement in Istanbul, Turkey! This vibrant city not only boasts a rich cultural heritage but is also a haven for top-notch medical facilities specializing in orthopedic care. If you're seeking a life-changing solution to your knee pain, Istanbul offers a plethora of world-class clinics equipped with cutting-edge technology and staffed by highly skilled surgeons. The journey to renewed mobility begins with the choice of the right clinic. Istanbul's medical landscape showcases a selection of top clinics renowned for their expertise in knee replacement procedures.
These esteemed institutions prioritize patient care and utilize the latest advancements in medical science to ensure the best outcomes. From initial consultations to post-operative rehabilitation, you can expect personalized attention every step of the way. Moreover, Istanbul's allure extends to its affordability, making knee replacement costs here remarkably competitive compared to many Western countries.
By opting for knee replacement in Istanbul, not only can you bid farewell to knee discomfort, but you can also explore the captivating blend of history and modernity this captivating city has to offer. So, embark on a transformative medical journey and embrace a future with improved mobility amidst Istanbul's timeless beauty. Check below exclusive package, cost, doctor, and hospital for knee replacement surgery in Istanbul, Turkey to learn more:
• Clinic: Group Florence Nightingale Hospitals, Reyap Hospital, Optimed International Hospital, Turan Turan Health Group, and Emsey Hospital.
• Location: Istanbul, Turkey
• Procedure: Knee Replacement Surgery
• Package Price: starts at $9,000
• Cost in Other Countries: $15,500 - $40,000
• Doctor: Azmi Hamzaoglu, M.D. and Abdullah Eren, M.D.
• Top Tourist Attractions: Topkapi Palace, Aya Sofia Mosque, and Grand Bazaar.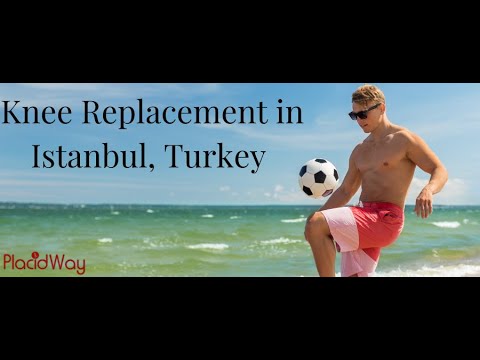 ---
Find Affordable Knee Replacement Package in Istanbul
Clinics in Istanbul offer Knee Replacement Packages you can afford. As these packages cost around $9,000 and provide most of the services you as a foreign patient will love. These services generally include the following
Translation,
Transportation from the airport to the clinic,
Doctor fees,
Accommodation and meals in the clinic.
See the package inclusions below.
Get a high-quality Zimmer Prosthesis knee replacement package in Istanbul, Turkey, offered by Group
---
Compare Knee Replacement Cost in Istanbul vs Other Countries
When we compare the costs of knee replacement in Istanbul and other countries, Istanbul is far less expensive. In the USA, knee replacement costs $40,000 and more, while in the UK $15,000. Knee replacement in Istanbul cost starts at $9,000 and you will get the same or better quality of medical care.
Take a look at our cost comparison table below.
Knee Replacement Total or Partial Centers Cost Comparison in Istanbul, Turkey
| Provider | Procedure | Price |
| --- | --- | --- |
| Group Florence Nightingale Hospitals | Knee Replacement Total or Partial, Orthopedic/Knee Surgery | $9000 |
Knee Replacement Total or Partial Cost Comparison in Turkey

| Country | Procedure | Price |
| --- | --- | --- |
| United States | Knee Replacement Total or Partial, Orthopedic/Knee Surgery | $40000 |
| United Kingdom | Knee Replacement Total or Partial, Orthopedic/Knee Surgery | $15500 |
| Germany | Knee Replacement Total or Partial, Orthopedic/Knee Surgery | $16600 |
---
Best Orthopedic Surgery Hospitals in Istanbul, Turkey
International patients come to Istanbul not only because of the affordability of orthopedic surgery. But also because of the world-class clinics that are JCI accredited. This means that these clinics work by high standards and maintain regular sanitation and hygiene protocols. You will feel at home and safe staying in Istanbul clinics. Their medical team is fluent in English and highly experienced. So, you don't have to worry about anything. Here is our list of recommended orthopedic clinics in Istanbul:
---
Watch Knee Replacement Surgery in Istanbul Videos
Embark on an insightful virtual journey and witness the marvel of knee replacement surgery in Istanbul through captivating videos. Experience the precision and skill of Istanbul's esteemed surgeons as they perform life-changing procedures that restore mobility and transform lives. These videos offer a unique opportunity to gain a firsthand understanding of the advanced medical techniques and state-of-the-art technology employed in the process. From initial incisions to the final stages of rehabilitation, immerse yourself in the world of orthopedic excellence as you observe the remarkable before-and-after transformations. Discover the unwavering dedication and compassionate care provided by Istanbul's top clinics, leaving you inspired by the potential for improved quality of life and the chance to walk with confidence once again.
---
Read Reviews about Orthopedic Surgery in Istanbul, Turkey
Delve into a treasure trove of reviews about orthopedic surgery in Istanbul, Turkey, and gain valuable insights from real patients who have experienced the transformative effects of these procedures. Witness firsthand accounts of individuals whose lives have been positively impacted by the skilled hands of Istanbul's orthopedic surgeons. From knee replacements to other intricate orthopedic interventions, these reviews offer a glimpse into the world-class healthcare services available in this dynamic city. Discover heartwarming stories of patients regaining their freedom of movement and bidding farewell to chronic pain, thanks to the expertise and care provided by Istanbul's top-notch medical facilities.
---
Knee Replacement in Istanbul, Turkey Frequently Asked Questions
If you are still wondering about the price of a knee replacement in Istanbul, read our answers to find out more.
Q: What is knee replacement surgery, and when is it recommended?
A: Knee replacement surgery is a procedure where a damaged knee joint is replaced with an artificial implant. It is recommended for individuals with severe knee pain and limited mobility due to conditions like osteoarthritis or rheumatoid arthritis.
Q: How long does the knee replacement surgery usually take?
A: The surgery typically takes around 1 to 2 hours, depending on the complexity of the case.
Q: What is the recovery time after knee replacement surgery?
A: Most patients can expect to stay in the hospital for 2 to 4 days and resume light activities within a few weeks. Full recovery may take several months.
Q: What types of knee implants are available in Istanbul's clinics?
A: Istanbul's clinics offer a range of knee implants, including traditional metal and plastic implants, as well as newer options like ceramic and polyethylene.
Q: How experienced are the orthopedic surgeons in Istanbul?
A: Istanbul boasts a team of highly experienced and skilled orthopedic surgeons, many of whom have trained and practiced internationally.
Q: Is knee replacement in Istanbul cost-effective compared to other countries?
A: Yes, knee replacement in Istanbul is often more affordable than in many Western countries, without compromising on the quality of care and technology used.
What is the Cost of Knee Replacement Surgery in Turkey?
Show More
The average cost of knee replacement surgery in Turkey is $7,000. This includes the cost of the hospital stay, the surgeon's fee, and the cost of the implant. Country Procedure Average Cost Turkey Knee Replacement Surgery $7,000 United Kingdom Knee Replacement Surgery $30,000 United States Knee Replacement Surgery $40,000 What is Knee Replacement and Who are the Best Candidates for the Surgery? Knee replacement, also known as knee arthroplasty, is an orthopedic procedure where the damaged knee is substituted with an artificial metallic prosthetic piece. Knee surgery can be both total and partial, depending on the patient's specific needs and the stage of the damage in the knee. Knee replacement is usually performed in people over 50 years old who have severe osteoarthritis. The pain and discomfort caused by the damaged knee will be disappearing progressively after the surgery and will be more noticeable in over a month or so. How Much You Can Save by Receiving Knee Arthroplasty in Turkey? The average price for Knee Arthroplasty in most of the leading countries may range between $30,000 to $40,000 approximately. However, you can receive the same treatment here in Turkey is around $7,000. So, you can save more than $25,000 by choosing Turkey as your preferred medical tourism destination for Knee Replacement Surgery procedure. Factors that Affect the Price of Knee Surgery in Turkey You can reach Turkey to get the Knee Surgery treatment conveniently. Before you plan to travel to this nation, you should be aware of the factors that can affect the package price. Have a look at the factors that can affect the overall cost of the treatment. Type of Procedure (Partial replacement, Unilateral or Bilateral Knee replacement) Duration of hospital stay Type of materials used for the implant (titanium or cobalt-chromium alloys/Polymethyl methacrylate or PMMA) Age of the patient Health condition of the patient Other Costs to Consider If you are preparing for the overall expense of the Knee Replacement Surgery Turkey, you have to consider some other associated expenses as well. These expenses are: Hotels and accommodation Food and drinks during the stay Airfare and transport Travel insurance These are the details of the estimated costs and you should not grant it as the final cost of the Knee Replacement Surgery treatment in Turkey. However, you can always ask for free quotes and check how much you can save by going for Knee Replacement Surgery in Turkey. Contact us now.
What is the cost of Knee Replacement Total or Partial in Istanbul, Turkey?
Show More
Knee Replacement Total or Partial in Istanbul, Turkey costs $14,192 on average. The orthopedic surgeon will be able to give you a final price after the first medical consultation when it will be determined exactly what type of procedure is needed, how long will it take, what equipment will be used, etc. If you want to have Knee Replacement Total or Partial in Istanbul, Turkey and you are from another country, you can also benefit from the packages offered to international patients, which include Pre and post-operative care, Airport pick-up, Transportation to and from the hotel and clinic, Translator, case manager, Accommodation. Orthopedic surgeries are performed by a medical specialist such as an orthopedist or orthopedic surgeon, who is properly trained to assess and treat problems that develop in the bones, joints, and ligaments of the human body. The procedure will help patients regain their mobility, relieve pain, and live a normal life. By choosing Knee Replacement Total or Partial in Istanbul, Turkey you will find Top doctors, Accredited medical centers, Highly experienced medical staff, Modern techniques and Affordable prices. Besides all these patients will also recover and relax in one of the most beautiful countries in the world. Finding the right surgeon in Istanbul, Turkey for you can be challenging. There are so many, each of them promising flawless results. But there are some questions that you can ask and which will help you find the right one for your specific case. How many years have you been performing Knee Surgery? How often did you perform it? What are the advantages and disadvantages of Knee Replacement Total or Partial? Which are the risks and complications? What if I am not happy with the Knee Replacement Total or Partial results? How long should I be staying for recovery? Are you certified? Are you a member of any Orthopedic/Knee Surgery association or society? What if something goes wrong during Knee Replacement Total or Partial procedure? Turkey has been renowned as one of the best destinations for medical tourism, offering excellent medical care in the field of orthopedics. Internationally accredited medical facilities are located in key cities such as Istanbul.  Surgeons and physicians in Turkey provide top-quality care and expertise to both local and international patients. Below you can find some of the best orthopedic specialists in Istanbul, Turkey that offer most affordable price for Knee Replacement Total or Partial. Knee Replacement Total or Partial at Jinemed Hospital | Orthopedic Clinic (Istanbul): from $12000 Knee Replacement Total or Partial at Acibadem Healthcare Group (Istanbul): from $16385 Find out more about the best orthopedic doctors in Istanbul, Turkey! Contact us and choose the best option for you!
---
Meet Orthopedic Surgeons in Istanbul
Before coming to Istanbul for knee replacement you will have to choose the right orthopedic surgeon. With the help of our PlacidWay team you will find the surgeons with the following credentials:
Board-certified orthopedic surgeon
Has over 10 years of experience
Provides follow-up after surgery
Attends training abroad
Speaks English well
Another thing to consider is asking your surgeon for a video consultation which he has to be able to provide. Check our doctor profiles below to learn more:
Azmi Hamzaoglu, M.D., is a highly skilled and accomplished orthopedic surgeon based in the vibrant c...
Abdullah Eren, M.D., is a distinguished and compassionate medical professional, making a significant...
---
Why Choose Istanbul, Turkey for Knee Replacement
Open the door to a life-changing opportunity by choosing Istanbul, Turkey, as your destination for knee replacement surgery. This vibrant metropolis seamlessly weaves together its rich history and modern medical prowess, offering a remarkable healthcare experience that extends beyond expectations. Embarking on this transformative journey, Istanbul welcomes patients from all corners of the globe seeking world-class orthopedic care and unrivaled expertise in knee replacements. Here are six compelling reasons why Istanbul stands out as a premier choice for your knee replacement:
Renowned Medical Expertise: Istanbul houses a multitude of top-tier medical facilities staffed with highly experienced orthopedic surgeons known for their exceptional skills and knowledge in knee replacement procedures.
Cutting-Edge Technology: The city's medical institutions invest heavily in advanced medical technology and state-of-the-art equipment, ensuring that patients receive the most innovative and precise treatments available.
Affordable Treatment: Istanbul offers a cost-effective solution without compromising on the quality of care, making knee replacement surgery more accessible to patients from various backgrounds.
Cultural Heritage: Beyond the medical aspects, Istanbul's rich history and cultural heritage offer a unique and awe-inspiring backdrop for your recovery journey, adding a touch of inspiration to the healing process.
Multilingual Staff: Many medical professionals in Istanbul speak multiple languages, making it easier for international patients to communicate and feel comfortable throughout their medical experience.
Comprehensive Aftercare: Istanbul's clinics prioritize comprehensive aftercare and rehabilitation programs, supporting patients in their recovery and maximizing the chances of successful outcomes.
With its unmatched combination of medical excellence, cutting-edge technology, and a captivating cultural experience, Istanbul, Turkey, emerges as a compelling choice for knee replacement surgery, promising a path towards improved mobility and a brighter, more active future.
Visit Top Tourist Spots in Istanbul
Millions of tourists visit Istanbul per year. At least half of them are medical tourists. Istanbul is not only a medical center in Turkey but also an amazing city to explore. Here are some places to visit during your stay in Istanbul for knee replacement:
| | | |
| --- | --- | --- |
| Extraordinary Aya Sofia Mosque | Vibrant Grand Bazaar | Magnificent Topkapi Palace |
---
Restore Your Knees Health with Knee Replacement in Istanbul, Turkey
Knee Replacement in Istanbul, Turkey is a practical option to restore your knee's health and function. In addition, you will return home with up to 70% savings and lifelong memories of a wonderful vacation. Ready for the trip to Istanbul? Contact our PlacidWay team and we will help you organize stress-free for your knee surgery in Istanbul!
---