Reyap Hospital
Reyap Hospital in Istanbul Turkey - Multi-Specialty Centre
Yeilkent Mahallesi 2011. street no:25 Esenyurt/Istanbul, Istanbul, Turkey

Specialty:

Anti Aging, Cosmetic/Plastic Surgery, Dentistry, Eye/Lasik Care, Fertility Treatment, General Medicine, General Surgery, Gynecology Treatment, Heart Care/Surgery, Neurology, Organ Transplant, Orthopedic/Knee Surgery, Pediatric Treatment, Radiology/CT Scans, Rehabilitation, Skin Care, Spine Care/Surgery, Urology, Vascular Surgery

Focus Area:

Reyap Hospital Istanbul | Dental Health | Eye Diseases Treatments | Urology | Plastic Surgery | Pediatrics | Orthopedics | General Surgery | Gynecology | Multi-Specialty Centre in Turkey
Reyap Hospital Profile Overview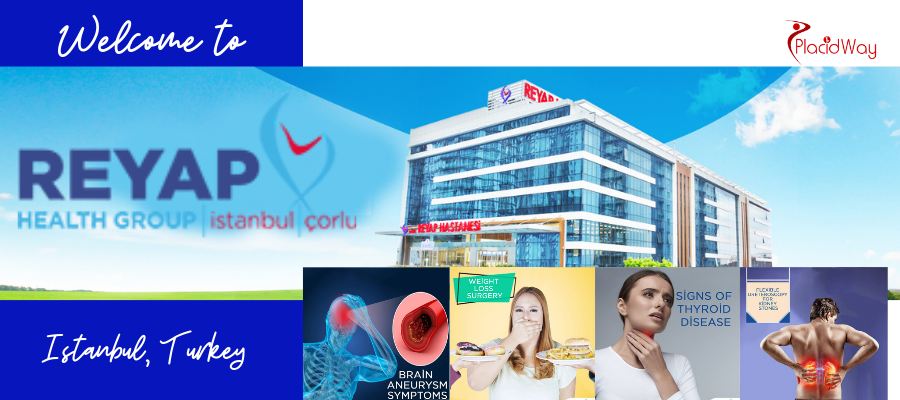 Reyap Health Group- Complete Multi-Speciality Hospital in Istanbul, Turkey
Reyap Health Group, located in Istanbul, Turkey is one of its own kind of first healthcare investment in collaboration with Reyap Corlu established in the year 2011. Reyap Hospital Corlu offers reliable healthcare renewed technological infrastructure and qualified healthcare services to domestic and international patients. They treat patients from their own country and abroad with advanced high-end diagnoses and treatment services along with advanced hotel services. Thus, the patients traveling from a foreign country will not have to worry about accommodation of them and their companion while going for treatment at Reyap.
Reyap Health Group believes in providing qualified health services by experienced health personnel who are highly educated and well trained in their respective fields of specialty. With their experienced team, modern infrastructure and constantly renewed technological applications, Reyap provide equally superior health services to all of the patients, providing absolute satisfaction to them and their relatives with the best health care and hospitality.
Why Get Medical Care in Istanbul, Turkey?
Reyap Hospital Istanbul is one of the leading medical facilities in Turkey. The hospital provides a full range of medical services, from primary care to specialized treatment. Reyap Hospital Istanbul is also a teaching hospital, affiliated with the University of Istanbul. As a result, Reyap Hospital Istanbul is able to provide the most up-to-date medical care possible. Reyap Hospital Istanbul is also conveniently located in the heart of Istanbul, making it easy to get to from anywhere in the city. In addition, Reyap Hospital Istanbul offers competitive pricing for its medical services. As a result, Reyap Hospital Istanbul is an excellent choice for those seeking quality medical care at an affordable price.
Treatments and Procedures provided by Reyab Hospital Istanbul
Dental Health

Eye Diseases

Psychology

Urology

Radiology

Physiotherapy

Rehabilitation

Pediatrics

Nutrition

Neurosurgery

General Surgery

Gynecology, etc.
Book Appoinment for Treatment in Reyab Hosptal Istanbul
If you require any of the treatments mentioned above,. We set up an appointment for you to receive quality care at a reasonable cost with Reyab Hospital Istanbul by pressing the button below.
For more details about their treatments and services, click the button below!

---
---
Reviews
Kodexx

Super hospital, friendly and professional staff. Dr Ahmat and Dr Metehan were fantastic in explaining the process.
Ece and Bilge saw to everything we needed and made the process really simple and Buse was on hand for any questions.
Thank you all so very much


Google

May 20 2022

Claudia

I have come to this hospital to have a bariatric operation, my surgeon Dr. MIRHAN TOSUN is an excellent professional,
The nutritionist Dr. Buse Őzdemir is a charm and gave me very good guidelines after the surgery, they have a good team of assistants prepared to attend to foreign patients, I want to especially thank the translator Joana and the assistants Senem and Bilge for the good work they do with the patients in this hospital.
I also took advantage of the trip and did a teeth whitening with dr. Őzge Yůlsil
A wonderful dentist.

In short, I recommend 100% the Reyap hospital, it has magnificent facilities, very clean and spacious rooms.

Thank you wholeheartedly to the Reyap family

Google

Jun 15 2022

Evelina

Amazing hospital ! I highly recommend Reyap Hospital as I am very happy with my decision! Dr Ugur Tosun did my tummy tuck and liposuction! I feel no pain at all and also he explained to me step by step all the procedure! Dentist Aykut Arık done for me some implants and also I could not fell pain at all ! Mrs Senem and Bilge are a great team and very responsive at any time ! Friendly and professional staff night shift Manager Mr. Sadik and Supervisor Ercan!
I am Evelina and coming from Romania

Google

Jun 24 2022
---
---