Emsey Hospital
World-Recognized Medical Center in Istanbul Turkey
Camlik Mahallesi Selcuklu Caddesi No.22 Kurtkoy Pendik Istanbul Turkey, Istanbul, Turkey

Specialty:

Cosmetic/Plastic Surgery, Dentistry, Fertility Treatment, General Medicine, General Surgery, Gynecology Treatment, Infertility/IVF, Orthopedic/Knee Surgery, Pediatric Treatment, Radiology/CT Scans, Urology

Focus Area:

Emsey Hospital | Best Hospital in Istanbul Turkey | Istanbul | Turkey | General Surgery | Gynecology | Obstetrics | IVF | In Vitro Fertilization | Neurology | Orthopedics | Pediatric Surgery | Plastic Surgery | Radiology | Urology
Emsey Hospital Profile Overview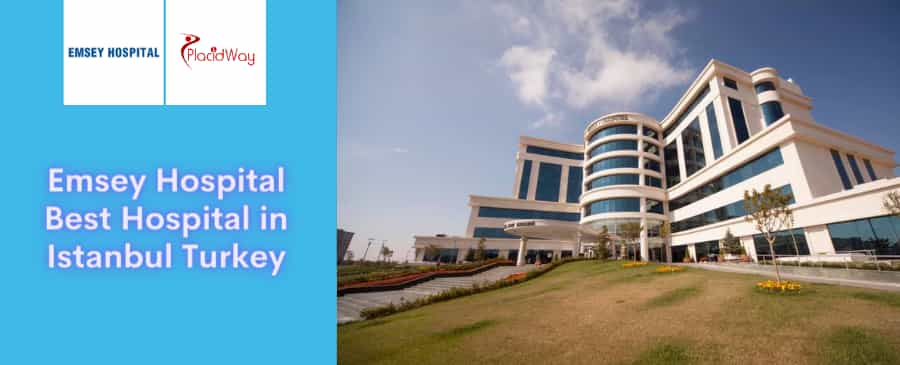 Emsey Hospital is the Best Hospital in Istanbul Turkey that has won JCI International Accreditation, and has the most complete medical facilities and experienced medical staff. The hospital has an area of ​​33,000 square meters, with a capacity of 254 beds, 9 operating rooms, 3 delivery rooms, a parking area of ​​10,500 square meters, and a helipad. Emsey Hospital is one of the leading hospitals in Istanbul Turkey with international standards and is ready to serve not only local patients, but also overseas patients with various health problems they have.
Benefits of Emsey Hospital in Istanbul Turkey
Best Hospital in Istanbul Turkey by Emsey provides patients with many benefits and conveniences. This is what makes this hospital the main destination for patients from abroad. The reason is, they will be guaranteed to get some of the advantages below:
Accredited Healthcare Quality: Emsey Hospital is the best hospital in Istanbul Turkey that has been accredited by the international accreditation organization JCI. This hospital will strive to provide something that exceeds your expectations with this undoubted standard.
Strategic Location: With its strategic location, as well as helipad facilities, it will make it easier for patients to get fast and professional treatment from the best medical experts at Emsey Hospital.
Advanced Technological Facilities and Treatment Options: With the presence of advanced technology and facilities in every procedure carried out, you will be able to get the best treatment, accurate diagnosis, and truly awesome medical services.
Treatments Available at Emsey Hospital in Istanbul, Turkey
As the best hospital in Istanbul Turkey which is equipped with the best personnel in the world, you will be able to discuss any complex health problems you have, and get the best treatment options below:
Check-Up

Chest Diseases

Cardiovascular Surgery

Cardiology Clinic

Child and Adolescent Psychiatric Clinics

Anesthesia and Reanimation Department

Aviation Medicine Center

Advanced Spinal Surgery Center

Biochemistry

Bone Marrow Transplantation Center

Dermatology

Emergency Medicine

Endocrinology and Metabolism Diseases

Emsey Hospital Hair Transplant Center

Emsey Hospital Gynecologic Oncology Clinic

Gastroenterology

Hematology

Infectious Diseases

Internal Medicine

Interventional Radiology

Nutrition and Diet

Neurosurgery

Nephrology

Neonatal Intensive Care Unit (Neonatology Unit)

Nuclear Medicine

Ophthalmology

Otorhinolaryngology (Ear Nose Throat)

Oncology

Orthopedics

and Traumatology

Pediatric Cardiology

Pediatric Diseases

Physical Medicine and Rehabilitation

Pathology

Psychiatry

Psychology

Pediatric Hematology and Oncology

Podiatry

Pediatric Immunology and Allergology

Pediatric Bone Marrow transplantation Department

Radiation Oncology

Rheumatology

Spine Rehabilitation Clinic

Traditional and Complementary

Thoracic Surgery
Price List at Emsey Hospital in Istanbul Turkey
Emsey Hospital is the best hospital in Istanbul Turkey that will provide you with the best prices for the various medical procedures you choose. For more detailed information regarding the price of the latest surgical procedures and options, you can ask directly through the Customer Representative.
Highly Skilled Doctors at Emsey in Istanbul Turkey
Emsey Hospital will ensure that you get the best treatment from specialists who are truly qualified in their fields. Do not hesitate or hesitate to discuss your health problems in detail. Here are some of the best doctors to have:
Assoc. Dr. Kerem GÜN, Physical Therapy and Rehabilitation (Chief Physician of Hospital)
Prof. Dr. Serdar Bedii Omay (Hematologist)
Prof. Dr. Birol Baytan (Pediatrics Hematologist)
Prof. Dr. Mehmet Aydoğan (Advanced Spine Surgery, Orthopedics)
Prof. Dr. Hakan Karagöl (Oncologist)
In addition, there are many other best specialists/doctors that you can find at Emsey Hospital. All are ready to treat patients by upholding professionalism and patient satisfaction.
Certifications:
Joint Commission International (JCI)

International Organization for Standardization (ISO)
Why Choose Emsey Hospital?
Before choosing to seek treatment abroad, make sure that you choose the best and reliable hospital. Best Hospital in Istanbul Turkey by Emsey Hospital will make sure you get it all. Apart from that, here are some reasons why Emsey Hospital is the best option you should consider:
Modern and Advance Healthcare Services
With the presence of the latest technology in the field of medical treatment, Emsey Hospital always follows these developments and ensures that patients can receive the best and international standard treatment.
Provide International Patients with Counseling and Support
Patients who come from abroad will be able to obtain various facilities, ranging from airport shuttles, special treatment rooms, and other additional facilities. Counseling and Support are also available for patients to feel comfortable, because all the Medical Staff here will consider you as a very valuable part of the family.
Established since 2012 with Experienced Specialist
Established since 2012, Emsey Hospital is the best hospital in Istanbul Turkey that will provide you with the greatest service through a professional team that is ready to commit to helping meet all your medical needs.
FAQs about Having Medical Care at Best Hospital in Istanbul Turkey
Here are some frequently asked questions regarding Medical Tourism at Best Hospital in Istanbul Turkey. Take advantage of this information as a reference for you and so that you can prepare for all medical needs more perfectly:
Are the Hospitals in Turkey Good?
Yes, one of them you can find at Emsey Hospital. Turkey is one of the countries in the world that has some of the best hospitals with unrivaled care. In addition, the prices offered are also more affordable than other countries.
Are Hospitals Expensive in Turkey?
No, for example, if you compare the price of the procedure offered in Turkey with other countries such as Canada or the USA, then you will see a fairly significant price comparison. In addition to providing relatively cheap prices, the quality of hospitals in Turkey is also very good.
Is Turkey Good for Medical Treatment?
Yes, Turkey is one of the most popular countries in the field of Medical Tourism over the past few years, even according to statistical data; there are more than 500,000 patients per year undergoing medical treatment in this country. And more than 49 Medical Centers in Turkey have received JCI certificates, one of which is Emsey Hospital.
Is it Safe to Get Surgery in Turkey?
Yes, in fact there are many patients from abroad who come to Turkey to undergo various medical procedures, ranging from Dental Surgery, Orthophedic Surgery, Cosmetic/Plastic Surgery, and many more.
Book Now Cost-Effective Treatment in Istanbul Turkey by Emsey
Get the best, satisfying, and international standard medical services through Emsey Hospital. You will be able to get what you need at a cost that is friendly to your pocket. Make sure to click the button below if you have any further questions or make medical reservation:

---
---