TURAN TURAN Hip Replacement Revision Package in Bursa, Istanbul, Turkey
Package price starting from:
$8000
Treatment:
Orthopedic/Knee Surgery, Hip Resurfacing Surgery, Hip Replacement Surgery Partial or Total, Arthroplasty
Location:
Sirinevler mah, Ankara Yolu Cd. No: 795, 16290 Bursa, Istanbul Turkey, Turkey
Focus Area:
TURAN TURAN Health Group | Bursa | Istanbul | Turkey | Hip Replacement Revision Surgery | Hip Arthroplasty Revision Surgery
---
Hip Arthroplasty Revision Surgery in Bursa, Istanbul, Turkey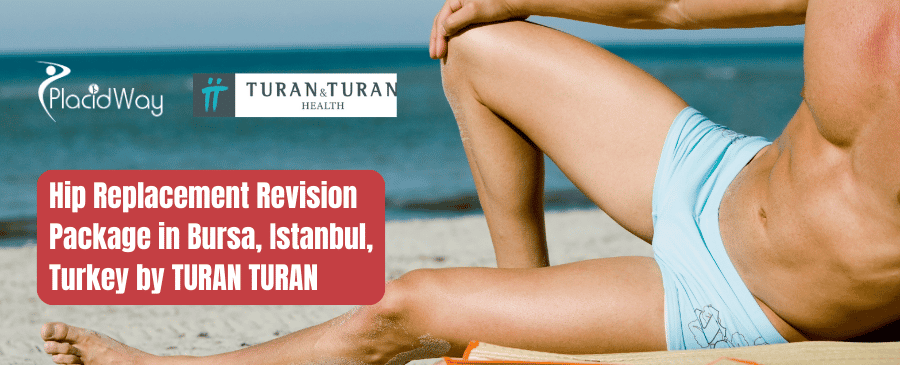 Discover Excellence in Hip Replacement Revision with TURAN TURAN Health Group in Bursa, Istanbul, Turkey. When it comes to regaining mobility and enhancing your quality of life, our comprehensive hip replacement revision package offers a superior solution. Backed by a team of skilled medical professionals and state-of-the-art facilities, we are committed to delivering exceptional care and results.
Our hip replacement revision procedure involves a comprehensive assessment of the previous implant, followed by a personalized surgical plan to correct any issues. The procedure aims to restore mobility, alleviate pain, and enhance the patient's overall quality of life.
Things to consider before having hip replacement revision surgery:
It can be essential to replace one or more components of the hip replacement during revision surgery. It is possible to replace a loose prosthetic piece safely without causing any bone loss or injury. However, there is typically some bone loss if the prosthetic element that is firmly linked to the bone needs to be replaced.
Additionally, some of the muscles around the hip have suffered injury, which will impair the patient's hip function and its strength. As opposed to the outcomes of the first hip replacement, the outcomes of hip revision surgery are less predictable. There might be other complications.
Around 20% of individuals require a second hip replacement procedure following the initial procedure. The most typical causes for revision of a hip replacement are:
Repeated hip prosthesis dislocation

Technical issues

Joint inflammation
You can get Hip Replacement Revision Package in Bursa, Istanbul, Turkey by Turan Turan with the price starts at $8,000. Please refer to our price list below:
| | |
| --- | --- |
| Location | Cost in USD |
| Bursa, Istanbul, Turkey | $8,000 |
| United Kingdom | $16,216 |
Note: price may change and vary depends on complexity of procedures and patient conditions. Click free quote button below to learn more:

Here are the Top 5 Reasons of Choosing Hip Replacement Revision in Bursa, Istanbul, Turkey
Expert Medical Team: Our team comprises experienced surgeons and medical staff specializing in hip replacement revisions, ensuring the best possible outcomes.
Cutting-Edge Facilities: TURAN TURAN Health Group boasts modern facilities equipped with advanced technology, contributing to safe and successful procedures.
Affordable Packages: Our hip revision packages are competitively priced, providing high-quality care at a fraction of the cost in many Western countries.
Cultural Richness: Bursa offers a blend of rich history and modern attractions, allowing patients to explore a vibrant city during their recovery.
Holistic Support: From pre-operative assessments to post-operative care, we offer comprehensive assistance, including accommodation and transportation.
Consultation

Pre-op Blood Tests

Pre-op ECG

Pre-op and post-op MRIs, X-Rays, CTs

5 days hospitalization

Doctor follow-ups

Nursing services

Room fees

Transfers between Airport-Hospital (round trips)
Travel Expenses: Costs related to airfare and travel arrangements to Bursa.
Additional Medical Procedures: Any supplementary medical treatments not directly related to the hip revision.
Personal Expenses: Expenses for personal items and services during the stay.
Complications and Unforeseen Costs: Additional expenses in case of unexpected complications.
Non-Medical Services: Costs of non-medical services or activities during the stay.

Hip Replacement Revision Surgery Pre-Op Tests:
X-rays and Imaging: To assess the condition of the hip joint and surrounding tissues.
Blood Tests: Comprehensive blood analysis to evaluate overall health and potential risks.
Cardiac Assessment: Evaluation of cardiovascular health to ensure safe surgery.
Bone Density Scan: To assess bone quality and strength in the hip area.
Medical History Review: Comprehensive review of medical history to tailor the procedure accordingly.
Our hip revision procedures are performed by highly skilled orthopedic surgeons with extensive experience in complex revision surgeries. Our team is dedicated to achieving optimal results and ensuring patient comfort throughout the hip replacement journey in Bursa, Istanbul, Turkey.
Orthopedic Surgeon in Bursa, Istanbul, Turkey for Hip Surgery

 

The founder and head-chief of Turan & Turan Health Group as well as the Robotic Orthopedic Surgery Center.

The first orthopedic surgeon who performed a robotic-assisted total knee and hip arthroplasty in Turkey.

Most experienced surgeon in the field of robotic-assisted arthroplasty in Turkey and the whole region.

He performed more than 2000 knees and hip robotic-assisted arthroplasty.

He has more than 25 years of experience in Orthopedics and Traumatology.
Is Hip Replacement Revision Surgery Right for You?
Ideal Candidates: Patients with previous hip replacements experiencing discomfort, limited mobility, or implant failure.
Consultation: A thorough assessment by our medical team will determine if revision surgery is the appropriate solution for your condition.
Patient Commitment: Success of the procedure also depends on the patient's commitment to rehabilitation and recovery protocols.
What to Expect During the Hip Replacement Revision Surgery ?
Initial Consultation: Comprehensive evaluation and discussion of the procedure with the surgeon.
Surgery: The procedure typically takes several hours and may involve replacing the implant, correcting alignment, and addressing any issues.
Recovery: Post-operative care includes pain management, physical therapy, and follow-up appointments.
Q: Who is a candidate for hip revision in Bursa, Istanbul?
A: Patients with discomfort, pain, or limited mobility due to a previous hip replacement are potential candidates. An evaluation by our medical team determines suitability.
Q: Why choose Bursa, Istanbul for hip revision?
A: Bursa offers skilled orthopedic surgeons, modern facilities, affordable packages, and a vibrant city to recover in, making it an ideal destination for hip revision.
Q: What does the hip revision package include?
A: Our package includes consultations, surgery, hospital stay, rehabilitation, accommodation, and transportation. Exclusions are personal expenses and travel costs.
Q: What is the recovery process like after hip revision?
A: Recovery involves pain management, physical therapy, and follow-up appointments. Patients gradually regain mobility and experience reduced pain over time.
Q: How long does the hip revision procedure usually take?
A: The duration of the hip revision procedure varies depending on the complexity of the case but generally takes several hours to complete.
Q: Are there any risks associated with hip replacement revision?
A: As with any surgical procedure, there are risks such as infection, blood clots, and anesthesia complications. Our experienced team minimizes these risks through careful planning and monitoring.
Ready to embark on a journey toward better hip health? Book your consultation at PlacidWay Medical Tourism and experience the transformative benefits of hip revision with TURAN TURAN Health Group in Bursa, Istanbul, Turkey. Click contact us button below to get started!

Related Experiences:
Hip Replacement Surgery in Istanbul, Turkey
Hip Replacement Surgery in Turkey
Hip Replacement in Tijuana - Improve Your Hip Health
Total Hip Replacement in Johnstown USA - For Your New Hips
High Success Rate Hip Replacement Surgery in Cancun Mexico
Hip Replacement in Mexico - Affordable Hip Surgery
---