Best Hair Transplantation Package in Istanbul
Package price starting from:
$2500
Treatment:
Cosmetic/Plastic Surgery,Hair Transplantation, Scalp Reduction, Platelet Rich Plasma PRP for Hair, Non Surgical Hair Loss Medication, Moustache and Beard Transplant, Mesotherapy, Laser Hair Restoration, Follicular Unit Transplantation FUT, Follicular Unit Extraction FUE, Direct Hair Implantation (DHI), Eyebrow Hair Transplant, Body Hair Transplant, Alopecia, Hair Restoration and Transplantation
Location:
Nuhkuyusu Caddesi No:94 Baglarbasi/Uskudar/Istanbul, Turkey, 34662, Turkey
Focus Area:
Academic Hospital | Istanbul | Turkey | Hair Transplantation
---
Affordable Hair Restoration Surgery in Istanbul, Turkey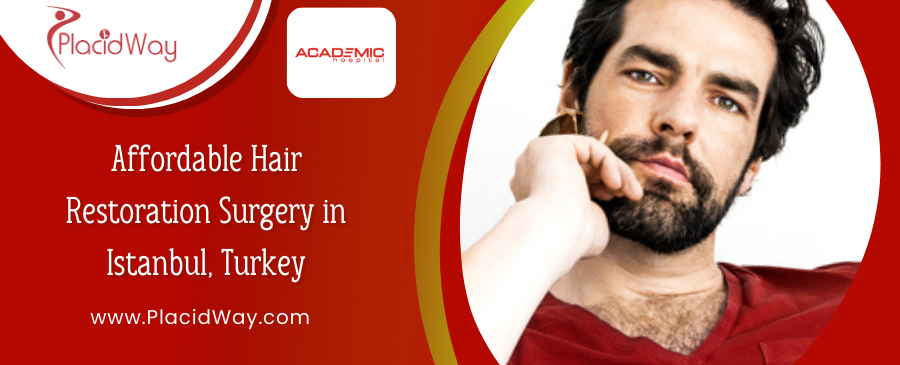 Hair loss is a common issue that can affect people's self-esteem and confidence. Hair transplantation is a surgical procedure that can help restore lost hair and improve one's appearance. Istanbul, Turkey has become a popular destination for hair transplantation due to its affordable packages and high-quality medical services. The Academic Hospital in Istanbul offers an excellent hair transplantation package that includes a range of benefits and services. Check our packages detail below for more information.
Cost of Hair Restoration Surgery in Istanbul, Turkey by Academic Hospital
You can get hair transplantation packages in Istanbul, Turkey with the price starts at: $2,500. Check our price list table below to learn more:
| | |
| --- | --- |
| City, Country | Cost in USD |
| Istanbul, Turkey | $2,500 |
| United Kingdom | $16,148 |
| United States | $10,000 |
Note: price may change and vary depends on complexity of procedures and patient condition. Click free quote button below for more information:

What is hair loss?
There are many different reasons for hair loss. The most common reason for both Male Pattern Hair Loss and Female Pattern Hair Loss is androgenetic alopecia, which is genetic.
With Male Pattern Hair Loss, we usually see a defined bald spot, for example, a receding hairline, or a balding spot in the back of the head. In Female Pattern Hair Loss, the hair loss is spread throughout the whole scalp and usually not in a focal area. Therefore, women experienced a generalized thinning of their hair density.
How to get my hair back?
Hair transplant is the most sophisticated and cost-effective method to cover baldness both in men and women permanently. This popular procedureinvolves removing hair follicles from one region of the body (the donor site) and transplanting them to a bald or balding part of the body (the recipient site).Hair transplantation can also be used to repair eyelashes, eyebrows, beard hair, chest hair, pubic hair, and scars from accidents or previous hair transplants.
Am I a good candidate for hair transplant surgery?
A hair transplant can improve your appearance and self-confidence. All men and women above age 22 are candidates for this hair restoration procedure. It is highly important to understand that all hair transplant techniques use your existing hair. Grafts containing hair follicles are genetically resistant to balding (like the back of the head) and the goal of this surgery is to find the most efficient grafts and transplant them to bald areas. An individual with very little hair may not be advised to undergo hair transplant surgery.
Hair Transplant Techniques
There are two main types of hair restoration procedures used in our clinic, which are Follicular Unit Extraction (FUE) and Direct Hair Implantation (DHI).
FUE:
FUE is an advanced non-surgical hair restoration technique. This minimally invasive procedure doesn't leave any linear scar or requireany stitches. With this technology, the follicles are taken from the donor area by using a micromotor and transplanted into the receiving area by opening fine channels in the bald areas with precise medical forceps.
DHI:
Hair follicles are extracted one by one from the donor area using a specifically designed disposable tool with a diameter of 1mm or less. The hair follicles are then implanted directly into the region with hair loss using the DHI Implanter without prior creation of holes or slits.
Before and After Images for Hair Restoration Surgery in Istanbul by Academic Hospital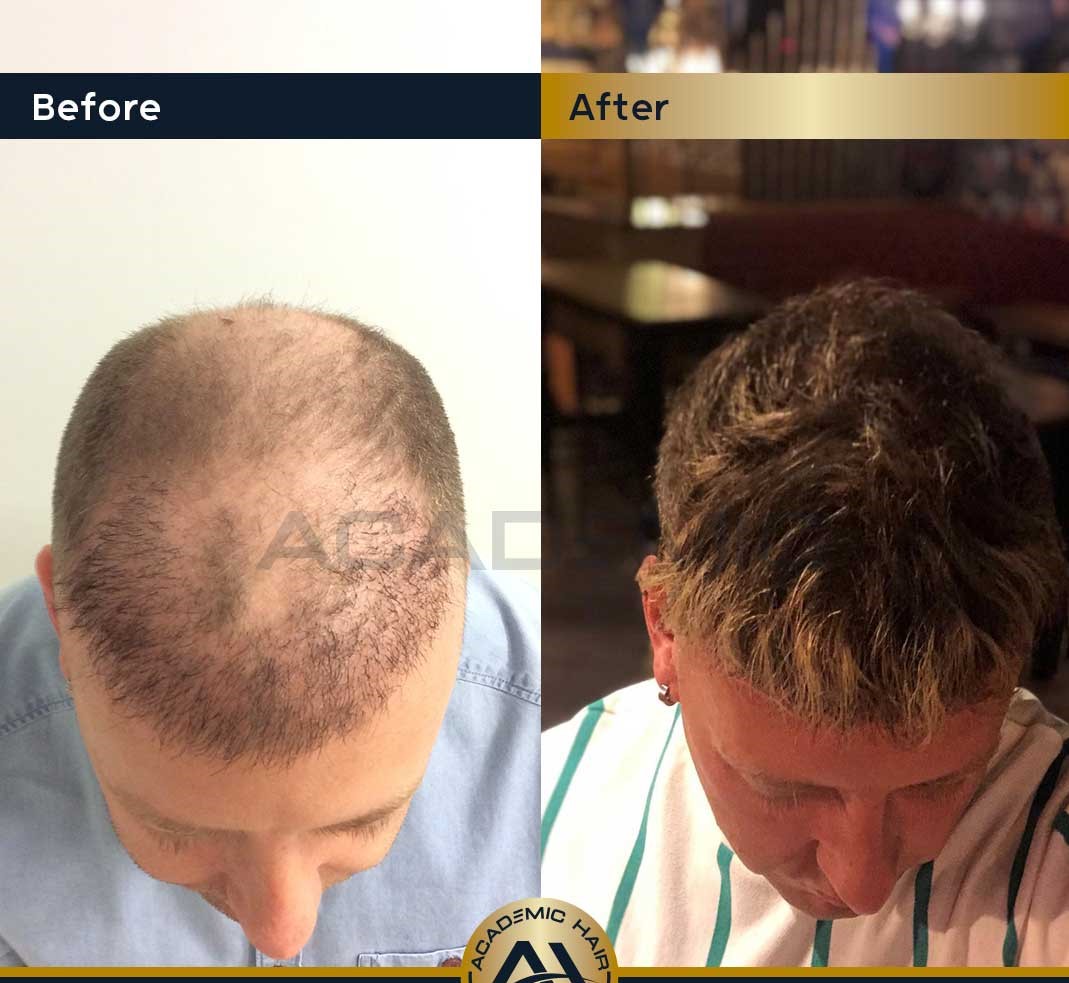 Advantages of Hair Transplantation in Istanbul, Turkey
Cost-effective: The cost of hair transplantation in Istanbul is significantly lower than in other countries, making it an attractive option for those seeking affordable treatment.
Experienced doctors: Istanbul has a high number of experienced and skilled hair transplantation doctors who have performed numerous successful procedures. The Academic Hospital in Istanbul has a team of highly qualified doctors who use the latest techniques and technologies to ensure excellent results.
State-of-the-art facilities: The hair transplantation package at the Academic Hospital includes access to state-of-the-art facilities, including modern operating rooms and advanced medical equipment.
Travel and tourism: Istanbul is a beautiful city that offers a unique blend of history, culture, and modernity. Patients can combine their hair transplantation procedure with a vacation and explore the city's tourist attractions.
Excellent aftercare: The Academic Hospital offers exceptional aftercare services to ensure a smooth and comfortable recovery. Patients can receive follow-up consultations and support from the medical team to ensure the best possible results.
Hair Transplantation Package Inclusions:
Get your hair back with a discount package price including:
Hair transplantion

2 nights stay at hotel

hotel/airport/hospital transfers

mesotherapy (vitamin injection to hair)

Mini check-up from Academic Hospital
Hair Transplantation Packages Exclusions:
Accommodation: The hair transplantation package at the Academic Hospital does not include accommodation. Patients are responsible for arranging their own accommodation during their stay in Istanbul.
Flights: The package does not cover flights to Istanbul. Patients must arrange their travel to and from Istanbul.
Personal expenses: Patients are responsible for their personal expenses, such as food, transport, and other non-medical expenses.
Additional medical procedures: The package does not cover any additional medical procedures that may be required before or after the hair transplantation procedure.
Visa fees: Patients must arrange and cover their visa fees to enter Turkey.
Hair Transplantation Pre-Op Tests:
Blood tests: Patients will need to undergo blood tests to assess their overall health status and identify any potential health issues that may affect the procedure's safety.
Scalp analysis: The medical team will conduct a scalp analysis to determine the hair density and identify the best hair transplantation technique.
Medical history review: Patients will need to provide their medical history to ensure that they are suitable candidates for the hair transplantation procedure.
Physical examination: The medical team will conduct a physical examination to assess the patient's overall health status and identify any physical factors that may affect the procedure.
Psychological assessment: The medical team will conduct a psychological assessment to ensure that patients are mentally prepared for the procedure and have realistic expectations.
Board Certified Plastic Surgeon in Istanbul, Turkey
Prof. MD. Ozhan Celebiler, Plastic-Reconstructive and Aesthetic Surgery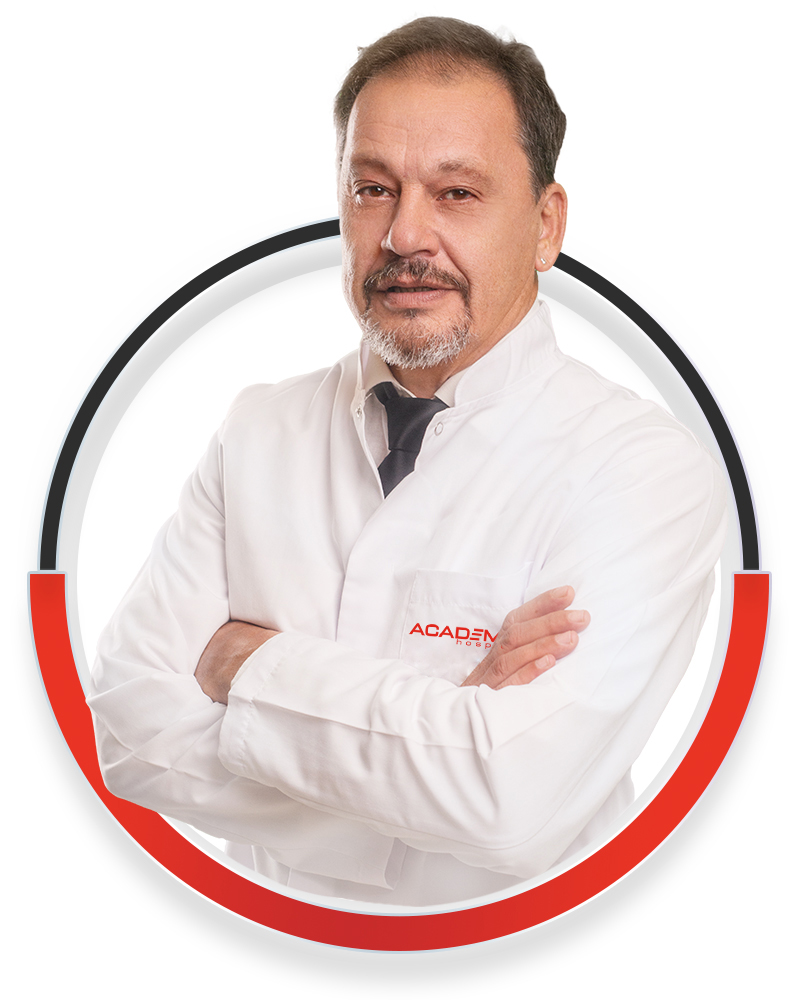 Why Choose Hair Restoration in Istanbul, Turkey?
Choosing hair transplantation in Istanbul offers numerous benefits, including cost-effectiveness, experienced doctors, state-of-the-art facilities, excellent aftercare, and the opportunity to combine the procedure with a vacation. The Academic Hospital provides a comprehensive hair transplantation package in Istanbul that includes all the necessary services and benefits to ensure the best possible results.
FAQ (Frequently Asked Questions)
1. Does it hurt?
People tend to experience little to no discomfort during the actual procedure. The medical advancements associated with today's pain-management techniques ensure a comfortable and pleasing experience for a person undergoing a hair transplant procedure.
2. What care would I receive after hair transplant surgery?
Patients all receive individual attention to their desires and the nature of the operations they require. A light head cover can be worn immediately. Any numbness around the recipient sites will diminish in 3 months and the donor hair will shed to be replaced by new growth in 14-28 days and hair growth commences in 3-4 months.
3. How soon can I return to work?
The typical length of time needed away from work after a hair transplant procedure is between one and three days. Strenuous activity, including working out, should be avoided for at least the first couple of weeks after the procedure to ensure you experience the best results possible, so if your job requires any strenuous activity, more recovery time may be required before you return.
4. How Natural Are the Results?
Today's modern hair transplantation techniques are natural. The key to a natural result is tailoring the procedure to the hair type and needs of the individual. Hair folliclesneed to be carefully placed to match the angle and pattern of existing hair.
5. Are the Results Permanent?
The results are permanent for the rest of your life. This is because the hair in the back area of the head (the donor area) is resistant to the DHT hormone that most commonly causes hair loss in other areas of the scalp.
Get FREE QUOTE for Hair Transplantation Surgery in Istanbul at PlacidWay!
Book your consultation at PlacidWay Medical Tourism and start your journey to a more confident and youthful appearance. Our team of experts will help you choose the best hair transplantation package at the Academic Hospital in Istanbul that meets your needs and budget. Click contact us button to get started:

Related Experiences:
FUE Hair Transplant in Turkey - Regain Natural-Looking Hair!
Reasons to Choose Hair Transplant in Istanbul - Turkey
Hair Transplant in Turkey
Hair Transplant in India
Hair Transplant in Spain
The Guide to Choosing Hair Transplant in Mexico
---
Cosmetic/Plastic-Surgery Related Packages
Cosmetic/Plastic-Surgery Related Experiences