Dr. Victor Samano Gynecomastia Package in Cancun, Mexico
Package price starting from:
$3300
Treatment:
Cosmetic/Plastic Surgery, Gynecomastia
Location:
Pabellon Caribe, Av Nichupte #22 1st floor suite 110, Mexico
Focus Area:
Dr. Victor Samano | Cancun | Mexico | Gynecomastia Surgery
---
Enhance Your Masculine Contour with Gynecomastia Surgery in Cancun, Mexico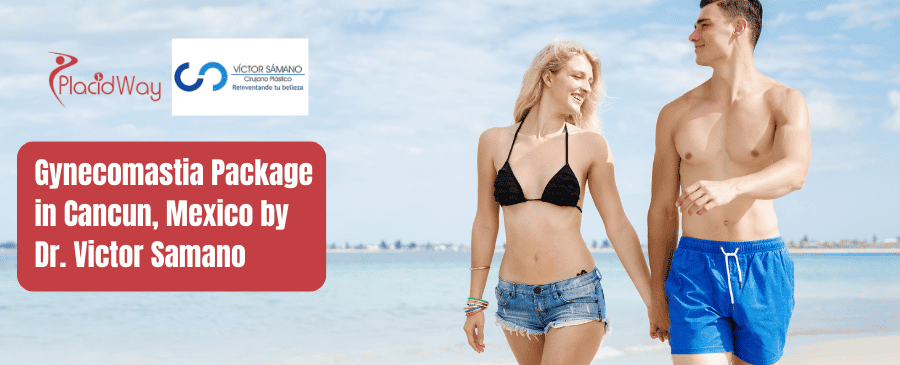 Gynecomastia, a condition characterized by the enlargement of male breast tissue, can cause physical and emotional discomfort. Dr. Victor Samano offers a comprehensive gynecomastia package in Cancun, Mexico, providing individuals with effective solutions to regain their confidence and achieve a more masculine chest appearance.
Gynecomastia affects a significant number of men worldwide and can be caused by various factors, including hormonal imbalances, obesity, medication side effects, or genetics. Dr. Victor Samano understands the impact of gynecomastia on one's self-esteem and offers specialized treatments in a state-of-the-art facility in Cancun, Mexico. Check package details below to learn more.
You can get gynecomastia package in Cancun, Mexico by Dr. Victor Samano with the price starts at $3,300. Check our price list table below to learn more:
| | |
| --- | --- |
| City, Country | Cost in USD |
| Cancun, Mexico | $3,300 |
| United States | $8,500 |
| Canada | $7,000 |
Note: price may change and vary depends on complexity of procedures and patient conditions. Click free quote button below to learn more.

Expert Surgeon: Dr. Victor Samano is a highly skilled and experienced surgeon specializing in gynecomastia procedures, ensuring optimal results and patient satisfaction.
Affordable Packages: Gynecomastia treatment packages in Cancun, Mexico offer competitive prices compared to other countries, making it a cost-effective choice for individuals seeking quality care.
Advanced Facilities: The gynecomastia package includes treatment in modern clinics equipped with the latest medical technologies and adhering to international standards.
Recovery in a Tranquil Setting: Cancun's beautiful coastal location provides a serene environment for post-treatment recovery, allowing patients to relax and rejuvenate during their healing process.
Medical Tourism Destination: Cancun is renowned for its world-class healthcare services, making it a sought-after destination for medical tourism. Patients can combine their treatment with a memorable vacation.
Dr. Victor Samano offers personalized gynecomastia procedures tailored to each patient's specific needs. The treatment typically involves the removal of excess breast tissue and sculpting the chest to achieve a more masculine contour. Techniques such as liposuction, glandular tissue excision, or a combination of both may be employed to achieve optimal results.
Gynecomastia

Certified Hospital

Use of Operation Room

Use of post-anesthesia room

Surgeon Fees

Anesthesiologist Fees

Surgical Helper Fees

Compression garment (1)

Nurse visit to your hotel/commodations for follow up (3 visits)

Airport pick up

Airport drop off

Round transportation for surgery &

Appointments

1 Box of antibiotics

1 Box of pain killers

1 Box of antinflamatory

Covid Test (required by hospital for surgery)

All follow up appointments with surgeon at office and virtual
Hotel, Flight Tickets and Travel Expenses: The package cost does not cover travel expenses, including flights, accommodation, and transportation to and from Cancun, Mexico.
Pre-Operative Tests: Certain pre-operative tests and screenings, such as blood work or ECG, are not included in the package and may be conducted separately.
Compression Garments: Patients may need to purchase compression garments separately, which aid in the healing process and provide support post-surgery.
Additional Medications: Any medications not directly related to the surgical procedure, such as pre-existing conditions or allergies, are excluded from the package.
Extended Stay: If patients choose to extend their stay beyond the designated hospital stay, additional costs for accommodation and post-operative care may apply.
Gynecomastia Surgery Pre-Op Tests
Blood Work: A comprehensive blood test is conducted to assess overall health, identify potential underlying conditions, and ensure safe surgery.
ECG: An electrocardiogram measures the electrical activity of the heart, ensuring its proper functioning and identifying any abnormalities.
Hormonal Evaluation: Hormonal levels are assessed to determine if any imbalances contribute to gynecomastia, aiding in treatment planning.
Imaging Tests: Imaging techniques like ultrasound or mammography may be performed to evaluate the extent of breast tissue enlargement and guide the surgical approach.
Medical History Review: A thorough review of the patient's medical history helps identify any underlying factors or contraindications that may affect the procedure.
Dr. Victor Samano is a highly experienced plastic surgeon in Cancun, Mexico, specializing in gynecomastia procedures. With his exceptional expertise and dedication to patient care, he has helped numerous individuals achieve their desired results and regain their confidence. Dr. Samano's advanced surgical techniques, combined with his compassionate approach, ensure optimal outcomes for patients seeking gynecomastia treatment. Whether it's addressing mild to severe cases or providing personalized treatment plans, Dr. Victor Samano is committed to delivering exceptional results and helping patients achieve a more masculine chest appearance.
Gynecomastia Surgeon in Cancun, Mexico

The Mexican Board of Plastic, Reconstructive and Aesthetic

The Ibero - Latin American Federation of Plastic Surgery

The International Society of Aesthetic Plastic Surgery
Is Gynecomastia Right for You?
Gynecomastia Severity: The treatment is suitable for individuals with enlarged breast tissue caused by gynecomastia, ranging from mild to severe cases.
Physical and Emotional Discomfort: If gynecomastia negatively affects your self-confidence, body image, or causes physical discomfort, treatment may be a suitable option.
Good General Health: Patients should be in good overall health, free from any underlying medical conditions that could pose risks during surgery or recovery.
Realistic Expectations: Understanding the potential outcomes, limitations, and risks associated with gynecomastia treatment is crucial for making an informed decision.
Consultation with Dr. Victor Samano: A personal consultation with Dr. Victor Samano will help assess your eligibility for the treatment and address any concerns or questions.
What to Expect During the Gynecomastia Surgery
Consultation: Dr. Victor Samano will conduct a thorough consultation to understand your specific concerns, evaluate your condition, and discuss treatment options.
Pre-Operative Preparations: Prior to the procedure, you will receive instructions on pre-operative care, including fasting, medication restrictions, and other necessary preparations.
Surgical Intervention: The gynecomastia procedure will be performed under anesthesia, and the specific techniques employed will depend on your individual case.
Recovery and Follow-Up: After the surgery, you will be guided through the recovery process, including post-operative care instructions and scheduled follow-up consultations to monitor progress.
1. Is gynecomastia surgery in Cancun, Mexico safe?
Yes, gynecomastia surgery in Cancun, Mexico is safe when performed by a skilled and experienced surgeon like Dr. Victor Samano. The facilities adhere to international standards and prioritize patient safety and care.
2. How long is the recovery period after gynecomastia surgery?
The recovery period can vary depending on the extent of the procedure and individual healing rates. Generally, patients can expect a recovery period of 1 to 2 weeks, during which they may experience swelling, bruising, and mild discomfort.
3. Are the gynecomastia treatment packages in Cancun all-inclusive?
The gynecomastia treatment packages in Cancun typically include the surgical procedure, anesthesia, hospital stay, post-operative medications, and follow-up consultations. However, it's important to review the package details to understand what is included and if any additional expenses may apply.
4. Will there be visible scars after gynecomastia surgery?
Dr. Victor Samano uses advanced surgical techniques to minimize scarring. Incisions are strategically placed in inconspicuous areas, and over time, the scars tend to fade and become less noticeable.
5. Can I combine my gynecomastia surgery with a vacation in Cancun?
Absolutely! Many patients choose Cancun for gynecomastia surgery because it allows them to combine their treatment with a relaxing vacation. The serene coastal setting and world-class amenities make it an ideal destination for both medical care and leisure.
Experience the life-changing benefits of Dr. Victor Samano's gynecomastia package in Cancun, Mexico. Contact PlacidWay Medical Tourism to book your consultation and embark on a journey to regain your confidence and achieve a more masculine physique. Click contact us button below for more information:

Related Experiences:
Gynecomastia Surgery in Mexico City, Mexico
Gynecomastia in Mexico
Breast Augmentation in Cancun, Mexico
Plastic Surgery in Cancun, Mexico
Rhinoplasty in Cancun, Mexico
Mommy Makeover in Cancun, Mexico
---