Detox Treatment in Viale Marconi Castrocaro, Italy - Clean 1 person 7 nights by Lucia Magnani
Package price starting from:
$6000
Treatment:
Ayurveda,Detox, Ayurvedic Cleansing and Detoxification
Location:
Via Guglielmo Marconi 14/16, 47011 – Castrocaro Terme and Terra del Sole FC, Italy
Focus Area:
Lucia Magnani | Viale Marconi Castrocaro | Italy | Detox Treatment
---
Detox Treatment in Viale Marconi Castrocaro, Italy – Clean Path 1 Person 7 Nights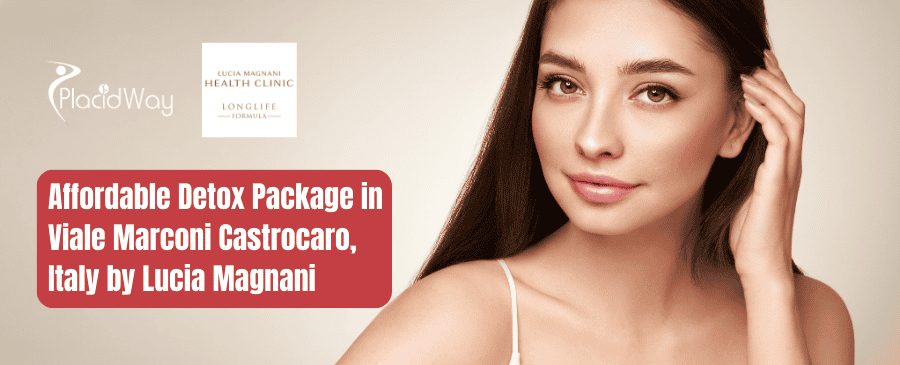 The Clean Program was conceived by our professionals and researchers to "purify" the body in a natural way and to teach guests how to manage stress, rest and eat in a balanced and correct way, avoiding excesses, recovering a healthy lifestyle and allowing a significant improvement regarding the physical appearance as well. The minerals and salts contained in our waters purify the skin, stimulate blood and lymphatic circulation, freeing the body from toxins. The detox effect will be enhanced by the use of purifying herbal teas and the elimination of unhealthy foods from the diet, as well as by a regular and targeted physical activity plan.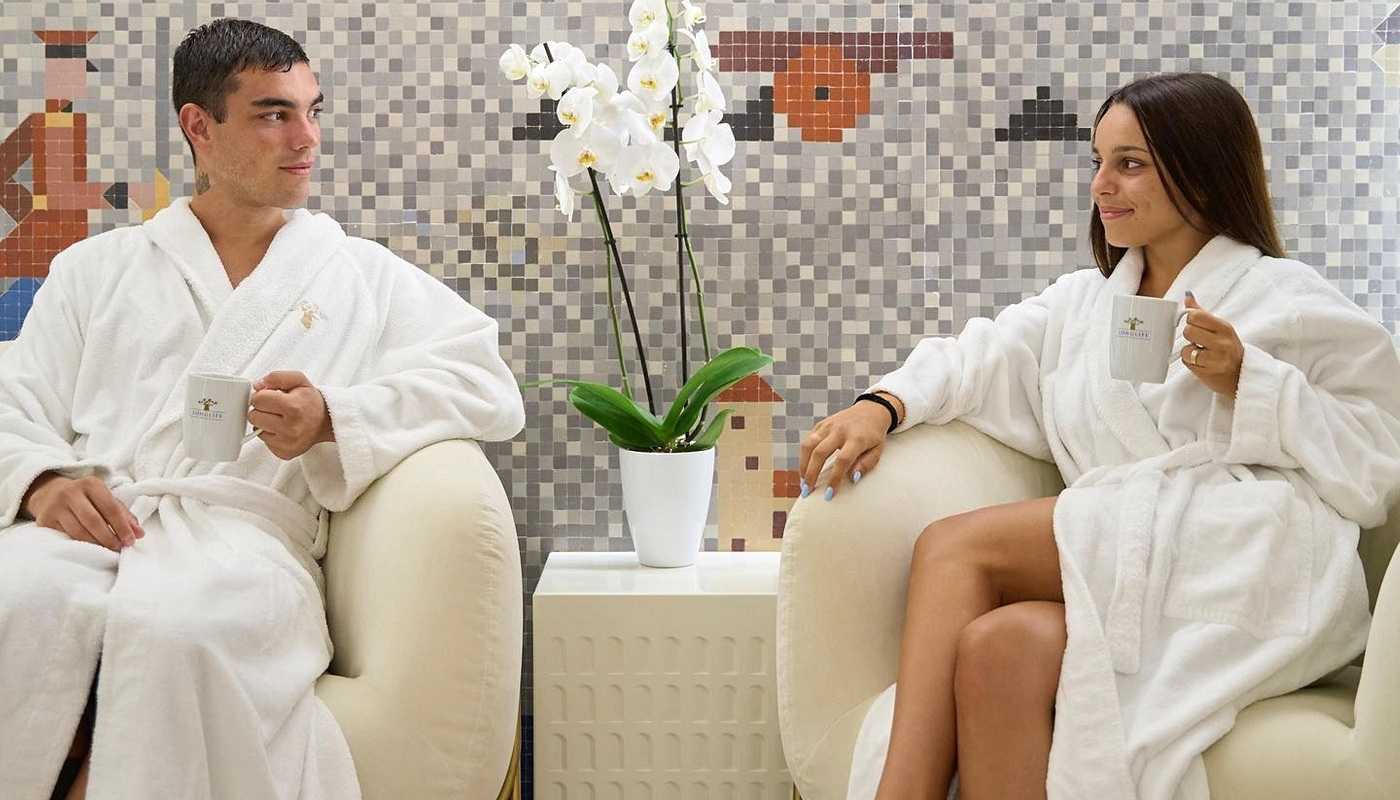 Embark on a transformative journey to rejuvenation and wellness with the affordable detox package offered in the scenic enclave of Viale Marconi 14/16 in Castrocaro, Italy. Crafted by the renowned wellness expert Lucia Magnani, this package offers a unique opportunity to cleanse your body, mind, and soul while enjoying the serene beauty of the Italian countryside. With its pristine landscapes and therapeutic atmosphere, Castrocaro provides an ideal backdrop for your detoxification experience.
Lucia Magnani, a name synonymous with holistic wellness, has curated this package to cater to those seeking a harmonious blend of detoxification, relaxation, and affordability. This article delves into the advantages of choosing this treatment, the procedures' overview, package inclusions and exclusions, medical tests, the medical professionals overseeing the treatment, suitability considerations, before and after results, and what to expect during your transformative journey.
You can get detox package in Viale Marconi Castrocaro, Italy by Lucia Magnani with the price starts at €6,000. Check our price list table below to learn more:
| | | |
| --- | --- | --- |
| Location | Procedure | Cost in USD |
| Castrocaro, Italy | Ayurveda Detox Program | €6,000 |
Note: price may change and vary depends on complexity of procedures and patient conditions. Click free quote button below to learn more.

Natural Tranquility: The picturesque setting of Viale Marconi Castrocaro offers a serene ambiance, promoting relaxation and healing. Detoxifying amidst nature's embrace enhances the rejuvenation process.
Holistic Approach: Lucia Magnani's package encompasses not only physical detoxification but also mental and emotional rejuvenation, fostering a comprehensive sense of well-being.
Expertise of Lucia Magnani: With decades of experience in the wellness industry, Lucia Magnani's guidance ensures that your detox journey is tailored to your individual needs and health goals.
Cultural Enrichment: While detoxing, immerse yourself in the rich culture of Italy. Explore nearby attractions and experience the country's renowned cuisine, adding an extra layer of satisfaction to your journey.
Affordability: This detox package presents a unique blend of affordability and quality, making the path to wellness accessible to a wider range of individuals seeking positive transformation.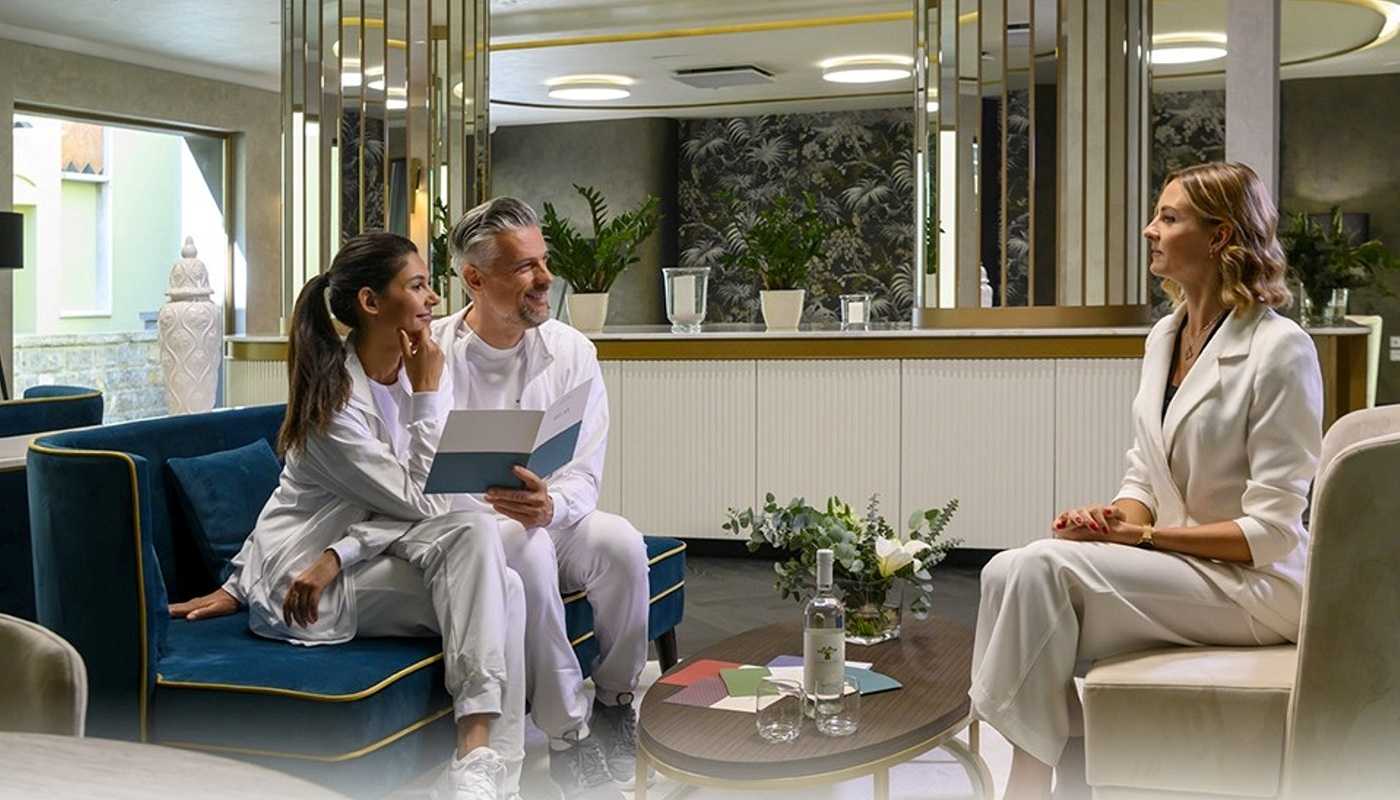 The detoxification process at Viale Marconi Castrocaro, Italy, is a comprehensive approach to rejuvenating your body and mind. Combining cutting-edge medical techniques with holistic therapies, the treatment aims to eliminate toxins, boost energy levels, and promote overall vitality. Lucia Magnani's team of experts tailors the program to individual needs, ensuring a safe and effective journey to well-being.
Details of the Program
DETOX & HEALTH CHECK UP
Advanced oxidative stress level analysis specific to Long Life Formula ® method

Specific blood chemistry lab tests

Initial and final general medical examination with thorough evaluation of the excretory organs (primarly liver) and analysis of risk factors

Full abdominal and thyroid ultrasound

ECG at rest

Colour doppler of the supra-aortic trunks

Specialistic thermal medicine consultation

Posture analysis and corrective exercises

Initial and final nutritional consultation

Personalized detoxifying and slimming diet

Physical activity plan

Personalized long term diet & fitness plan

Specialistic plan of preventive measures

+ OPTIONAL FURTHER DIAGNOSIS AND VISITS (UP TO 30 SPECIALIZATIONS)
FITNESS & HOLISTIC ACTIVITIES
Twice per day: Personal Trainings with metabolic activation, cardio-circulatory trainings focus on the tone of the abdominal muscles outdoor, in the gym or in the thermal pool.

Once per day: special detoxifying yoga sessions, meditation or pilates.

Available every morning (upon request): Shinrin Yoku in the thermal park with spiritual guide
THERMAL & BEAUTY PROCEDURES
1x Beauty Consultation with the Spa Manager 
1st day:  Thermal body shower exfoliation + Long Life formula Massage 

2nd day: Detoxifying pack with sulphurous mud + Bamboo Massage 

3rd day: Face cleaning with Silk Sonic + Toning massage

4th day:  Thermal healing mud therapy  + Abhyanga massage 

5th day:  Rectal Shower + Hydrocolontherapy + Californian massage

6th day: Thermal healing mud therapy  + Pinda Sweda Massage
ALWAYS INCLUDED
Drinking thermal water therapy for detox and better digestion,

Free access to the Health Spa with myorelaxing thermal waters, Sauna, Turkish Bath, emotional showers, Relaxing Floating Beds

Personal Long Life Angel Concierge,

Follow-up support services with doctors,

Long Life Formula final clinical dossier in Italian language (available in English and other langauges with an additional fee)
Note: ALL PRICES ARE IN EUROS
Personalized Detox Plan: Tailored to your health goals, this plan blends medical expertise and holistic practices to optimize your detoxification journey.
Accommodation: Enjoy a comfortable stay in Viale Marconi Castrocaro, surrounded by nature's beauty, contributing to the relaxation and rejuvenation process.
Nutritional Guidance: A crucial aspect of detoxification, the package includes guidance on a balanced diet, promoting sustainable lifestyle changes.
Holistic Therapies: Indulge in rejuvenating treatments like massages, yoga sessions, and meditation, enhancing both physical and mental detoxification.
Post-Detox Support: Even after completing the program, Lucia Magnani's team provides guidance to help you maintain the benefits gained from the detox journey.
Travel Expenses: The package price does not cover travel costs to and from Viale Marconi Castrocaro, Italy.
Personal Expenses: Any personal purchases or leisure activities beyond the package scope are not included.
Additional Treatments: While the package offers a holistic approach, any supplementary treatments not mentioned are excluded.
Medical Complications: In case of unforeseen medical complications, expenses related to additional medical care are excluded.
Extended Stay: If you choose to extend your stay beyond the package duration, the costs for the extended period are not covered.
Detox Treatment Pre-Op Tests
Blood Tests: Comprehensive blood analysis assesses various health markers, aiding in designing a personalized detox plan.
Medical History Review: An in-depth review of your medical history helps identify any pre-existing conditions that might impact the detox process.
Physical Examination: A thorough physical assessment ensures that the detox plan aligns with your current health status.
Body Composition Analysis: This test provides insights into your body's composition, aiding in tailoring the detox program to your unique needs.
Nutritional Assessment: Evaluating your dietary habits helps in formulating nutritional recommendations for the detox journey.
The detox program at Viale Marconi Castrocaro is overseen by a team of skilled medical professionals led by Lucia Magnani. With years of experience in the field of wellness and holistic health, Lucia Magnani ensures that the detox journey is guided by a knowledgeable and compassionate team. Their expertise guarantees a safe and effective experience, focusing on your well-being every step of the way.
Best Doctor in Viale Marconi Castrocaro, Italy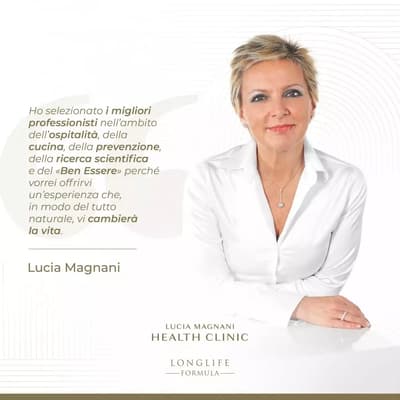 Lucia Magnani
Led by CEO, Dr. Lucia Magnani, the team's scientific expertise and personalized care ensure effective solutions for your beauty goals. Experience exceptional results and renewed confidence with Lucia Magnani Health Clinic's trusted skin care professionals.
Is Detox Treatment Right for You?
Medical Assessment: Before embarking on the detox journey, a thorough medical assessment helps determine if the treatment aligns with your health status.
Health Goals: If your goals include revitalization, improved energy levels, and overall well-being, this detox package could be an excellent fit.
Open Mindset: Having an open mindset towards holistic wellness practices enhances the benefits gained from the treatment.
Commitment: The detox journey requires commitment to dietary guidelines, therapies, and lifestyle changes for optimal results.
Consultation with Experts: A consultation with the medical team helps assess your suitability and address any concerns.
1. Is the detox treatment in Viale Marconi Castrocaro, Italy, suitable for everyone?
The treatment is personalized to individual health needs, ensuring safety and effectiveness for most participants.
2. What makes Viale Marconi Castrocaro an ideal location for detoxification?
The serene Italian countryside provides a tranquil environment that enhances relaxation and promotes overall well-being.
3. How long does the detox program usually last?
The duration varies based on individual goals, typically ranging from one to two weeks for comprehensive results.
4. Are there medical professionals overseeing the detox program?
Yes, a team of experienced medical professionals led by Lucia Magnani guides and supervises the entire detox process.
5. Can I extend my stay beyond the package duration?
Yes, you can extend your stay, but costs for the extended period would not be covered by the initial package.
Begin your transformative journey to wellness today. Book your consultation with PlacidWay Medical Tourism and discover the rejuvenating effects of the affordable detox package in Viale Marconi Castrocaro, Italy, curated by Lucia Magnani. Reclaim your vitality, cleanse your body, and embrace a renewed sense of well-being amidst the beauty of the Italian countryside. Don't miss the chance to embark on this transformative journey toward a healthier and more vibrant you. Book your consultation today and step into a new chapter of wellness at PlacidWay!

Related Experiences:
Ayurveda in Italy
Ayurvedic Wellness Resorts in India
---