Lucia Magnani Health Clinic
Best Skin Care & Anti-Aging Clinic in Viale Marconi Castrocaro, Italy by Lucia Magnani
Via Guglielmo Marconi 14/16, 47011 – Castrocaro Terme and Terra del Sole FC, Viale Marconi Castrocaro 47011, Italy

Specialty:

Anti Aging, Ayurveda, Detox, Medical Spa Treatment, Rehabilitation and Medical Spa Treatment, Skin Care, Weight Loss Program, Yoga/Meditation

Focus Area:

Lucia Magnani Health | Viale Marconi Castrocaro Italy | Skin Care | Anti-Aging | Spa | Ayurveda
Lucia Magnani Health Clinic Profile Overview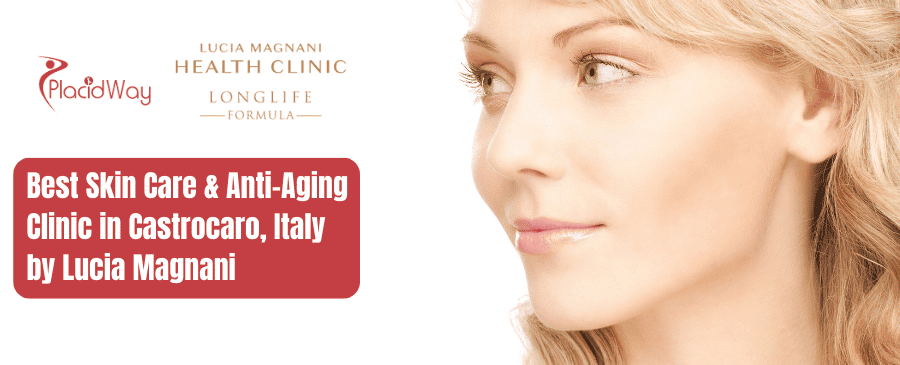 Table of Content
• Procedures • Advantages • Doctors • How to Book
Expert Anti-Aging Solutions in Viale Marconi Castrocaro, Italy
At Lucia Magnani Health Clinic in Castrocaro, Italy, you'll find expert anti-aging solutions that are tailored to meet your unique needs. With over 40 years of experience in the field of anti-aging, the clinic's renowned laboratory, led by Dr. Lucia Magnani and her team of researchers, has developed innovative treatments and protocols to address the signs of aging effectively. From regenerative medicine to preventive dermatology and aesthetic procedures, the clinic offers a comprehensive range of advanced therapies. Whether you're seeking wrinkle reduction, skin rejuvenation, or age-defying treatments, you can trust the expertise and experience of Lucia Magnani Health Clinic to help you achieve your desired results.
You'll be in the hands of trusted skin care experts at Lucia Magnani Health Clinic, who are dedicated to helping you achieve your beauty goals. Led by CEO, Dr. Lucia Magnani, the clinic's team of experienced professionals combines scientific knowledge, advanced techniques, and a deep understanding of skin health to provide personalized care. With their guidance, you can expect tailored recommendations, effective treatments, and ongoing support to enhance your skin's appearance and overall well-being. Trust the expertise of Lucia Magnani Health Clinic to deliver exceptional results and a renewed sense of confidence.
Personalized Beauty Programs
Unlock your true beauty potential with personalized beauty programs at Lucia Magnani Health Clinic. Their team of experts understands that each individual has unique skin concerns and goals. That's why they offer personalized programs that combine various treatments and therapies to address your specific needs. Through a comprehensive consultation, the clinic's professionals will assess your skin condition and develop a customized plan to target your concerns effectively. Whether you're seeking anti-aging solutions, skin rejuvenation, or overall wellness, their personalized beauty programs will guide you towards achieving your desired results, ensuring you feel confident and radiant.
Experience the cutting-edge of anti-aging and skincare treatments at Lucia Magnani Health Clinic in Castrocaro, Italy. The clinic offers a comprehensive range of aesthetic medicine services, including facial and body treatments, massages, beauty therapies, and exclusive Lucia Magnani treatments. Using state-of-the-art technology and proven techniques, their highly skilled professionals will help you achieve a youthful and radiant appearance. Whether you're looking to reduce wrinkles, improve skin texture, or enhance your overall well-being, the clinic's advanced treatments are designed to deliver exceptional results, tailored to your specific needs.
Lucia Magnani Health Clinic stays at the forefront of advancements in skincare technology, offering you access to the latest innovations. By utilizing cutting-edge technology, such as advanced laser systems, non-invasive rejuvenation devices, and state-of-the-art diagnostic tools, the clinic delivers precise and effective treatments. Their commitment to staying abreast of technological advancements ensures that you receive the most advanced and efficient solutions for your skincare needs. Experience the transformative power of cutting-edge technology at Lucia Magnani Health Clinic and enjoy remarkable results.
Reveal Your Youthful Glow
Rediscover your youthful glow at Lucia Magnani Health Clinic. With their extensive knowledge and expertise in anti-aging and skincare, the clinic's professionals are dedicated to helping you achieve a radiant and rejuvenated appearance. Through a combination of specialized treatments, tailored skincare regimens, and lifestyle recommendations, they will work closely with you to enhance your natural beauty. Whether you're concerned about fine lines, sagging skin, or dull complexion, the clinic's rejuvenation techniques and personalized care will leave you with a youthful glow that radiates from within.
Luxurious Rejuvenation Experience
Indulge in a luxurious ayurveda experience in Castrocaro, Italy at LuciaMagnani Health Clinic. From the moment you step into the clinic, you'll be greeted by a serene and inviting atmosphere designed to enhance your relaxation and well-being. Their team of dedicated professionals will provide you with the highest level of care, ensuring that every aspect of your experience is exceptional. From the luxurious treatment rooms to the personalized attention you receive, every detail is thoughtfully curated to create a rejuvenating and pampering journey. Whether you're seeking anti-aging treatments, skin rejuvenation, or simply a moment of self-care, the luxurious experience at Lucia Magnani Health Clinic will leave you feeling refreshed, revitalized, and ready to embrace your natural beauty.
Our customer representative at PlacidWay will help you connect with skin care and anti-aging clinic in Castrocaro, Italy by Lucia Magnani. Click contact us button below to get started:

---
---