Masseria San Domenico
Beauty SPA in Italy, Masseria San Domenico, SPA, Beauty, Italy Holistic Wellbeing, Savelletri di Fasano, State-of-the-art Thalassotherapy Spa, Holistic Well-being

Strada Proviciale 90 - 72015 Savelletri di Fasano (Brindisi) Italy, Savelletri di Fasano, Italy

Specialty:

Alternative Medicine, Anti Aging, Medical Spa Treatment, Rehabilitation and Medical Spa Treatment, Skin Care, Weight Loss Program, Yoga/Meditation

Focus Area:

Masseria San Domenico | SPA | Beauty | Holistic Wellbeing | Savelletri di Fasano | Italy | State-of-the-art Thalassotherapy Spa
Masseria San Domenico Profile Overview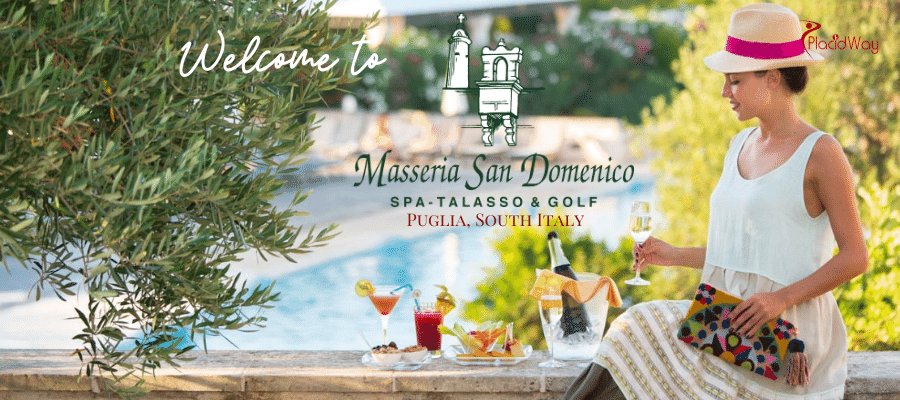 Masseria San Domenico – Thalassotherapy and Mediterranean Diet in Puglia, South Italy
Masseria San Domenico is an authentic quiet retreat: the fortified building provides complete privacy, peace and relax, a special privilege just like Nowhere Else supported by a personal service and first class facilities. The mission of Masseria San Domenico is to promote a healthy, happy and sustainable lifestyle, inspired by the healing benefits of the Mediterranean diet, the essential elements of the thalassotherapy and the beneficial properties of the olive oil.
In the SPA Thalasso, the thalassotherapy with its long tradition is at the basis of the wellbeing services. Since ancient times the use of seawater was known as the primary source of purification for the organism. The mineral richness and abundance of oligo-elements help to relieve your body and mind. A gorgeous Thalasso pool is the hearth of the Spa area, and 8 cabins for Thalasso Treatments are at disposal for very effective thalasso treatments.
The Mediterranean diet is also a pillar in the wellbeing offer at Masseria San Domenico. The Mediterranean diet goes beyond the counting of calories and it overthrows the concept of diet as privation and sacrifice, promoting instead the physical and psychological wellbeing of the person. The olive trees, which we produce our olive oil from, are all around the property and give an important contribution in creating an authentic wellbeing experience for our Guests.
Programs
THALASSO Programs: beauty and wellbeing from the beneficial properties of the sea;

MEDITERRANEAN REMISE EN FORME: inspired by the healing benefits of the Mediterranean lifestyle and its natural ele-ments, combining fitness and holistic activities, nutrition guidance, equipment based treatments and manual techniques to help you look and feel your best;

Other beauty and wellbeing programs available, to reconnect your body and soul.
If you want to know more about Masseria San Domenico or want to request for any information, just click the contact tab below!

---
---
Alternative-Medicine Related Packages