Mini Gastric Bypass in Tijuana, Mexico by Maytorena
Package price starting from:
$5000
Treatment:
Obesity/Bariatric Surgery, Mini Gastric Bypass
Location:
MedSuites-New City Medical Plaza Ave. Paseo del Centenario 9580 Piso 25, Zona Urbana Rio Tijuana Tijuana, B.C., Mexico
Focus Area:
Dr Jorge Maytorena | Tijuana | Mexico | Mini Gastric Bypass Surgery
---
Mini Gastric Bypass in Tijuana, Mexico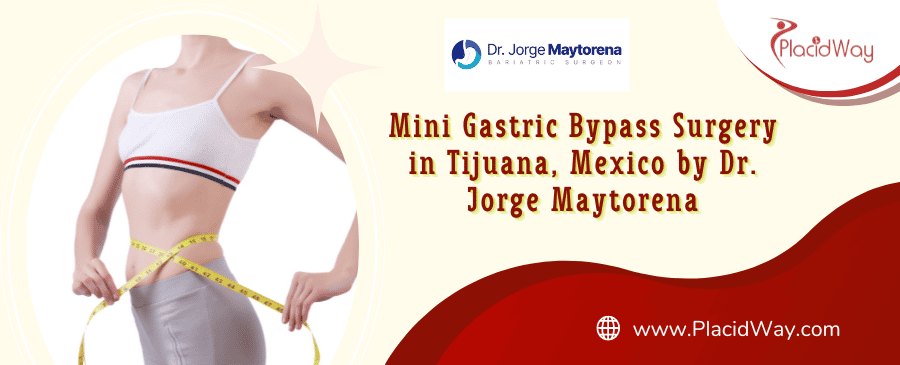 Discover the Affordable Mini Gastric Bypass Package in Tijuana, Mexico by Maytorena Are you ready to take control of your health and unlock a brighter, healthier future? Look no further than Maytorena, your trusted partner in affordable and effective medical solutions. If you're considering mini gastric bypass surgery, Tijuana, Mexico is the destination that offers not only top-notch medical facilities but also cost-effective packages tailored to your needs. At Maytorena, we understand that weight loss can be a challenging journey, and we're here to make it easier for you.
Our team of highly skilled surgeons and dedicated medical professionals will guide you through each step of the process, ensuring your safety and satisfaction. With our affordable mini gastric bypass package in Tijuana, Mexico, you can achieve your weight loss goals without breaking the bank. We prioritize your well-being, offering comprehensive pre and post-operative care to ensure optimal results. Don't let financial constraints hold you back from the life-changing benefits of mini gastric bypass surgery. Contact  Dr. Jorge Maytorena today and unlock a healthier future.
You can get mini gastric bypass surgery in Tijuana, Mexico by Dr. Jorge Maytorena with the price starts at $5,000. Check our price list table below to learn more:
| | |
| --- | --- |
| City, Country | Procedures |
| Tijuana, Mexico | $5,000 |
| Canada | $20,000 |
| United States | $16,000 |
Note: price may change and vary depends on patient condition and complexity of the procedures. Click free quote button below to learn more:

A mini gastric bypass is a less invasive alternative to standard gastric bypass; but produces similar results. This procedure is performed laparoscopically, meaning the surgeon works through several small incisions and uses a tiny camera (called a laparoscope) and a television screen to guide special instruments through the incisions.
After the bariatric patient has appropriately prepared for surgery, the surgeon creates a narrow tube (as opposed to the pouch in a standard bypass surgery) and separates the remaining stomach with staples or stitches. The tube is connected directly to the jejunum (lower intestines), approximately six feet from the starting point.
This connection bypasses the upper portion of the small intestine (the duodenum) where the body absorbs most of the food's nutrients. When the patient consumes a meal, the food goes directly from the tube to the lower portion of the small intestines. The rest of the stomach is sealed so food is not able to enter it.
Perhaps the most important benefit of mini gastric bypass is the decreased risk of co-morbidities, or conditions that are caused by morbid obesity. Once a patient undergoes a mini gastric bypass procedure and loses excess weight, he or she may experience relief from symptoms associated with obesity-related health conditions, such as diabetes, sleep apnea, arthritic pain, high blood pressure, and edema.
The procedure itself is performed in less time than traditional gastric bypass surgery, typically taking no more than an hour. Since the surgeon does not conduct mini gastric bypass surgery through one large incision, there is a lower risk of post-surgery complications.  Patients are typically released from the hospital after 48 hours and have a shorter recovery period than patients who undergo traditional gastric bypass surgery.
Free transportation (From Yuma, Arizona airport next to San Diego Airport to the hospital and back to the airport)

Hospital Fees

Pre-Operatory Tests

Nutritional Evaluation

Gastric Lap Band Procedure

Surgeon's Fees

Anesthesiologist Fees

Hospital stays for patient and one companion with access to meals, bathroom, TV and wireless internet.
Note: For proper follow-up, Dr. Maytorena prefers for the patient to stay at the hospital and not at a hotel. This procedure requires more follow-up than the other surgeries.
Airfare: Mini gastric bypass surgery packages do not include airfare. Patients must arrange their own transportation to and from Tijuana.
Accommodation: The package does not cover the cost of accommodation during the patient's stay in Tijuana.
Medical Complications: The package does not cover the cost of additional medical treatment in case of any complications during or after the surgery.
Medications: The package does not include the cost of medications prescribed by the surgeon.
Diagnostic Tests: Some pre-op diagnostic tests may not be covered by the package, such as a sleep study, ECG, or pulmonary function test.
Mini Gastric Bypass Surgery Pre-Op Tests:
Blood Tests: A complete blood count (CBC) and comprehensive metabolic panel (CMP) are required to check for any abnormalities.
Imaging Tests: An abdominal ultrasound and chest x-ray are necessary to check for any underlying conditions.
Psychological Evaluation: A psychological evaluation is required to assess the patient's mental health and readiness for surgery.
Nutrition Assessment: A nutrition assessment is required to evaluate the patient's diet and recommend any changes before and after surgery.
Endoscopy: An upper endoscopy is required to examine the stomach and esophagus and identify any abnormalities that may affect the surgery.
Note: The length of stay for this procedure is as follows; you have your Mini-Gastric Bypass Procedure done on day of arrival to the hospital, you stay the next two days and are released on the fourth day
1. Dr. Jorge Maytorena
Dr. Jorge Maytorena is a distinguished obesity surgeon located in Tijuana, Mexico, renowned for his exceptional qualifications and expertise in the field. With an impressive track record of successful surgeries and a commitment to improving patients' lives, Dr. Maytorena has become a trusted figure in the realm of bariatric surgery. His comprehensive understanding of the complexities of obesity, combined with his compassionate approach towards patient care, sets him apart as a highly sought-after professional. Dr. Maytorena's dedication to staying abreast of the latest advancements in obesity treatment underscores his commitment to delivering the highest standard of surgical care, making him a respected and proficient obesity surgeon in Tijuana and beyond.
Best Obesity Surgeon in Tijuana, Mexico

 

Graduated from the UABC, Faculty of Medicine at Mexicali, Baja California, Mexico (1994-1999).

Intership at IMSS Mexicali (1999-2000). Advanced Laparoscopic Training in the Mexican Society of  Endoscopic surgery at Tijuana, Baja California (2006).

Sleeve gastrectomy Training at the Mexican College of Metabolic and Obesity. Fellowship in Gastric Banding by inamed Lap Band.

Allergan (inamed) Certified surgeon.

Gastric Bypass and Metabolic Surgery Fellowship in the San Camilo Hospital at Sao Paulo, Brazil.

Member of the College of General surgeons at Mexicali, Baja California

Certified by the Mexican Board of General surgeons.
Why Choose Obesity Surgery in Tijuana, Mexico?
Tijuana, Mexico offers a wide range of medical procedures, including weight loss surgery, at affordable prices. Dr. Jorge Maytorena is a highly experienced surgeon who provides personalized care to his patients. The city has modern and well-equipped hospitals that offer high-quality medical care. Patients can also enjoy their recovery time by exploring the city's attractions and beautiful surroundings.
How Mini Gastric Bypass Surgery Different from other Weight Loss Surgeries?
Mini Gastric Bypass Surgery is a minimally invasive weight loss surgery that involves creating a small stomach pouch and rerouting the small intestine to this new pouch. This restricts the amount of food a patient can eat and reduces the amount of calories and nutrients that are absorbed by the body. It differs from other weight loss surgeries like gastric bypass, as it only involves one anastomosis (connection between the stomach and small intestine) instead of two.
How long does Mini Gastric Bypass Surgery take, and what is the recovery time?
The procedure usually takes between 60 and 90 minutes to complete. Patients typically spend one or two nights in the hospital before being discharged to recover at home. Most people can return to work within two weeks, but full recovery can take several weeks or months, depending on individual circumstances.
What are the potential risks and complications of Mini Gastric Bypass Surgery?
Like any surgical procedure, Mini Gastric Bypass Surgery carries some risks and potential complications. These include bleeding, infection, blood clots, and leaks from the new stomach pouch. Patients may also experience dumping syndrome (nausea, sweating, diarrhea) if they eat foods that are high in sugar or fat.
Who is a suitable candidate for Mini Gastric Bypass Surgery?
Mini Gastric Bypass Surgery is generally recommended for individuals who have a body mass index (BMI) of 40 or higher, or those with a BMI between 30 and 40 who have significant obesity-related health problems, such as diabetes or high blood pressure. Candidates must also be committed to making significant lifestyle changes, such as adopting a healthy diet and engaging in regular exercise, both before and after the surgery.
If you are considering mini gastric bypass surgery in Tijuana, Mexico, book your consultation at PlacidWay Medical Tourism today. Our team of experts will help you plan your trip and provide you with all the necessary information about the procedure and the package. We will also assist you with travel arrangements and accommodation, making your medical tourism journey hassle-free and comfortable.

Related Experiences:
Mini Gastric Bypass in Mexico
Mini Gastric Bypass in Latin America
Duodenal Switch Surgery in Tijuana Mexico
LAP-band Surgery in Tijuana Mexico
Bariatric Surgery in Tijuana, Mexico
Gastric Balloon in Tijuana, Mexico
---