Deniz Ozgur Sucu Plastic Surgery Clinic
Burn Treatments, Skin Tumor Removal, Filling, Eyelid Surgery, Nose procedure, Face Lift, Neck Lift, Tummy Tuck, Breast Augmentation, Gynecomastia, Antalya, Turkey
Guzeloba Mah. 2246 Sok. No:9 07230 Muratpasa , Antalya, Turkey

Specialty:

Anti Aging, Cosmetic/Plastic Surgery, Skin Care

Focus Area:

Burn Treatments | Skin Tumor Removal | Filling | Eyelid surgery | Nose Procedure | Face Lift | Neck Lift | Tummy Tuck | Breast Augmentation | Gynecomastia | Antalya, Turkey
Deniz Ozgur Sucu Plastic Surgery Clinic Profile Overview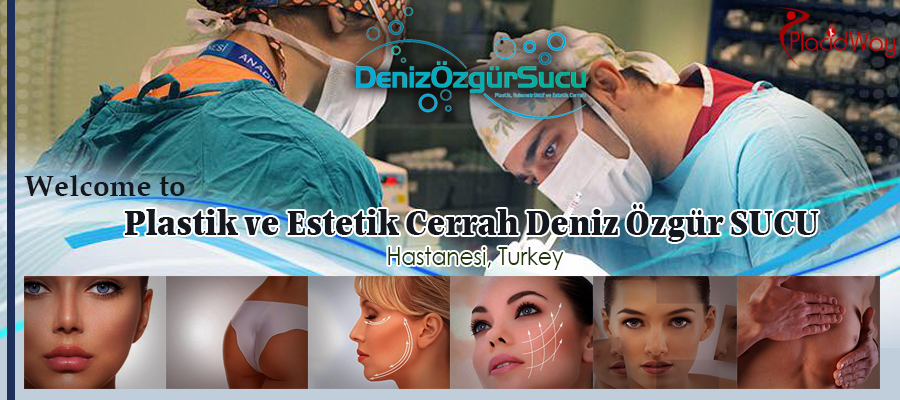 Welcome to Deniz Ozgur Sucu Plastic Surgery Clinic
Deniz Ozgur Sucu Plastic Surgery Clinic is a boutique aesthetic clinic located in Antalya which is the best touristic city in Turkey. It was founded by MD. Deniz Ozgur SUCU who is an experienced Plastic, Reconstructive and Aesthetic Surgeon. Deniz Ozgur Sucu Plastic Surgery Clinic offers personalized plastic and cosmetic surgery and treatments to meet the patients' expectations and reach a successful outcome.
Op. Dr. Deniz Ozgur Sucuwas trained in plastic, reconstructive and aesthetic surgery at the Şişli Eftal Education and Research Hospital, Istanbul. During his training he joined a lot of national and international trainings, seminars and congresses.
Treatments and procedures
Burn treatments
Skin tumor removal
Filling
Eyelid surgery
Nose procedure
Face lift
Neck lift
Tummy tuck
Breast augmentation
Gynecomastia
For more information about the treatments and procedures offered by Deniz Ozgur Sucu Plastic Surgery Clinic, please contact us!

---
---
Anti-Aging Related Packages