P P Maniya Hospital
Children's Super Specialty Hospital in Surat India
, Surat, India

Specialty:

Cancer Treatment, Fertility Treatment, Gynecology Treatment, Laparoscopic Surgery, Pediatric Treatment, Spine Care/Surgery

Focus Area:

Children's Super Specialty Hospital | Maternity Home | Laparoscopy | Test Tube Baby | Fertility Treatment | Gynecology Treatment | Surat | India
P P Maniya Hospital Profile Overview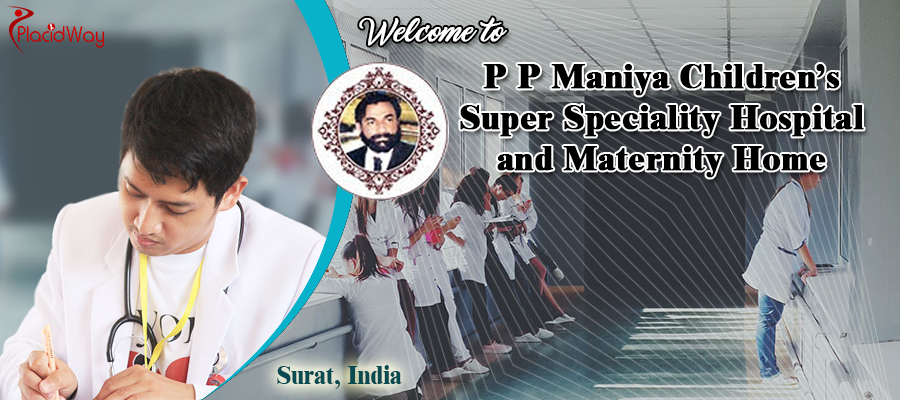 P P Maniya Hospital- Children's Super Speciality, Maternity Home, Laparoscopy & Test Tube Baby Center in Surat, India
P P Maniya Hospital is a top-notch children's super specialty hospital and maternity home that also serves as a complete laparoscopy and Test Tube baby center in Surat, India. The hospital is technologically well-equipped including every modern facility for perfect care of maternity and female diseases along with pediatric treatment at one place. With the best of doctors, 24x7 emergency, laboratory, medical store and ambulance, the hospital features everything that one looks for in a modern top-rated hospital.
The hospital features a department of newborn infant and child and a department of household and gynecology. The newborn infant and child section takes care of children from birth to the 18-year-old kids. The household and gynecology section offers new technology-equipped convenience and advance facility delivery house and operation theater. Take a look at some of the important services that P P Maniya Hospital provides.
Treatments and Services:
Children's Emergency Treatment 24*7

Different ICUs for Children (Level II PICU) and Glass box (Level II NICU) facilities for Newborn baby

Normal delivery, painless delivery, instrumental delivery (vacuum and forceps), seizerian delivery facility

Diagnosis and treatment of all types of diseases related to women.

Advance laparoscopy and histroscopy (telescopic) operation

Infertility prevention (infertility center) and

Artificial insemination (IUI)

Children's heartbeat (Fetal Monitoring) measurement facility, etc.
To learn more about the treatments and services provided by the hospital, click the button below:

---
Reviews
SAGAR

Best Service Provide by Both Doctors Nice Place for Child and Women.......

Google

Jul 05 2019

Kaushik

Very good ambience and facility and prompt service of doctors 24 by 7

Google

Jun 01 2019

Heli

One of the best pediatrician in surat .excellent service and staff....would recommend to parents for child treatment

Google

May 09 2020
---
Cancer-Treatment Related Packages