Elegance-The Surat Hair and Cosmetic Laser Clinic
Affordable Clinic for Skin Care and Hair Restoration Solutions in Surat India
203 205 Trinity Business Park, Madhuvan Circle, L P Savani Road, Adajan, Surat 395009 Surat, Surat, India

Specialty:

Anti Aging, Cosmetic/Plastic Surgery, Hair Transplantation, Skin Care

Focus Area:

Elegance | Skin Care | Plastic Surgery | Aesthetic Treatments | Hair Transplant | Liposuction | Sex Change | Gynecomastia | Botox | Fillers
Elegance-The Surat Hair and Cosmetic Laser Clinic Profile Overview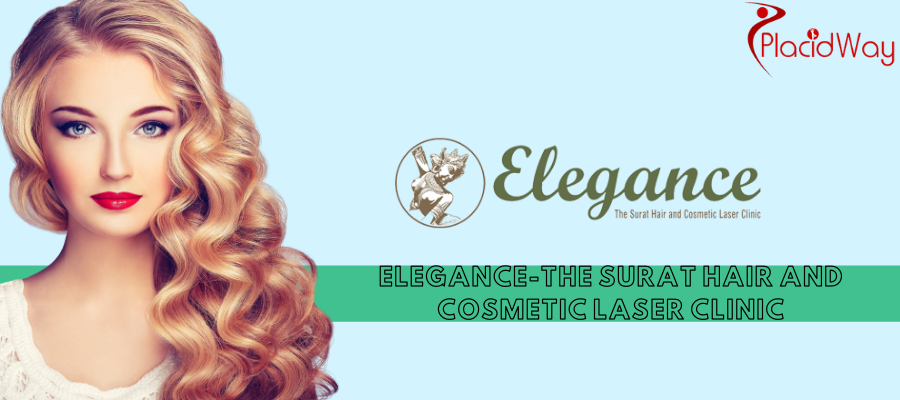 Elegance - Cosmetic and Aesthetic Surgery in Surat, India
Cosmetic procedures have become globally popular in recent years and India has numerous positive contributions in modern medical science. Nowadays, people can find affordable clinics to get world-class treatment in India. Skin and hair problems are very common and Elegance-The Surat Hair and Cosmetic Laser Clinic aims to offer the highest convenience to the patients.
The clinic offers multiple cosmetic and plastic surgery treatments like body procedures, skincare procedures, male procedures, breast procedures or face procedures. They provide affordable treatment packages for both local and foreign patients.
The clinic has set a benchmark with robotic hair transplants done by a board-certified cosmetic plastic surgeon. Hair loss or skin problems can negatively affect personal lives and cosmetic procedures can dramatically boost your confidence.
Elegance Clinic from past 6 years is providing a vast number of Cosmetic and Plastic surgery treatments in Surat and India. Elegance Clinic–that's the Dream of Dr. Ashutosh Shah, eminent plastic nursing associate and Surat surgeon. It is the one and only clinic in Surat and South Gujarat, which offers total cosmetic facilities below one roof.
Dr. Ashutosh Shah established his cosmetic and plastic surgery practice in 2004. Dr. Ashutosh Shah attended Baroda Medical College in 1992. After graduation, he completed General Surgery Training in 2001. Then he decided to go for super-specialty training in Plastic surgery and received hisM.Ch. degree from The M S University of Baroda in 2004. During his residency, he was exposed to all types of plastic surgeries. He also received a national diplomate degree in Plastic Surgery of DNB in 2006.
Such specialty training and experience provided him an unparalleled foundation to become a well-versed plastic surgeon. He also received his Microvascular training in Well known Ganga Hospital, Coimbatore. He also received basic informal training of reconstructive surgery from Ganga Hospital, Coimbatore, and Cosmetic surgery in Apollo Hospital, Chennai. His degrees are well recognized and he is a registered Board-certified cosmetic plastic surgeon with the Medical Council of India.
The team of doctors and assistants are so well trained that they can make your cosmetic journey beautiful. They are ready to help anytime. You can better experience this by visiting the clinic or by searching google reviews of the clinic.
Treatments and Procedures offered by Elegance in Surat, India:
Genital Aesthetics

Botox Fillers

Breast Cosmetic surgery

Circumcision

Face makeover

Gynecomastia

Hair Transplant

Keloid

Laser for Beauty

Liposuction

Post-Bariatric Surgery

Rhinoplasty

Sex Change Operation

Varicose veins
To know more about the treatments and services, please click below.

---
---
Reviews
Raj

Good n convenient treatment kind n helpful nature of doctor n staff

Google

Jun 04 2021

Ravisagar

Dr Ashutosh is an excellent person in himself. Hus nature and attitude towards patients is so empathetic , that half of the healing occurs just by his consultation. I had a wart in scalp . he removed that without placing a cut on my scalp , and now I m fine. I am highly satisfied from his professional behavior
All the beat to him for future

Google

May 16 2021

Chhatrajit

Had surgery under Dr Ashutosh Sharma , it was excellent experience, everything went smoothly, nature of staff and doctor was good , well mannered and skillful in handling every situation with utmost care .

Google

Apr 15 2021
---
Anti-Aging Related Packages