Istanbul Bariatric Center
IBC – Top Bariatric Surgery Center in Istanbul, Turkey
Terrace Fulya Residence Center 1 No:11 K:12 D:64 Tesvikiye Mah. Hakki Yeten Cad. Sisli, Istanbul, Turkey, Istanbul, Turkey

Specialty:

ENT, General Surgery, Laparoscopic Surgery, Obesity/Bariatric Surgery, Weight Loss Program

Focus Area:

Istanbul Bariatric Center | Istanbul | Turkey | Sleeve Gastrectomy | Mini Gastric Bypass | Intragastric Balloon | Post Bariatric Surgeries | Transit Bipartition
Istanbul Bariatric Center Profile Overview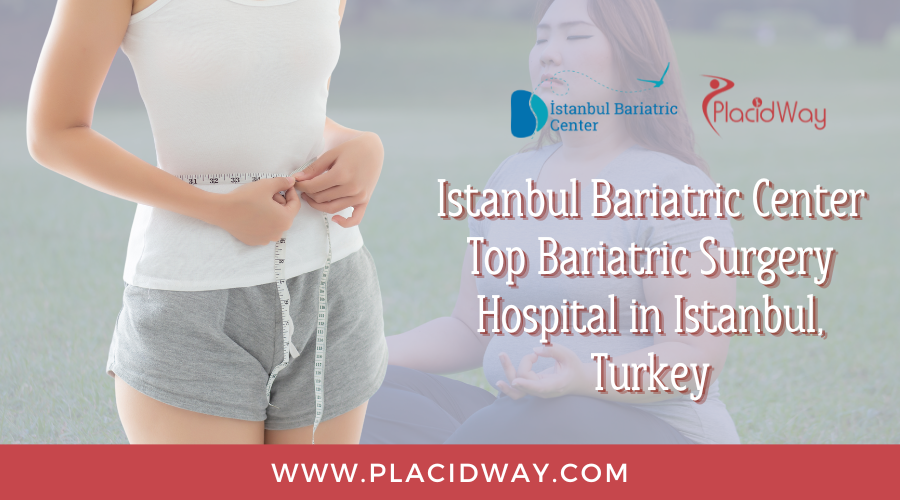 Istanbul Bariatric Center is a reputable hospital in Istanbul, Turkey. The experienced medical team provides high-quality services for Gastric Sleeve, Gastric Balloon, Gastric Bypass, Transit Bipartition, and more. Welcome to IBC, the top bariatric surgery center in Istanbul, Turkey! You'll have a lovely experience from start to end – no matter how much you eat. Our fully-formed hospital is JCI accredited and you'll be provided with 5 days accommodation at one of Istanbul's luxury hotels.
Plus, we offer free airport pickup for your convenience! What more could you want? At IBC, you get the best value for your money starting from $4,390. We also guarantee that our facilities are fully-equipped and JCI accredited so you can trust that your treatment has been given only the best care. And while your treatment goes on, why not relax and enjoy the beauty of Istanbul with our luxury stays?
So come visit us at bariatric surgery clinics in Istanbul, Turkey IBC and get ready for a weight loss journey – both in terms of your treatment and the vacation! Professional and helpful staff in IBC is available 7/24 to help you out with anything you may need.
Clinic Name: Istanbul Bariatric Center
Procedure: Bariatric Surgery
Location: Istanbul, Turkey
Doctor: Dr. Murat Ustun, Dr. Bora Koc, and Dr. Buse Capkinoglu
If you're looking to slim down your wallet along with those pesky extra pounds, look no further than the Istanbul Bariatric Center! This hospital offer bariatric surgery at a fraction of the cost compared to other facilities around the world. For more information about cost of bariatric surgery in Istanbul, Turkey at IBC, click contact us button below:

Before and After Images for Weight Loss Surgery in Istanbul, Turkey
Check below images about before and after bariatric surgery in Istanbul, Turkey at IBC: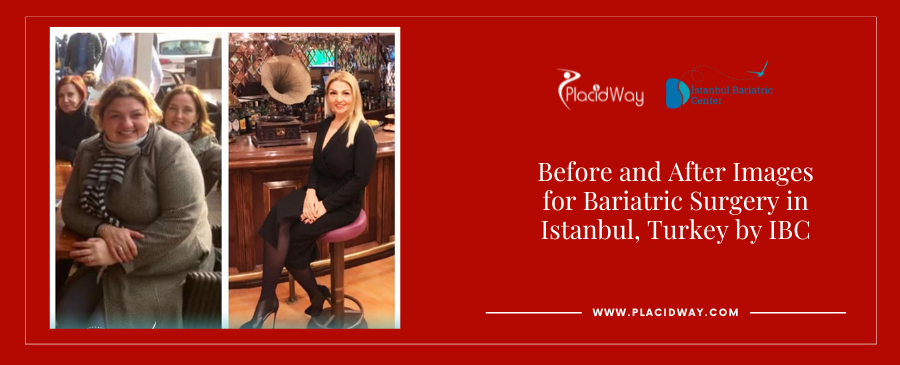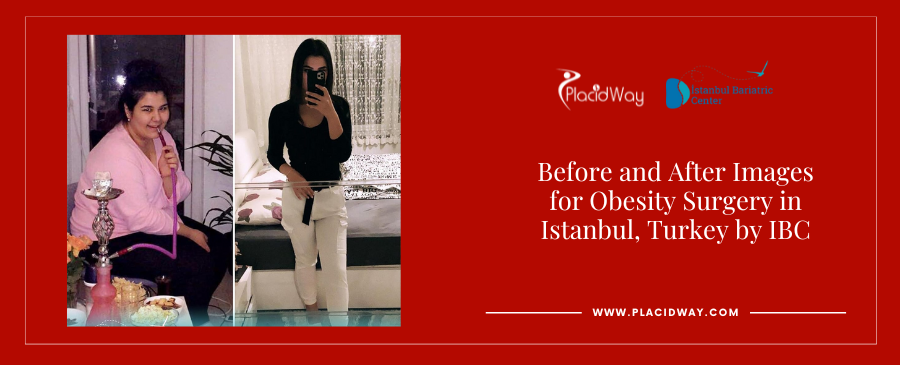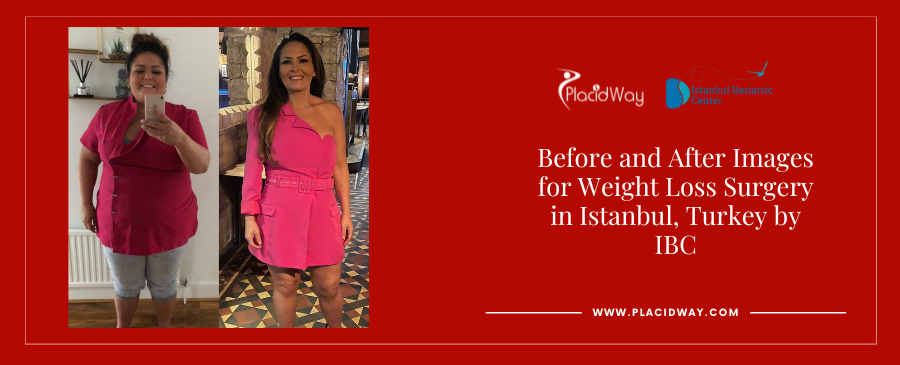 FAQs about Bariatric Surgery in Istanbul, Turkey
Check below frequently asked questions about WLS in Istanbul, Turkey:
Who is eligible for bariatric surgery in Istanbul, Turkey?
Generally speaking, most people over 18 years of age with a BMI (body mass index) greater than 40 are eligible for bariatric surgery in Istanbul. However, the exact criteria can vary from clinic to clinic so it is best to consult your doctor for more details. Most clinics also require that the patient has tried and failed to achieve weight loss through conventional methods such as diet and exercise. Additionally, some clinics may require psychological evaluations to ensure the patient is psychologically fit for surgery.
Why bariatric surgery is the best option for loss weight?
Bariatric surgery, also known as weight-loss surgery, is medical procedures designed to help individuals who are morbidly obese lose weight and improve their overall health. It involves reducing the stomach size through surgical means and may include other types of procedures, such as gastric bypass, gastric sleeve, and more!
What questions to ask with surgeon before having bariatric surgery?
You should discuss the costs associated with bariatric surgery with your doctor and insurance provider. Depending on the type of procedure you choose, there may be a variety of additional costs such as follow-up care and lab tests. Additionally, some procedures may require special diets or supplements before and after the surgery.
What are the risks of bariatric surgery?
You must understand these risks before deciding if bariatric surgery is the right option for you. You may experience some pain and discomfort during recovery. Your doctor can provide more information about potential risks associated with bariatric surgery.
What things to consider before having bariatric surgery in Istanbul, Turkey?
It is important to note that bariatric surgery should only be used when all other options have been exhausted and it is deemed medically necessary for the patient's health. Your doctor can provide more information on this subject.
Whether you are considering a gastric sleeve, gastric bypass, lap-band or duodenal switch surgery, PlacidWay can connect you with some of the best clinic and doctor for bariatric surgery in Istanbul, Turkey. Our network of highly skilled and experienced doctors provides world-class medical care to ensure your safety and comfort throughout the process. Click contact us button below for more information:

---
Istanbul Bariatric Center, Istanbul, Turkey Profile Details
Obesity is one of the prime health problems the entire world is suffering from. It does not only make you look heavy but what is the cause of many chronic illnesses in you. Rigorous Lifestyle changes that people have adopted in recent years is the prime cause of obesity. Istanbul Bariatric Center in Istanbul, Turkey offers bariatric treatment for consistent weight loss and elimination of stubborn fat from the body. Extra calories that we consume in a day causes energy imbalance in our body and leads to overweight and obesity. This bariatric clinic offers effective weight-loss or bariatric, surgery to lose with and reduce the risk of medical problems associated with obesity.
It is a myth that obesity only makes you look bad or heavy. Consultants at Istanbul bariatric center emphasize the fact that obesity should be dealt with a seriousness not only for a better look but for a better-detoxified body. It offers you various techniques to perform bariatric surgery and achieve significant weight loss.
The professional team working at the center provides safe weight loss surgery through customized programs to help patients successfully lose weight and live longer happier lives. Minimally invasive weight-loss surgical procedures and other comprehensive multidisciplinary weight loss programs are prescribed to the patients to improve their lifestyle.
Consultant medical offices offer wholehearted support in your journey of weight loss. Obesity is a vital cause of type-2 diabetes in people of all ages and many other problems like high blood pressure, acid reflux, obstructive sleep apnea, polycystic ovarian disease, joint pains, and stress incontinence. Get a long-lasting bariatric solution at Istanbul Bariatric Center by expert doctors and medical staff.
For more details about the treatments and procedures, click the button below!

---
---
Istanbul Bariatric Center Certificates, Accreditations, Qualifications
Check below for more information about bariatric surgeons in Istanbul, Turkey at IBC: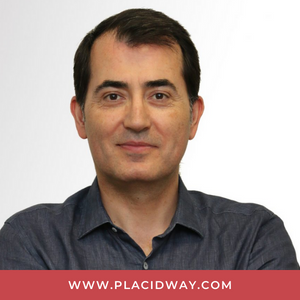 Doctor Name:

Dr. Murat Ustun
Experiences and Specializations:
Ankara Education Research Hospital, General Surgery Specialization Training, 1992 – 1996, Ankara, Turkey

Ege University Medical Faculty, Medical Doctor Education, 1986 – 1992, Izmir/Turkey

Specialty in endoscopic gastric balloon, endoscopic gastric reduction (Apollo), gastric sleeve surgery, gastric bypass surgery, diabetes surgery, duodenal switch, revisional surgery, and more.

Attended Vocational Trainings, Courses and Conferences at IBC Oxford Bariatric Congress, 2019 and IBC Oxford Bariatric Congress, 2018.

Professional Memberships at Turkish Medical Association, Turkish Surgery Association, and Turkish Society of Surgical Endoscopy.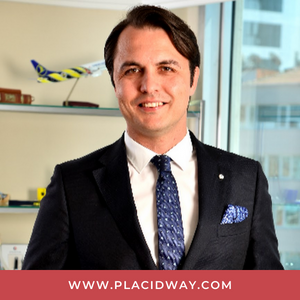 Doctor Name:

Dr. Bora Koc
Experiences and Specializations:
Okmeydani Education and Research Hospital Surgical Ownership 2006-2011

Istanbul Faculty Of Medicine 1999-2006

Istanbul Vatan Anatolia List 1992-1999

Okmeydani Education and Research Hospital-Deputy Chief Physician 2015-2017

Baskent University Istanbul Application Hospital-General Surgery 2013-2015

Okmeydani Training and Research Hospital - General Surgery Specialist 2011-2013

Silivri Penal Execution Agency State Hospital - General Surgery Specialist 2011-2013

Memberships of Turkish Surgical Society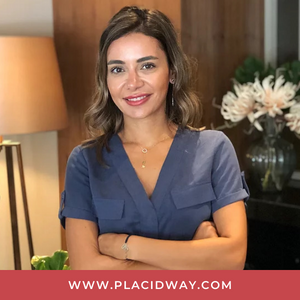 Doctor Name:

Dr. Buse Capkinoglu
Experiences and Specializations:
Adana Chamber of Commerce Anatolian High School.

Won the Abant ?zzet Baysal University Faculty of Medicine in 2004 and completed 6-years medical education.

In 2010, won the Izmir Ataturk Training and Research Hospital Plastic, Reconstructive and Aesthetic Surgery Department.

Between 2016-2018, worked at Adana Numune Training and Research Hospital and Adana City Hospital.

In 2017, entitled to enter the Dutch Facial Aesthetics Fellow (DAFPRS) program.

---
Istanbul Bariatric Center Testimonials
Check below testimonials from real patients after receiving obesity surgery in Istanbul, Turkey:
"Couldn't thank the staff enough they were just brilliant! And for Dr Murat Ustun well he made me feel completely relaxed and safe when going down to theatre even had a little sing to Bob Marley 'No women no Cry'! I couldn't be happier with the 5-star treatment I have received! Day 3 an I have been discharged a now in a 5* hotel! Would definitely recommend 100% Dr Ustun and his team!" – Victoria Diamond, UK
"One week after my surgery, I am feeling well. The doctor and the whole team were amazing. I only have good words to say. This are the first days of the rest of my life, it gotta be good, because of you guys. Thank you so much." – Mihaela Golban, UK
"Thank you from the bottom of my heart to this wonderful team led by Dr. Murat Ustun. I was skeptical about doing this operation Gastric Sleeve in Turkey, I didn't know what was waiting for me there. But we have found a team of professional people. Always at your disposal to provide you with any information and need. Organize from all points of view. From my arrival in Istanbul to my departure. I highly recommend Istanbul Bariatic Center." – Roxana Vlonga, Germany
"I had a gastric bypass due to weight and acid reflux issues. From the first email I sent I was taken care of in the most well mannered and prompt timing. Everyone went out of their way to accommodate me and help me with translations. The hospital was beautiful and I felt very well taken care of. The doctors were very helpful in explaining everything to me. The greeting staff went over and above their duties. I really had a wonderful experience that was a very good value for the price it cost. I would definitely recommend this clinic to anyone." – Pamela Lynn, Kuwait
"The team were amazing from arriving in Istanbul and till the very end. I would like to say a special thank you to Ella and Melissa who organised everything and constantly checked up on me, answered any questions or issues I had and went through everything - they are super loving, professional and welcoming." – Ornela, UK

---
Istanbul Bariatric Center Awards & Recognitions
Check below for information about awards received by IBC: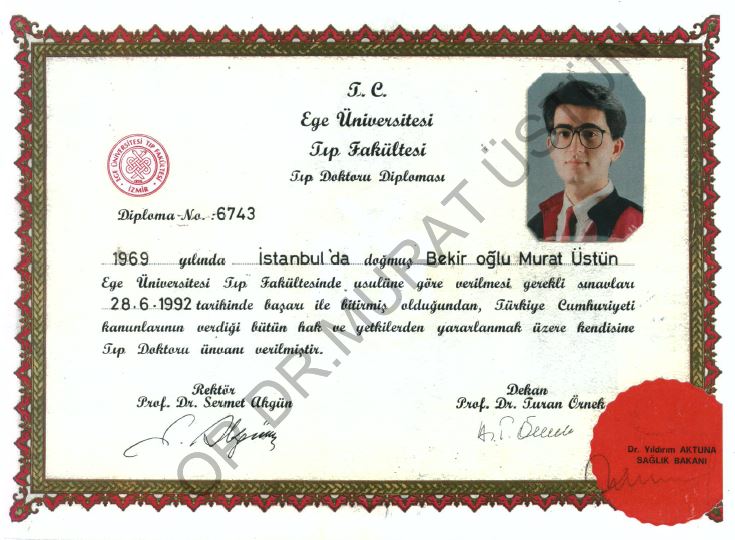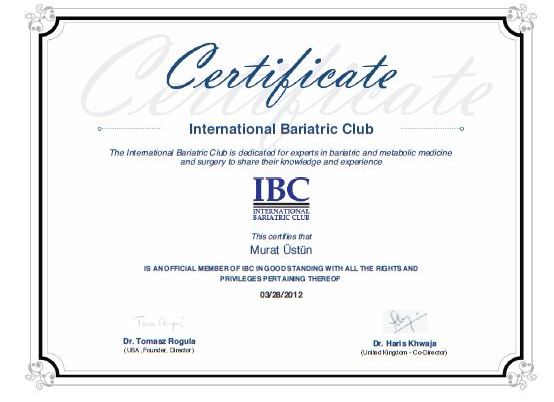 Why Choose Istanbul, Turkey for Obesity Surgery
If you're looking to get your waistline in shape and have exhausted all other options, why not consider Istanbul for obesity surgery? With some of the best medical facilities in the world – and an abundance of delicious Turkish cuisine to help keep you on track with your weight loss goals – Turkey is the perfect place to start a new journey towards a healthier lifestyle. Plus, it's a great way to take advantage of the sights and sounds this vibrant city has to offer!
From historic mosques and bazaars to modern shopping centers, you're sure to find something that will keep you motivated throughout your weight loss journey. Whether you prefer traditional Turkish cuisine or have always wanted to try a vegan version of your favorite dish, Turkey is the place to go for a high-end weight loss experience. So why wait? Book your ticket to Istanbul today and begin your transformation!

---
Istanbul, Turkey Destination Overview
Many people visit Istanbul for Bariatric Surgery. But did you know there are many ways to get around the city? You can go by airplane, bus, ship, or car. Of course, the most common way to get around is by plane. Istanbul has two major airports, Ataturk Airport and Sabiha Gokcen Airport. The former is the largest and busiest airport in Turkey, while the latter is located on the Asian side of Istanbul.
If you don't like flying, or simply want to save a few bucks, then consider taking the bus. Buses are comfortable, clean and relatively cheap. You can find buses going to almost anywhere in Istanbul at any time of day.
If you're feeling especially adventurous and you want to experience some unique views, you can always take a hot air balloon ride! It's definitely the most scenic way to explore Istanbul. Plus, when you reach the top of your flight, you'll be able to get some great selfies with Sultanahmet in the background.
And if all else fails, why not take a boat? Istanbul has a boat system that connects the entire city, allowing you to get from one place to another in a short amount of time. Plus, it's always fun to take in some scenery as you're cruising down the Bosporus.
No matter which mode of transportation you decide on, Istanbul is sure to be an unforgettable experience. So what are you waiting for? Get out there and explore before undergoing weight loss surgery!

---
---
Reviews
Panna

The entire experience was just so seamless

I was interested in VSG and considered doctors all over the world. Dr. Murat Ustun came recommended by a friend and the first time I spoke to him I decided on this clinic! He is patient, knowledgable, kind and funny! He really cares about his patients and you can tell. As expected, the operation went flawlessly!

The entire experience was just so seamless! Everything from airport pick-ups pre-op checks were made as convenient as possible by the amazing team. Everyone was so kind and helpful! The hospital was beautiful and brand new, it looked like a luxury hotel. I would highly recommend. Thank you again!

Whatclinic

Jun 04 2018

Lauren

I would like to thank the doctor and clinic for this incredible change!

My friend from elementary school and I had the same weight problems. He worked in Turkey and he had a weight-loss surgery in Istanbul performed by Dr. Murat Üstün. One day, we met at a wedding party and took a picture together. After seeing that picture I felt really bad about myself. Having the same weight problems since elementary school, he had lost weight and I still weighed around 120 kgs. Now, it's been 9 months since my surgery and I've already lost 60 kgs. I would like to thank Dr. Murat Üstün and Istanbul Bariatric Center for this incredible change.

Whatclinic

Mar 05 2018

Rafik

Overall a fantastic experience!

I approached Dr. Murat Ustun after deciding on weight loss surgery at age 56 mainly due to taking charge of obesity-related conditions: Diabetes, Sleep Apnoea hypertension, cholesterol and gout. My non-related condition is osteoarthritis which is physically debilitating. In addition, surgery in the UK can take 2-3 years on the NHS due to an almost impossible tier system designed to put people off surgery by my local NHS trust in South London.

Dr. Murat agreed to meet me in London after sending me two quotes for two different hospitals in Istanbul, Turkey where he performs his surgeries. The price was to include surgery, transfers, hotel and hospital stay for me and my wife. What attracted me to Dr. Ustun was his reassurance that should any issues arise on my return, he would arrange treatment within the UK by the NHS. This gave me a further reassurance in him. He also has his home in South London.

We decided a date for surgery for a mini gastric bypass since it had only one connection minimizing future risks. I read that this procedure was first conducted by an American surgeon Robert Rutledge.

We arrived in Istanbul and were met at the Airport and transferred to our hotel promptly. The following morning, a Sunday was a rest day. My wife and I toured a bit of Istanbul on a gloriously sunny day. We had been to Istanbul before but were in awe of this city. The gleaming Bosphorus is a very awesome sight indeed. On reaching our hotel and checking my phone, Dr. Ustun had twice visited our hotel and waited as much as 30 mins on each occasion. What a fella! Later on that Sunday, my blood was taken at my hotel for a full pre-op analysis.

We were to leave the hotel located very near the hospital and were chauffeured to the Acibadem Taksim hospital. Pre-op physical examinations, UltraSound was done and an endoscopy was to be carried out whilst I was under anesthesia. Anesthesia/intubation was to be particularly challenging due to my arthritis in the neck but Dr. Ustun had assured me that he'd have the best Anaesthetist to overcome this hurdle.

My surgery went unnoticed and uneventful as far as I was concerned. However, my wife was super stressed and was reassured at all times by a very courteous hospital staff. My discharge was on the fourth day, a day later due to a slightly poor kidney function post-op which was dealt with promptly due to twice daily visits by doctors from Dr. Ustun's team and his routine daily visits.

Overall a fantastic experience. I would like to thank Dr. Ustun and his entire team of coordinators, doctors, dietitians etc.

I would also like to suggest minor improvements that can be made to further improve patient experience:

1. To indicate exactly what's not included in the price such as hotel meals. I did find fending for myself fourth-day post-op. ( My wife had flown back the previous day of my discharge due to work commitments). It would be great for patients to be provided with the broth soup since the hotel did not understand requirements.
2. Also, that prescription drugs will need to be paid for post -op such as blood thinning injections and various drugs.

Needless to say, the above points are minor. Dr. Murat Ustun overall is a super caring and a dedicated surgeon who I have no doubt become your friend and who will promptly respond to your concerns via Whatsapp as will his team!

I have not used my CPAP breathing machine since my surgery and do not miss it one bit! My focus is now on a healthier lifestyle and hoping my diabetes will be in remission and weight loss help my mobility. I have lost 11kg from my pre-op and post-op diet!

Good luck to all those considering Bariatric Surgery and looking to bring out the real you hiding within yourself.

Whatclinic

Oct 05 2018
---