Istanbul Rhinoplasty Center / Assoc. Prof. Dr. Mehmet Emre Dinc
World-Class Plastic Surgery Clinic in Istanbul for Nose Job
Vital Fulya Plaza Tesvikiye Mah. Hakki Yeten Cad. No:23 Kat: 2 D:10 Sisli, Istanbul, Istanbul, Turkey

Specialty:

Anti Aging, Cosmetic/Plastic Surgery, ENT

Focus Area:

Istanbul Rhinoplasty Center / Assoc. Prof. Dr. Mehmet Emre Dinc | Nose Aesthetics | Cosmetic Surgery | ENT | Turkey
Istanbul Rhinoplasty Center / Assoc. Prof. Dr. Mehmet Emre Dinc Profile Overview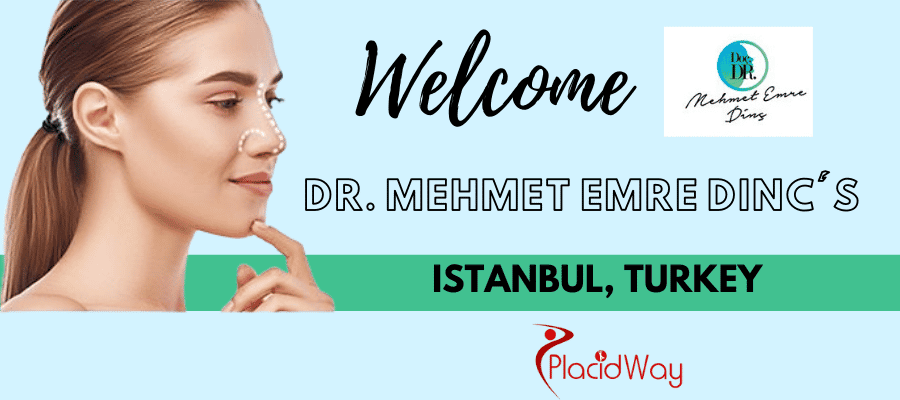 Dr. Mehmet Emre Dinc has made it easy for the people of Istanbul to receive comprehensive surgical and non-surgical aesthetic and ENT solutions. His Rhinoplasty Center in Istanbul offers a range of aesthetic and ENT solutions at the best-in-industry price. At the Istanbul Rhinoplasty Center, you can get aesthetic solutions like nose aesthetics, face aesthetics, non-surgical aesthetics, child ENT, etc.
Dr. Mehmet is a renowned cosmetic surgeon in Turkey with years of experience. He started his journey as a Doctor of Medicine after which he completed his training in ENT (ear, nose, and throat) head and neck surgery from Ankara Training and Research Hospital. Dr. Mehmet was associated with Education and Research hospitals from 2013 to 2019. He received the title of Ear, Nose and Throat and Head and Neck Surgery Associate Professor. In 2014, he observed at the Causse Clinic in France.
He has successfully conducted many ENT and aesthetic surgeries in his professional life. From the beginning of his professional career, Dr. Mehmet was passionate about surgical and non-surgical aesthetic solutions. He has successfully conducted scoop ear surgeries, facial rejuvenation applications, under-eye bags, and many other surgical and non-surgical aesthetic solutions.
Istanbul Rhinoplasty Center Highlights:
Affordable Packages

Open, Closed Technique, Fast Healing, Natural Results

Reshaping the nasal bones without breaking them(Piezo and Micromotor devices)

24/7 assistance, Patient Host

Transfer and Accommodation Options

Private hospital rooms with the quality of hotel comfort

All post-op medications
Plastic Surgery Procedures at Istanbul Rhinoplasty Center
ENT
Nasal congestion surgeries

Endoscopic sinus surgery/balloon Rhinoplasty

Snoring surgery

Child ENT and more
Nose Aesthetics
Latest trends in nose aesthetics

Male nose aesthetics

Female nose aesthetics

Revision nasal aesthetics and more
Face Aesthetics
Eyelid aesthetics

Prominent ear aesthetics

Jaw aesthetics

Face oil injection and more
Non-Surgical Aesthetics
Botox

Filling

Mesotherapy and more
Dr. Mehmet Dinc - Best Rhinoplasty Surgeon in Istanbul
Dr. Dinc is one of the most popular and successful nose surgeons in Turkey, with over 15 years of experience in aesthetic surgery, specifically rhinoplasty. He received the Turkish Ear Nose Throat and Head Neck Surgery proficiency certificate in 2015.
Dr. Mehmet Dinc performs surgeries using various surgical techniques according to the patient's needs. You will have a video consultation with Dr. Dinc before coming to Istanbul for surgery. He will listen to your expectations and questions while ensuring a comfortable and safe treatment.
Besides, he also offers a postoperative follow-up where he continues to advise and shares his knowledge to help you heal faster.
Education:
Ankara University Faculty of Medicine 1994-2000
Associate Professorship:
Istanbul Okmeydanı Training and Research Hospital, 2018
Languages:
Memberships:
Turkish Society of Otorhinolaryngology and Head and Neck Surgery

Facial Plastic Surgery Association

European Academy of Facial Aesthetic Surgery
Book a Consultation with Dr. Dinc for Rhinoplasty in Istanbul
If you are ready to transform your facial aesthetics with cost-effective Nose Surgery in Istanbul at Istanbul Rhinoplasty Center, contact our team and we will connect you with a professional rhinoplasty surgeon - Dr. Mehmet Dinc.
To know more about the clinic and treatments, click below:

---
---