Istanbul Rhinoplasty Center / Assoc. Prof. Dr. Mehmet Emre Dinc
Istanbul, Turkey
Vital Fulya Plaza Tesvikiye Mah. Hakki Yeten Cad. No:23 Kat: 2 D:10 Sisli, Istanbul

Focus Area: Istanbul Rhinoplasty Center / Assoc. Prof. Dr. Mehmet Emre Dinc | Nose Aesthetics | Cosmetic Surgery | ENT | Turkey
Istanbul Rhinoplasty Center / Assoc. Prof. Dr. Mehmet Emre Dinc, Nose Aesthetics, Face Aesthetics, Botox, Snoring Surgery, Sinus Surgery, Cosmetic Surgery, ENT, Turkey
Profile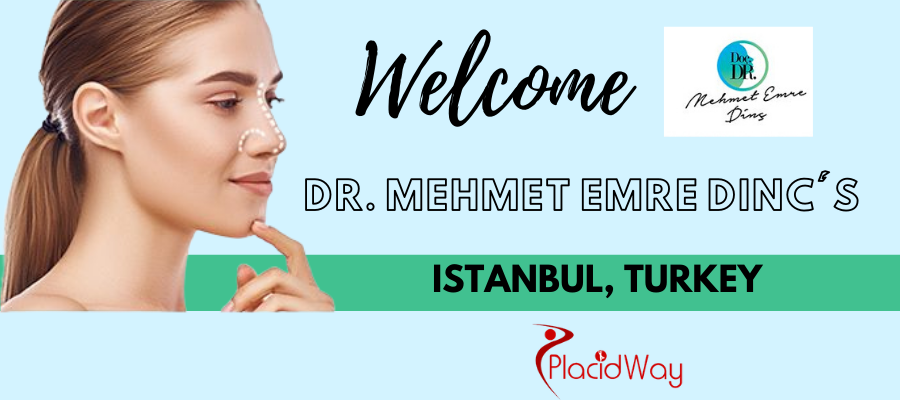 Comprehensive Aesthetic and ENT Solutions under One Roof at Dr. Mehmet Emre Dinc's Istanbul Rhinoplasty Center
Dr. Mehmet Emre Dinc has made it easy for the people of Istanbul to receive comprehensive surgical and non-surgical aesthetic and ENT solutions. His Rhinoplasty Center in Istanbul offers a range of aesthetic and ENT solutions at the best-in-industry price. At the Istanbul Rhinoplasty Center, you can get aesthetic solutions like nose aesthetics, face aesthetics, non-surgical aesthetics, child ENT, etc.
Dr. Mehmet is a renowned cosmetic surgeon in Turkey with years of experience. He started his journey as a Doctor of Medicine after which he completed his training in ENT (ear, nose, and throat) head and neck surgery from Ankara Training and Research Hospital. Dr. Mehmet was associated with Education and Research hospitals from 2013 to 2019. He received the title of Ear, Nose and Throat and Head and Neck Surgery Associate Professor. In 2014, he was acted as an observer at the Causse Clinic in France.
In his professional life, he has successfully conducted many ENT and aesthetics surgeries. From the beginning of his professional career, Dr. Mehmet was passionate about surgical and non-surgical aesthetic solutions. He has successfully conducted scoop ear surgeries, facial rejuvenation applications, under-eye bags, and many other surgical and non-surgical aesthetic solutions.
He received the Turkish Ear Nose Throat and Head Neck Surgery proficiency certificate in 2015. He is a member of a number of prestigious scientific institutions like the European Academy of Face Aesthetic Surgery, Turkish Society of Otorhinolaryngology, Head and NeckzSurgery Face Plastic Surgery Association, etc. Dr. Mehmet founded his own clinic in 2019, where he provides treatment and services like;
ENT
Nasal congestion surgeries

Endoscopic sinus surgery/balloon Rhinoplasty

Snoring surgery

Child ENT and more
Nose Aesthetics
Latest trends in nose aesthetics

Male nose aesthetics

Female nose aesthetics

Revision nasal aesthetics and more
Face Aesthetics
Eyelid aesthetics

Prominent ear aesthetics

Jaw aesthetics

Face oil injection and more
Non-Surgical Aesthetics
Botox

Filling

Mesotherapy and more
To know more about the clinic and treatments, click below:
Reviews