Aestheticare Ltd
Best Cosmetic Surgery Clinic in Pereybere, Mauritius by Aestheticare Ltd.
Office 1, Level 4, Block D, Grand Baie La Croisette 30517, Mauritius, Port Louis 30517, Mauritius

Specialty:

Cosmetic/Plastic Surgery

Focus Area:

Aestheticare Ltd | Pereybere | Mauritius | Breast Augmentation | Breast Reduction | Breast Asymmetry | Gynecomastia | Face Lift
Aestheticare Ltd Profile Overview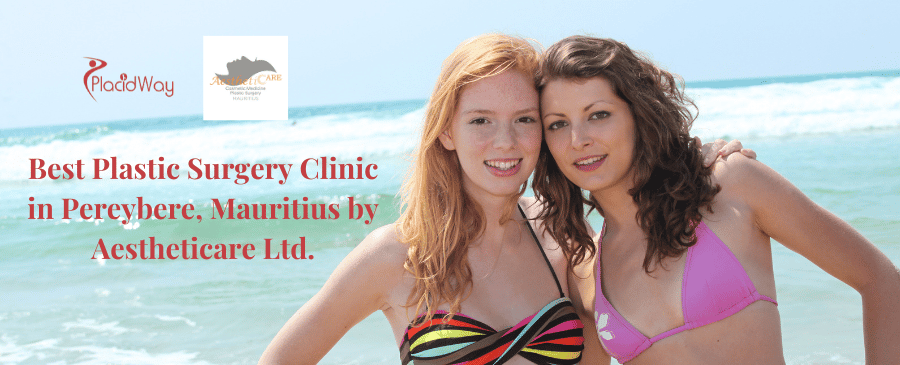 Premier Surgical Expertise
At Aestheticare Ltd in Pereybere, Mauritius, we take pride in our premier surgical expertise. Our skilled plastic surgeons possess a keen aesthetic eye and a deep understanding of your desires, allowing them to create additional beauty through various aesthetic procedures. Whether it's a facelift, eyelid surgery, liposculpture, tummy tuck, or breast surgery, our team is dedicated to delivering exceptional results. Additionally, we offer a comprehensive range of aesthetic medicine treatments, including cosmetology, laser treatments, fillers, and more. With the breathtaking backdrop of the Indian Ocean, Aestheticare provides an idyllic location for your transformative journey.
Exquisite Patient Care
At Aestheticare Ltd, we prioritize exquisite patient care. From the moment you step through our doors, our dedicated team ensures that your comfort and well-being are paramount. We understand that undergoing plastic surgery can be a deeply personal and transformative experience, and we are committed to providing the highest level of support throughout your journey. Our compassionate staff is always available to address your concerns and provide personalized care, creating an environment of trust and reassurance.
Trusted Plastic Surgeons
At Aestheticare Ltd, our team consists of trusted plastic surgeons who are dedicated to delivering outstanding results. Dr. Didier Van Den Broeck, a European board-certified cosmetic surgeon, leads our team with his extensive knowledge and expertise. With a reputation built on years of experience and a commitment to excellence, our surgeons prioritize your safety and satisfaction. You can trust that our skilled professionals will guide you through your aesthetic journey with care, skill, and the utmost professionalism.
Aesthetic Perfection Achieved
At Aestheticare Ltd, our goal is to achieve aesthetic perfection. With a meticulous approach and a commitment to precision, our experienced plastic surgeons in Pereybere, Mauritius strive for exceptional outcomes in every procedure. Whether you desire breast augmentation, reduction, liposuction, facial rejuvenation, or abdominal contouring, our skilled surgeons employ their expertise to enhance your natural beauty and achieve the aesthetic results you desire. With a focus on harmony, balance, and individualized treatment, we are dedicated to helping you achieve your aesthetic goals.
Transformative Beauty Solutions
Experience transformative beauty solutions at Aestheticare Ltd. Our comprehensive range of procedures encompasses various areas, including breast, body shape, face, and abdomen. From breast augmentation and reduction to liposuction and abdominoplasty, our skilled surgeons utilize advanced techniques to sculpt and refine your desired look. Additionally, our expertise extends to aesthetic medicine treatments such as cosmetology, laser treatments, microneedling, and fillers. With our personalized approach and dedication to excellence, we aim to provide life-changing solutions that enhance your natural beauty and boost your self-confidence.
Advanced Techniques and Technology
At Aestheticare Ltd, we pride ourselves on employing advanced techniques and technology to deliver exceptional results. Our plastic surgeons stay abreast of the latest innovations in the field and utilize state-of-the-art equipment to ensure precision and optimal outcomes. By combining their expertise with cutting-edge technology, our surgeons are able to offer a range of procedures that are safe, effective, and tailored to your unique needs. Rest assured that when you choose Aestheticare, you are receiving the highest standard of care with the most advanced techniques and technology available for cosmetic surgery in Pereybere, Mauritius.
Luxury and Comfort
Indulge in luxury and comfort at Aestheticare Ltd. We understand the importance of creating a serene and relaxing environment for our patients. From our elegantly designed facilities to our attentive staff, we strive to provide a luxurious experience that complements your transformative journey. We prioritize your comfort at every step, ensuring that you feel at ease and well taken care of throughout your time with us.
Our customer representative at PlacidWay will help you connect with best cosmetic surgery clinic in Pereybere, Mauritius by Aestheticare Ltd. Click contact us button below to get started:

---
---